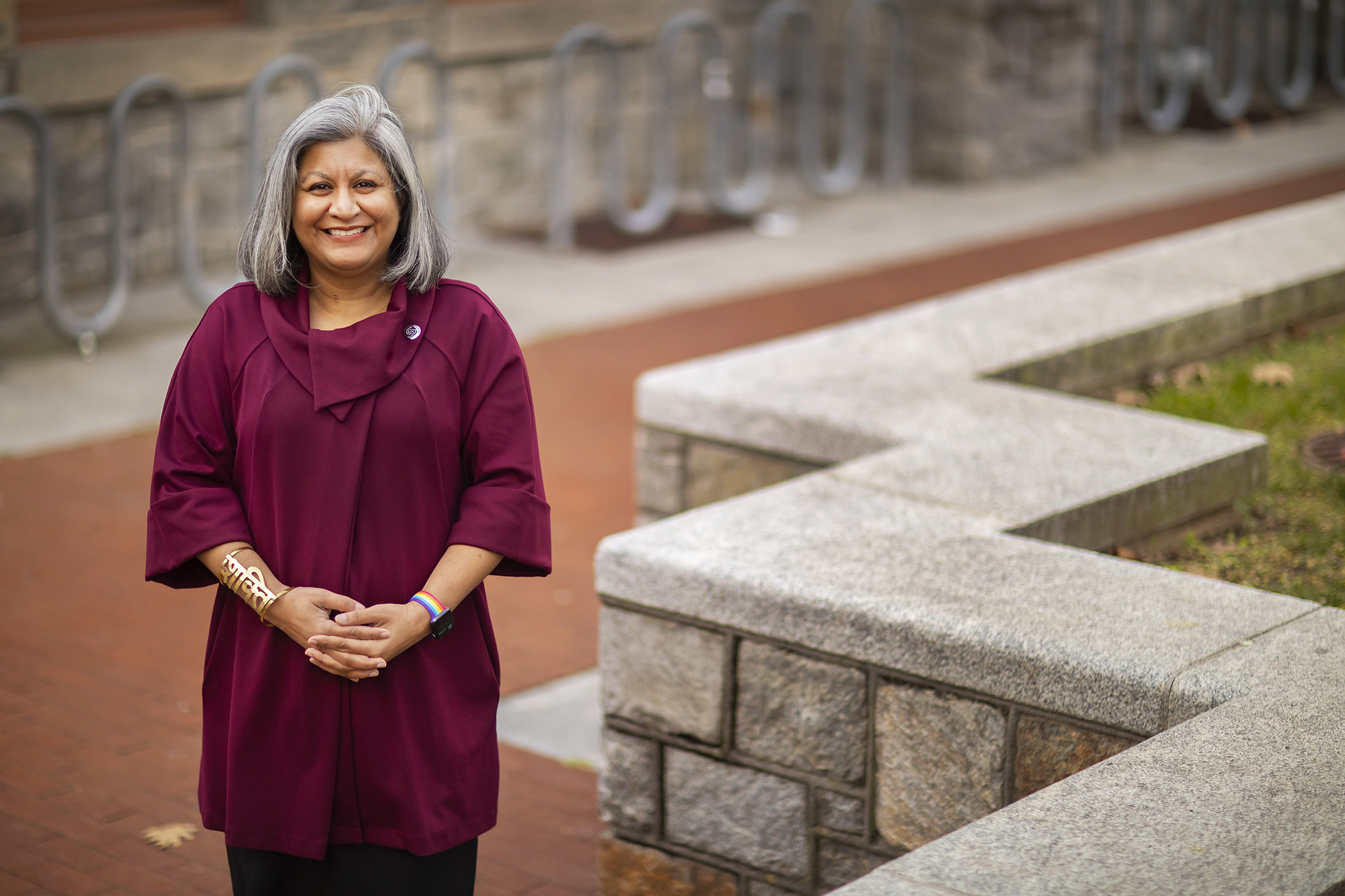 "For all I can remember growing up, I wanted to be a doctor," says Mamta Motwani Accapadi, which is how she found herself at the University of Texas at Austin, pursuing a degree in microbiology. Yet Accapadi is not a medical doctor. Instead, she earned her Ph.D. in education administration, and is the University of Pennsylvania's new vice provost for University Life. Accapadi found a healing profession of a different kind as an educator devoted to students' well being.
The early ambition to pursue medicine was not her own, says Accapadi, but an immigrant dream story that was "a manifestation of my parents." The journey to reconciling her talents and vocation with family love and filial duty was difficult, and one that centers Accapadi's work and her compassion for students.
Penn's University Life division includes 18 departments that serve students' academic, co-curricular, cultural, financial, personal, pre-professional, and spiritual needs. The work touches on health and wellness, safety, campus engagement, and wide-ranging issues around student success, says Kevin Kruger, president and CEO of NASPA, Student Affairs Administrators in Higher Education. Kruger has known Accapadi for more than 10 years, describing her as "extraordinarily thoughtful and kind," praising her work and reputation. Accapadi "comes to relationships with a lot of humility," Kruger says. "She is going to seek consensus whenever possible. She really values inclusivity."
Accapadi stepped into this new role during a difficult moment, especially in higher education, says Chaz Howard, vice president for social equity and community. "With the election, with this deep trauma around racism and violence against Black bodies, in the midst of a once-in-a-century pandemic on top of it, college itself is hard in normal times."
To begin, Accapadi is building bridges and authentic relationships, she says, meeting with student leaders from the Undergraduate Assembly (UA), the Graduate and Professional Student Assembly (GAPSA), Penn Athletics, and the cultural centers. She has met with Andrew Hoffman, the Gilbert S. Kahn Dean of Veterinary Medicine, and his staff about an institutional diversity initiative. "I see Penn as a constellation," Accapadi says. "What does it mean to operate as a constellation with University Life as a connector? How do we as educators come together to uplift the student experience in ways that students deserve?"
Mercedes Owens, a senior economics major from Lexington, Tennessee, has been working closely with Accapadi, who reached out when Owens was elected president of the UA. Accapadi's biggest challenge will be earning the trust of students, Owens says. During their biweekly meetings, Owens works to represent the student voice. "I really try to relay what students want in a feasible way," she says. "We're exploring how we interact with funding and University resources."
Accapadi says such conversations are critical to being able to evolve. "The division is committed to diversity and inclusion," says Accapadi. "We are always looking to learn more as we serve a globally diverse campus community."
A social justice thread runs through everything Accapadi does, says Kruger. "She gently pushes all of us to do better work in that area." Several years ago, Kruger invited Accapadi to speak at the NASPA board of directors meeting regarding racial and social justice. "She came in not pointing fingers but in community with us," he says. "It caused us to think about the work that we do around representation and leadership" that resulted in a new division, job creation, and financial resources to support the work, Kruger says.
Accapadi's own work is centered by her cultural identity as the daughter of parents who came to the United States from India. Her career path has been informed by the Sanskrit word seva, "a type of service grounded in the divine," Accapadi says. "That's just been a pillar of my value system and informs why my career path is what it is."
As an undergraduate, Accapadi was overwhelmed, failing courses. "I was falling apart. I didn't know how to manage the campus environment," she says. "Culturally, for me to seek counseling was taboo." She went to the academic advising office to discuss her career path, and "they said, 'Well, you're an adult,'" Accapadi recalls. She says she was told, "Your people are smart; you'll figure it out," relegating her to a model-minority stereotype while offering no support for the crisis in which she found herself.
In order to avoid going home, Accapadi secured a work position in student life for the summer, and they asked her to take classes in educational psychology. "Those student life educators saved me," says Accapadi. "I didn't even know that was a profession. Who are these people who helped me feel whole?"
Integrating identity-based experiences with academic experiences was essential for her as a student and is foundational for her work with students today, Accapadi says. "I'm deeply, deeply aware of how I fell through the cracks, and with that, you get my duty to work alongside other educators to do our best" for students. She uses the metaphor of a trampoline, where the fibers are woven so tightly together that when someone falls, they can bounce instead of crash.
"When we admit a student, what we're saying is that we put all the support infrastructure behind you, so that you have the tools to pursue your best life," Accapadi says. "That opportunity for transformation should be equitable."
Owens describes Accapadi as "extremely intelligent, knowledgeable, and very passionate about supporting students. She works for us, is what she says. That's what you would want in an advocate: someone who centers the student body and the student perspective."
Accapadi is a servant-leader, says Kruger. "She has this almost Zen quality in the way that she interacts with you, he says. "She gives you her full attention. It's a very affirming style."
For Accapadi, this is seva, a higher calling. "Life as service is to me the exemplar of who we are as humans," she says. "There's a reciprocity," she says, "a cycle of care that we all contribute to."
Accapadi says she is working on embracing humility and vulnerability in the new year, while moonlighting as a seventh-grade teacher when her daughter has questions. "I have a former colleague who reminds me, 'We're not busy; we're all doing meaningful work in service of students that matters.'"
To this end, Accapadi meditates with her daughter each morning before a full and varied day. At 6 p.m., she meets with students from a parked car outside her daughter's ballet studio, where the seatbelt and steering wheel are visible on Zoom. She centers gratitude. "I'm so grateful to be in this community," she says, "with this set of colleagues, with this set of students, in this complicated and beautiful time."