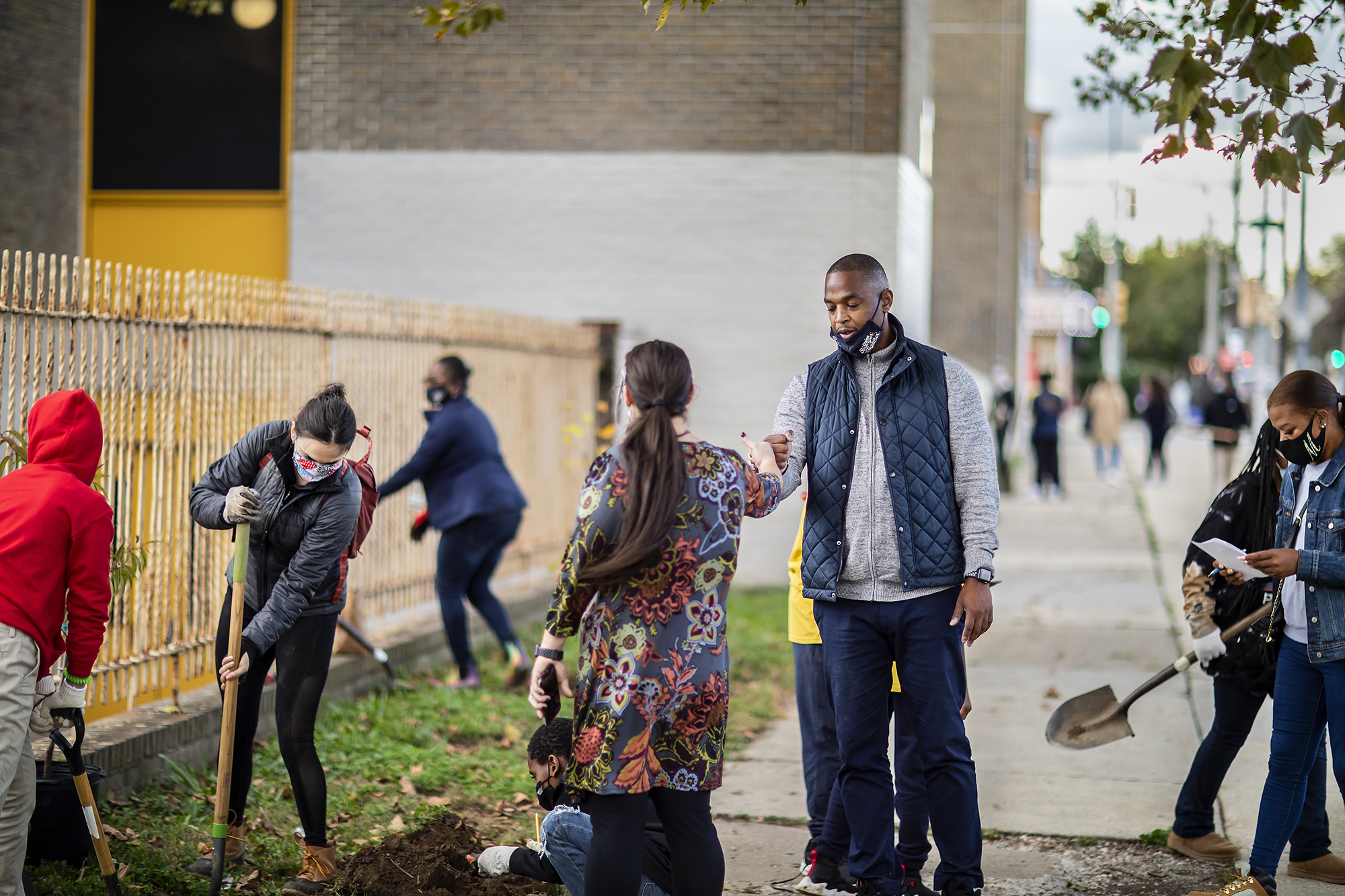 At the corner of Spruce and 57th streets in the Cobbs Creek neighborhood of West Philadelphia, students at Andrew Hamilton School were on a dual mission: to plant trees and to rescue earthworms.
On a November afternoon in 2021, dozens of members of the school community encircled the school building, digging holes, adding fertilizer, and situating berry bushes and fruit trees—peach, plum, cherry, and native pawpaws. A few students took it upon themselves to ferry a few earthworms to safety in the process, as others shrieked and steered clear.
The "food forest" planted that day is part of a transformation at Hamilton, galvanized by the community in partnership with a student-led team from Penn. Two years ago, a team of 12 Penn students won recognition from the U.S. Environmental Protection Agency's Campus RainWorks Challenge, an annual competition for undergraduate and graduate students to design and implement green infrastructure projects, either on their campus or the campus of another school within the community.
Led by Corey Wills, who worked for Penn's Netter Center for Community Partnerships and Water Center while earning graduate degrees in environmental studies and city planning, the student group's winning proposal envisioned a redesign of the Hamilton campus. Their design incorporated features that would reap a host of benefits: reducing the quantity of rainwater entering the sewers, providing a garden where students could learn both during and after school, and offering a source of healthy produce to a neighborhood where some suffer from food insecurity.
Today that vision is a reality.
"Watching this go from a simple concept for a competition into an actual, real, tangible community resource that students and the surrounding community love, it's amazing to watch," says Wills, now a hazard mitigation planner with Michael Baker International.
Over the last year, Hamilton students had a hand in growing more than 500 pounds of produce in the growing season, working alongside Harry Russell, sustainability and environmental education coordinator for the Netter Center. Many students attend garden club with Russell after school, while others visit the garden as part of cross-curricular lessons, from journal writing to art to botany. School families and other neighbors have had the chance to sample the garden's vegetables, herbs, and medicinal plants.
While the RainWorks Challenge was an impetus for the changes at Hamilton, other partners have been instrumental in sustaining it. Among them, Penn's Netter Center for Community Partnerships, the Environmental Innovations Initiative, the School District of Philadelphia's Office of Capital Programs, the Philadelphia Orchard Project, the Philadelphia Water Department, The Food Trust, and Hamilton staff, students, and families.
"The kids love it," says Torrence Rothmiller, principal of Andrew Hamilton. "They love seeing the things they've planted grow, and not only that, that they can eat it. We're looking to expand on that, to show them what kind of changes something like this can have in the community they live in."
Using what natures gives
Speaking last fall in the Hamilton School garden, Russell noted that the area in which he was standing used to be prone to flooding.
"Due to the impermeability of the soil, after a rainstorm you'd have half a foot of water in here. That water would sit here for days on end," he says, bringing mosquitoes and other hazards. "But we're here today and had a lot of rain yesterday and there isn't even a puddle around."
Russell credits that to some of the additions that the RainWorks design enabled, among them: raised beds, wood chip-lined paths, and the trees, bushes, and perennial plantings installed in partnership with the Philadelphia Orchard Project. The rain garden, scheduled to be installed in summer 2023, should reduce the flooding even more.
A couple of years ago, when Wills and the Penn team applied for support from the challenge, there was some grass in those areas, but there was little else. Together with John Miller, the RainWorks project's faculty sponsor and a team of 12 students from across schools at Penn, including in engineering, graphic design, environmental studies, city planning, and the sciences, they began to imagine a different future for the site.
"We had done remote sensing and GIS analysis of the site that showed that the school is in a food desert, a high heat area, and a combined sewer overflow area," says Wills, or an area where rainwater and sewage flow down the same underground pipes during rainstorms, causing sewage to be deposited directly in waterways. "We wanted to partner with them to create a vision that they could hopefully bring to life."
Working together with Anna Balfanz of the Netter Center, who helps coordinate academic partnerships with Penn's University-Assisted Community Schools, the RainWorks team held conversations with Rothmiller at Hamilton and other community stakeholders and surveyed students and staff about what they'd like to see on their campus.
"When Anna and Corey spoke to me about this project, they explained how we could redirect stormwater runoff to grow vegetation," Rothmiller says. "I thought this would be great to address at Hamilton so kids could see how we could use something that was seen as a negative and turn it into a positive."
Building, growing, learning
The Hamilton community was a partner not only in designing the green infrastructure plan, but in implementing it as well. They had a hand in everything from constructing the garden beds and filling them with soil, to selecting crops and weeding and watering their plots.
The students have participated in "all parts of the growing process, from seed to harvest," says Russell. "Everything that I do that's safe for them to do, I want them to be involved in so they can feel ownership over the space."
Regular volunteer days invite the students' families to join in the care and maintenance of the school's green spaces. The Philadelphia Orchard Project also holds periodic gatherings at the school for pruning trees and adding to the food forest. The Philadelphia School District will take care of maintenance for the rain garden, which absorbs rainwater during storms, and releases it back slowly, helping avoid combined sewer overflows, when sewage and rainwater overwhelm underground pipes.
In the garden, familiar crops, such as carrots, tomatoes, garlic, eggplant, and peppers, grow alongside flowers, including borage and yarrow, which foster pollinators and have medicinal properties. Some raised beds are made from black locust wood, others are contained in straw bales, and many other crops are planted in "grow bags," sturdy sacks that can hold from 15 to 65 gallons of soil.
"I like to show the students that they can grow food at home too, even if they don't have soil in their yard, and it doesn't have to be expensive," Russell says.
In addition to the beds, the garden has a greenhouse for extending the growing season and compost bins to recycle garden waste into rich soil. The space is also equipped with a variety of sensors to measure temperature and humidity. The Hamilton students as well as Penn researchers are involved in collecting data on these variables as part of one of the Environmental Innovations Initiative's research communities, to see how the addition of green spaces alters the microclimate around the school.
Rothmiller sees the green spaces as a natural fit with the philosophy he's establishing at Hamilton: one of community service and project-based learning. The garden activities are also a key component of the comprehensive University-Assisted Community School programming at Hamilton, coordinated through the Netter Center, which aims to apply in-school and after-school learning to solve locally identified, real-world, community problems. To support these goals, Russell has worked with teachers across subject areas to find ways for them to connect students with the garden.
Whether calculating how many bags of soil it would take to fill six garden beds, sketching a picture of a flower, or learning about the history of botany in Philadelphia, Russell notes the garden provides a relaxing environment for outdoor, cross-curricular learning and reflection.
"It's a great learning laboratory for many subjects," he says. "And if a student is having a difficult day and a teacher wants to talk to the student in a place that feels peaceful, it's a great place for that too." Nature has benefited too; Russell reports seeing a variety of species of bees and other beneficial insects return to the garden, as well as birds like goldfinch that were previously rarely seen in the area.
As nature is flourishing, so are the students, Wills says. "The students' reactions to the garden? Joy. Plain and simple joy."
Wills has a photo of a student holding the first carrot harvested from the garden. "He's holding it like his prize trophy, like he won the lottery," Wills says. "They love it. Even when they hate the worms, they love the worms. It's been wonderful to see."
Anna Balfanz is a Penn alum and Academically Based Community Service coordinator at the Netter Center for Community Partnerships at the University of Pennsylvania.
Torrence Rothmiller is principal of Andrew Hamilton School.
Harry Russell is a Penn alum and the University-Assisted Community School sustainability and environmental education coordinator for the Netter Center.
Corey Wills is a Penn alum and a hazard mitigation planner with Michael Baker International.
The faculty lead on the Campus RainWorks Challenge project was John Miller, a lecturer in the MES program, and Wills' teammates were Leila Bahrami, Haoge Xu, Mrinalini Verma, Justina Thompson, August Sissick, Noëlle Raezer Flavia Olivera, Eliza Nobles, Jonah Garnick, Prithi Chandra, and Caroline Ben Nathan.