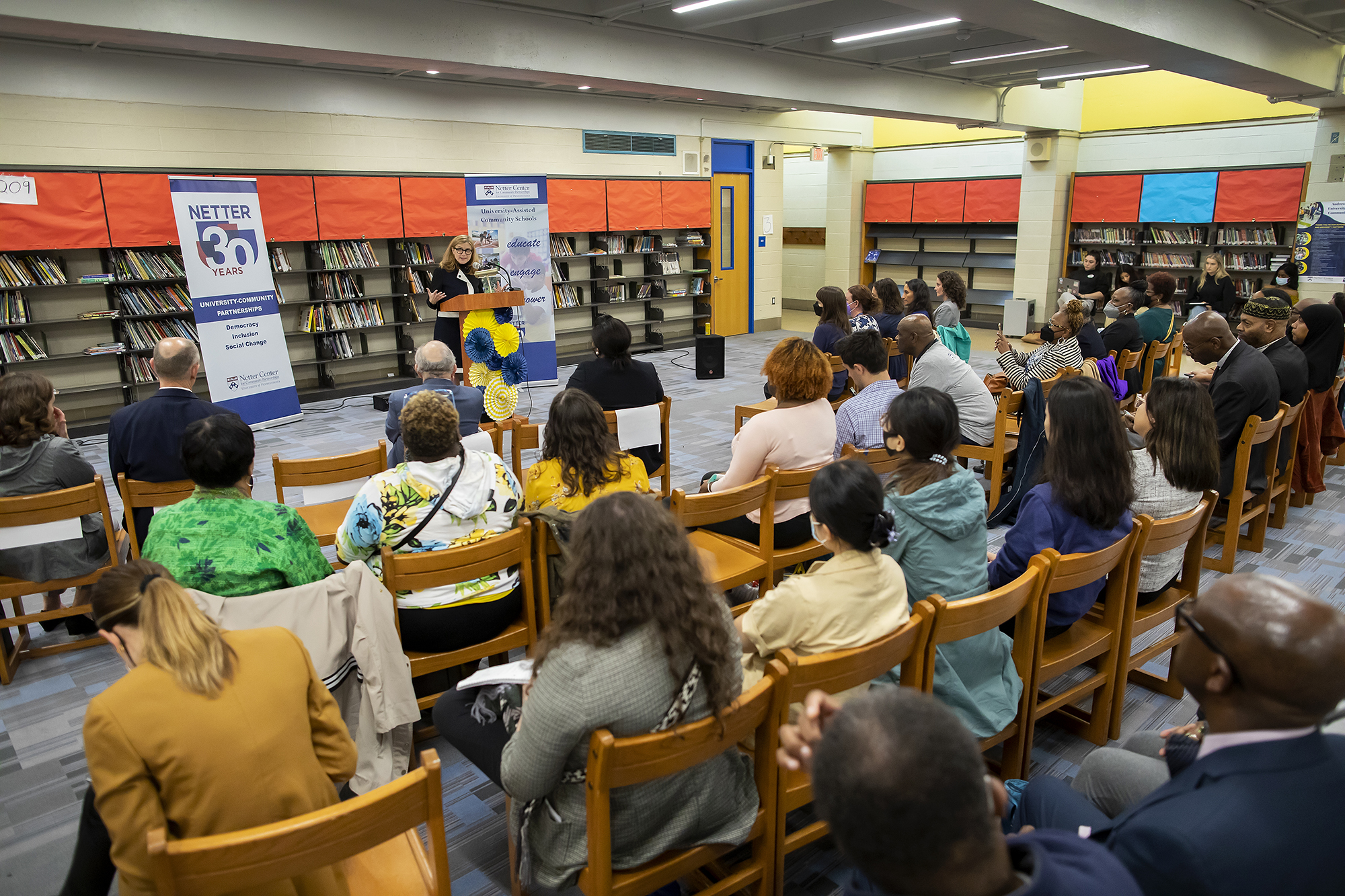 On a rainy Thursday afternoon in early October, President Liz Magill—only three months into her tenure at Penn—made her way to a bustling Andrew Hamilton School in West Philadelphia, about two miles from her office at College Hall. The Netter Center for Community Partnerships' Fall Celebration, which this year kicked off special programming for its 30th anniversary, made for a perfect opportunity for Magill to take a dive into all that encompasses University-Assisted Community Schools (UACS). 
After meeting with Hamilton's Principal Torrence Rothmiller and dedicated K-8 teachers, as well as Penn students, faculty members, and staff involved with the Netter Center, Magill was bursting with pride: "It's already clear to me what an amazing school this is," she said. "The energy, the commitment that I detect, it's palpable and very exciting."
Magill, who was also able to see some UACS programming at Hamilton firsthand, continued: "I think partnerships—that is to say working together for a common cause, learning from one another, hearing each other for the greater good, to improve something—that's the key to success for everybody, always, and this school and this effort is really a wonderful illustration of that."
An exemplary partnership
The Netter Center and Hamilton have had a strong partnership for many years, and in 2017, a full-time UACS site director from Penn joined the Hamilton team. Today the UACS program boasts eight total elementary and high schools in West and Southwest Philadelphia. UACS site directors each lead a team that facilitates, coordinates, and supports programming for students, families, and the community that takes place during the school day, after school, on the weekend, and throughout the summer.
"From the beginning of the day through the evening, year-round, we are partners," said Bianca del Rio, the Netter Center's executive director of UACS programs.
The Netter Center engages a variety of community partners plus all 12 of Penn's schools with UACS. UACS programming at Hamilton runs the full gamut—from tutoring to gardening to athletics—and a consortium of interdisciplinary partnerships brings everything to life. With the Penn Reading Initiative, for example, undergraduates meet one-on-one with Hamilton students during school to tutor in literacy, while Moelis Access Science fellows from Penn help Hamilton teachers develop creative educational activities involving STEM. The Children's Hospital of Philadelphia's Healthier Together Initiative boosts social, emotional, and mental wellness support for Hamilton's students, families, and staff, while Penn athletes involved in Young Quakers Community Athletics coach track and field, basketball, and lacrosse after school for Hamilton students.
One of those students, Christina Farmer, now a seventh grader, started playing lacrosse a few years ago through the after-school programming. "It's fun, but you just have to work hard," Farmer said when talking about practice.
Her mom, Tina Harris, who is an assistant teacher at Hamilton, said she has been thrilled to see her daughter engaged in such a meaningful way. "She is gaining skills from Penn's lacrosse players, she's learning good sportsmanship, about rules and structure, she has made friends, and she just feels a part of something," said Harris, chatting inside the school's auditorium. "The Netter Center is a blessing, in a way, because the programs just allow the kids to be kids. They're exposed to different opportunities, they can be themselves, and they can ask for help."
Having younger students interact regularly with college students also unveils a beneficial exposure to higher education early. "Hamilton kids are curious, and the college students are honest with them, telling them about how to go to college, how to get scholarships, how to get financial aid," said Harris. "It opens their minds."
Harris said her daughter also enjoys time spent in Hamilton's edible garden, which is part of an evolving green infrastructure plan designed by students and teachers at Hamilton and Penn, as well as local partners including from the Philadelphia Orchard Project. "They grow strawberries, tomatoes, squash, spinach, carrots, basil, thyme," noted Harris, who was pointing out the sustainability education and garden manager Harry Russell at a table nearby (programming had been moved inside due to the weather). "Students learn how to plant the seeds, clip the weeds, help everything grow, and then they harvest it and can take it home. They love it."
Making an impact
If UACS is one pillar of Netter Center's strategy for community engagement, the other is its Academically Based Community Service (ABCS) courses. In these courses, Penn undergraduate and graduate students work collaboratively with students and teachers within K-12 schools, as well as their professors, classmates, and other groups outside of the University, to develop and implement projects that help solve real-world problems—all for class credit. 
Not all ABCS courses involve UACS, but with such a strong infrastructure, many of them do. At Hamilton alone, close to 20 ABCS courses have been offered throughout the years. Six are in process this semester, including, to name a few, Foundations of Culinary Medicine, The Role of Water in Urban Sustainability and Resiliency, and Urban Environments: Speaking About Lead in West Philadelphia. In the latter course, Penn undergraduates collaborate with Hamilton teachers to engage younger students in educating their families and community about practical ways to reduce lead exposure, a significant health challenge in neighborhoods across the city.
"ABCS can have an impact on college students' learning and their own development, while simultaneously having a significant impact on the school," said Ira Harkavy, who founded the Netter Center and serves as its director. 
That was precisely the case for Om Manghani.
Manghani, a third-year sociology and economics student, originally from the Bay Area of California, chose to attend Penn in large part, he said, because of the Netter Center and the opportunities it presented. Amidst the COVID-19 pandemic, he still committed to getting meaningfully involved his first year of college, serving as a student mentor virtually for Elsada Blagrove's seventh- and eighth-grade math class at Hamilton. 
Manghani returned to Blagrove for guidance when he enrolled in his first ABCS course last semester, with Harkavy as his instructor. His 80-page final assignment in the spring turned into a full-fledged math tutoring program called MathMates, officially implemented a few weeks ago at Hamilton. 
"That ABCS course was so transformational for me because my learning was so multifaceted and multidimensional," Manghani said. "There was reading and writing, we spent time inside a school, and I engaged closely with teachers at Hamilton and the staff at the Netter Center to develop the program." Today, MathMates, which creates specific practice worksheets developed alongside sixth-, seventh-, and eighth-grade teachers, runs in-person on Monday and Tuesday afternoons with more than a dozen steady Penn volunteers and a group of Hamilton students. 
"It's an opportunity for Hamilton students to engage with the material not only in the class but after school, and really develop a concrete understanding of these concepts while facilitating a growth mindset and a love for math," said Manghani, who is also serving as a teaching assistant for an ABCS course this year. "These scholars are so bright and we want to give them the opportunities to harness their brilliance."
Mutually beneficial
Since the late '80s, Harkavy has worked with colleagues at Penn to bring to light philosopher, psychologist, and educational reformer John Dewey's idea that public schools should be social centers. Although there is always more work to be done, Harkavy is proud today of UACS like Hamilton, which "exemplify the power of partnership, the power of working together, the power of learning together, the power of doing things together to make things better," he said. "It showcases the integration of University resources and the partnership with the community coming together around the school as a hub of the neighborhood, as a center for learning for all."
Rothmiller joined Hamilton as its principal in 2020, and as he reflected, he said he was "in awe" at how close the relationship was between the staff at Hamilton and the Netter Center.
"I witnessed the endurance of our team during the school closure related to COVID-19 and we kept students and families at the center of our work," Rothmiller said. "The problem-solving pedagogy of the Netter Center enables our Hamilton students to work through things and overcome and grow in strong partnership with each other. The ABCS courses have bolstered our students' learning experiences. I was even more thrilled at the ways that we were able to cultivate increased partnerships to address pressing needs for Hamilton students and families."
He added how the Netter Center has enabled Hamilton as a whole to get closer to meeting its vision and mission, which is clear: "We want to be a place where kids want to come and where parents feel safe sending them."
You can't have this strong of a UACS community without putting in the work, "without the relationships," as del Rio often says. Each UACS site has its own climate, tackling current and future issues differently. In Hamilton's case, Rothmiller meets with folks from the Netter Center team every other week for strategic planning, and Hamilton's teachers are actively engaged daily. "All of us see these partnerships as crucial to the schools," said Harkavy. 
Such partnerships are also crucial to Penn's survival, as well as the survival of other anchor institutions across the planet. Understanding this, the Netter Center has been working for decades to adapt its UACS model nationally and globally.
"The University's pathway forward is shoulder to shoulder with West Philadelphia," said del Rio. "And if we can be shoulder to shoulder with West Philadelphia and working on issues together, we are really a beacon for universities nationwide, and internationally even. There are a lot of problems that have to be solved."
"It's not just knowledge for knowledge's sake," noted Manghani, invoking the teachings of Harkavy, "it's knowledge for social change."