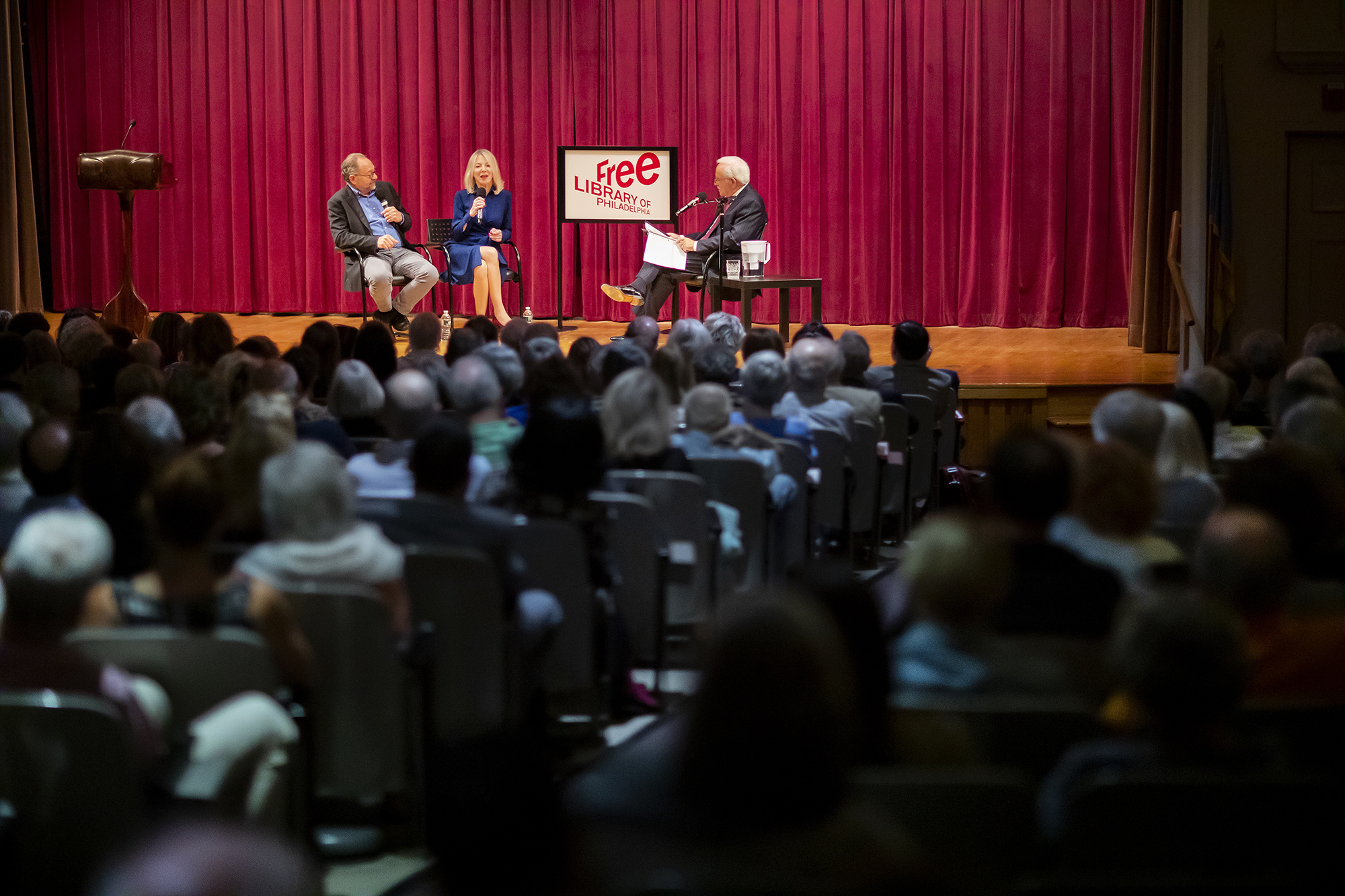 When Amy Gutmann was 10 years old, she watched as a frustrating interaction unfolded between a doctor, her mother, and her grandmother, Eva, who was suddenly overcome with gangrene in her right lower leg.
"The doctor asked my mother for permission to amputate my grandmother's leg," Gutmann recalled, noting that her mom—not college-educated, but street smart, indeed—said he instead should be asking Eva for consent.
Jonathan Moreno told a similar story, where his father, a so-called "brother physician," was educated first about his wife's chondrosarcoma prognosis, as well as the need for a lifesaving amputation of her arm.
"Both of these stories are backgrounding how the doctor-patient relationship has changed," said Moreno, talking to a packed room at the Free Library of Philadelphia Monday night. Gutmann, Penn's president, and Moreno, a Penn Integrates Knowledge professor, were chatting about their new book on health care "Everybody Wants to Go to Heaven But Nobody Wants to Die" alongside moderator and longtime 6ABC anchor Jim Gardner, an award-winning journalist. 
These kinds of stories, personal to Gutmann and Moreno, as well as stories from others, are purposely weaved throughout their book. They help to unfold how bioethics has transformed in the U.S. since the '60s and '70s, when folks first started questioning the "doctor knows best" or "blind trust" mentality, opting for more of an "earned trust" approach.
"At the same time medicine became infinitely more powerful, the trust in doctors from the medical profession plummeted from over 70% in the early 1960s to just about 30% now," said Gutmann, a political scientist. "It's all connected to the fact that we need to take control over our own health care individually, and we need to take control over the health care of our society." 
If we don't, Gutmann added, "we know that there are other people who will do it for us," like big corporations, public officials, and insurance companies.
The duo, who worked together on President Barack Obama's Bioethics Commission (Gutmann was chair and Moreno was a senior adviser), delved into the intricacies of the book, prompted by questions from Gardner, who admitted, if left to his own devices, he may not have chosen to read it.
"I read about politics and a novel here and there," Gardner said. To his delight, he found "Everybody Wants to Go to Heaven" to be extremely relevant and fascinating. "It taught me so much."
In an easy-to-absorb way, their book touches on a topic that Gutmann and Moreno noted is increasingly becoming of more interest to Americans. But even though health care is an "essential enabler," it's believed we still haven't gotten it right—particularly as it involves access and affordability—in the U.S.
"Economists have pointed out for 30 years that we are on an absolute collision course with the rise of health care as a percentage of GDP," said Moreno, who works at the intersection of bioethics, culture, science, and national security. "It's unsustainable."
"We get some things so right in this country, which is the innovation part of health care," said Gutmann. "However we don't get the cost or the access equation at all right."
Talking politics, Gardner asked if it's fruitless to think the country will ever come to a resolution on the health care debate. 
"Every poll and every focus group shows that the vast number of Americans are not polarized in the way our politicians are," Gutmann responded. "The vast majority really want basic health care, and they really want drug prices to be controlled, and we can do it."
The conversation flowed freely, using the book as a guide, bringing up public health issues and controversies throughout the years, including the fraudulent and debunked study claiming that the measles, mumps, and rubella vaccine causes autism. Gutmann and Moreno also discussed the Bioethics Commission's study of the issues raised by testing an anthrax vaccine with children.
Discussing the moral issues raised by medical experimentation, they talked of the 1960s scandal at Brooklyn's Jewish Chronic Disease Hospital, and the highly deceptive Tuskegee syphilis experiment, conducted by the U.S. Public Health Service between 1932 and 1972.
"I think this was like the atomic bomb of bioethics," said Moreno.
"Forty years. Six hundred subjects. Four hundred of them had syphilis," stressed Gutmann. "We had a cure for syphilis in penicillin and they weren't told about it."
When asked if the U.S. is still facing these kinds of issues today, in which vulnerable populations are being targeted for studies, Gutmann explained how it's true medical research is still biased, but in not the same manner. 
"We're learning about white men, how to save them from cardiac arrest, save them from cancer and so on," she said. "We're not doing enough with women and minority populations to learn how to treat them well. It's much more ethical than it used to be, but, as feminists say, we still have a long way to go."
A concept in behavioral health, "nudging" is also examined in the book. "Nudging for good" is what Gutmann and Moreno advocate for, from conveniently located bike kiosks to a simple change on a driver's license form that allows people to "opt out" of being an organ donor rather than "opt in."
"If we had 'opt out,' we would have thousands of more organs available," said Gutmann, explaining how 20 people on organ waitlists die every day in the U.S. 
The discussion also led to abortion, a topic that is "so politicized," said Moreno, "it's really hard to address in a bioethics class." The root of the abortion controversy is a fundamental difference about where human life begins, Gutmann noted, and no matter where a person stands, it's worth trying to see their perspective. 
From "right to die" and reproductive technology, to genetic engineering and CAR T-cell therapy, and even the oft visual of "rogue scientists" creating "designer babies" in the lab, the hourlong conversation—bursting at the seams with information—ended with several questions from members in the audience. 
Talking after the event, in line to get their books signed, Alexandra Belfi and Ilyana Ilieva, both bioethics master's students at Penn, with their sights set on medical school, said they appreciated hearing about their choice of study outside of the classroom.
"It's always interesting to get information presented in a new way," said Ilieva, from Tennessee. 
"We're the next generation of physicians," noted Belfi, from Ohio. "This is all important to keep in mind while we are studying, especially in the age of all this medical advancement and technology."
It's also important, the students said, to learn how to navigate conversations—sometimes tough ones—that involve bioethics. 
"It's not too early to start thinking about such critical issues and developing positions on them," said Ilieva, with Belfi adding, "In our generation, I think there's a lot of 'canceled culture' going on, whereas you have to be able to see the other side, or at least consider the other side."
It's when science partners with ethics, said Gutmann, "We can save lives, we can extend lives, and we can increase the quality of life."
"That's what we really want everybody who reads this book to come away with."