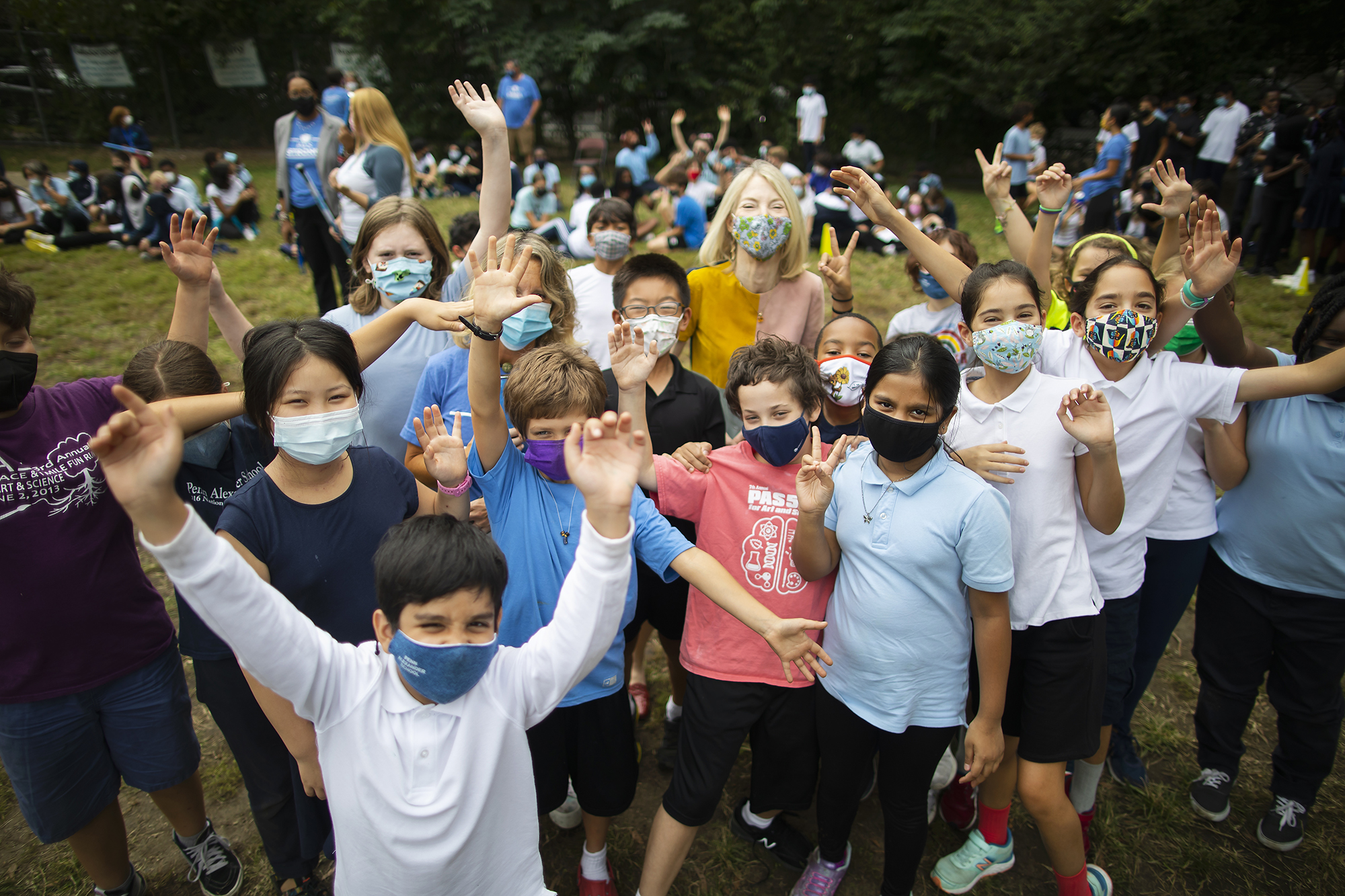 With roaring cheers of glee and hope for the future of education, a crowd of students, teachers, parents, administrators, and special guests celebrated the success of the Sadie Tanner Mossell Alexander University of Pennsylvania Partnership School (Penn Alexander) on the morning of Sept. 21, which was awarded its second National Blue Ribbon Award from the U.S. Department of Education.
"This award affirms the hard work of students, teachers, support staff, families, and the surrounding community," said Lauren Overton, principal of Penn Alexander School, during introductory remarks. "Our strong collaboration between the School District of Philadelphia, the Philadelphia Federation of Teachers, and the University of Pennsylvania allows for us to maintain small class sizes, access robust programming, and ensure all students have all they need to learn and grow."
In attendance at the celebration, held outdoors at Penn Alexander, was School District of Philadelphia Superintendent William Hite, Philadelphia Mayor Jim Kenney, and Penn President Amy Gutmann. They spoke of the significance of closing the achievement gap during a difficult year and the school's strong sense of community.
Collectively, speakers marked the occasion by honoring the legacy of Sadie Tanner Mossell Alexander, the namesake of the school who 100 years ago earned her Ph.D. in economics—the first African American woman to do so. She was also the first African American woman to receive a law degree at the University of Pennsylvania Carey School of Law.
"Achievement and progress are synonymous with this school," said Hite, "a school established in honor of a trailblazing Philadelphian: the incomparable Sadie Alexander."
Hite highlighted parts of the school's Blue Ribbon application that demonstrate its exemplary performance: small group instruction; continued engagement of a parent-run equity circle to support adult learning around issues of race, equity, and inclusion; the development of a Gender and Sexuality Alliance for LGBTQ students; and the production of a virtual musical during the pandemic.
Hite then introduced Kenney, who congratulated students and expressed pride.
"This job has been increasingly difficult in the past year and more, and when I look out and I stand here and look at you and your parents and teachers," Kenney said, looking over a crowd of K-8 students seated on the lawn, "[I] recognize that there is hope for our city, for our country, for the world, and we will continue to invest in you, continue to believe in you, and I want to thank you for making me want to get up tomorrow morning and go to work."
Overton followed with an introduction of Gutmann, who heralded Penn Alexander as one of the top schools in the state and country.
"What I also know is you and we are determined to do even better," Gutmann said. "You are going to be lifelong learners and lifelong givers to make our community, our city, our state, our country, and the world even better."
Gutmann expressed tremendous pride in the community's ability to close the achievement gap and greatly improve high school graduation rates. She also quoted Sadie Alexander, whom she said would be proud to see the school be recognized with such an honor.
"Here's what she said: 'Don't let anything stop you. Make yourself the very best you can of what you are—the very best.' So, uphold her creed, talented students, engaged parents and families, and inspiring teachers," Gutmann remarked.
The National Blue Ribbon Schools Program was created in 1982 to recognize public and private elementary, middle, and high schools based on overall academic excellence or progress toward closing achievement gaps. Schools are eligible for the award once every five years; the Penn Alexander School first received the award in 2016.
The Penn Alexander School opened in 2001 as the result of a collaboration between Penn, the School District of Philadelphia, and the Philadelphia Federation of Teachers. It has consistently ranked among the top elementary and middle schools in Pennsylvania.
As Gutmann congratulated the students, she encouraged them to do the legacy of Sadie Alexander proud.
"Like Dr. Alexander, you soar—you absolutely soar," she said. "And I bet you can all jump up …. Let's see you jump up with joy!"
Responding, students gladly leapt from their cross-legged positions on the lawn, to which Gutmann beamed and laughed.
"OK, you can all sit down!" she said. "But keep that energy up."