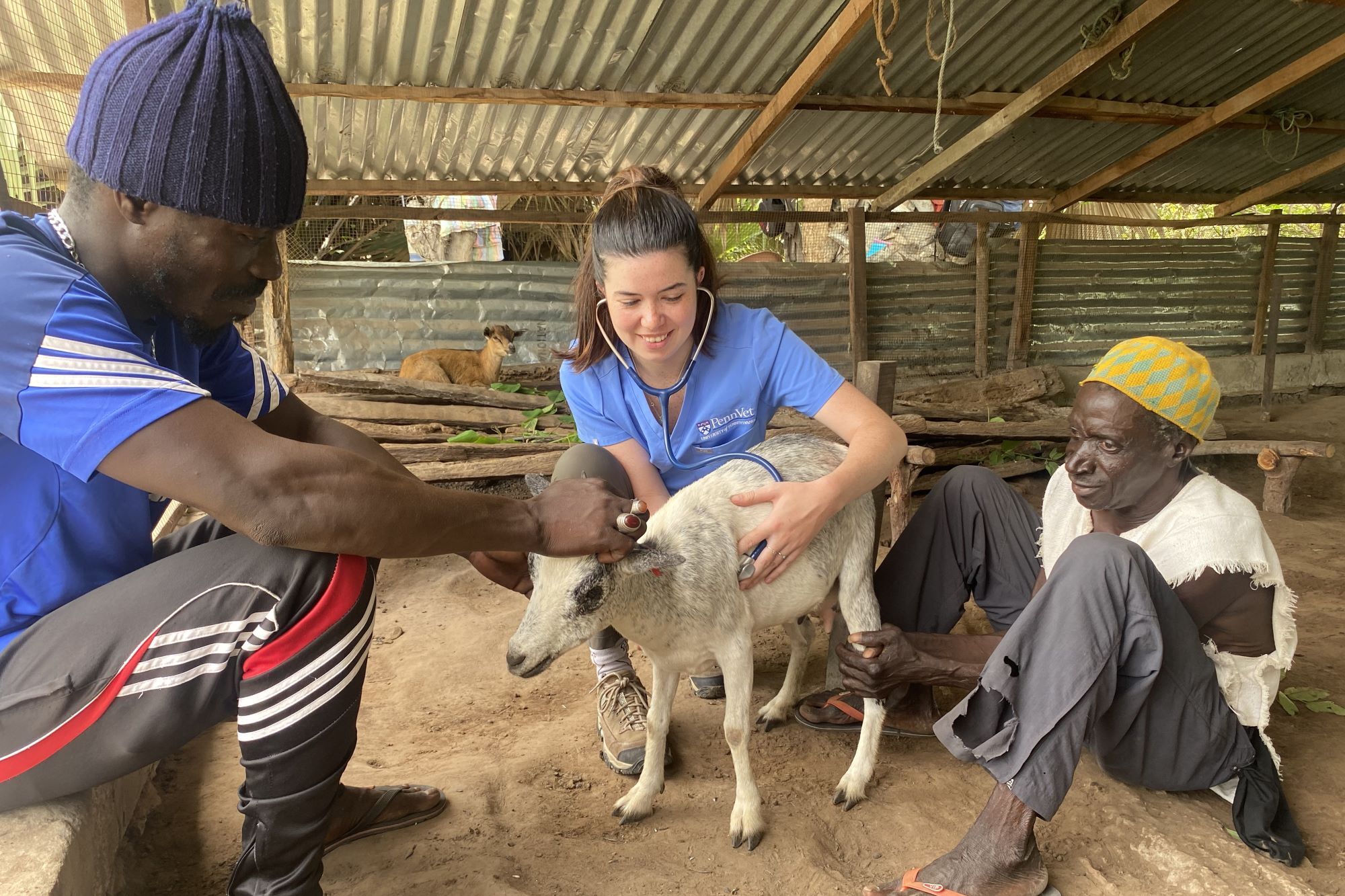 This year marks the 10th anniversary for Penn Global, the face of the University's engagement across the world.
To celebrate, Penn Global is hosting a series of events both locally and around the world to highlight its transformative impact on the University and Penn's long-standing commitment to global engagement. At the same time, its leaders are looking ahead to what the next decade of research, policy, and engagement with the world will look like.
"Penn's renown in higher education as one of the world's top research universities is inextricably linked to this commitment to global engagement and it's what will propel Penn to new heights of greatness in the years ahead," says President Liz Magill.
Penn has always been a global university, with a rich curriculum studying questions and issues facing the world, and with international students and distinguished faculty from around the globe, says Amy Gadsden, associate vice provost for global initiatives and executive director of Penn China Initiatives. 
"The creation of Penn Global allowed us to have an umbrella to bring all of that together so that the whole could be greater than the sum of the parts," Gadsden says. "We're able to bring the community together, celebrate all the ways in which the University is global, and build momentum around that."
From helping fund Penn Vet's Gambia Goat Dairy, to supporting research that has helped curb preventable traffic fatalities in India to aiding students studying abroad and hosting global leaders on campus, Penn Global is committed to integrating knowledge across disciplines. The work looks to address global challenges across Africa, Latin America and the Caribbean, India, China, and beyond.
"It wasn't pre-ordained that Penn Global would succeed, and we have," says Ezekiel Emanuel, vice provost for global initiatives and the Diane v.S. Levy and Robert M. Levy University Professor. "It's a testament to how much global work was already happening on campus. We simply created a global vision that people could rally around and that's been quite gratifying."
Celebrating a Global success story
Penn Global started off the 10th anniversary celebrations with welcome events for international undergraduate and graduate students during New Student Orientation in August, followed by a reception on Oct. 19. The event recognized the deep impact of campus partners and stakeholders across the world who've contributed in varied ways to Penn Global's mission. 
"Bringing Penn to the world, and the world to Penn, has been the mission and the guiding principle of Penn Global, and it's a goal that has never been more important," says Interim Provost Beth Winkelstein. "Penn is a world leader in education and research that cross disciplines and borders. As such, we're uniquely positioned to understand the complex interactions between and among peoples and nations—and to foster the research and teaching so critical to this undertaking."
Earlier this month Penn Global held a series of 10th anniversary events in London, including a reception featuring Michael Weisberg speaking about his work in the Galapagos. Weisberg, the Bess W. Heyman President's Distinguished Professor of Philosophy in the School of Arts & Sciences, has been involved in research and activism in the islands for much of his career. 
"One of the things Penn Global has always pushed me on is to make my work ultimately global—my work can be centered in the Galapagos, but shouldn't just be of the Galapagos," Weisberg says.
Weisberg has partnered with the hub on everything from Penn Global Seminars to leading the inaugural cohort of Penn Global Research Institutes to the archipelago and is also a Perry World House faculty fellow. He's representing Perry World House this month at the United Nations Climate Change Conference, COP 27, in El Sheikh, Egypt. 
In January, they will celebrate with another reception in Singapore, as well as at the Penn India Engagement Forum in Delhi. Co-hosted by the University of Pennsylvania for the Advanced Study of India and Center for the Advanced Study of India, which are also celebrating their 25th and 30th anniversaries respectively, the event will bring together Penn faculty and experts to discuss India after COVID-19 and will be capped by a conversation with Wharton Dean Erika James and School of Engineering and Applied Science Dean Vijay Kumar. More events and conferences highlighting the work over the past 10 years are planned for the spring.
Range and reach of Penn's global engagement
Encompassing seven reporting offices, Penn Global leverages its broad and deep expertise to advise the University on its global activities and to collaborate with Penn's schools, centers, communities, and partners to deliver a comprehensive suite of global programming that generates positive impact around the world.
Those offices include the Office of the Vice Provost for Global Initiatives (Global Initiatives); Penn Abroad; International Student and Scholar Services (ISSS); Global Support Services (GSS); Perry World House; Penn Biden Center for Diplomacy and Global Engagement; and Penn Global Finance and Administration.
Among the offerings for students are study abroad opportunities and the Penn Global Seminars program, which combine intensive semester-long study with a short-term travel component that deepens students' understanding of classroom concepts. 
"In the same way we wouldn't want to teach a chemistry or biology class without giving students a lab opportunity, we don't want to teach students about the world without giving them the opportunity to see it," Gadsden says.
Last spring, students traveled to places like Mongolia for a Mongolian civilization class, and the battlefields and towns of Belgium and France to look at the Great War through the lens of memory. Study abroad opportunities included everything from semesters in Hong Kong and London to summers studying in Cannes, France, to internships in Australia.
Emanuel noted Penn's faculty in particular is what makes this programming come together.
"We could not do anything we do, in terms of educating our students overseas, without the faculty," he says. "Having faculty who have these research interests and scholarly interests in other countries makes these opportunities happen. A university is as strong as its best faculty and the great thing is, Penn has a fantastic faculty."
Before the pandemic, more than 2,700 students were studying abroad for credit annually and hundreds more were participating in experiential programs. For the 2019-2020 academic year, the University was recognized as one of the top 10 institutions in the nation sending students abroad and the top sending institution in the Ivy League. 
Abroad programs are getting back up to speed after adjusting to the pandemic shutdowns, and this winter they will be back to a full roster of Penn Global seminars, looking at everything from traditional Chinese medicine in Thailand with the School of Nursing to travel to Costa Rica for a course on sustainable development and culture in Latin America.
Penn Global also helps international students coming to Penn make their transition to campus as smooth as possible, and to make them feel fully integrated as a part of the community, Emanuel says. "We are very excited about the active engagement of our international students at Penn. They are such important campus participants and campus leaders." 
Thousands of international students enroll at Penn every year, representing more than a fifth of Penn's entire student body. Numerous programs are offered to facilitate the integration and success of international students at Penn, from Forerunner and Intercultural Leadership Program to the Penn World Scholars program, which has graduated 200 students since its inception in 2006.
(Left to right) Former U.S. Secretary of State John Kerry meets with Perry World House Student Fellows and Graduate Associates on Sept. 24, 2019. (Image: Courtesy of Perry World House); Former national security advisor and United Nations ambassador Susan Rice discussed her book "Tough Love" in a talk with Provost Wendell Pritchett on Jan. 22, 2020. (Image: Courtesy of Perry World House); Sweden's former Prime Minister Carl Bildt discusses the war in Ukraine with Clay Risen of The New York Times in March 2022. (Image: Courtesy Eddy Marenco)
Also playing an important role in bringing the world to Penn is Perry World House, which over the years has hosted global leaders like President Biden, Former President of Mexico Felipe Calderón, former UN High Commissioner for Human Rights Zeid Ra'ad Al Hussein, Prime Minister of Sweden Carl Bildt, as well as current ambassadors, leaders in the fight against climate change, nuclear proliferation and global markets. Perry World House's student programs include a Global Career Week, Undergraduate World House Student Fellows Program, Graduate Associates Program, essay contests, and more.
"It's been very exciting to see Penn Global evolve and succeed over the years," says LaShawn Jefferson, senior executive director of Perry World House. "It is our great fortune to be a core part of this vital, University-wide mission that is committed to ensuring that all of Penn—faculty, students, and alumni—critically understand, are deeply connected to, and have pathways to influence and shape global developments."
Looking toward the next 10 years of Penn Global
As for what the next decade holds for Penn Global, Emanuel says they have robust plans. 
They intend to boost the Penn Global Seminars to 30 offerings a year and would like to see students getting involved in them earlier in their academic careers. 
"We hope to see more involvement from first- and second-years so the global experience can more effectively influence their majors and their career choices," Emanuel says. 
They also hope to expand their newly launched Penn Global Research Institutes with faculty—such as the pilot program launched in the Galapagos by Weisberg— as well as provide more opportunities for graduate students and professional students. 
"To that end, we're already in discussions with schools about things like gap years for graduate students, whether it would be before they start their graduate program or once [they are] in their graduate program but before they start research," Emanuel says.
He also envisions adding to the roster of country global funds. Currently, there are funds for Africa, China, and India, and the plan is to develop funds for Latin America and the Near East, as well.
"Expanding to these other regions is going to be very, very important," he says.
They're also thinking about how to capitalize on the success of Perry World House and the Penn Biden Center going forward, whether it's having Perry World House Visiting Scholars teach courses at Penn or adding Washington think tank elements to the Biden Center.
"There's always way more to do and if Penn wants to be a leading global university, this mix of education, research, and think tank operations is critical to making us preeminent in this area," he says.
In the past decade, Penn Global greatly expanded its educational offerings into a full panoply of ways to have a global experience other than the traditional "semester abroad," from summer courses to shorter courses to winter travel. These varied options enable different types of students—including athletes, theater students, and engineering majors, for example—to experience global programs that fit their busy schedules.
Penn Global has an openness to innovation and new possibilities that it fosters as a culture, Emanuel says.
"Penn Global's initial reaction to new ideas is, 'yes, let's try to make it happen,'" he says. "The answer shouldn't be 'no,' it should be 'let's go for it.' There's a lot of things that can be done and the last 10 years have shown that people will respond to that possibility."
Despite talk of a move toward deglobalization around the world, Penn Global's focus remains steadfast.
"Penn is not withdrawing from the world. It's absolutely critical if we're going to train the next leaders to be engaged with the world that we need to be able to send our students throughout the world," Emanuel says. "We aren't in every country in the world but we're pretty darn close. That's a testament to the fantastic breadth of interests of our faculty, the breadth of interest of our students, and that is a central identifying element that distinguishes Penn."
Academia plays a role in the future of the world, and Penn Global functions as a bridge, Gadsden says.
"It is really important to double down on global engagement," Gadsden says. "We have these forces that are causing us to question our engagement in the world. As Penn, we need to be a leader for global engagement. We need to be a leader in welcoming the world to Penn and the United States. We need to be a leader in demonstrating and advocating for the importance of global research to change our world, to improve our world."