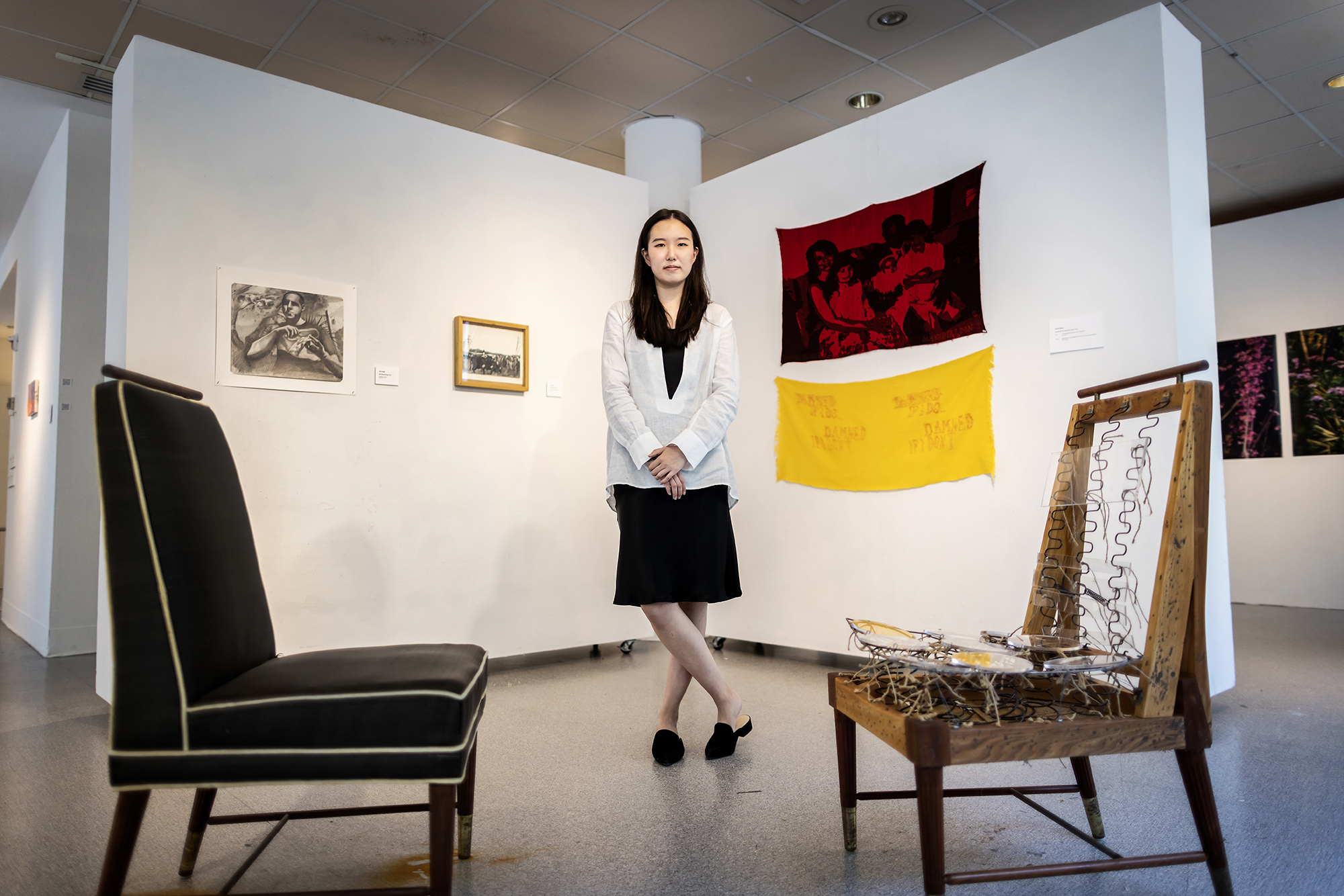 Discovering that the Charles Addams Gallery in the fine arts hall would be empty during the summer, Kay Seohyung Lee decided to fill it with artworks by 34 undergraduate students in six Philadelphia colleges and universities, including eight students at Penn.
The exhibition, "Let Me Know You Are Alright," on view through Aug. 18, was co-curated by Lee, who graduated in 2021 with her master's degree in fine arts from the Weitzman School of Design, where she is now a lecturer in drawing and painting.
The exhibition, featuring 50 artworks, curated through her partnership, project ieerie, with Ji Yoon "Guava" Rhee, an assistant professor of art, digital art, and media design at Penn State University, and a classmate in the Weitzman MFA program.
Lee says this exhibition is also the first in Philadelphia to bring together artworks by undergraduate students at Drexel, Moore College of Art & Design, Pennsylvania Academy of Fine Arts, Temple University, the University of the Arts, and Penn.
The diverse array of media presented includes paintings, drawings, sculptures, photography, and installations. Most of the artists have never shown their work before, Lee says. The materials are also diverse, including the expected oil, acrylic, and ink, as well as the unexpected: a dismembered chair and bricks from a demolished crab shack in South Philadelphia. 
"The goal of the show was to connect the schools in Philadelphia and create a creative network between students so they can exchange ideas and hopefully do collaborations," Lee says. In addition, she wants to give students a professional experience, a sense of "what it's like to be an artist in the real world," including going through an open-call application process.
Most of the student artists attended the July 28 opening, she says. "Six school communities were in one place, and students were talking to each other, exchanging numbers, discussing the different curriculums and possibilities," Lee says, "expanding the bubble outside their institutions."
The artists are also expected to attend the Aug. 18 closing reception, 5 to 8 p.m. in the Gallery, along with students who are returning to campus for the fall semester, Lee says.
The Penn students participating in the exhibition are: in the College of Arts & Sciences, rising fourth-years Mila Carty, a design major from the U.S. Virgin Islands, Catia Colagioia, a fine arts major from Philadelphia, and Tavi Kim, a design major from Philadelphia; rising third-years Madeleine Davis, an international relations major from New York City, Maura Catherine Dresner-Pfau, considering fine arts and design majors, from Boise, Idaho, and Jack Roney, a design major from Jonesborough, Tennessee; rising second-year Kim-Tien Vo, considering fine arts and chemistry majors, from Lakeland, Florida; as well as rising third-year Tate Park from Philadelphia in the School of Engineering and Applied Science.
The exhibition, supported by a grant from The Sachs Program for Arts Innovation, grew out of the frustration Lee and Rhee experienced pursuing their master's degrees during the pandemic, with no programming to connect with artists at other Philadelphia schools.
"I have had students who come to me after class and ask me about how to become an artist, and that was very eye-opening for me. There's a difference between teaching someone how to draw and paint and teaching someone how to practice art," Lee says. "It is not just about working in your studio. It's also about connecting with your community, connecting with other artists, and getting your inspiration from other people's work as well. And I definitely saw that happening during this show."
Students at the five other institutions included in the exhibition: Drexel: Dot Bashioum, Anaïs Livadas; Moore College of Art & Design: Skye Burke, Courtney Drake, Romeo Montero, Magdalene Sanchez, Jayden Weingard; Pennsylvania Academy of Fine Arts: Varávra Fern, Olivia Hiester, Hana Rusi; Temple University: Syz Angelini, Tate Cargas, Natalie Manes, Maria Missaoui, Olivia Musselman, Anesu Nyamupingidza, Niko Walczuk; University of the Arts: Nijah Blanton, Zivia Brown, Gray Cimini, Daivd Idowu, Ra Lahoda, Jael Lunsford, Anh Ly, Joey Miller.