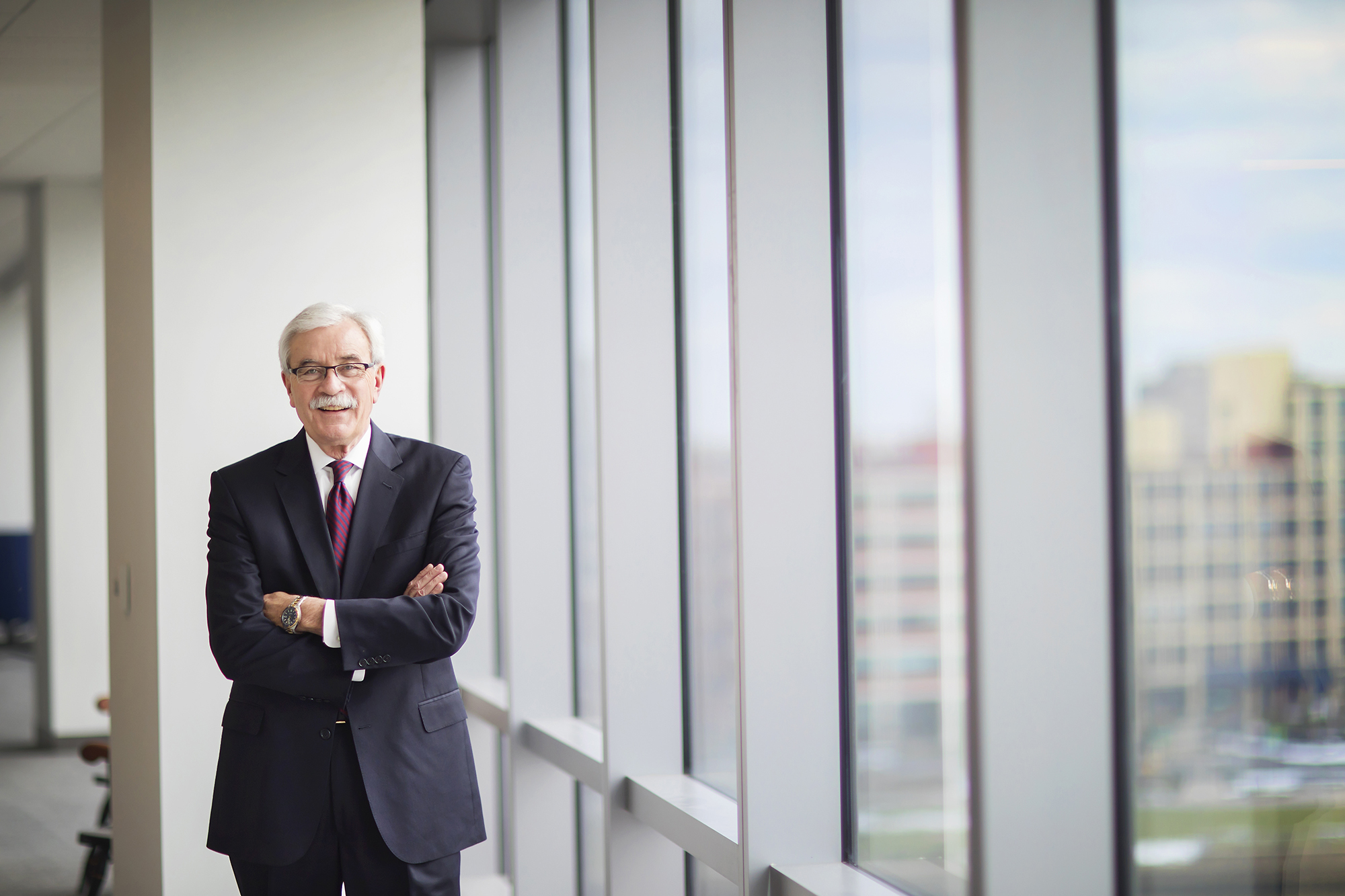 The success of a university's fundraising campaign isn't measured by its big number. Instead, what makes it successful is its tangible impact: The ability to make an Ivy League higher education accessible to more first generation and lower-income students than ever before; the capacity to support groundbreaking, lifesaving research—from immunotherapy to COVID-19 vaccines; or the muscle to begin uprooting systemic injustices by implementing new centers that focus on influential change. 
The Power of Penn Campaign has allowed for all of that, and so much more. 
Penn's most recent capital campaign got its start with kickoff events across the world. From Philadelphia to Boston to Los Angeles to London, alumni and friends joined together with President Amy Gutmann to hear directly from her how their support would take the University to the next level. During the Campaign, new scholarships would be created, new faculty would be hired, new buildings would be erected, and new programs would be formed. This summer, amid a worldwide pandemic, the Campaign concluded, exceeding its initial goal by more than $1.3 billion. 
"This campaign turned ambitious priorities into reality," says Gutmann, "and that is, truly, the power of Penn." 
To learn more about the Campaign's highlights, Penn Today caught up with John Zeller, senior vice president for Development and Alumni Relations, a position he's held at Penn since 2005. He discussed how the University has transformed throughout the years, not only because of The Power of Penn, but also the previous Making History Campaign; what sets the University and its alumni apart from other institutions; and how he and his team managed to complete two successful campaigns even during the most trying of times.
Let's start by chatting a bit about the two campaigns you've been involved with since you've been here: Making History and The Power of Penn. What are some of the biggest features of each?
There are a lot of highlights when you consider $9.7 billion raised across two campaigns. One of the things that we did, and we did very early on, was make strategic investments in our alumni relations and outreach programs. In Making History, we had the campaign goals—the core priorities—and then we had an engagement goal. Everything we did was not only about raising money; it was also about bringing the Penn community closer together. We launched a number of different initiatives to showcase our amazing faculty, including Engaging Minds, an annual event in New York that consistently sells out, and our Penn to You Faculty Series where alumni from around the world can connect virtually with renowned faculty and their work. We were really looking at our regional clubs, both domestically and especially internationally, where we wanted to bring them closer to the institution.
We also put a terrific focus on coordinating all the alumni relations programs, from central alumni relations to all the schools and centers, to ensure that our alumni feel connected. And the numbers speak for themselves. Back in 2004 and 2005, we would have 8,000 attendees at Alumni Weekend. By Alumni Weekend in 2019, we had over 13,000. The other important piece is that both campaigns really focused on volunteers. During The Power of Penn, we had over 6,500 volunteers involved. We also had more than 41,000 alumni make their first gift ever to Penn during this Campaign. Finally, Making History and The Power of Penn were built on a strong foundation of President Gutmann's vision: the original Penn Compact that she articulated in 2004, which embraced access, integrated knowledge, and increased community engagement locally and globally—what she now characterizes as the 'three I's' of Inclusion, Innovation, and Impact.
What was the final total for The Power of Penn Campaign, and what does that number signify?
The final total is $5,408,980,446. Add that to the $4.3 billion from Making History and we have raised nearly $10 billion under Dr. Gutmann's leadership. First and foremost, The Power of Penn has had an enormous impact on undergraduate and graduate financial aid. We created 830 new undergraduate scholarships and raised nearly $900 million for student aid. The Penn First Plus program was launched, and one in seven students at Penn are now the first in their families to go to college—up from one in 20 when Dr. Gutmann became president. We created 186 new endowed positions, including 12 new Penn Integrates Knowledge Professorships. There was a real focus on strengthening the faculty, and over $660 million was raised for capital projects, which you can see across campus. We had a large infusion of funds for research, both in medicine and across the University. And some very, very unique programs were made possible because of philanthropy, from Penn Dental's Center for Integrative Global Oral Health to the Penn Athletics Wharton Leadership Academy, The Sachs Program for Arts Innovation to the Stavros Niarchos Foundation Paideia Program, as well as the Behavior Change for Good Initiative, MindCORE, and the Actionable Intelligence for Social Policy program. Literally across all the schools and centers at Penn, philanthropy made it possible to launch new initiatives and the results have been spectacular. 
What has made The Power of Penn so unique as a campaign, and why has it been so successful over the past few years?
When we were envisioning this Campaign, we asked all of the schools and centers to identify their top priorities. These priorities ultimately informed the $4.1 billion goal, but we knew that we were going to have to raise more. It's not just putting a big number up, it's the impact the funds raised will ultimately have, which was one of the great distinguishing elements of The Power of Penn. Another unique element was the continued focus on engaging our alumni and friends around the world and building out programs like the Penn Alumni Interview Program. During the 2021 admissions cycle, more than 10,000 alumni supported Penn's efforts to offer interviews to 45,000 prospective students. The success we've enjoyed is also attributed to our Trustees, our wonderful volunteers, the academic leadership, and an extraordinarily talented and innovative Development and Alumni Relations staff across the University. Bringing them all together with a focus and a purpose had astonishing results. But it's also the execution—Bob Levy as Campaign chair and Lee Doty as vice chair— their volunteer leadership really inspired others. It's a story of hundreds of participants moving in the same direction. 
Let's talk about the physical transformation of campus over the past two decades. How did fundraising contribute to such growth?
If you were to go back and look at the physical campus in 2004 when Dr. Gutmann came to Penn, it was very different. The Perelman Center was just starting to be constructed. Penn Park is probably the most significant visual transformation—we actually kicked off the Making History Campaign at a celebration on the parking lot of the postal lands. Each of the schools and centers have benefited from capital projects. If you've been to the Penn Museum recently you would notice its complete transformation. During the past two decades, $3.8 billion has been invested in new and renovated space on campus, including the addition of more than 30 acres of open space. 
What sets Penn apart in its ability to be able to have undergone this type of enormous physical transformation?
Every college and university undertakes capital projects during a campaign. What sets Penn apart is that we didn't build for the sake of building; it was strategic construction. The college houses are not just nice spaces for students to live, they will allow the University to move into a new era for first- and second-year students to be able to live on campus, a critically important factor for a successful and engaging student experience. You look at projects like Tangen Hall, Wharton's Academic Research Building, Penn Engineering's Data Science Building, which was recently named Amy Gutmann Hall, the Vagelos Building, all of the construction that's been done at Penn Medicine, and the upcoming opening of the Pavilion at the Hospital of the University of Pennsylvania. These are all projects that contribute to the physical transformation of our campus, but it's what they enable that is so meaningful. As a result, our faculty are undertaking research on critically important issues and our students have access to state-of-the-art living and learning environments. 
You managed the Making History Campaign during the biggest economic downturn since the Great Depression, and you managed The Power of Penn during the COVID-19 pandemic. How have you been able to keep alumni engaged during such extraordinary times?
I come back to what we started talking about when we began this conversation—engaging our alumni and making them part of the fabric of the institution. The downturn occurred just a year after we launched the Making History Campaign. Our focus on making sure alumni felt connected was ever so important, particularly given the devastation in the financial markets. President Gutmann invested in financial aid so when students' financial conditions changed, we were able to support them. We spent a lot of time meeting with our graduates and friends, both domestically and internationally, not asking them for money, but just talking to them about their needs and what the University could do to help. As the economy recovered in the latter parts of the campaign, people felt very connected and very much engaged with the institution. That was one of the critical pieces. As we went into The Power of Penn Campaign, we continued to make strategic investments in programs that kept our alumni and donors close to the institution and stewarding them to show the impact of their giving.
When the COVID-19 pandemic arrived in March of 2020, it upended how we do our work. Our business has always been conducted in-person, by bringing people together and showcasing the exceptional work happening at Penn. All of a sudden, like everybody else, we had to stay home. I give great credit to the staff and our volunteers, upon whom we had to rely on very heavily during this last period of the Campaign. Almost 40% of the public phase of this Campaign was done virtually. We ended this last fiscal year with the second highest fundraising total in our history, and we didn't have a single in-person visit. It's a credit to how quickly the team was able to pivot to a virtual environment. We also found new and innovative ways to connect with our alumni. We did a lot of virtual programming, which had three times as many attendees than we would have had if we conducted the events in person. The piece that I think is most telling is that we had six times the number of first-time attendees. It's about fostering a sense of community, and that really came to the fore when we had to finish this Campaign in a virtual environment.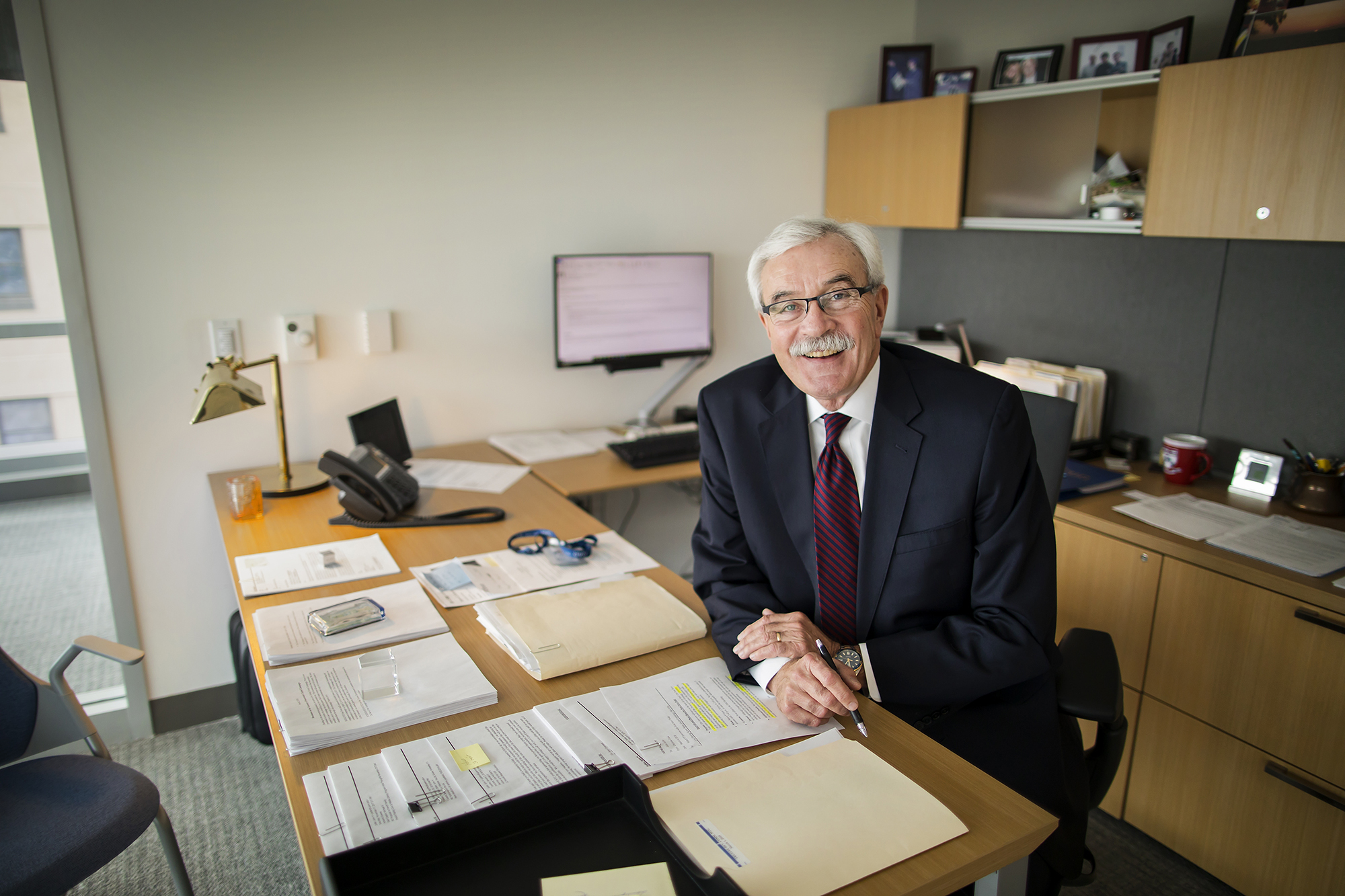 One of the biggest highlights of The Power of Penn Campaign, and aptly one of Dr. Gutmann's proudest accomplishments as president, has been increasing access for first generation, lower-income students, and helping them thrive once they get here.
The Campaign clearly has been focused on providing undergraduate financial aid, as well as graduate student support. President Gutmann had a vision of making a Penn education accessible for the best and brightest students, regardless of their financial resources. Penn First Plus brings dedicated focus to the unique needs of first-generation and/or lower-income students. You now have this support network, not only from professionals and faculty, but also from peers and students. We also unveiled an alumni program of first-generation graduates who serve as mentors and help current students in this process. To do all this, we really needed a place that was responsible for bringing this community together. We now have the Penn First Plus Center in College Hall that opened during the pandemic.
You've worked with Dr. Gutmann pretty much since she got here. What has that experience been like for you, and what does her legacy represent?
For me, it's been both a personal and professional highlight of my entire career. She is an extraordinary leader with great vision, and I think we all see that. She has been a wonderful partner since the moment I took the job. We've had a lot of conversations about the importance of development and alumni relations, and she embraced the types of things we were doing. Actually, she more than embraced, she was driving a lot of it, making sure that our alumni felt engaged. Her visionary leadership began at her inauguration. I was a candidate when she gave her inaugural speech and laid out the Penn Compact. I was listening to it and said, 'Oh my, that's the campaign right there.' She summed it up in three phrases. Eighteen years later the results are extraordinary. 
Looking back at your time at Penn and these campaigns, what has kept you energized every day, even during the most difficult times?
I think for anybody who is in Development and Alumni Relations, the great personal satisfaction is being able to see the vision for the institution and to be able to connect people who want to support that. We're really facilitators in many ways, bringing people who have great interest in what the University is doing and matching them with the faculty and the academic leadership who share that vision. Philanthropy allows them to either begin it or to accelerate it. Big numbers are great, but we should never focus on the big number. The impact has been the greatest joy. I'm fortunate to wake up in the morning and say, 'I represent a world-class institution and I get to partner with some of the most amazing donors who have a passion about the work that we're doing.