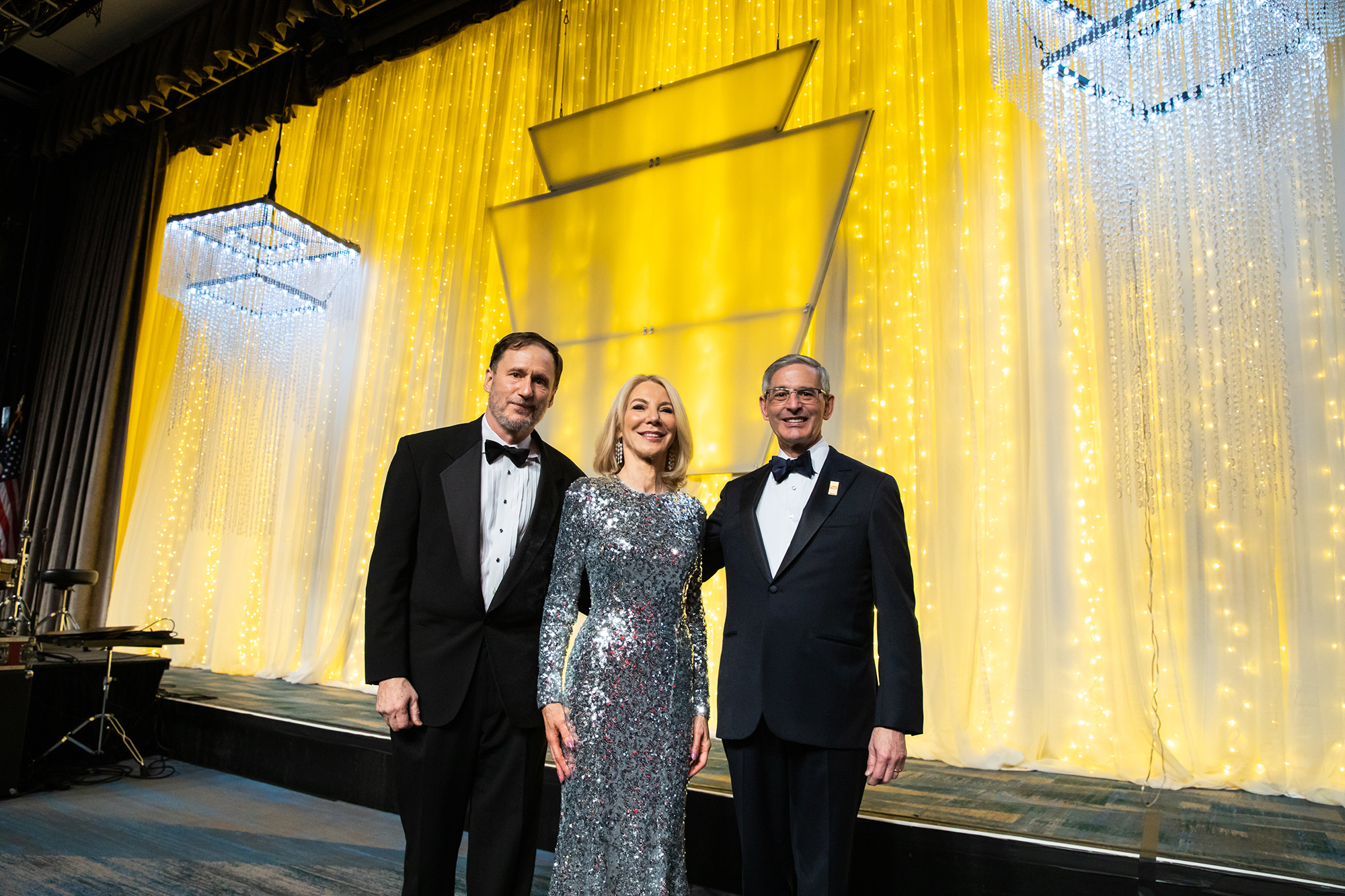 Describing Amy Gutmann in one word is no easy task. But a few folks close to her mission gave it a go: 
"Passion," noted NBC News Chief Andrea Mitchell. "Inspirational," described Comcast Executive David L. Cohen. "Fierce," explained The Lomax Companies' General Counsel Claire Lomax. "Visionary," said U.S. Sen. Pat Toomey. 
The eighth president of Penn, Gutmann, also a widely published scholar, has made numerous contributions to the University, state, nation, and world. Her ambition for, as she often says, "knowledge for good" stretches far and wide; she's a truly "transformative leader," noted U.S. Sen. Bob Casey. 
It's for these reasons, and many more, that Gutmann was awarded this year's Pennsylvania Society Gold Medal for Distinguished Achievement, a coveted honor she said Saturday—at the group's annual, black-tie dinner in New York City—she was humbled to receive. 
A unanimous decision on the part of the Pennsylvania Society's council, its president Robert J. Ciaruffoli Jr. said Gutmann was "selected for her remarkable leadership in Pennsylvania, and her distinguished representation of Pennsylvania's ingenuity to the world."
As tradition, the Pennsylvania Society donates a $50,000 philanthropic gift on the honoree's behalf, of which Gutmann chose the Henry C. Lea Elementary School. A surprise at the event, Gutmann told the crowd of 800-plus Pennsylvania game-changers, including Lea's principal ShaVon Savage, a Penn alumna, that Penn would match the donation, dollar for dollar, totaling $100,000 to support the West Philadelphia public school.
A gift with undoubted "impact," indeed, it's only one example of Gutmann ensuring her promise of the Penn Compact, which also includes "innovation" (look no further than Penn Medicine's Carl June and CAR T-cell therapy, the first ever FDA-approved gene therapy for cancer), and "inclusion."
"Higher education," said Gutmann in her acceptance speech, has the "power to transform lives."
She talked of her own, very personal story: Gutmann's father, who escaped Nazi Germany and eventually immigrated to the U.S., worked as a scrap metal dealer, and passed away when she was a junior in high school. Her mother went to work as a secretary. Without any savings, attending college was "almost inconceivable," Gutmann explained, "but scholarships made it possible."
"And that leap utterly transformed my life," she said. "It made educational opportunity the driving force and the absolute defining mission of my life as well."
In 2009, Gutmann led the implementation of Penn's grant-based policy for undergraduate financial aid, based on need, which has, today, provided students and their families with more than $1.4 billion in grants. Since she became president in 2004, Gutmann has more than doubled the number of students from low-income, middle-income, and first-generation college families attending Penn, and has also initiated significant efforts, including Penn First Plus, to make sure that students of all different socioeconomic backgrounds are not only able to get to the University, but allowed to flourish once they arrive.
Gutmann shared a note she received from Penn undergraduate Jake Rhoades, from Jamestown, Pennsylvania, a small northwest town. A scholarship from the Pennsylvania Society and the Maguire Foundation, in combination with a Penn grant, made attending his dream school possible.
"The most stirring part of my quest for the best education in the world is that there is an amazing number of Pennsylvanians who don't even know me but believed in my potential," Gutmann quoted Rhoades, whose letter ended with, "The future is wide open."
"At Penn, the future truly is wide open," said Gutmann, gazing out at the crowd. "You see it in the dreams come true of our talented students. And you see it in the life-changing breakthroughs of our brilliant faculty."
It is Penn's pioneering discoveries and inspiring student stories that Gutmann said wake her every morning. But, she noted, it's essential that we remember, "All the important work of higher education can only happen when we dedicate ourselves to making it so."
In attendance of the Pennsylvania Society's 121st dinner, which featured musical performances from Leslie Odom Jr., a Pennsylvania native, and Penn Counterparts, Penn's oldest co-ed a cappella group, were numerous elected officials from Pennsylvania, including U.S. Senators Casey and Toomey, and two former governors, Ed Rendell and Tom Corbett. The gathering of Pennsylvania leaders—which has grown to involve other happenings in the city throughout the weekend, including a Penn President-hosted breakfast at the Penn Club of New York—is meant as an opportunity to put aside differences and discourse and appreciate shared values and aspirations, said Ciaruffoli. 
Now more than ever before, urged Gutmann, education is "absolutely essential" to creating a wide, open future for as many people as possible. "We must always, always hold true to our commitment to quality education and opportunity for all Pennsylvanians," she said. "Indeed, for all people everywhere."
It's because of higher education that we're able to see the difference between a scrap metal dealer and the president of Penn, said Gutmann. 
Simply put, it's "one generation."