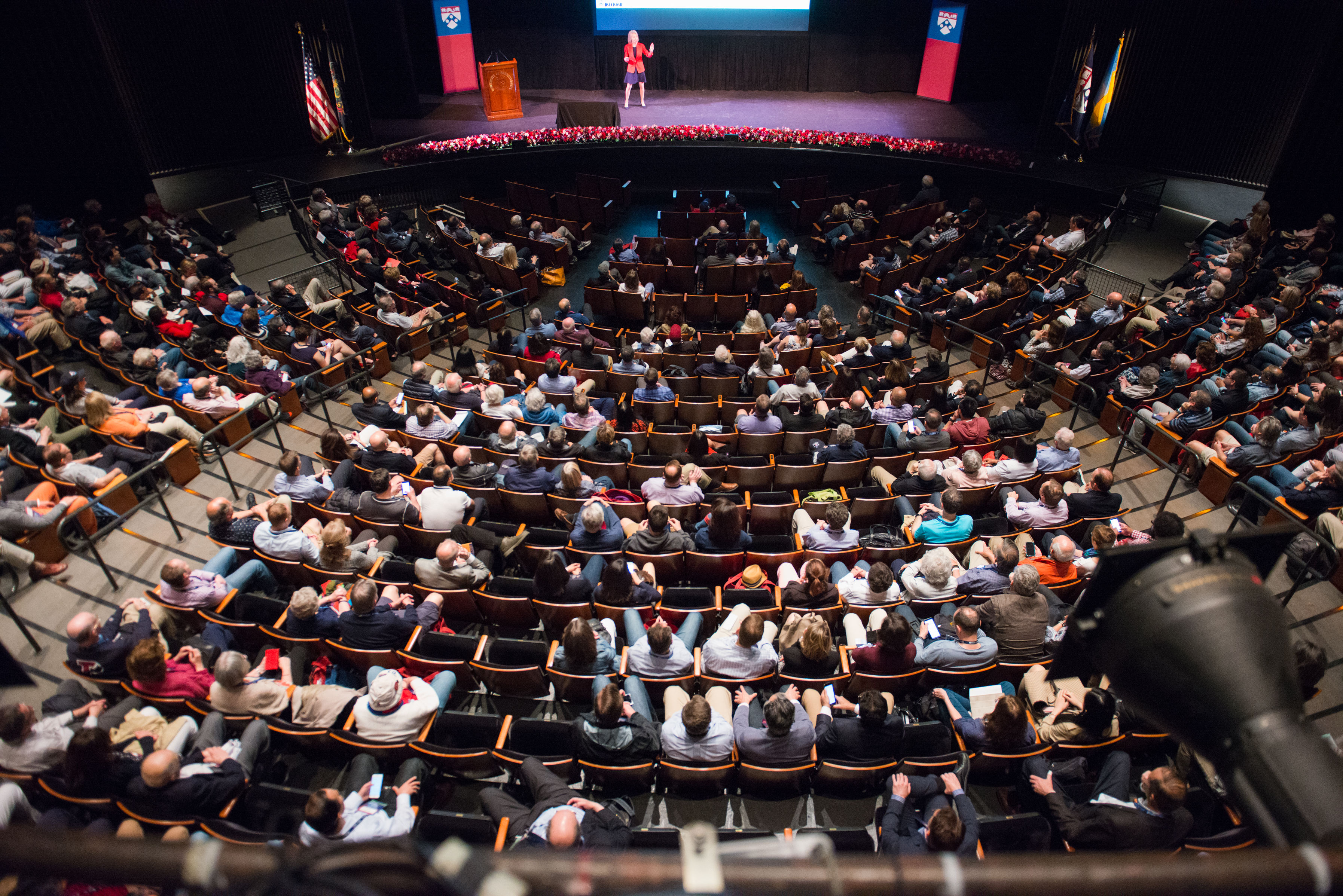 By Angelo Fichera
Much of Alumni Weekend presents an opportunity to look back—reuniting with old classmates, parading (literally) around campus once more, and exchanging stories and memories.
But if there was one takeaway from Penn President Amy Gutmann's conversation with alumni Saturday morning, it was this: There is still so much to come.
"We never stop," she said at one point, discussing groundbreaking developments in medicine at Penn. "We never should stop."
During the 45-minute event in a Zellerbach Theater full of Quakers, some celebrating their 70th reunion, Gutmann presented a compelling case for that notion—citing a handful of Penn's most recent, notable achievements on campus, in labs, and throughout the world.
It was a momentum the president illustrated through the lens of the Penn Compact 2022, and its pillars of inclusion, innovation, and impact.
"For students on financial aid, it costs less to attend Penn today than it did a decade ago," Gutmann said of Penn's commitment to inclusion. "The average cost of a Penn education has declined by almost 12 percent over the last decade."
What's more, she said, is that one in eight freshmen at Penn now are first-generation college students—a significant increase from when Gutmann became president in 2004, when one in 20 freshmen were first-generation.
Penn's support for those students on campus, including through the Penn First Plus initiative, is one that is both important to Gutmann, and personal, as well.
"I was a first-generation, low-income student myself," she said, "and I know how challenging it can be to come into an Ivy League university."
Penn's pledge to confront that challenge is underscored by the numbers: The University is one a few institutions in the country that offer grant-based financial aid policies, she said. And 68 percent of students graduate debt-free, a fact met by applause in the theater.
The numbers didn't stop there.
The University, Gutmann reminded the room, was ranked No. 4 on a list of the most innovative universities in the world (proof, she said, of Penn's "putting ideas into practice").
The president went on to describe the "skyrocketing innovation ecosystem" at Pennovation Works, and talked of the innovative spirit among undergraduate students, like the seniors awarded presidential prizes for their post-graduation projects centered on creating positive change in the world. Among those endeavors is one designed to connect vulnerable populations in Chicago with furniture for their homes, and another to address the global health problem of infectious disease in children.
"The ultimate impact, as you know, is saving lives," Gutmann said.
Last August, she noted, Penn researchers received the first-ever FDA approval for a gene therapy treatment for cancer. That product received a second FDA approval this month, expanding the therapy to more cancer patients.
Gutmann also spoke of exciting developments on campus, like the recently announced New College House West, and the success of Penn's athletic programs. She highlighted Women's Lacrosse, which has captured 11 Ivy Titles in 12 years (and beat Penn State in overtime Friday), and men's basketball, which won the Ivy League Tournament in March.
"The Power of Penn, I hope I've convinced you—if you needed any convincing—it starts with you," Gutmann told the alumni, wrapping up her address.
A question-and-answer session following Gutmann's remarks allowed for a candid conversation with the president, including on some tough subjects. Among them was a question from a 1978 alumna about Penn's commitment to hosting an open and inviting space for all political beliefs.
"I totally agree with the importance of diversity among our professors as well as our student body," Gutmann responded, adding that the University will continue to proactively recruit individuals with diverse points of view.
She referenced this year's Silfen Forum, which brought together former Vice President Joe Biden, a Democrat, and former Florida Governor Jeb Bush, a Republican. Penn also continually receives positive free-speech ratings from the nonpartisan organization FIRE, the Foundation for Individual Rights in Education, she said.
"You have my absolute commitment to make sure that the environment at Penn is welcoming to all sides," Gutmann said. "As a scholar and teacher, I have dedicated myself to just this proposition. So I welcome your challenge, because I think we always have more work to do."
As the event concluded, two-time alumna Sandra Lotz Fisher, who graduated from the College of Women in 1964 and the Graduate School of Education in 1967, considered the vast world that is Penn.
"My mouth just falls open at what it offers," said Fisher, a New York City resident who teaches a professional development seminar at the University of Oslo's International Summer School in Norway.
Fisher said she was particularly moved by Penn's efforts to make the University affordable, calling a debt-free graduation "an extreme gift these days."
In the seat beside her, several rows from the stage, was her 14-year-old granddaughter, Kaia Fisher, who would begin considering colleges in the not-too-distant future.
Kaia Fisher said she knew a bit about Penn from her family, but visiting campus for the first time and hearing Gutmann's address provided a closer view.
"They definitely do a lot here," she concluded.