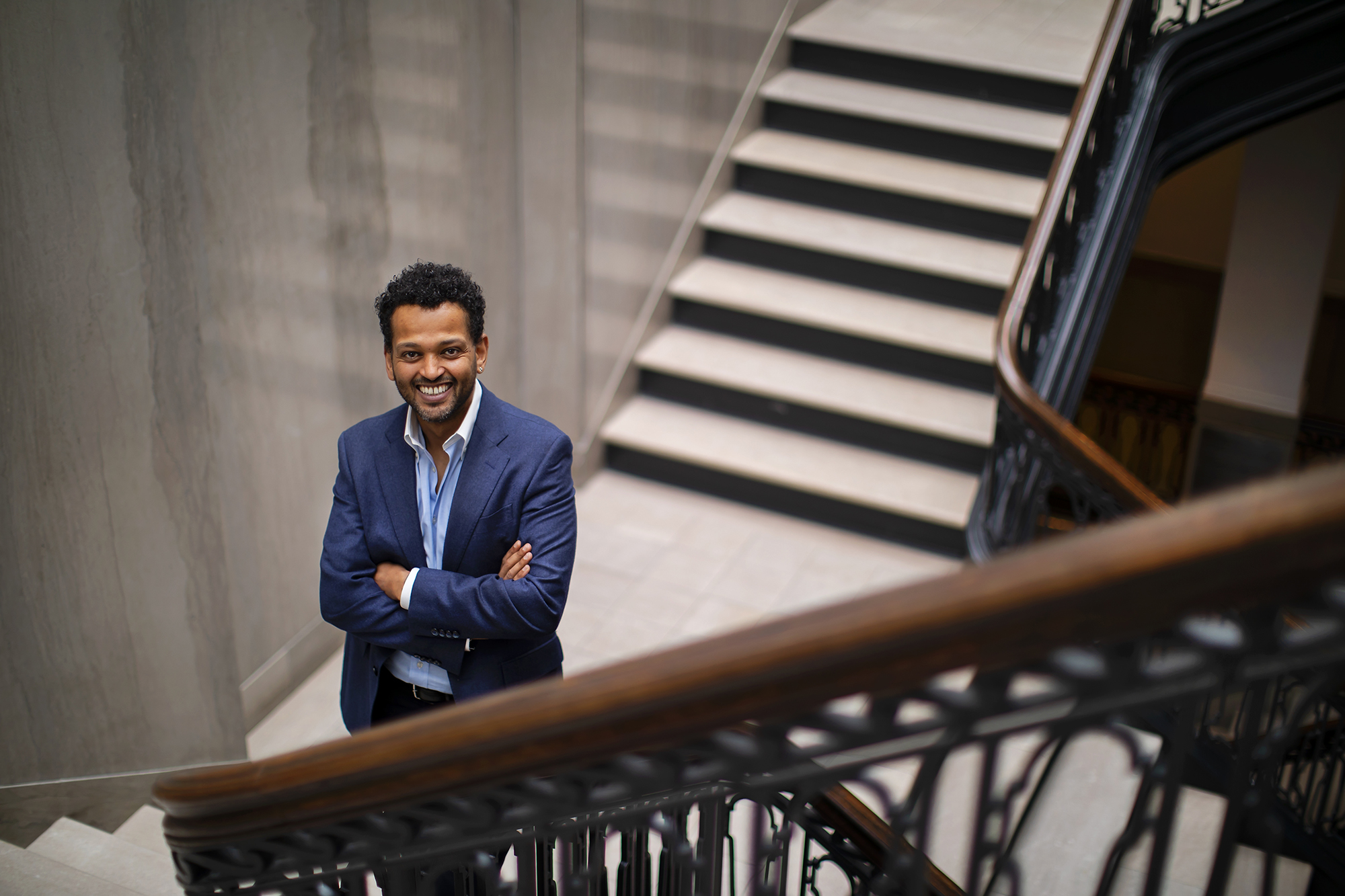 As a 13-year-old immigrant to the United States from Ethiopia, Dagmawi Woubshet knew only a few words of English. 
The formidable challenge in those first months of 1989 was to get his bearings with a new language while learning his way around an all-boys boarding school in Pennsylvania.
Now, Woubshet is completing his first year of teaching literature at Penn. The Ahuja Family Presidential Associate Professor of English, he was recruited here after 12 years at Cornell University.  
"It is the intellectual dynamism at Penn, specifically in the English department, and also related fields, like Africana Studies, that were certainly enticing. And also the city of Philadelphia," he says. "I love it. I am just starting to get the pulse both for Penn and Philadelphia, but so far it's been a great decision on both counts."
As a scholar, Woubshet describes himself as "an African-Americanist who works at the crossroads of African-American and African Studies, and African-American and queer studies," with a comparative and historical approach.
Professor Jed Esty, English department chair, says Woubshet is an "exceptional hire" for Penn, "an accomplished, mid-career scholar on the rise," whose research career is "unusually multi-faceted." In addition to spanning African and African-American Studies, his field of study encompasses literature and the visual arts, traditional critical writing and serious work as an editor, translator, and memoirist. 
"His scholarship addresses critical race studies and gender-sexuality studies in ways that have made him a rising national figure in both fields, and in ways that are distinctively his own, in part because of his ability to explore the global dimensions of African diaspora studies," Esty says. "He's already doing great work in the classroom here at Penn."
In the spring semester, Woubshet taught "The 1980s: African American Literature and Culture," which included works by Toni Morrison and Spike Lee. He also taught "Reading the Contemporary: Literature and Art in Africa and the African Diaspora," incorporating a variety of works: a novel, a memoir and poems, but also photographs, paintings, and films. 
Woubshet will co-teach a graduate course called "New Directions in Black Thought and Literature" with colleague Margo Crawford, who is also new to Penn from Cornell this year. This particular course, Esty says, "will help our most advanced students grasp the cutting edge of black cultural studies." He will also teach the undergraduate course "Contemporary African Literature and Film." 
Throughout his career, Woubshet's research has been firmly rooted in the 1980s. His first book, The Calendar of Loss: Race, Sexuality, and Mourning in the Early Era of AIDS, is set in the era before anti-viral medications stemmed the epidemic. The book he is working on now examines the later works of author James Baldwin.
Woubshet received his Ph.D. in the history of American civilization from Harvard University, and his B.A. in political science and History from Duke University. Born in Addis Ababa, he joined his mother in the U.S. after his parents divorced, and went to the Church Farm boarding school in Exton, Pa., for middle and high school.