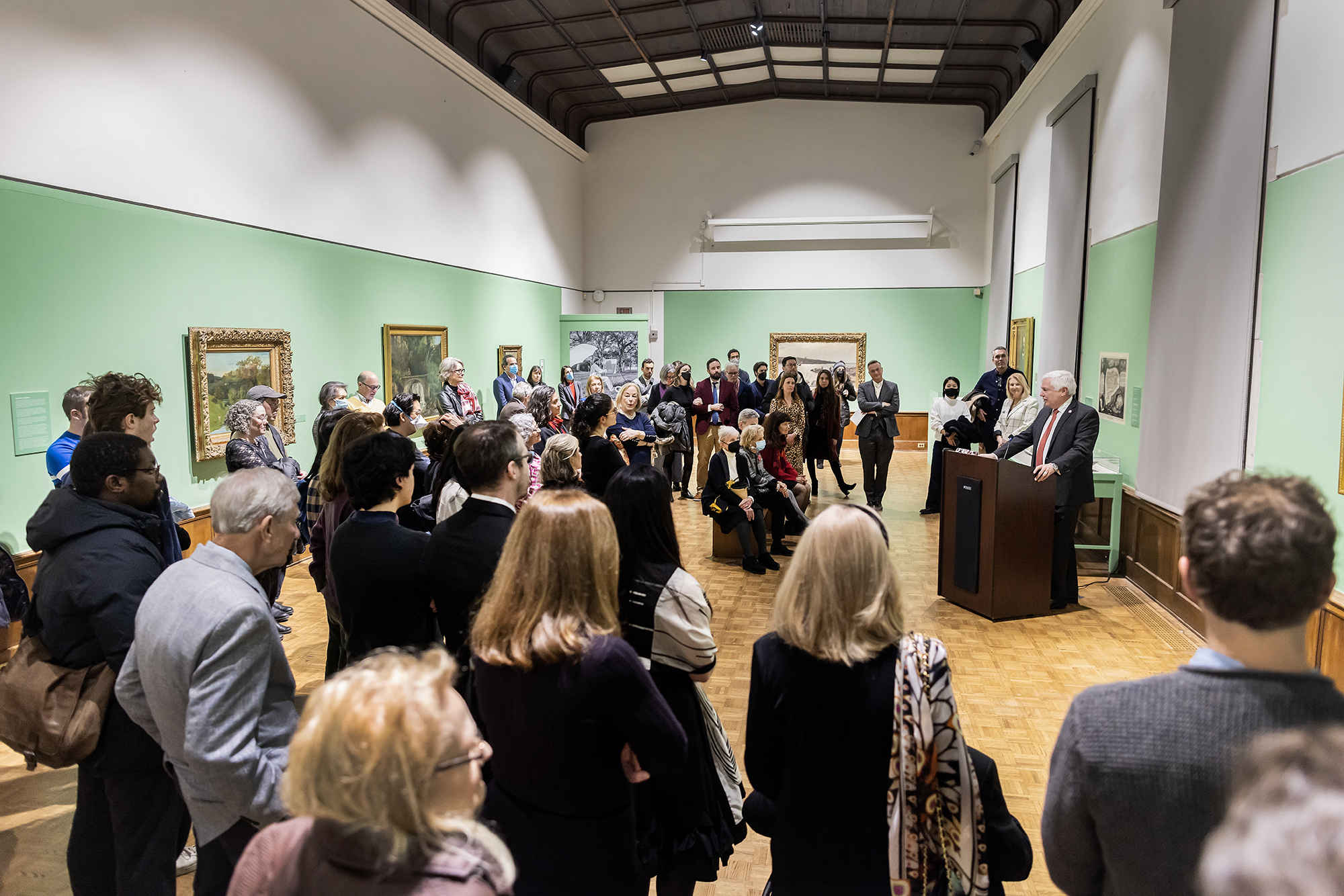 Once covered in darkened varnish with only three letters of the artist's signature visible, an oil painting by renowned French artist Gustave Courbet, forgotten for decades in the basement of the School of Dental Medicine, is now on view at Penn's Arthur Ross Gallery for the first time in about a century. 
Cleaned, conserved, and authenticated, the oil painting "La Source du Lison" or "The Source of the Lison," dating to around 1864, is the centerpiece of the exhibition "At the Source: A Courbet Landscape Rediscovered," through May 28. An accompanying catalogue includes essays from leading Courbet scholars, including Penn art history faculty, staff, and a graduate student. 
"For Penn, and for Courbet scholarship, and for 19th-century French art history, this is a major discovery," says André Dombrowski, the Frances Shapiro-Weitzenhoffer Associate Professor of 19th-Century European Art. "It's certainly wonderful that this picture has reappeared and can be looked at and appreciated again."
It is rare that a painting by a major 19th-century French painter "pops up, with hardly any prior trace of it," adds Dombrowski, co-curator of the exhibition, with Lynn Marsden-Atlass, executive director of the Arthur Ross Gallery.
"It's a big deal," says Marsden-Atlass, also the University curator. "It's a first in my professional life to have found a painting and brought it to light. I'm thrilled to have discovered this wonderful asset of the University. It's our first Courbet."
The unveiling of the canvas—which depicts a waterfall rushing out of a cave-like grotto surrounded by large grey stones and dense green foliage—coincides with the 40th anniversary of the founding of the Arthur Ross Gallery.
The painting was owned by dentist and diplomat Thomas W. Evans, who upon his death in 1897 bequeathed most of his wealth and expansive art collection to create the Thomas W. Evans Museum and Institute Society in West Philadelphia, where he was born in 1823. Evans established a dental practice in 1847 in Paris and became the surgeon dentist to Napoleon III and Empress Eugénie, as well as other royalty and notables of the time. Evans amassed a fortune and also an impressive art collection. In 1912 Penn signed an agreement with the Society to establish a museum and dental school, dedicated in 1915, at the site of Evans' original family homestead at the corner of 40th and Spruce streets. 
"It's a thrill for Penn Dental Medicine and alums to have more works on display from our oldest and most significant benefactor, Thomas Evans, including this beautiful Courbet landscape," said Mark Wolff, the Morton Amsterdam Dean of Penn Dental Medicine, at the exhibition opening in February, adding that Evans was "one of the most extraordinary and innovative dentists of his day, known for his humanitarianism and passion for the arts." Evans meant the artworks in his collection "to be enjoyed by the public," Wolff said, and noted that "there is nothing else like this in the world," a dental school with museum pieces like Evans' on display. 
Rediscovering the painting
The only known record of the painting is an entry in the handwritten 1897 inventory of Evans' spectacular Paris residence, known as Bella Rosa, after his death, listing a signed Gustave Courbet of a waterfall in the mountains, valued at 70 francs. The inventory, part of the Thomas Wiltberger Evans Collection in the Penn Libraries Kislak Center for Special Collections, Rare Books and Manuscripts, is included in the exhibition.
Beyond the inventory, the painting's history is a mystery. 
From 1915 to 1967, the Evans Museum housed paintings, sculptures, jewelry, photographs, furniture, and decorative arts. However, there are very few photographs of the Evans Museum in the early 20th century. "The photos we have, we've scoured them for even the smallest sort of picture that might look like the Courbet," Dombrowski says. "We have not found anything."
"[The inventory] is the only concrete reference to this picture that we have," Dombrowski continues. "We have no evidence as to how Dr. Evans acquired it. And then we have no concrete evidence as to what happened to it once it was on campus."
In 1967 the Museum was closed to make way for a new dental clinic, and the artworks were put in storage. In 1983, Penn sold more than 200 of the works at auction with the proceeds going to Penn Dental's endowment. Works that were not sold were put in offsite storage. 
In 2010, Penn Dental Medicine administrators asked Marsden-Atlass, in her role as University curator, to return the stored works to campus, and for the next five years they were researched and conserved and some went on display at the School. In 2015, as part of the 100th anniversary celebration of the School's Thomas Evans building, 130 objects were featured in the fall exhibition, "Courtly Treasures: The Collection of Thomas W. Evans, Surgeon Dentist to Napoleon III." 
The following spring, in 2016, Marsden-Atlass got a call asking if she could take a look at some artwork found by contractors in the basement of Penn Dental's 100-year-old building, then under construction to create a new dental clinic. She went that afternoon and sorted through two boxes of objects, finding only the one canvas, unframed, among mostly photographs. 
"Initially when we pulled it out and looked at it, it was about that color all over," Marsden-Atlass says, pointing to the darkest part of the Courbet painting, the interior of the grotto. "The varnish on the painting had turned a dark brown. I couldn't decipher what the subject was, but I saw three letters, G-C-O and maybe a bit of the U. I recognized that signature, and I thought this might be something, maybe."
Marsden-Atlass sent it out for professional conservation. But even when the full signature was clear, there was still a question about who made the painting. "I had a hunch, but no proof. It was a discovery, but you had to ask: Is this real or not real?" Marsden-Atlass says. 
Particularly after Courbet landed in prison for six months in 1871 for his involvement with the Paris Commune, and during his subsequent exile in Switzerland, imitators created paintings in his style and copied his signature, scholars say. Dombrowski and several other scholars examined the painting, including those who contributed to the exhibition catalogue. Its veracity seemed more than promising. "I immediately thought it was a Courbet. I didn't have many hesitations around it," Dombrowski says. 
In 2018, Penn sent the painting for scientific analysis of the pigments to determine if they were authentic to the period, Marsden-Atlass says. And they wrote to the Institut Gustave Courbet in Ornans, France, to request they examine the canvas for authentication. The Comité Courbet did so in April 2022. On May 17, Marsden-Atlass received an email from the Institute: "It's a Courbet, congratulations!" 
A room full of Courbets and more
There are only three known authenticated paintings by Courbet of the grotto at the source of the Lison River, a place located just a few miles from his studio in France, scholars say. Two are in the Arthur Ross Gallery exhibition: Penn's, and a significantly larger oil from a private collection, now on loan to the Minnesota Marine Art Museum. Vertical in orientation, the loaned painting has the same title, "La Source du Lison" and 1864 date, and was perhaps meant for the annual Paris Salon exhibition or another exhibition at the time, rather than for a more domestic setting like Penn's painting likely was, Dombrowski says. "It's really a once-in-a-lifetime opportunity to see the two pictures together and to compare them," he says. 
They are two of only seven canvases that are on view in an exhibition that is meant for "close looking and for people to spend time with these paintings," Marsden-Atlass says. Included are two other authenticated Courbet paintings: On loan from the Yale University Art Gallery is "The Great Bridge," 1864, and from the Philadelphia Museum of Art, or "Valley," 1857. 
Another 19th-century oil, "Rill in the Mountains," from the Philadelphia Museum of Art, is attributed to an "imitator of Gustave Courbet," which Dombrowski says will be interesting for visitors and students to analyze in the same room as the fully authenticated paintings. 
Also from the Evans collection, a 19th-century seascape by German artist Julius Friedrich Ludwig Runge is an example of a more traditional landscape of the time, a long vista with a low horizon, open water and blue sky, with cloud formations and distant mountains. The work was included because "it echoes back to what a romantic landscape would've looked like in an official salon scale by a German painter," Marsden-Atlass says, much different than Courbet, who was "a realist artist and broke all the molds of tradition," including as a pioneer in plein-air painting.
Environmental view
Courbet has a "very special and unique attitude towards the long history of landscape painting," Dombrowski says. 
"If you look at the 'Source of the Lison' painting, there's no sunlight streaming in from anywhere directly. It's lit, but you don't see the sun at all. You don't see even an inch of the sky," he says. "You are very close to a prominent rock formation that rests at the top of the picture. You feel a bit enclosed by the shrubbery and the trees, and the waterfall and the source of the Lison is close to you, too."
So close is the scene, including a peek into the cave, that the viewer may "feel almost a bit entrapped within the picture and the environment," he says. "It's Courbet's way of sticking our noses into the effects that we have on a landscape, and on this particular site."
Tourism was becoming popular and visitors were traveling to more remote spots at the same time the industrial economy was growing. Among the ephemera in the exhibition is a postcard of the Lison grotto with a broader view showing a building—a former power plant—right next to the river. Courbet chose to crop it out. 
"Courbet thinks really carefully about the intrusion of humans into the sites he is showing us," Dombrowski says. "He is an early example of a painter who is very environmentally conscious and has something to say about preservation, and a more careful attitude towards the realm of nature."
Dombrowski already has taken his art history students to see the painting. "We had a wonderful conversation about it," he says. "It's just such a fantastic teaching tool because it does so many interesting things in terms of explaining what 19th-century landscape painting is all about."
Jalen Chang, a Ph.D. candidate in art history at Penn whose dissertation is on the politics of drawing in the 19th century, served as a research assistant for the exhibition. One of his tasks was to learn about the painting's provenance, or ownership and display history, looking for clues about where it fit into Courbet's production as well as into Evans' collection.
"The trail actually goes cold around the time of Evans' death," says Chang, a 2022-23 Carl Zigrosser Fellow at the Philadelphia Museum of Art, who wrote an essay on tourism for the exhibition catalogue. "We're not actually quite sure the last time that the painting was exhibited." 
With Penn's "Source of the Lison" now on view, there are several events related to the exhibition and plans for student visits. Also, Penn's Lynn Smith Dolby, assistant curator and University Art Collection manager, and Emily Zimmerman, Arthur Ross Gallery assistant director, have created a podcast as part of a grant-supported digital leadership class, Big Art Energy, which will be released on Spotify in mid-March. 
After the exhibition, Marsden-Atlass says Penn's Courbet will hang in an as-yet-undecided location on campus. "Hopefully our painting will be lent to institutions around the world," she says. "We anticipate that, with the new scholarship, in the future it may be requested for exhibitions."