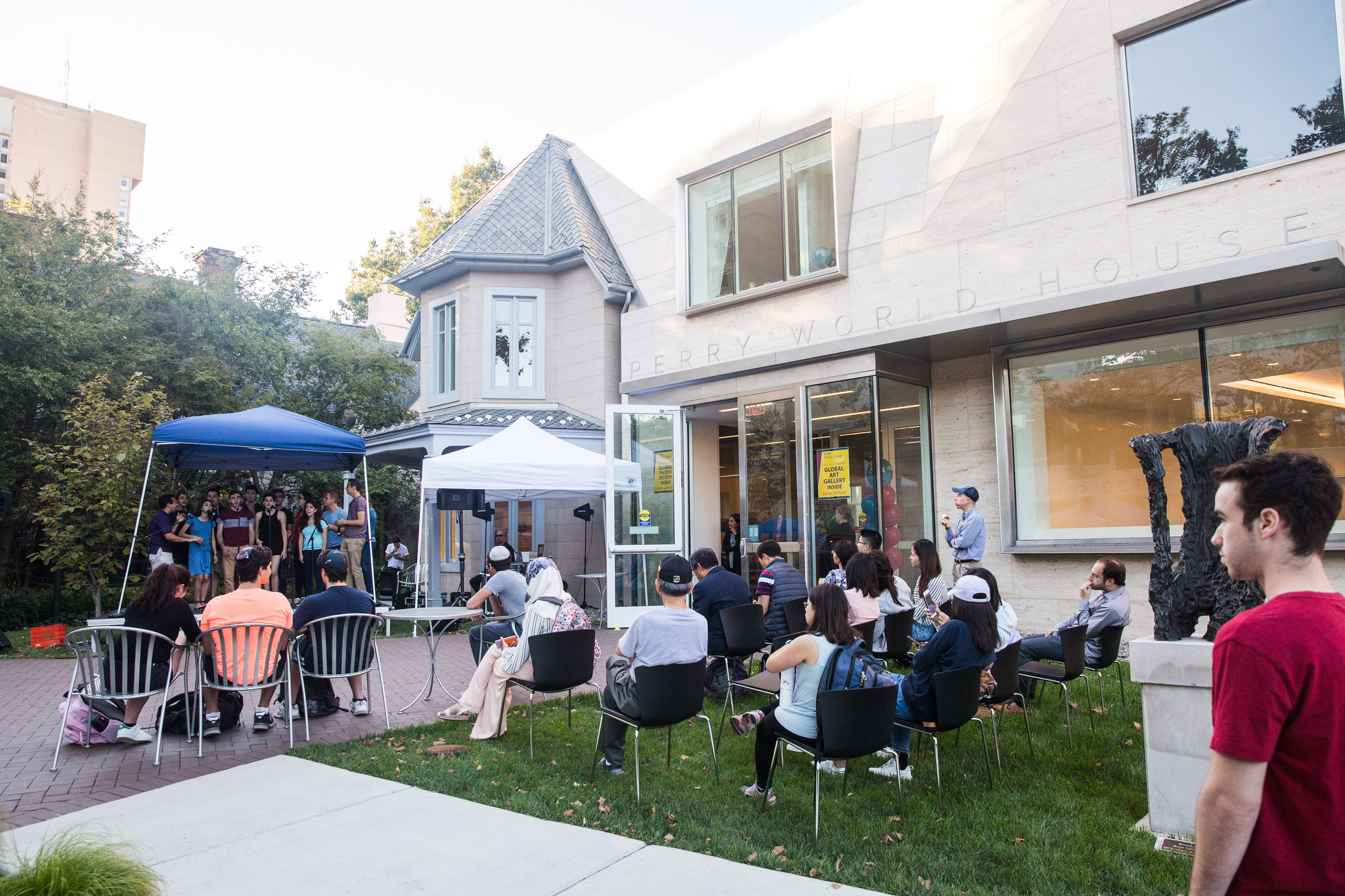 The third-annual Penn Global Week kicks off Sept. 11. Through Sept. 14, the University's global campus and the fullness of students' diverse experiences will be celebrated. 
Underlying every event of this year's week: a theme of access.
"Now more than ever, we are committed to 'global for all'—providing a meaningful global experience to every Penn student," says Amy Gadsden, executive director for Penn Global. "Penn Global Week is not only a celebration of Penn's global communities, but also an opportunity to introduce Penn students to all the different ways in which they can engage globally. Our mission is to expand these opportunities both on campus and away from campus, bringing the world to Penn and Penn to the world."
The four-day celebration, billed with the theme "Global for All," features four main events. 
New this year is the World Story Slam at Iron Gate Theatre, a welcoming environment for Penn students—international and domestic—to share their experiences traveling abroad, such as anecdotes about new foods, getting lost, and unexpected cultural exchanges. Spoken-word student group The Excelano Project will start the event with a collaborative poem, followed up by an introduction and short story from emcee Yuduo Zhao, who is a graduate student in the School of Engineering and Applied Science. Registered performers will then perform approximately five-minute stories, with a brief intermission performance from Excelano members, before the slam concludes with an audience voting round.
Among the main events returning this year is the Arts & Culture Showcase at Perry World House, with five student-group performers: Atma, PennSori, and Yalla all return with performances after showcasing at last year's event. Fresh faces include Quaker Notes, an all-female a cappella group, and Dhamaka, an all-male South Asian fusion-dance troupe—plus, a performance from the West Philadelphia Orchestra, highlighting Philadelphia as a global community. 
That showcase is, for the second year, rounded out with a pop-up photo exhibit that displays a curated selection of "#WorldatPenn"-themed photos submitted through a contest, representing through images how students view their culture. 
"The richness of our students' global experiences—demonstrated through the #WorldatPenn Photo Contest—is awe-inspiring," says Rudie Altamirano, director of International Student and Scholar Services. "The eminent presence and involvement of our international population strengthens our shared commitment to augment Penn's global learning community." 
Those two events will be complemented with an afternoon Penn Abroad Fair on Wednesday, Sept. 12, with tables from the four undergraduate schools and other organizations set up with information for students interested in exploring Penn Abroad and eager to chat with past participants, as well as Passport to Penn Global on Friday, Sept. 14. At that event, the first 80 eligible students to register will have the opportunity to receive a fully funded passport, with the exception of a $10 registration fee—with the United States Postal Service on-hand to take passport photos. That event is co-sponsored by Penn First Plus, the Division of the Vice Provost for University Life, and the Gender, Sexuality, and Women's Studies Program. 
The week is also filled with a smattering of additional information sessions. Participating students are encouraged to document and share their experiences throughout the week with the "#PennGlobalWeek" and "#GlobalforAll" hashtags.