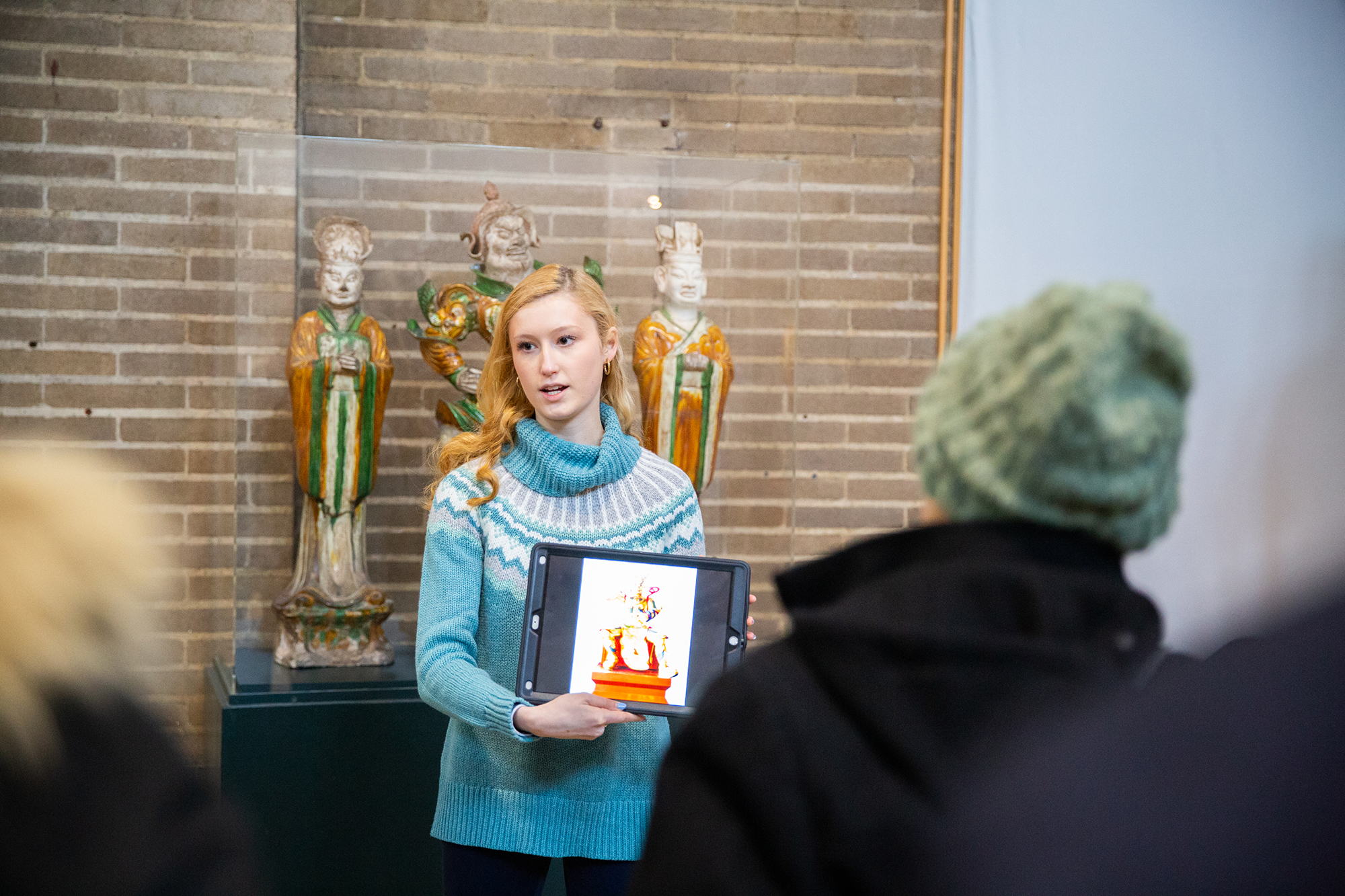 To Susan Radov, shepherding visitors around the galleries of the Penn Museum isn't only filling the role of tour guide, it's performing culture.
Radov, a senior from Baltimore majoring in cultural anthropology and minoring in Chinese studies, first visited China in fifth grade and was immediately curious about its culture. When given the option to take a language class in sixth grade, then, it was a no-brainer to take Mandarin. She's studied the language and society ever since, finding fulfillment as a Penn student by increasing access for international Chinese students and visitors to the Museum. She has been leading tours of the Museum's galleries in Mandarin for approximately a year.
"I think it's crucial [to have lingual access], especially in America because we don't have an official language," Radov says. "It's a global society and we embrace multiculturalism and multilingualism, and on Penn's campus it's such a global community with a lot of international students and programs...I think it just goes to the mission of Penn to really have multiculturalism and language in every thread of the University.
"It's important that people are all on the same playing field of understanding issues in their own mother tongue."
The "performing culture" concept is one she recalls from her Introduction to Cultural Anthropology course as a freshman, and one that came to life during an exercise at the Penn Museum before she became a tour guide. She was tasked with researching a sporting object in the Native American Gallery that she later identified as a lacrosse stick, a sport of great significance in Native American culture. 
"It got me thinking in terms of my intersection and interest in cultural heritage, and then also putting it to practice, which is what I love about Penn so much," says Radov. "'How can I get people to the Penn Museum and explain what and how Buddhism came to China as a minority religion, or just make other exhibits accessible so Chinese people can learn about different cultures and histories in a way that feels accessible to them?'"
Her tour runs between 60 and 90 minutes, and showcases one popular object in each exhibit. Her version of the tour has been practiced and researched alongside her Chinese studies teacher and classmates, as well as other native-Mandarin-speaking volunteers, adding cultural nuance to her talks. She also conducts a 30- to 45-minute tour of her own design in the Chinese Rotunda that "focuses on depth over breadth," she says. In that tour, she discusses the exhibit's Buddhist sculptures with themes in mind, like the Silk Road.
Recalling a moment when a Chinese visitor asked why, in the Native American exhibit, the population was not referred to as "Indians," she says, she gratefully recalls an honest discussion that came out of the group that questioned the United States' complicated history with its indigenous population. At the same time, it allowed her to have a learning moment about China's own history with ethnic minorities—and generational divides that have emerged in recent years surrounding those histories.
"The crux of cultural anthropology is all about cultural relativity," she says. "Trying to take yourself out of your own cultural context and understand phenomena or perspectives from another person's point of view."
It's just one example of a productive cultural exchange that came out of the Mandarin language tour, she says—one that may have been more difficult to have if delivered in English. 
"Susan is incredibly dedicated, and really we probably wouldn't even have the Mandarin tour guides if not for Susan stepping up with translation," says Kevin Schott, associate director of interpretive programs at the Museum. "She also helped me when we trained Mandarin guides from China; their English is OK, so she volunteered to help be the bridge to communicate precise and technical issues. 
"Susan was instrumental to this."
Schott says the Mandarin tours began when the Museum decided to examine what the most popularly spoken languages among Museum guests were. To their surprise, Mandarin was the most requested language for maps, booklets, and tour brochures. So, they decided to accommodate, at first by translating informational materials, but then went a step further when two Mandarin-speaking, Chinese-native men, Thomas Zhang and Leo Shen, volunteered to offer tours, which snowballed into the development of a concurrently operating graduate student guide program. That ushered in a two-pronged Mandarin tours program: one with the perspective of volunteers who are native to China, as well as graduate students who bring a student-scholar take. 
To his knowledge, the Penn Museum is the only museum in Philadelphia that offers regularly scheduled tours in Mandarin.
"I've had a few people contact me now who've said they'd like to volunteer as Mandarin tour guides," Schott says. "The good thing about this is now that we're connected to a community of Mandarin speakers in Philadelphia, we are getting more traction and it will grow more."
Since starting the Mandarin tours, the Museum has launched another new language tour: Arabic, which has tours available upon request. The Museum has also started a K-12 learning program in which native speakers teach children about Chinese culture. A Spanish tour has yet to be developed, but a map has been translated.
Those who would like to take a Mandarin tour can make a private booking or attend one of the weekly public tours.