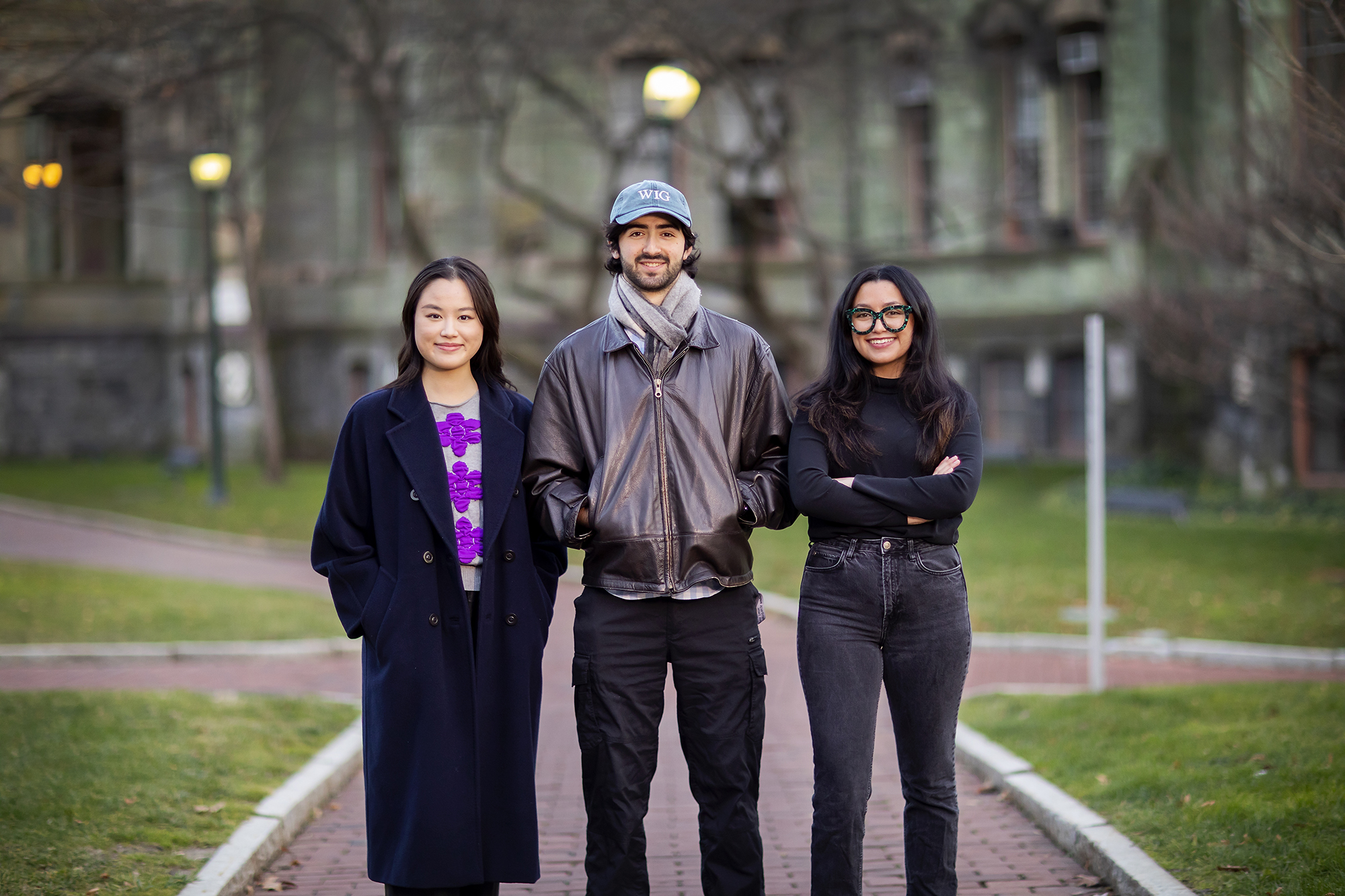 Coming to Penn as a freshman, Morgan Jones wanted very much to explore the humanities and the arts after focusing on science and math in high school. With the introductory course Eye, Mind, and Image, she discovered the major visual studies.
"I love to talk about this major," says Jones, from Albany, New York. Now a senior, she is a double major in visual studies, with a concentration in art, practice, and technology and in English, with a concentration in cinema and media studies, both in the School of Arts & Sciences.
"I realized the visual studies major was exactly what I was looking for because I could combine a lot of disciplines and form connections between philosophy and the arts and create my own pathway," she says. "I feel like I'm being pushed constantly in this major. I never know what's going to happen in a class when I walk in, and I think that's good."
The Visual Studies Program was co-created two decades ago by Gary Hatfield, who has become the program's director and primary advisor.
The program grew out of an interdisciplinary faculty seminar series that started in the mid-1990s, the Power of Sight, says Hatfield, who is a philosophy professor. In 2001, Hatfield teamed with Renata Holod, a history of art professor, to propose a major that studied vision and visual artifacts from different perspectives. The visual studies major was approved by Arts & Sciences in 2002 and first offered in the spring of 2003, and the first student to graduate with the major, Brittany Henshaw, was in 2004.
"We were trying to cut across divisions between humanities and science and fine arts," says Hatfield. "This is a very personalized major that is highly attractive to certain students. They want to put something together that crosses these boundaries."
The major has three sectors: the philosophy and science of seeing, the art and culture of seeing, and art, practice and technology. Students can concentrate in any of the three sectors but have to complete several required visual studies courses.
Instead of the required 12 credits in one discipline, visual studies students complete at least six credits in their concentration, four common courses including two with studio work, five additional courses outside their concentration spread across two areas. The program partners with the departments of philosophy, psychology, history of art, fine arts, and architecture.
"Our job in visual studies is to build bridges between disciplines that study vision and images to really examine the foundations and find connections," says Ian Verstegen, associate director of the program. "The students have to reach out to disparate areas and bring in raw expertise from two different fields."
Each Penn undergraduate class typically has 12 to 15 visual studies majors, Hatfield says, although the Class of 2022 has just eight. The major requires a final project, completed during the spring of the senior year, with both a visual and a written component. Faculty from a variety of disciplines serve as senior-thesis advisors; each student has two, from different disciplines. Senior projects are posted on the Visual Studies Program website.
"The student has to master both disciplines and be able to translate them, mediate between them, and find a meaningful blend between subjects," Verstegen says. "That's the beauty of the senior project; it's tough, and they are really challenged."
At Penn, students declare their major in the sophomore year but can refine their majors and minors as the years progress. "The question we always pose to the student is 'Will you get too antsy putting in a solid 12 credits in one major?' And if they think they can't do that, then they need to look at alternatives, like visual studies," Verstegen says.
"It's really tailored. By working individually we can come up with these plans for students so they can pursue the specialized projects that they want to do," he says. "Our culture is really based on the student."
The Visual Studies Program invites vision professionals -- in philosophy, psychology, and art history -- as guest lecturers, who may also offer criticism on senior projects. The program also has a tradition of inviting a professional artist to campus for two days each academic year. This year's visiting artist was Liz Deschenes, a "cameraless" photographer known for exposing photographic plates to the environment. Deschenes was on campus in November to deliver a lecture and conduct a critique of student work.
"The students get to have a famous artist to look at their work and give feedback," says Verstegen. "We want to make sure they get some one-on-one time as well. It breaks down the barriers and the intimidation and puts them in a space where they don't have to compete for attention. A natural exchange can occur."
The Visual Studies Program also offers funding for summer projects, usually a partnership between a student and professor, often involving travel designed to benefit the student. For one such project, senior Eli Ricanati of Santa Monica, California, made a 16-minute short film, hiring an actor, and shooting over five days in July in a motel in Los Angeles and at Big Bear Lake two hours west.
"Eli's film was interesting, and we're glad that he did it and are proud of it," Verstegen says, noting its focus on both the visual presentation and psychological examination.
The film, "The Frontiers Are My Prison," features a young author who has schizophrenia. "I was thinking about what does it mean for the average person to be on a frontier, and for me the last frontier is our minds," Ricanati says.
He submitted the film to 41 festivals, and it already has garnered awards. It was screened at the Culver City Film Festival in Los Angeles in December, where it received Best Experimental Short. Also last year, one of Ricanati's photos was recognized by the international College Photographer of the Year awards, with an award for excellence in the "interpretive eye" category.
Ricanati says he has been interested in photography since he was in high school and became increasingly more drawn to film while at Penn. "The interest was very much there, and visual studies attracted me because photography and film is all about your eye, your perception, the combination of the eye and the brain," Ricanati says. "I want my films to have a sort of cerebral quality. I want people to think about them and to really get something from them."
In addition to the visual studies major, Ricanati is pursuing a minor in art history. During the fall semester he was a digital intern at Penn's Arthur Ross Gallery, managing social media channels. He also is a member of the Institute of Contemporary Art Student Board, which works with staff to engage Penn students and the community. 
But one of his favorite classes has been the creative writing course Writing from Photographs taught by Paul Hendrickson, a senior lecturer in English. "He really pushed me to expand my ability to tell a story," Ricanati says. "Extrapolating meaning from photographs or objects and being able to then turn around and view your own story. It has been a pivotal course in my experience here."
A favorite course for Jones was Visual Culture Through the Computer's Eye taught by Will Schmenner. Students in the course use machine learning and artificial intelligence to develop datasets and examine how computer vision could help in teaching and analyzing visual art. "This class forced me to think about two things that to me were in completely different ends of the spectrum," she says, explaining that the class used facial recognition technology to survey colonial portraits by Philadelphia's Peale family.
When the pandemic hit in spring of 2020, Jones was taking the visual studies course Time and Space, taught by Gregory Vershbow and the late Matt Freedman. For that class, which requires working with two- and three-dimensional media, she created a multi-angled video of herself in the woods near her home in Upstate New York, contrasting with her life on campus in a city.
"In a way I feel like visual studies is more than my major. It's become a very close, deep part of me," Jones says. "I don't know how I would have survived this pandemic time without visual studies being the backbone of my academic experience."
The fall 2020 semester Jones created a time-lapse video of herself at her desk for the visual studies course Form and Meaning, taught by Sharka Hyland and Tom Bendtsen, and projected it on the outside wall of the apartment building where her family had just moved and where she didn't know anyone.
"The time-lapse for me said, 'I am living here. I want it to be known. I exist,'" she says. "Coming out of that era I am very interested in video and the idea of presence. I want to work in virtual reality and the 360 experience, on resonance and the feelings we have every day as human beings."
For her senior thesis project Jones is researching Hudson River School paintings and using virtual reality to relate those works to her idea of the aesthetics of the future.
Jones already has a job lined up for after graduation that came out of an internship she had last summer, in brand management and marketing for Gillette at Proctor & Gamble in Boston. "I see it as an amazing opportunity to learn about the business side of things," she says. "I want to start with experience that gives me practical skills and ideally then combine everything I've learned so far and move into a sector that deals with humanities in a digital sense."
Zuqi Fu, a senior from Beijing, also has a job in place after graduation, with the Boston Consulting Group, where she had previously interned. Fu came to Penn as an architecture major with art history as a minor and later added visual studies as a second major. She says she became uncertain about becoming an architect and wanted a broader undergraduate experience.
"With visual studies it all comes together and opens up new opportunities for me," she says. "I found valuable equity between professor and student. We are treated as independent thinkers."
During the summer she worked with Verstegen on a curriculum practical training project studying how workspace design can impact productivity and efficiency.
For her senior thesis Fu is examining the design of art museums through the lens of social issues, in particular recent controversies regarding accessibility, discrimination, and representation of diversity. "It's not just about art. It's people, it's history, it's society. I think visual studies has allowed me to see that," she says.
The senior thesis projects are scheduled to be on display at the Fisher Fine Arts Library in April, Hatfield says. He's already had a preview from mid-year presentations. "It's just an amazing array of different topics," he says. "You just can't imagine it ahead of time."
Also planned this semester is a symposium, Eye, Mind, and Image: Themes from Visual Studies, on March 24 that will feature alumni of the program.
Looking forward after two decades, Hatfield says he hopes the major will continue "in its own maverick way" in the future. "You can't predict what the students are going to come up with," he says.
Gary Hatfield is the Adam Seybert Professor in Moral and Intellectual Philosophy in the School of Arts & Sciences at the University of Pennsylvania.
Renata Holod is the College For Women Class of 1962 Term Professor Emerita in the Humanities in the School of Arts & Sciences at the University of Pennsylvania.