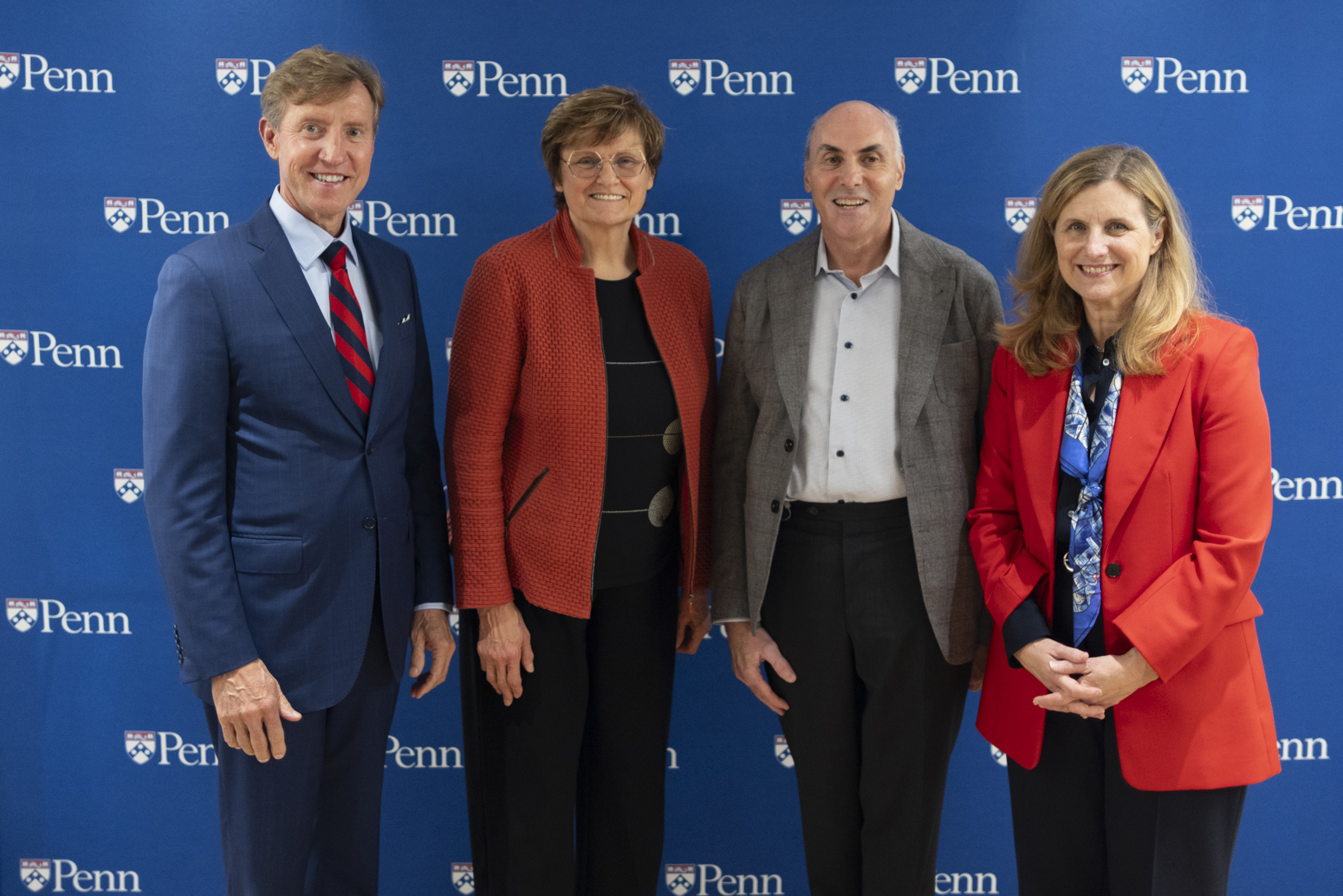 When Katalin Karikó's phone rang at 3:40 a.m. on Monday, her husband grabbed it and quickly passed it to her. "It's for you," she said he told her.
With no number showing up and the person on the line unveiling the seemingly improbable news that she'd just won a Nobel Prize, the adjunct professor of neurosurgery at the University of Pennsylvania's Perelman School of Medicine assumed it was a prank. As did her collaborator Drew Weissman.
"Kati texted me this cryptic message at four in the morning: 'Did Thomas call?,'" Weissman recounted at a press conference on Penn's campus on Monday morning. "I texted her back and said 'No, who's Thomas? She says: 'Nobel Prize.'" Karikó told Weissman the Nobel team couldn't reach him because they had the wrong number for him.
"And we said, this has to be a prank," said Weissman, the Roberts Family Professor of Vaccine Research in the School of Medicine. So, they decided to wait for the official announcement at the 5:45 a.m. press conference in Sweden. He told the audience he just sat in bed "and I was looking at my wife, and my cat was begging for food, and the press conference starts and it was real. Then we really became excited about this." 
Messenger RNA pioneers Karikó and Weissman, whose years of scientific partnership unlocked an understanding of how to modify mRNA to make it an effective therapeutic—enabling a platform used to rapidly develop lifesaving vaccines amid the global COVID-19 pandemic—were named winners of the 2023 Nobel Prize in Physiology or Medicine on Monday. The award comes nearly three years after the rollout of mRNA vaccines across the world.
After a chance meeting in the late 1990s while photocopying research papers, Karikó and Weissman began investigating mRNA as a potential therapeutic. In 2005, they published a key discovery: mRNA could be altered and delivered effectively into the body to activate the body's protective immune system. The mRNA-based vaccines elicited a robust immune response, including high levels of antibodies that attack a specific infectious disease that has not previously been encountered. Unlike other vaccines, a live or attenuated virus is not injected or required at any point.
At the press conference, Karikó joked that Penn should perhaps invest in more copy machines, so researchers have the opportunity to stand around, chitchat, and share their ideas. She added that she and Weissman worked in different buildings and departments, so the meeting was truly luck.
When the COVID-19 pandemic struck, the true value of the pair's lab work was revealed in the most timely of ways, as companies worked to quickly develop and deploy vaccines to protect people from the virus. Both Pfizer/BioNTech and Moderna utilized Karikó and Weissman's technology to build their highly effective vaccines to protect against severe illness and death from the virus. In the United States alone, mRNA vaccines make up more than 655 million total doses of SARS-CoV-2 vaccines that have been administered since they became available in December 2020. 
In introducing the new Nobel laureates at the press conference, President Liz Magill pointed to Penn founder Benjamin Franklin's origins as a scientist as well, one who was tenacious and hopeful his findings could improve the human condition.
"At the University built around this Franklin spirit, there are no better exemplars of these character traits than our Nobel laureates, Dr. Katalin Karikó and Dr. Drew Weissman—curious, inventive, tenacious, and devoted to the collective good," Magill said. "As the Nobel Prize puts it, these scientists have 'conferred the greatest benefit to humankind.'"
J. Larry Jameson, executive vice president of the University of Pennsylvania for the Health System and dean of the Perelman School of Medicine, spoke of the enormous pride and excitement surrounding the duo's work.
"The achievements of Drs. Weissman and Karikó have changed the course of history," he said, pointing to their scientific rigor and relentless perseverance. 
"Here at Penn Medicine, we are making breathtaking discoveries and we're putting them to work," he said. "We do so with a clarity of purpose to serve the evolving needs of our rapidly changing world. This Nobel Prize is a testament to the transformative power of science and the spirit of innovation."
Karikó and Weissman are the 28th and 29th Nobel laureates affiliated with Penn, and join nine previous Nobel laureates with ties to the University of Pennsylvania who have won the Nobel Prize in Medicine.
At the press conference, Weissman noted he and Karikó stayed focused and kept working, despite not getting funding, not getting published, and failing to persuade others that mRNA was interesting and viable. "Kati lit the match and we spent the rest of those 20-plus years working together, figuring it out," he said. "We would sit together in 1997 and afterwards and talk about all the things that we thought RNA could do, all of the vaccines and therapeutics and gene therapies, and realizing how strong it had the potential to be. That's why we never gave up. We just kept persevering and kept working at it. And here we are today."
The event moved onto a Q & A session, moderated by Anna Cowenhoven, vice president of University Communications, asking questions that had been submitted by members of the media earlier in the day. 
They discussed how mRNA technology can be applied to other therapies, where they would like to go next, and how it felt to watch the COVID-19 vaccines roll out.
Karikó, the 13th woman to be awarded the Nobel Prize in Physiology or Medicine since 1901, was asked what advice she has for other women making their way in science today.
She said the bottom line is they have to enjoy what they are doing.
"If you like the spotlight, then you should be an actor, or actress. If you like to follow instructions, maybe the military is the best. If you want to be rich, I don't know the answer for that. But if you like to solve problems, then science is for you," she said.
Asked why young people should go into science, Weissman noted that there's a dearth of young people wanting to go into the field, that many "want to go into IT, be rich, and retire."
"In order for our society to move forward, we need science. Everything that's moved our society forward in the past thousands of years has been science-based: the invention of the round wheel, the invention of transportation, the invention of antibiotics," he said. "We need to encourage our children, our grandchildren, and our neighbors, everybody, that science is what moves the world forward. That's why it's important and it needs to be supported." 
Karikó echoed that sentiment, while noting that science does not necessarily offer immediate results or praise.
"You have to learn how to handle failure," she said, because more often than not the experiments don't reveal what you hoped. "But you can learn from that … we work hard but we enjoy."
After the press conference, the pair headed over to Smilow Commons Lobby at the Perelman Center for Advanced Medicine, where a "flash mob" of well-wishers from Penn Medicine enjoyed soft pretzels and bubbly. Magill and Jameson were joined by Jon Epstein, executive vice dean and chief scientific officer at the School of Medicine, Kevin B. Mahoney, chief executive officer of the University of Pennsylvania Health System, and others to toast the duo for their historic accomplishment.
Mahoney closed out the festivities with a hearty thank you.
"On behalf of the 50,000 employees that work at Penn Medicine, Drew and Kati, again thank you for leading us, thank you for saving us, and thank you for making it possible for me to hug my grandbaby a couple years ago," he said. "We admire you. Let's keep it going."