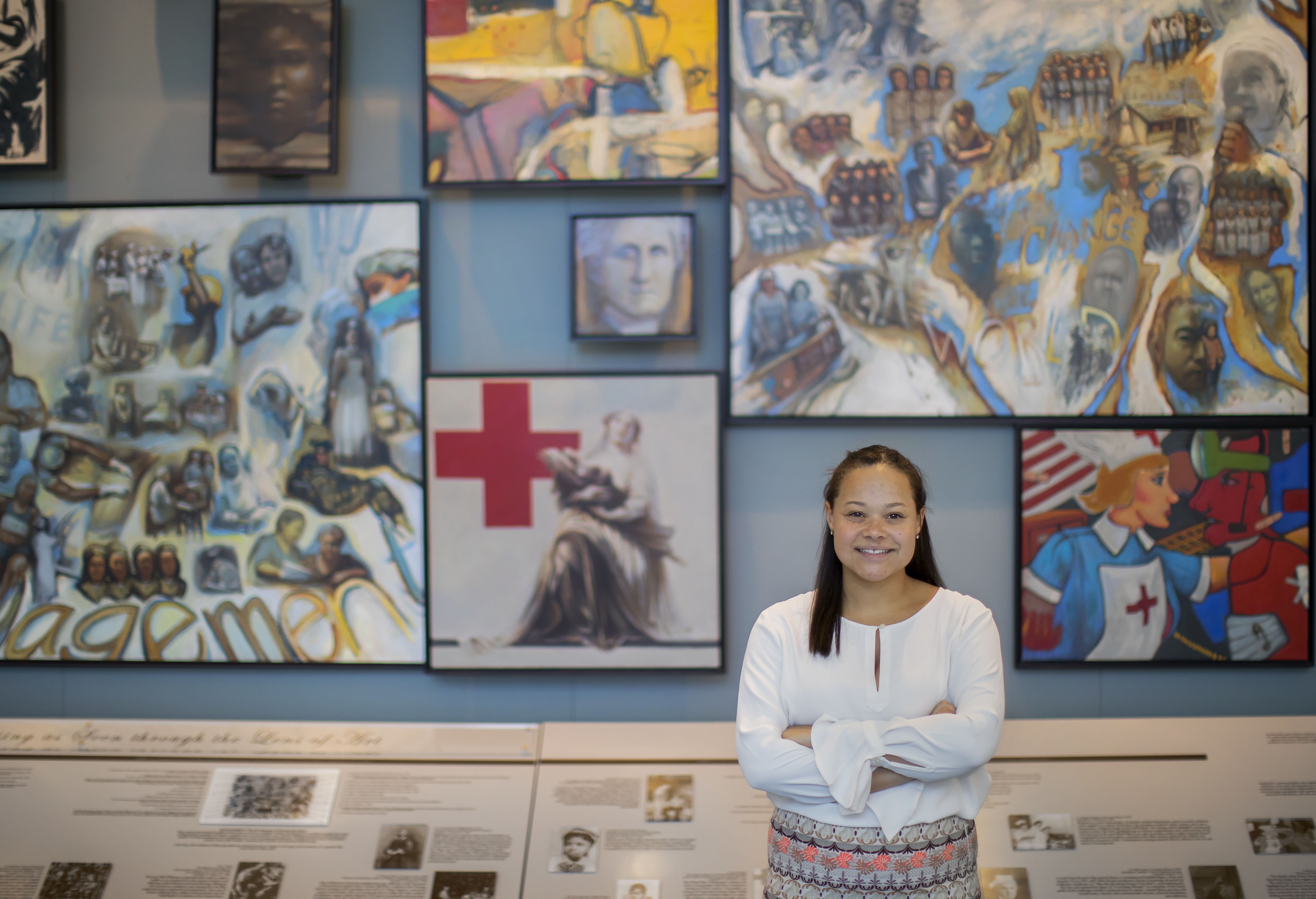 For four years, Alaina Hall has known that after graduating from college, her next stop would be Nuestros Pequeños Hermanos (NPH) orphanage in Miacatlán, Mexico. The 22-year-old School of Nursing senior had already volunteered at the home three times, twice in high school and then again as a junior at Penn. The children quickly became like family, and the clinic's physicians and practitioners developed into mentors and colleagues.
Now, as one of the 2018 President's Engagement Prize winners, Hall will return in July to spend a year building what she calls "Healthy Pequeños," or "Healthy Little Ones." She'll receive $100,000 for the project and another $50,000 for living expenses.
"Infectious disease is the biggest problem that affects the kids there—stomach bugs and upper respiratory illness," Hall explains. "They don't have clean water and sanitation is compromised, and with the earthquake in September 2017 in central Mexico it got worse. All of these things came together, and I realized this was a huge need; it's a huge problem, and it's something very preventable."
Mentored by Nursing's Cynthia Connolly and Nancy Biller, with consultation from Jorge Santiago-Aviles of the School of Engineering and Applied Science and senior engineering student Rachel Hoying, Hall envisions a three-pronged approach to improving the health-related problems NPH faces.
Parts one and two—disease prevention and education—go hand in hand. To reduce infection rates, Hall plans to stem exposure to sewage and implement a new water-filtration system at the orphanage. Simultaneously, she'll educate NPH residents and their adult caretakers on how to protect themselves and stop the spread of disease. "She didn't want to just get the children a water-purification system," Connolly says. "She wanted them to have a life-long skill set in terms of health, disease prevention, and health promotion that they had been getting piecemeal."
Connolly, who has been a pediatric nurse for almost four decades, is helping Hall develop this curriculum. "The cornerstone of pediatric nursing is that everything we do is filtered through the developmental approach," Connolly says. In other words, "how does a 3-year-old learn about health differently than a 6-year-old or a 9-year-old?"
Hall has some ideas about what this means practically. For younger children, for instance, she'll focus on simple tasks like washing hands and not sneezing on others. For slightly older children, she'll teach about germs—what they are, how they spread. For the oldest, she'll get into understanding what bacteria are, how they get into the body and cause damage, and how they make people sick.
For all ages, however, the underlying message will remain the same: use simple tools and techniques to prevent illness.
"Three times a year, they're going to have an infection-prevention curriculum based on their age. It's going to keep being reinforced," Hall says. "It's a really holistic program that focuses on reducing exposure but also teaching them a behavior change."
The ultimate goal is to decrease infections by 20 percent, and that's where part three of Hall's project comes in, monitoring illness rates. Currently, she says, this doesn't happen at NPH, so a flu outbreak or a food-borne illness may go unrecognized and continue to spread.
"One of the ways to prevent infection is being able to recognize it. I'm going to work with the clinic, the doctors and nurse staffed there, to find a way that they think they can work to monitor infections," Hall says. "Everything has been done in partnership with them, so they are open to these ideas, and they are committed."
The long-standing relationship Hall has with NPH strengthens the likelihood the project will succeed, according to Biller, who has been one of Hall's academic advisors as part of Hall's global health minor.
"Often people volunteer for a week here or a week there, and they may have done wonderful work, particularly on a one-to-one basis, but this project is really public health on the global scale," Biller says. "Alaina is going to have an impact on almost 500 children, as well as the teachers in this home, who will touch the lives of more children who come to live there in the future. Population-based work, that's where the impact can be much greater than on an individual basis."
If Hall has any say, she'll touch the lives of many more children, too. The orphanage in Mexico is one of 16 homes in nine Central and South American countries that are part of the NPH network. Nearly 3,200 children live in these facilities, and Hall dreams that this first project will be a prototype that can be implemented across the organization and beyond.
Connolly has no doubt Hall will achieve what she sets out to do.
"She's starting with a single institution," Connolly says, "but she has big ambitions and big dreams. When I think of myself at that age, and when I see her, everything says to me that she will be able to accomplish this, period. She is amazing."
For her part, Hall, who eventually wants to work in emergency medicine, says she's thankful for the opportunity to return to a place she loves to help these children. "The kids are the sweetest, kindest kids. You walk in, and they all want to give you a hug. It's such pure love," she says. "So many have gone through so much—I can't even imagine—and they're kind to each other; they treat each other like siblings. This is such a beautiful place and being able to do something to help these kids that deserve so much, help them be a little healthier, I'm really grateful."
Cynthia Connolly holds the Rosemarie B. Greco Term Endowed Associate Professorship in Advocacy and is an associate professor of nursing in the School of Nursing. She is also associate director of the Barbara Bates Center for the Study of the History of Nursing and the co-faculty director of the Field Center for Children's Policy, Practice & Research in the School of Social Policy & Practice.
Nancy Biller is assistant dean for Global Health Affairs in the School of Nursing.