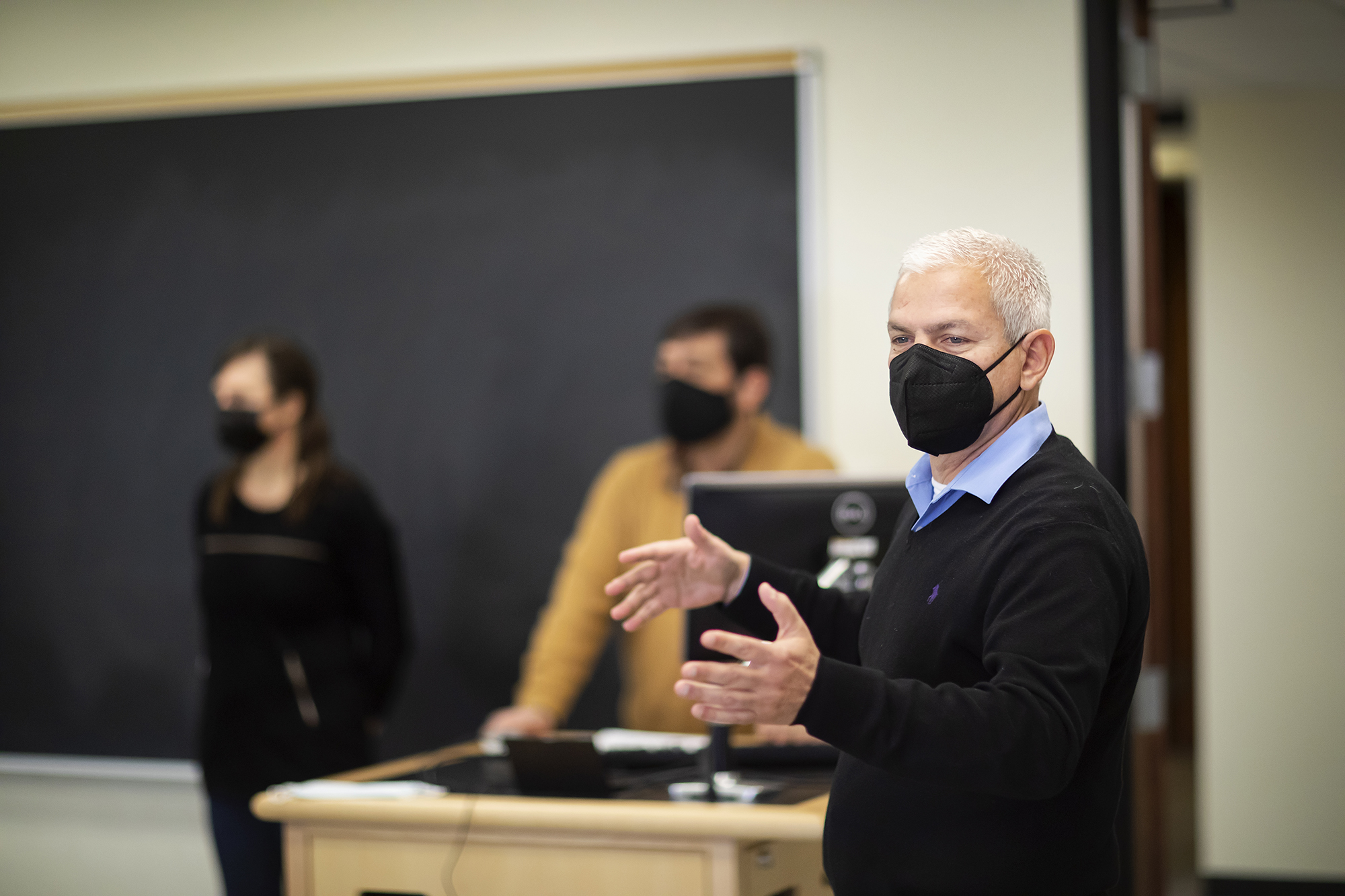 Penn's Center for Latin American and Latinx Studies (CLALS) and the Centro de Cultura Arte Trabajo y Educación (CCATE), a nonprofit based in Norristown, Pennsylvania, dedicated to bolstering the Latinx community, have had a long-standing partnership.
"We're always thinking about how to expand that, how to build on what's already there," says Emilio Parrado, a Penn professor of sociology and CLALS co-founding director with Tulia Falleti of the Department of Political Science. So when the most recent applications for the Klein Family Social Justice grants from the School of Arts & Sciences (SAS) came around, Parrado and colleagues applied.
For years CCATE has run a post-secondary success program to help students figure out what's next after high school, whether that's college, a job, or something else altogether. With two years of funding from the SAS grant totaling $50,000, Parrado, Amalia Daché from the Graduate School of Education, CLALS Associate Director Catherine Bartch, and CCATE colleagues Holly Link and Obed Arango will augment that program. Their aim is to enhance an already thriving college-readiness initiative, create student mentoring opportunities and connections with Penn faculty, and much more.
"We hope to deepen and strengthen what we're already doing," says Link, CCATE's director of education and research and a lecturer in Penn's School of Social Policy & Practice (SP2).
An evolving population
With support from Penn's Netter Center, Parrado teaches an Academically Based Community Service (ABCS) course on Latinx in the United States focused on the economic and sociological aspects of immigration and assimilation for this group.
"The total population in the United States is changing," Parrado says. "The white population is declining, and you see the growth of the Latino population, which is even more pronounced when you restrict to the high school age."
That's true in Philadelphia's neighboring Montgomery County, for instance, where the Latinx population nearly doubled between 2000 and 2019. Drill down in the county, to the city of Norristown, and Latinx students make up about 40% of the total study body. "These are mostly immigrant-origin families, where the parents may not speak English, where they're potentially less familiar with the U.S. education system," he says.
CCATE has been working in this community since 2011. That made it a natural fit to facilitate the service-learning component of Parrado's ABCS course, which has Penn students assisting with college-readiness and support for these high schoolers. The new funding in conjunction with backing from Penn's Population Studies Center (PSC), offers other opportunities as well, Parrado says. "We have very high hopes for all of this."
Beyond choosing a career
For one, with assistance from Charlotte Stone, CCATE program operations manager, the collaboration will expand CCATE's post-secondary success program, which currently includes SAT and general college prep and research services, among other components. "We work individually with students but also students in small groups based on grade level to help them make decisions about what they want to do after high school," Link says.
Sometimes those conversations must first dispel myths about requirements for what comes next, she says. "There's a real concern that whatever you decide to study has to be connected to a career you choose before you go to college. There's a lot of pressure and anxiety to make the right choice."
For that reason, part of the new initiative will include access to Penn faculty, a chance for dialogue with experts across a range of disciplines. Representatives from the School of Arts & Sciences, the School of Engineering and Applied Science, the Stuart Weitzman School of Design, and more will likely be included. "The idea is for these students to understand how Penn faculty got to where they are," Link says. "We want to open the door beyond just choosing a career."
CCATE maintains the relationships even after students graduate, through a monitoring and support program during students' first year of college. The idea, according to the team, is to help Latinx students overcome challenges like isolation and a potential lack of mentorship and role models.
Research to fine-tune the program
Despite the touch point during the first year of college, tracking the success of program graduates has proven challenging. "We don't have a good system to know how they're doing, what supports they need as they continue on, even how they make the decisions they do," Link says. To answer some of these unknowns, Parrado and the 22 Penn undergraduates in his class, with the support of his teaching assistant, Melissa Ortiz, who is also CCATE's youth participatory action research teacher and high school leader, are surveying recent CCATE graduates.
"We want to see whether what we're doing is effective," Parrado says. "One of the reasons we're collecting data is to use it to fine-tune this program."
Analysis this summer could further assist in that endeavor. A group of five or so Penn undergraduates and grad students backed by the PSC will look at demographic shifts in and around Norristown, updating a report published recently by the Brookings Institution. Their own final report will reflect on the socioeconomic conditions of Latinos in the Philadelphia area.
Finally, this summer, the team plans to run a weeklong high school leadership institute—partially at Penn, partially at CCATE—that will combine career exploration, college prep, and leadership skills. Penn second year Dayanna Salas, from Chicago, will coordinate the undergraduates assisting in the training, which will include a book that she and several classmates wrote in high school called "Succeeding in the College Application Journey."
All of this will happen during the first year of this new initiative. If all goes according to plan, the second year will see the program expanding, according to Parrado. "We started with Norristown and the immigrant community there, in part, because CCATE was already working with this community," he says. "But we're hoping to reach out to the Puerto Rican community in North Philadelphia as a next step," an area where Daché has conducted research in the past. Beyond that, they will turn to South Philadelphia, where Parrado has previously worked.
The pandemic caused participation in the CCATE program to drop, from 30 students at the peak to about 18 now. But the numbers are starting to increase again, says Arango, CCATE founder and executive director and a lecturer in Penn's SP2. "Now is an important time to start following the behavior so we can start to understand the impact of the pandemic," says Obed Arango, CCATE founder and executive director and a lecturer in Penn's SP2.
It's all in the name of creating a resource that will truly help high schoolers in the Latinx community figure out their next steps, Parrado says. "We see this as a strong partnership, one that will continue to grow."
Funding for this work comes from a Klein Family Social Justice grant and the Population Studies Center in the School of Arts & Sciences, as well as from the Netter Center for Community Partnerships.
Obed Arango is founder and executive director of the Centro de Cultura Arte Trabajo y Educación and a lecturer in the School of Social Policy & Practice at the University of Pennsylvania.
Catherine Bartch is associate director of the Center for Latin American and Latinx Studies at the University of Pennsylvania.
Holly Link is director of education and research at the Centro de Cultura Arte Trabajo y Educación and a lecturer in the School of Social Policy & Practice at the University of Pennsylvania.
Emilio A. Parrado is the Dorothy Swaine Thomas Professor of Sociology, director of the Population Studies Center, and co-founding director of the Center for Latin American and Latinx Studies at the University of Pennsylvania.
Other CCATE participants include Grants and Research Coordinator Melissa Ortiz, who recently earned her master's degree from Penn's Graduate School of Education, and Charlotte Stone, program operations manager.