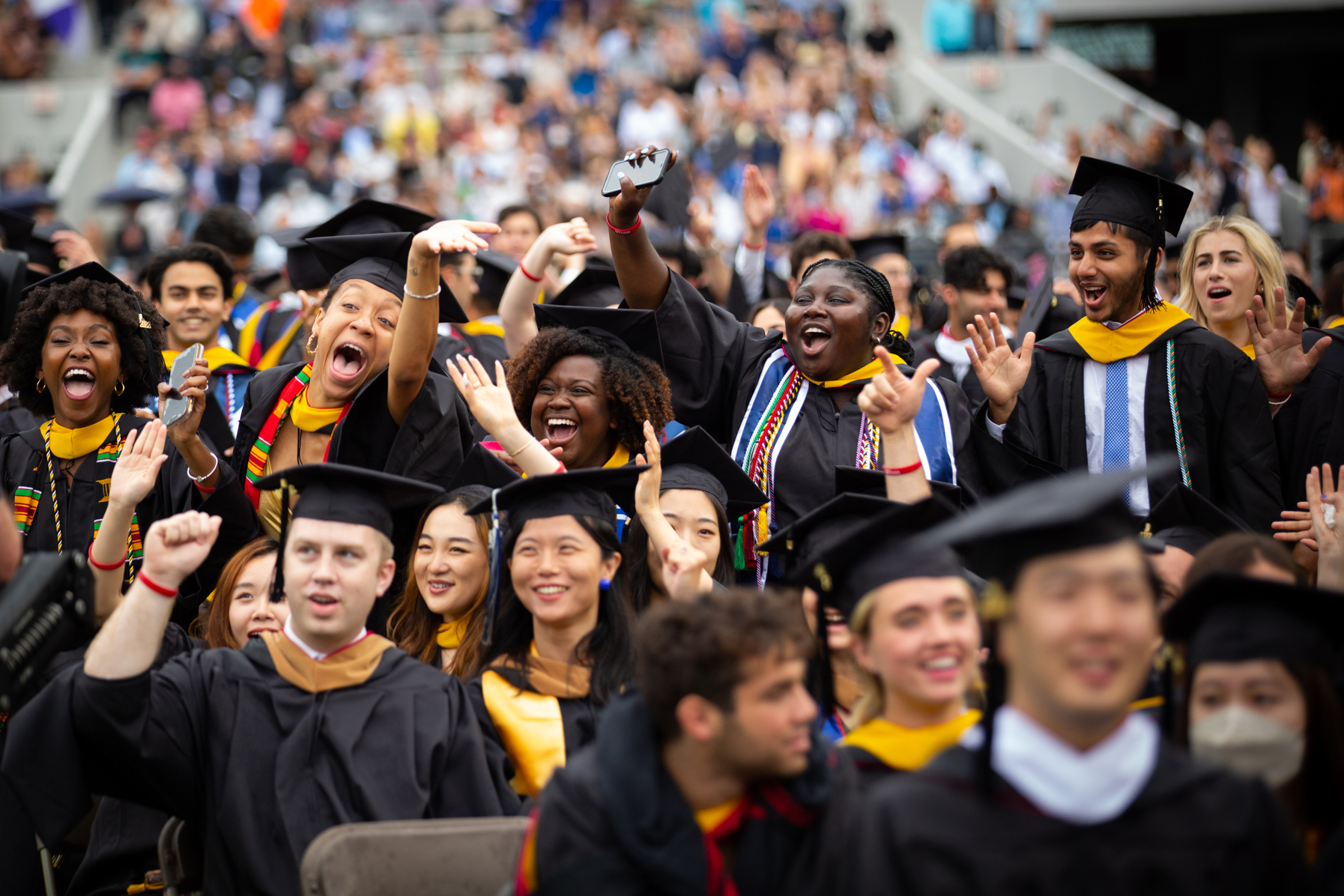 "Superpowers."
This is how Penn Interim President Wendell Pritchett described the qualities of the Class of 2022, a class that was evacuated from campus in spring 2020 and quickly learned to evolve as the moment did, too. 
Among these "superpowers," as Pritchett remarked at the 266th Commencement, are "heightened resilience and responsiveness, exceptional optimism tempered by pragmatism, and courageous compassion and selflessness."
All of which lend to the demands of a fast-changing world, one seemingly made ever more complicated with each passing news cycle.
"Your shared experience as a class has been forged in the crucible of global change, enormous and at times quite scary," Pritchett added. "This experience has granted your class certain gifts. Among them, your advanced ability to roll with the challenges, to navigate extreme uncertainty with resilient creativity.
"That gift will continue serving you well all your lives."
On Monday, May 16, Penn honored the Class of 2022 at Franklin Field, celebrating more than 6,000 undergraduate and graduate students. A total of 6,533 diplomas were conferred, with 2,370 being traditional undergraduate degrees and the remaining balance belonging to graduate degrees, dual degrees, or submatriculations. Eight people received honorary degrees: scholar Mary Frances Berry; documentary filmmaker and Commencement speaker Ken Burns; surgeon and writer Atul Gawande; former Penn President and U.S. Ambassador to Germany Amy Gutmann, 14th Librarian of Congress Carla D. Hayden; composer George E. Lewis, former chief justice of the Supreme Judicial Court of Massachusetts Margaret H. Marshall; and theoretical physicist Edward Witten.
One-hundred and twenty-five flags commenced down Locust Walk to Franklin Field in the hour preceding the 10 a.m. ceremony. They arrived to an audience of eager families—some donning "Penn Mom" or "Penn Dad" sweaters—who waited anxiously with bundles of roses and tears of joy. 
The air was thick with concerns of rain (it eventually did—briefly) and overflowing feelings of pride.
Tasya Lacy is the aunt of J'Aun Johnson, who graduated from the College of Arts & Sciences with a double major in Spanish and French and is a Fulbright grant recipient for the 2022-23 academic year. She was there to support him in place of his late mother; she says she's raised him since he was 10 and is thrilled to see him "living not just his dream, but his mother's dream as well."
"It's so emotional, because I'm the 'bonus-mom-slash-auntie,' and it's just a very emotional day," Lacy says. "We're so proud of him and excited."
Doug Epstein, a Penn parent and a professor of genetics in the Perelman School of Medicine, said he enjoyed watching students "soak it all in," and admired how his son handled his college experience during the pandemic. 
"He's a resilient kid who made his way; the pandemic didn't really slow him down," Epstein reflected. "He adjusted as he needed."
As a parent of an international student, Mahendra Penchal, who flew in from India with his family to watch Jal Penchal—a researcher in the GRASP Lab—graduate with a Master of Science in Engineering, said he was thrilled to see his son study in such a "fabulous program," and noted that he appreciated feeling like his son was safe while studying here. 
"We're worried about our children, but regular testing and precautionary advice, that's made a difference for us," he said.
All along Locust Walk and inside the immense fishbowl of Franklin Field, graduates could be spotted taking selfies, embracing friends, or shaking the hands of onlooking faculty. 
Devin Ma, from Vancouver, Canada, is a graduate of the College of Arts and Sciences submatriculating in the School of Engineering and Applied Science. While waiting to get in line for the procession, he recalled all the unbelievable experiences he's had in the past few months as a student of Ezekiel Emanuel's How Washington Really Works course, in collaboration with the Penn Biden Center in Washington, D.C., and George Mason University. He called it a highlight of his time at Penn. 
"You can't get that experience anywhere else," Ma says. "When talking about the Affordable Care Act, you can't get any better than having Zeke Emmanuel, an architect of it, come talk to us and teach us." 
He added that he also, of course, enjoyed continuing political discussions from the course with fellow students over beers at Smokey Joe's on 40th Street. 
Graduate School of Education Reading/Writing/Literacy graduate Kimberly Chang, from Taiwan, said studying abroad was her dream—with Penn fulfilling that dream. She studied virtually in 2020 but ultimately decided to take a leave of absence for 2021, craving an in-person experience. She was finally able to travel to campus for the 2021-22 academic year. 
She described GSE as an environment where its many international students were able to find each other and build a sense of community.  
"It's very nice to have the classroom connected to the world, and I think GSE is a diverse place that supports us," Chang said, describing Penn as a "second home." 
Chang also spoke of passionate faculty who were able to highlight significant cultural differences in education for her; for example, feedback on assignments. 
"In Asia, it's more comments than encouragements," she explained, saying she was surprised at first when she'd receive positive feedback on an assignment. "I want to bring that to my own classroom, that you feel like you can concentrate on your improvement, and not perfection."
And Jolie Jemmott, a graduate of the School of Nursing who studied in the Psychiatric Mental Health Nurse Practitioner Program, and is an Amy Gutmann Leadership Scholar, said she realized the high value of leadership in nursing during her time at the Nursing School. 
"It's very important in terms of delegating … and I got to find my true self as a leader, especially as an Amy Gutmann Leadership Scholar, and I learned leadership styles that gained me more confidence in who I am as a person and nurse," Jemmott said. "It was a great experience."
In looking to the future, Burns asked graduating students to look to the past for guidance. Specifically, he pointed to the accomplishments—and failings—of Penn founder Benjamin Franklin as a model for inspiring service for the commonwealth—a seldom-used word, he noted, that is "the key to understanding where we came from and the blessings we've inherited since."
He quipped that imagining future success is often characterized by "how many Benjamins you can amass," but clarified that Franklin was much more than an idealized self-made person, or "a libertarian's dream of self-reliance and self-interest."
"That is only half the story," Burns remarked. "Franklin himself would be disappointed if he thought that's all we had learned from him. It would be like tearing that Benjamin, that $100 bill, in half, rendering it useless."
He continued: "Franklin was proud that this relatively impoverished kid had—like a free electron—escaped the specific gravity of Puritan Boston and found here in a more tolerant Quaker Philadelphia the means to outgrow his humble beginnings. But his striving for material success was always tethered to a deep and abiding conviction that, as he said, 'the most acceptable service we render to [God] is doing good to his other children.'"
Burns also offered, as Commencement speakers are wont to do, some words of advice.
"Be virtuous, and purposeful. Do good things. Help others. Do not get frozen 'in the ice of your own indifference,'" Burns said, referencing an FDR quote. 
And, he added: "Don't confuse success with excellence. Those Benjamins are a means, not an end."
View the entire photo album on Flickr.