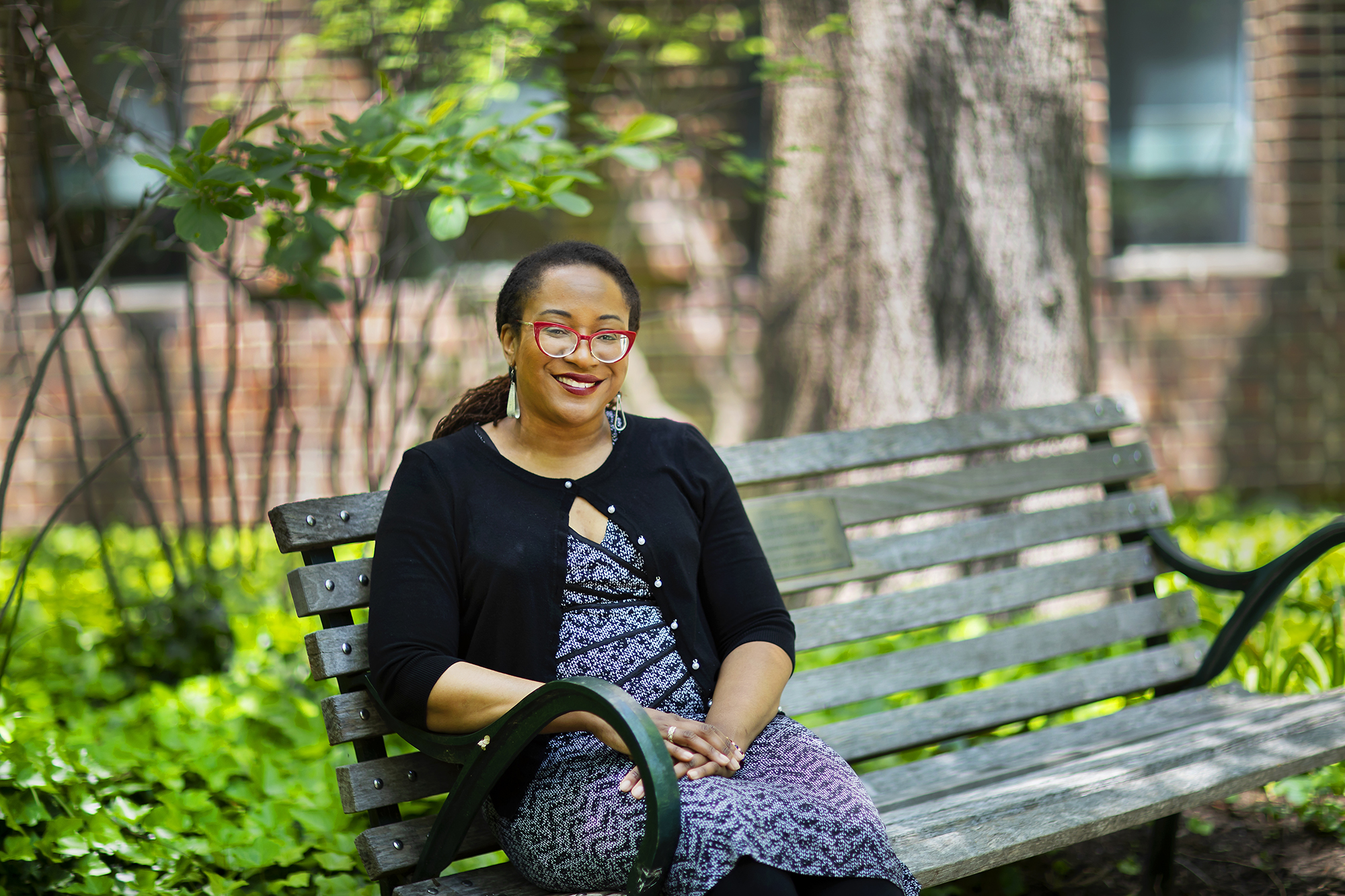 F
or years, long before she came to Penn in 2012, Ebony Elizabeth Thomas has been interested in breaking down the generalizations and stereotypes—the oft-told one-sided, monolithic stories—of Black people, whose complexities are consistently being glossed over, even now, as racial turmoil is addressed in the aftermath of the murder of George Floyd.
"It's almost like this impossibility to see the human beyond the Black avatar that we show up as, that we are read as," explains Thomas, an associate professor in the literacy, culture, and international education division at the Penn Graduate School of Education. "It does a number on us."
One path toward progress, notes Thomas, a former K-12 teacher, is through improving the way people of color are portrayed in children's and young adult literature. Although an ongoing conversation in reading education and librarianship, diversity in books for young people is an issue that really just started to gain mainstream traction five years ago. What humans learn through stories as youth significantly affects their views in the future—a concept Thomas touches on in her 2019 academic book "The Dark Fantastic: Race and the Imagination from Harry Potter to the Hunger Games."
"How do young kids get racist ideas? They're baked into our culture," says Thomas. "Children's literature is a way that we can move the needle."
But two main challenges persist: First, Thomas says, dating back to the inception of children's literature in 18th-century England, it was a colonialist and imperialist project; children's books have tended to uphold the "social order."
"You cannot publish a children's book where kids are engaged in direct action, or where a parent burns down a Wendy's, for example," explains Thomas, openly chatting via video conference. "Nobody, none of the major publishers would touch it, even now. We still don't have enough books about police brutality and Black Lives Matter. 'The Hate You Give' is getting lots of traction, but publishers before a few years ago absolutely didn't want to touch topics like that."
The second challenge Thomas suggests is the erasure of certain parts of U.S. history, specifically the nadir of race relations, between 1890 and 1940, after the Civil War and Reconstruction and before the Civil Rights Movement. 
"During this time, there was a concerted effort on the part of the White establishment to be more racist," Thomas says, and no one really talks about it. "I went to a majority Black school district in Detroit, attended an HBCU, and I only learned some of this hidden history in the past 10 years," she explains, with a nod to the work of sociologist James W. Loewen, who dove into this history in his book "Sundown Towns: A Hidden Dimension of American Racism."
Thomas, describing this low point in the U.S., which ironically is when many of the Confederate monuments that are being torn down today were erected, says it is a "missing chapter" that she plans to explore in her next book. 
In hoping for our society's improvement, Thomas says that anti-racist reading, open dialogue, and a commitment to systemic change—beyond temporary task forces and speaker series—can all be effective. In discussing this, Thomas considers science fiction writer Octavia E. Butler and her book "Parable of the Sower." 
"It's all about planting a seed," says Thomas. "When you plant a seed, you have the faith that it may grow or it may not, so you plant enough seeds and some of those seeds are going to bear fruit … Maybe you water it, maybe someone else does. Then the seed grows, but sometimes we don't see the harvest."
Thus, Thomas envisions her efforts regarding children's literature as "seed work." If able to get the right kinds of books in the hands of kids from families who, say, don't like people who look like them, or are in abusive households or in neighborhoods that are distressed, for instance, it will "stimulate their imagination," says Thomas. "They will be able to imagine otherwise. I have to believe that." 
That's why, for at least five years, Thomas and the graduate students who work with her at Penn GSE have compiled and published lists of the best diverse books for young readers. Throughout the past month, Rabani Garg, a doctoral student and graduate research assistant, has sifted through—with the guidance of Thomas—selections from past years, and pulled out the best ones that emphasize anti-racism thinking for this particular moment. The list, just in time for summer break, is showcased below:
Picture books
Middle grade books
Young adult books
Graphic novels
Thomas, who noted herself as five generations post-enslavement—her great, great grandparents were born as slaves—says she can be admittedly skeptical of some of the new anti-racist reading lists that have emerged. Indeed, they can be seen as "seeds," but she doesn't foresee widespread change anytime soon, like some might assume.
"I don't think you can read a book on anti-racist talk or whiteness or fragility, like five books, and be like, 'OK, cool, I am no longer going to be racist,'" she says, adding that it also shouldn't be condemnatory, either. "I think the idea of white guilt or constant condemnation, thinking 'I'm going to constantly get it wrong' … I think it's just like any kind of thing you have to deal with in our individual lives or collectively. You have to just chip away and work at it together and know you're going to get it wrong sometimes but getting it wrong doesn't mean retreat."
And when we can finally harvest, we will. 
"And guess what comes with the harvest?" Thomas asks, with a big smile. "More seeds. We have to keep planting."
Homepage photo: Ebony Elizabeth Thomas, an associate professor in the literacy, culture, and international education division at the Penn Graduate School of Education.