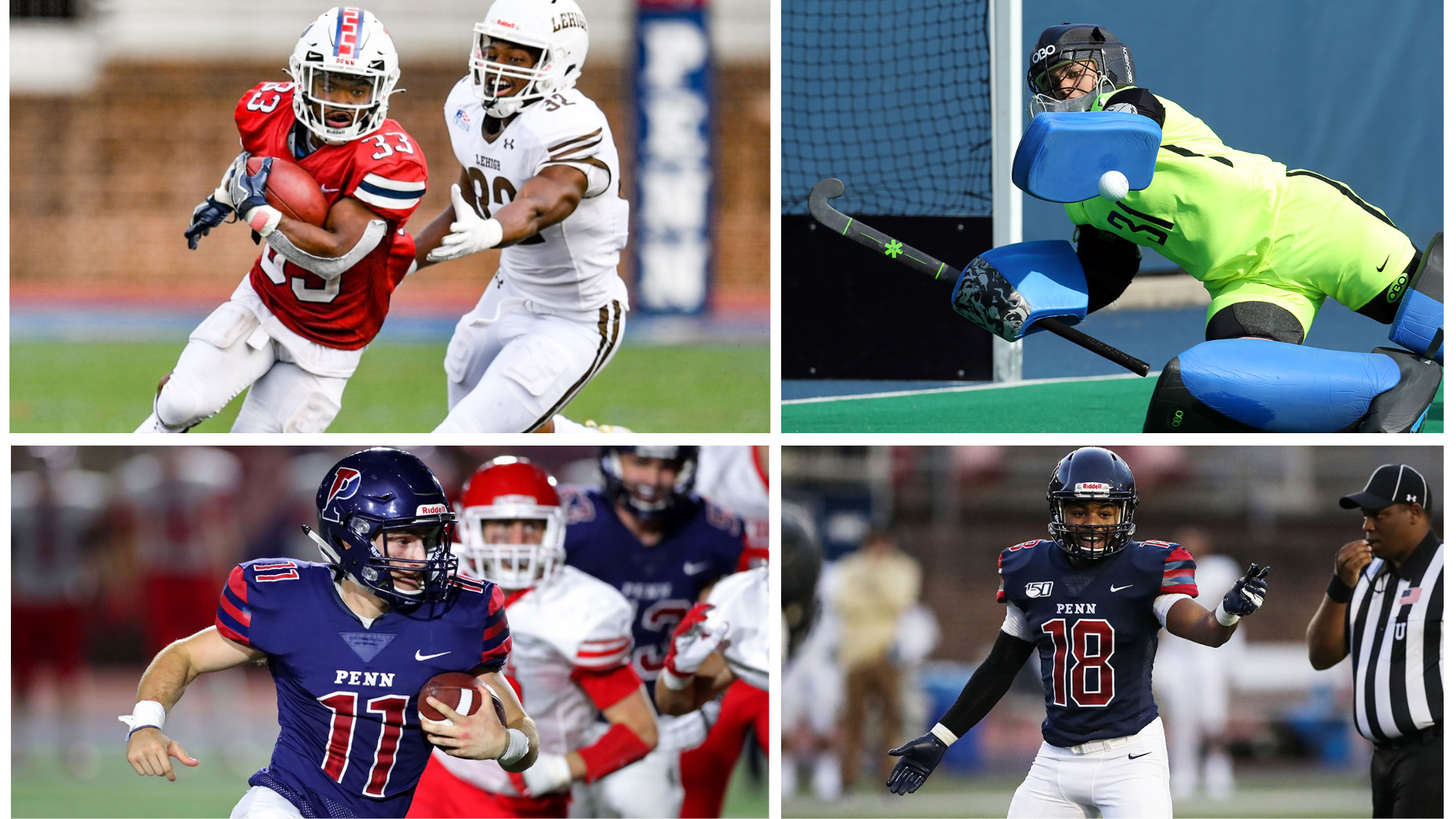 Four, count 'em, four Quakers have been awarded weekly commendations for their top-notch performances over the weekend. Senior running back Isaiah Malcome of the football team has been named Ivy League Offensive Player of the Week; sophomore goalkeeper Sabien Paumen of the field hockey team has been selected Ivy League Defensive Player of the Week; and the Collegiate Sprint Football League (CSFL) has named junior quarterback Andrew Paolini its Co-Offensive Player of the Week and junior linebacker Lewis Evans its Defensive Player of the Week.
Malcome had 21 carries for 201 yards and a touchdown, along with five receptions for 26 yards, in Penn's 20-0 defeat of Lehigh on Saturday at Franklin Field. The Atlanta native currently ranks fourth in the conference in rushing yards (340), seventh in yards per carry (6.1), and fourth in yards per game (85.0). His 201-yard output was only the 15th time in the 100-plus years of Penn football that a Quaker rushed for over 200 yards in a game.
Paumen, from Oegstgeest, The Netherlands, has six saves in the Red & Blue's 2-1 overtime win over Cornell on Saturday at Ellen Vagelos Field. She has 48 saves on the season, fourth most in the Ivy League, and her 4.8 saves per game ranks third in the conference.
In their 63-0 shellacking of Cornell on Friday, Paolini threw for 119 yards and two touchdowns, and ran 13 times for 122 yards and four touchdowns. The Cherry Hill, New Jersey, native ranks second in the CSFL in passing yards per game (214.7) and second in touchdowns (eight). He was also named CSFL Offensive Player of the Week during the week of Sept. 26.
Lewis, from Haddonfield, New Jersey, had a game-high 15 tackles (seven solo), two tackles for loss, a half a sack, and a fumble recovery against Cornell. He ranks third in the league in tackles per game, averaging 11.3.