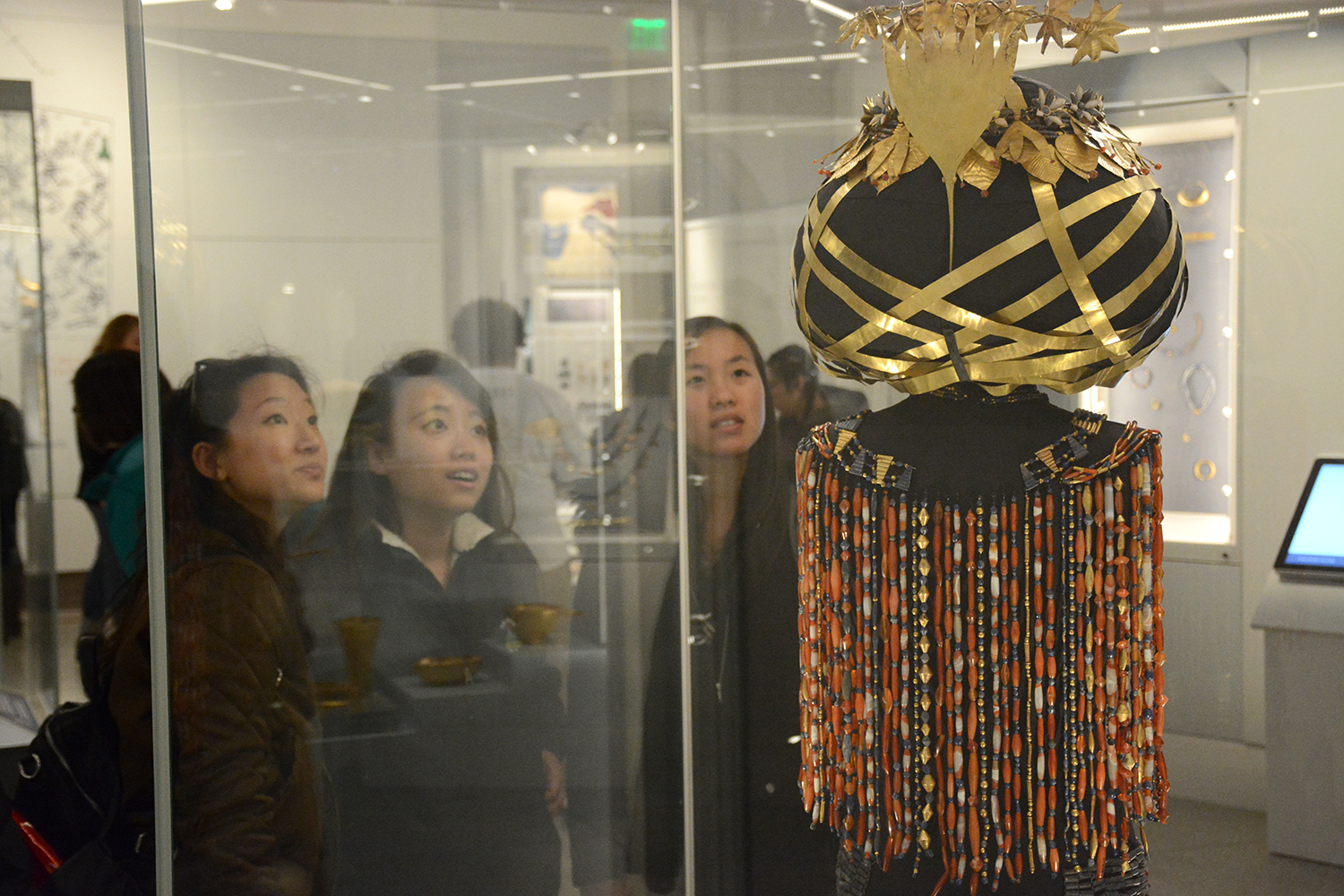 November lets out one last gasp of fall events before minds turn to the holiday season—or finals—and the weather turns cold.
This month, students get a sneak peek of the Penn Museum's new galleries at the annual Student Gala, the Institute of Contemporary Art spins an '80s theme for an evening art party, and campus celebrates current students and alumni with a slew of Homecoming Weekend happenings. 
Here, catch five campus events soon to take place—and peruse even more through the Penn Today events calendar.  
At Meyerson Hall, the Stuart Weitzman School of Design's Graduate Program in Historic Preservation hosts a spirited discussion about preserving LGBTQ heritage. Joining in this panel conversation is Sharon Hayes, an associate professor of fine arts; Bob Skiba, archivist at the William Way LGBT Community Center in Center City; and Ken Lustbader, co-director of the NYC LGBT Historic Sites Project, who will moderate the conversation.
Light refreshments will be served. 
Homecoming Weekend (Nov. 8-10)
Festivities are in abundance during the three days of Homecoming Weekend 2019.
On Friday, partake in an outdoor sculpture tour with Lynn Smith Dolby of the Penn Art Collection, as well as explore the marvels of campus with a 19th-century architecture tour with David Brownlee, the Frances Shapiro-Weitzenhoffer Professor of 19th Century European Art. In the evening, with advance registration, guests can tour the "Ian McHarg: The House We Live in Exhibition" and then taste whiskeys afterward. 
Saturday kicks off with a Penn Athletics Homecoming 5K and continues with a talk about the history of coffee by Thomas Max Safley—complete with a coffee tasting. There will also be an "ancient alcohol" tour at the Penn Museum, a conversation between psychology professor Angela Duckworth and Graduate School of Education Dean Pam Grossman about education, and a gallery hop that begins at the Arthur Ross Gallery and ends at the Architectural Archives. 
On Sunday, the Morris Arboretum invites alumni and their families to tour the grounds for free, and the Philadelphia Museum of Art offers a special docent-led tour of its "Designs for Different Futures" exhibit, curated in part by Orkan Telhan, an associate professor of fine arts. 
These, of course, being just a few of the seemingly endless number of reunions, tours, gatherings, talks, and more that enliven the streets, halls, and corridors of the University during this once-a-year treat of a weekend.
Paint the Dancefloor: 'Stranger Things' Edition (Friday, Nov. 8, 7 p.m.)
Continuing its annual art-party tradition, the Institute of Contemporary Art extends the celebrations by an extra hour this year after a strong showing in 2018, now running from 7-10 p.m. In addition to featuring '80s music by DJ Ian Galloway—inspired by the hit Netflix show "Stranger Things"—there will be gallery tours every 15 minutes. Docents will lead tours throughout the night and participate in a Q&A together at 8:20 p.m. Food and drink will be served. 
"Paint the Dancefloor is a great opportunity for us to bring together multiple communities—students, alumni, faculty and staff, community members—for a night filled with music, movement, and art," says Chloe Reison, associate director of The Sachs Program for Arts Innovation. "The Sachs Program wants to create more space for these communities to interact, and to also work with our campus partners to help engage our shared audiences."
The party is presented by the Stuart Weitzman School of Design, The Sachs Program for Arts Innovation, and Arts at Homecoming. Philly-based La Colombe and Federal Donuts are food and drink sponsors. 
The Museum hosts its semi-formal annual gala with a special focus on—and preview of—the transformed 4,000-square-foot Africa Galleries and 2,000-square-foot Mexico and Central America Galleries, plus the restored 614-seat Harrison Auditorium. For the event, the Museum will cater a free dinner and a cash bar will be available. 
"The Student Gala provides Penn students with a preview of the galleries before they open to the public, but it's much more than that: It solidifies their positions as important stakeholders here at the Museum—and that this is a place for them," says Kelsea Gustavson, the Teen and Undergraduate Engagement Coordinator at the Penn Museum. "Modeled after our members' Golden Gala, the Student Gala opens the doors for students to gain insight into the plethora of cultural experiences and academic opportunities that are here for them—a fantastic resource that's right at their fingertips. 
"At the Museum, students can uncover the world's past, gain an understanding of our shared humanity, and find their own place in the arc of human history."
The Africa Galleries and Mexico and Central America Galleries, part of a larger building transformation project at the Museum, will open to the public Nov. 16.
Vibraphonist Joel Ross and his Good Vibes band perform for the first time in Philadelphia at the Annenberg Center for the Performing Arts. 
Ross, a 23-year-old up-and-comer in the jazz world, has played with Herbie Hancock and Christian McBride, and released his first album, "KingMaker," in August under Blue Note Records. He grew up in Chicago playing instruments like drums and the xylophone. 
His energy on-stage is described by NPR as heated improvisation. 
"There comes a moment in almost any performance by vibraphonist Joel Ross when he seems to slip free of standard cognitive functions and into a bodacious flow state," writes NPR's Nate Chinen. 
Penn students, staff, and faculty are all eligible for varying discounts for Annenberg Center performances.  
Want to know more about what's happening around campus? Find out more through Penn Today's curated events calendar. Have an event you'd like to suggest for the calendar? Email Staff Writer Brandon Baker at bkbaker@upenn.edu.