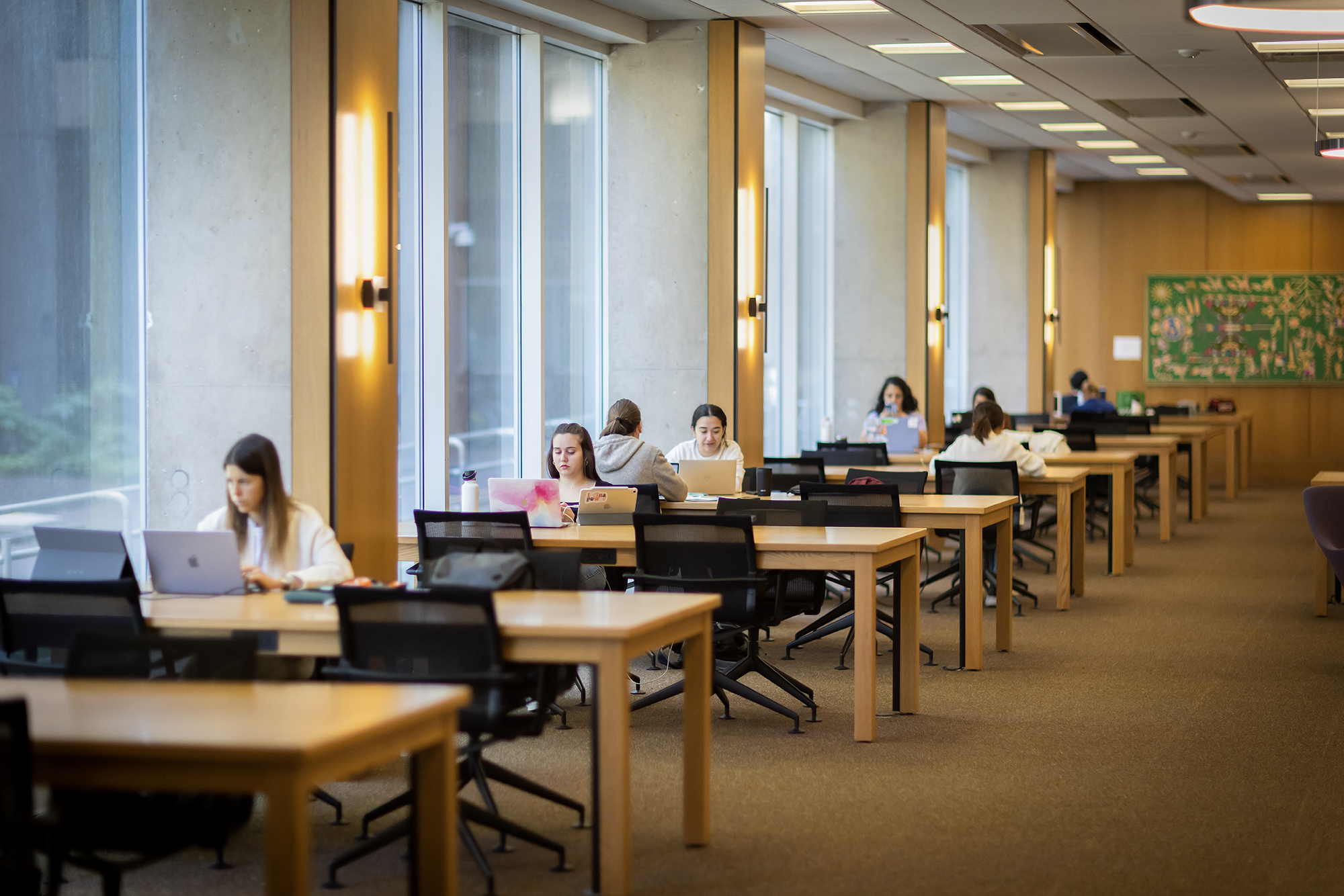 Illuminated by floor-to-ceiling windows that look onto Hamilton Walk, study spaces in Holman Biotech Commons invite quiet focus. The interior, framed with honey-colored wood and filled with comfortable seating in a location convenient to many on campus, has indeed made the library a popular study spot for students, faculty, and staff alike.
Not as obvious upon entering the space, however, are the multifaceted resources the library offers to the Penn community. From data visualization consultations to in-depth research assistance and instruction to a virtual dissection table, these tools and services bring the library to life as a hub for learning and creation that is evolving as quickly as the University community that it serves.
An $11.5 million renovation, completed in 2021—together with a naming gift of $5 million dedicated last year by Penn Libraries Board of Advisors member and Wharton alumna Wendy Commins Holman, her husband Wayne G. Holman, and their family—ensure a dynamic facility for the Penn community, particularly those involved in health and science research.
"What I feel every day when I go into work is just this energy," says Hannah Rutledge, director of the library. "A wide variety of people are finding us, some for the first time, some of whom are rediscovering us. They're seeing how warm and welcoming the space is, in addition to the really exciting services, expertise, and resources that we have. The space has a revived energy to it."
Inspiring design
Previously known as the Biomedical Library, this resource for the health and science community at Penn has been located in Johnson Pavilion since the 1960s.
"We had study carrels built for technology that didn't exist anymore and we had very little natural light," says Barbara Cavanaugh, associate university librarian for research services and director of science and business libraries who retired earlier this month. "The library was built before libraries were thought about as collaborative, active spaces."
Cavanaugh headed the Biomedical Library when plans for renovation emerged. The vision leaned into collaboration, increasing the number of group study rooms from five to 20, with adjustable tables, monitors, and other modern technologies. The library now has an active learning classroom with lightweight, adjustable furniture to accommodate different teaching and learning styles, and a relaxation room for breaks from academic rigor. The Holman Reading Room draws students as a serene study spot, but moveable furniture enables the space to transform for events.
Artwork that gives a nod to the health sciences are among the renovation's finishing touches. Floor-to-ceiling images—taken by Penn researchers for Nikon's Small World photo competition—fill an entrance wall, the brainchild of both Brittany Merriam, the library's director of exhibits, and Melanie Cedrone, collections librarian and biology liaison. "There are four images, all Penn research images, and I love the color they bring, the pop they add to the space," says Cavanaugh.
In the reading room, glass display shelves are backed by images with yet another Penn connection: drawings of skeletons in various positions by 16th century Dutch anatomist Andreas Vesalius, all from the Libraries' Kislak Center for Special Collections, Rare Books, and Manuscripts. 
Overall, the design and aesthetic of the library are intended to cultivate and foster creativity, innovation, and deep thinking, the librarians say.
"What Barbara told me when I started was, 'We finally have a space that is deserving of our staff,'" says Rutledge.
Dedication personified
That staff enables the nimble and forward-looking services that make the Biotech Commons unique, able to foster creative and innovative thinking. "Their expertise, not only the depth of institutional knowledge, but their dedication to students and to faculty, is phenomenal," says Rutledge.
Richard Simmons, circulation desk administrator, has worked in the library since 1971. Starting as a stack attendant, he now oversees the 17 students who keep the circulation desk open for 100 hours a week, more than any other library at Penn. Staying one step ahead of technological adaptations throughout his tenure, he saw the transformation to computers, even writing his own computer program to automate fines. Also, he introduced the space reservation system to Penn Libraries 11 years ago and continues to manage the booking technology for the library's various study spaces and classrooms, training staff at other campus libraries to use the same system.
"Hardly a day goes by when all the rooms are not requested," says Simmons. "I love seeing these spaces get booked and used."
One needn't look far to find such deep institutional knowledge in the Commons. Simmons' remarkable five-decade tenure is exceeded by library assistant Charles Hardy's five-and-a-half decades. Several staff at the library have been there for 20-plus years.
"When they were taking the old study carrels out of the library during the renovation, Rich told me he remembered those moving in," says Rutledge. "He and Charles have known and helped many generations of students coming through the library, and it speaks to the rich history of this library and our staff."
Pulling it all together
The scientists and clinicians who make frequent use of the library dwell in a world of data—vast amounts of it. The library's comprehensive collection includes key scientific databases, journals, and ebooks, in addition to platforms that offer researchers instant access to the most up-to-date core textbooks for medicine, nursing, and biology. Making sense of investigations requires sifting through these swells of information, pulling together results, and examining past studies to find the most relevant to a particular area of research.
Longtime library staff member Sherry Morgan, graduate and clinical research librarian, assists in this critical research task. One of a team of expert librarians and researchers at the library, her responsibilities include fielding reference questions from students and faculty, generating content for review articles, and developing research methods.
"I work with master's in public health students and work intensively to get them from their basic coursework through their capstone presentation right before graduation," says Morgan. "With nursing graduate students, we're often looking at evidence-based practice issues, and creating a paper that might be publishable at some point."
Morgan and others at the library also work with clinical staff to help set new standards for practice. One key project resulted in a new set of Centers for Disease Control and Prevention guidelines for preventing surgical site infections from knee, hip, and other joint replacements. "It's been cited more than 1,500 times," Morgan says. "It involved performing something like 108 individual reviews to answer 108 questions that comprised the guideline. Most projects aren't that big, but we are here to help faculty in developing their own reviews."
Manuel de la Cruz Gutierrez, director of data and innovation services at the library, is another librarian who provides services modern researchers can't do without. "The common feature of what I do is working with data, specifically in data visualization," says de la Cruz Gutierrez. "It could be training, consultations, workshops, and just generally being a hub to connect people."
In addition, de la Cruz Gutierrez oversees the Libraries' bioinformatics support services, "trying to fill in gaps in service that exist across campus." Bioinformatics involves the use of high-powered computing to acquire and analyze biological data, such as genomic studies that may generate millions of datapoints and entail complex models of interacting biological entities.
Importantly, the Holman Biotech Commons exists outside any particular school at Penn, so while a researcher at the Perelman School of Medicine may have in-house resources to assist with bioinformatics analyses, fewer resources may exist in the smaller schools, and thus the Commons can help meet their demands.
Among the projects the library's team has worked on recently include reporting on impact metrics for faculty publications. "These can be used in a variety of ways," de la Cruz Gutierrez says, including for grant applications and tenure and promotion. He's helped hiring committees at Penn Medicine, for example, find names of applicants they might not have otherwise come across through their regular networks, resulting in a greater diversity of job candidates.
From inkling to innovation
De la Cruz Gutierrez also oversees the Judith & William Bollinger Digital Fabrication Lab, managed by Varvara (Barbara) Kountouzi. The bulk of the production process involves printing—and sometimes designing—research posters for students, postdocs, and faculty.
"The Penn community is very active in going to conferences, and it's really rebounded since slowing during the COVID-19 pandemic," says Kountouzi. "We're now close to the pre-pandemic levels of printing around 3,500 posters a year."
Building on the success of its poster-printing service, the lab launched a 3D printing service in 2015 with a single device. Soon after, the service "exploded," says Kountouzi, as the only 3D printing facility open to any member of the University community. "We decided from the beginning, and we have continued, to keep the service free, because we felt that it's really important to remove as many barriers from the innovation process as possible," she says.
Now, the Bollinger Digital Fabrication Lab is home to nine 3D printers. The service has been offered continuously, even through the pandemic, when the lab generated essential protective equipment, including face shield parts. The lab fields roughly 1,000 orders for services each year.
Lexi Voss, the library's visualizationist, operates the 3D printers and provides design consultations, creating custom pieces to support research. She also supports a newly launched laser-cutting service with Lab Operator Noah Boone, which can operate with materials that the 3D printers can't, such as wood or MDF. "The laser cutter is good for creating big parts that it would take the 3D printers a long time to make," Voss says.
Some of the most interesting projects have been featured on the library's Biomeditations blog, highlighting, for instance, work with a fellow at the Children's Hospital of Philadelphia to 3D print various ear shapes to see how they absorb sound differently; a chamber to contain ants used in behavioral experiments in researcher Shelley Berger's laboratory; and a replica dog leg bone on which surgeons at the School of Veterinary Medicine could practice surgeries.
Voss was also involved in printing some of the prototypes that led to Baleena, the President's Sustainability Prize-winning venture by three undergraduates from the Class of 2022 to capture microplastics released from clothes during laundry cycles. Voss trained the team in computer-aided design skills, which they are now bringing to market.
Another popular technological asset in the library is the Anatomage Table, an interactive device that allows users to virtually dissect life-sized images of human and animal cadavers. The table is equipped with files for four humans, a dog, a cat, a bird, and other organisms. Libraries staff have worked with faculty, such as the School of Nursing midwifery program, to incorporate its use into the curriculum.
The Anatomage Table is out in the open, near the assistance desk. "We welcome people to walk up and start exploring it," says Rutledge.
Poised for tomorrow
As word continues to get out on campus about the new offerings at the library—as well as continuing essential research services—leaders and staff are thinking about how to keep reimagining the space.
Following the renovations, a partnership with Penn's Weingarten Center led to the transformation of a portion of the lower level into the Accommodated Testing Center, giving students who need it a quiet and controlled environment to complete exams. Meanwhile, on the main floor, a design-thinking studio, where community members can both design and construct new innovations, as well as a mixed-reality lab, where students and faculty can experiment with augmented and virtual reality technologies, are nearly ready to be launched.
"It's often a struggle of academic libraries that the communities they serve don't understand the breadth and depth of the services they offer," says de la Cruz Gutierrez. But not so at this one. "People are responding to our outreach. I remember a physician I helped with a project who came back years later and told me, 'I figured the library helped me before, I bet they can do it again.' It's very heartwarming to play that role."
Cavanaugh agrees, sharing one of her favorite examples of the library advancing academic insights. "We helped fabricate a device to enable appropriate angles in digital mammography—this is life-saving stuff that we're really able to contribute to," she says.
"I think libraries have always played that role, in maybe more subtle ways, of supporting research and innovation, but with a facility like the Holman Biotech Commons, the examples are just bigger and glossier, just more impactful."
Barbara Cavanaugh was associate university librarian for research services and director of science and business libraries at the University of Pennsylvania.
Manuel de la Cruz Gutierrez is director of data and innovation services at Holman Biotech Commons at Penn.
Charles Hardy is library assistant at Holman Biotech Commons at Penn.
Varvara (Barbara) Kountouzi is head of the Judith & William Bollinger Digital Fabrication Laboratory at Holman Biotech Commons at Penn.
Sherry Morgan is graduate and clinical research liaison at Holman Biotech Commons at Penn.
Hannah Rutledge is director of Holman Biotech Commons at Penn.
Richard Simmons is circulation desk administrator at Holman Biotech Commons at Penn.
Lexi Voss is the visualizationist at Holman Biotech Commons at Penn.