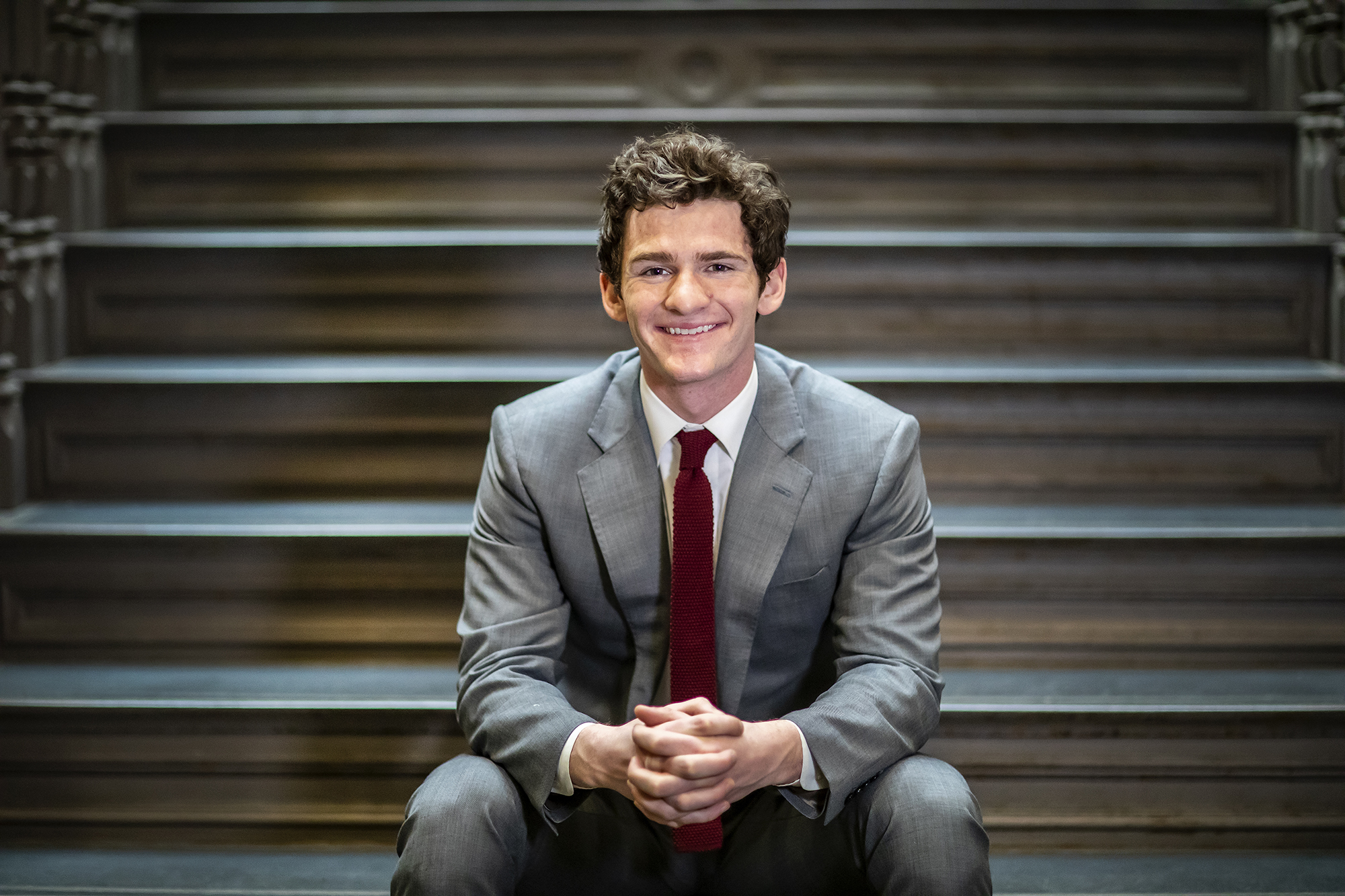 The new nonprofit has a name: The Homeward Initiative. And Penn May graduate Brendan Taliaferro has his new business cards as its founder and director.
Working in partnership with several Philadelphia nonprofits, Homeward Initiative will place homeless LGBTQ youth, 18 to 25 years old, in the homes of vetted and trained adult volunteers for short-term stays of up to six months. The project is following the Host Homes model, an innovative approach to housing youth that is now in place in several cities across the country.
The project was one of three selected for Penn's 2019 President's Engagement Prize, which includes a $100,000 award and an additional $50,000 living stipend. The prize is awarded to seniors to pursue post-grad projects with the potential to make a positive difference while also engaging community.
Taliaferro is making progress. The website is live. The partnerships are in place. The search to hire the first staff member is underway. Potential host families in Philadelphia County are signed up and attending information sessions.
"Our goal is to put the first young person in a home in mid-February," he says.
Making the transition from college student with the scaffolding of academics and activities, to a leader building a nonprofit has been challenging, Taliaferro says, but also a valuable learning experience for the "social entrepreneurship" career he imagines for himself.
"There are definitely days I struggle to feel that I'm doing enough, but then every couple of weeks something I've been working towards will happen or will manifest itself, and we will have gotten a step further," he says. "It's happening. Whenever I doubt myself, I have to look where we are now compared with where we were three months ago."
Support of Penn mentors and friends are key to his progress, he says. The faculty adviser on his project is Amy Hillier, associate professor in the School of Social Policy and Practice, who has worked extensively with high school and graduate students, many of whom identify as queer or transgender and have experience working with homeless youth.
"Brendan is confronting the realities of what a Presidential Engagement Prize can and cannot do," Hillier says. "In the short-term, this project can make a big difference for a small group of people. But it can't change the massive inequity and deep poverty that makes large-scale change so difficult."
The idea for the Engagement Prize grew from Taliaferro's grant-funded summer internship research on Philadelphia homeless youth who identify as LGBTQ. The discoveries became his senior capstone project as a Penn Civic Scholar, explaining the critical need for safe and stable emergency housing for LGBTQ youth experiencing homelessness.
He learned that LGBTQ youth comprise 40 percent of the homeless population, and nearly 90 percent of them in Philadelphia are youth of color. Often estranged from their families and afraid of violence in shelters, they turn to living in the streets, couch surfing, or trading sex for basic necessities, "all highly unstable alternatives that [make] it virtually impossible for them to take meaningful steps to independence," Taliaferro says.  
Homeward Initiative will be based in the Center City headquarters of the main partner, Valley Youth House, one of the largest youth housing nonprofits in Philadelphia.
"Brendan continues to operate with a beautiful blend of confidence and humility," Hillier says. "He is navigating the tricky LGBTQ nonprofit landscape with a mind towards centering the needs of homeless youth."
Other nonprofit partners Taliaferro has put into place include: The Attic Youth Center, an LGBTQ youth community center, for policy and program planning and youth recruitment; Turning Points for Children for host recruitment and host training; and Point Source Youth, which as part of Host Homes provides support to groups working to end homelessness.
A comparative literature major in the School of Arts and Sciences while at Penn, Taliaferro says that through the process of putting it all together he is learning useful skills, like cold-calling, talking about finances, following up with contacts, as well as leading meetings with donors, nonprofit partners, and community leaders.
"Most of the situations I walk into, it is the first time I've ever done it," he says. "I've gotten much more comfortable faking it until I make it."
Now Taliaferro is starting the search for the first of two staff members, whose initial salaries will be paid with the Engagement Prize funds: a coordinator responsible for day-to-day logistics and youth-home matching process; and a community navigator to work like a case manager to provide support services.
The search for host families also has started, with 35 people signed up to attend this month's information sessions. Taliaferro's goal is to get 20-25 families screened and committed by January.
"We are not looking to create foster families. What we want is to foster meaningful relationships, so that even after the young people leave they will have a stable adult in their lives who cares about them," Taliaferro says. "Many have never had that before."
Most of the adults signing up to be hosts identify as LGBTQ themselves, not surprising, he says, because the queer community has a tradition of supporting each other. "This is already happening every day," he says. "With Homeward Initiative, we are trying to formalize it so it can be safer and more effective, and more people can have access to it."
Taliaferro has started fundraising and grant writing efforts to put in place permanent funding sources to make the Homeward Initiative program self-sustaining. The plan is to transfer administration to Valley Youth House next year.  
"I am not a social worker. What I am doing is making sure it is all happening. I am the energy that is driving this program forward. I am the catalyst," Taliaferro says. "Once the vision has come to life and we have secured the funding streams to sustain it, I won't be necessary. As long as that takes, I'll be here."
Homepage photo: Taliaferro's project was one of three chosen for the 2019 President's Engagement Prize.