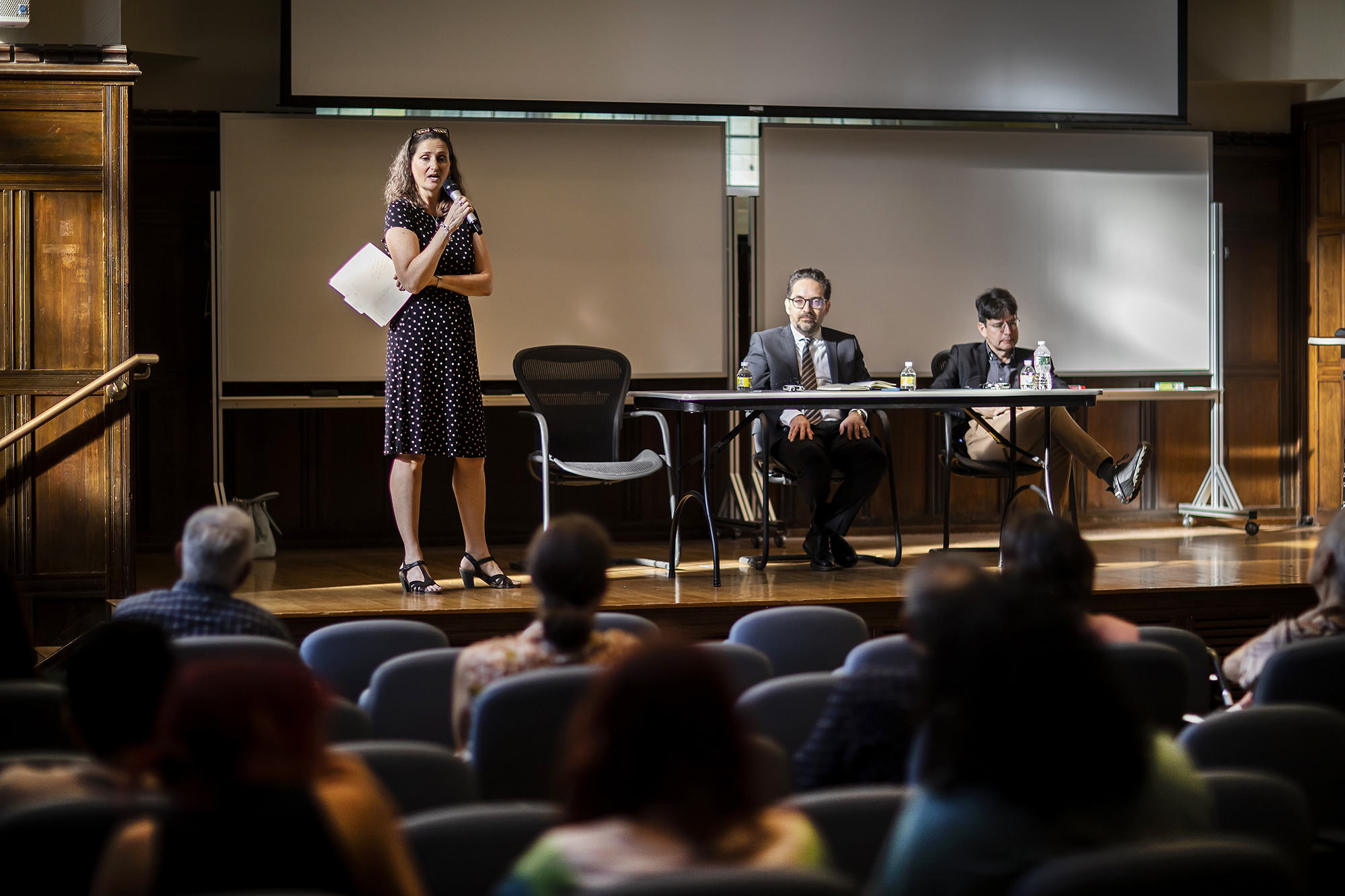 The world is constantly in motion, with hundreds of millions of people moving voluntarily or involuntarily across borders. Race, ethnicity, and legal status—issues central to the work of the Center for the Study of Ethnicity, Race, and Immigration (CSERI)—often dictate who has agency within those borders.
"Our mission is to stimulate research on race, ethnicity, and immigration and to bring together all the disparate actors who study those topics on campus," says CSERI director and sociologist Chenoa Flippen. "It's all about connecting the dots."
The Center, part of the School of Arts & Sciences, does that in two ways: through programming and events; and by funding undergraduate and graduate research with its generous endowment. 
Since the Center's launch in 2017 by founding director Michael Jones-Correa, students across the University have looked to CSERI to help fund everything from senior research projects to travel for research to data and supplies they might need for their research, thanks to their Turner Schulman Undergraduate and Graduate Fellowships.
The Center is unique in its focus on funding undergraduate research, says Flippen. "That's been going really well for several years, and now we want to see if we can do more to help faculty also bring undergraduates into their research projects," she says.
To accomplish that, the Center is making a new push to provide additional funding to faculty to help them engage undergraduates in faculty-directed research, working with the Center for Undergraduate Research and Fellowships to make those connections.
Before Jones-Correa launched the Center, there was no centralized place on campus that brought together people interested in race, ethnicity, and immigration, Flippen says.
"For instance, you'd have people studying racial politics or Latino voting behaviors in political science; people studying racial stratification in sociology; people studying immigration law in the Law School and others in economics and anthropology doing overlapping work, but there was no one place that drew them together," says Flippen. "Our events routinely involve people from multiple disciplines and multiple schools. That was the original vision: creating a community that bridged departments and schools because too often we're siloed in our own disciplines."
Over the years, CSERI has funded everything from research on migrant workers in Lebanon to the subculture of punk rock in Cuba to the solidarity between Native American tribes and the Irish dating back to the 1800s.
Events that the Center hosts also work to foster connection. They can function as networking events for graduate students, a way to meet people in other departments interested in their area of study and peers from other institutions doing similar work, she says.
"It connects all these different people and exposes them to other people and ongoing research that they otherwise wouldn't have had exposure to," Flippen says. "That really enriches everyone's research."
It also highlights the research being done at Penn, she says. "Bringing in these outside experts and scholars helps to advertise Penn to the larger community in terms of what we're doing in these areas. That puts Penn at the center of some of these conversations," she says.
It's been rewarding for Jones-Correa to see how far the Center has come.
"With the Turner/Schulman gift and the transition of the Center's leadership to Chenoa, this important mission of the University—to enable building bridges among students and scholars working on issues of race, ethnicity and immigration—has become a lasting part of the fabric of the School of Arts & Sciences," Jones-Correa says.  
This semester the Center kicked off Hispanic Heritage Month with a discussion between Geraldo Cadava, author of "The Hispanic Republican," and Jones-Correa. CSERI also joined with Penn Carey Law School and Penn Alumni Relations to co-sponsor a visit by Efrén Olivares, a Penn alum who is now Deputy Legal Director of the Immigrant Justice Project at Southern Poverty Law Center. He discussed his recently published memoir "My Boy Will Die of Sorrow," a deeply personal perspective from a human rights lawyer.
In December, a poster fair expo will highlight research from all of the recent Turner Schulman fellows, the first in-person poster fair since 2019, due to the pandemic.
"It's really fulfilling to see what the undergraduates do with this support," Flippen says. "Sometimes just a little bit of money can make the difference between whether a student is able to do a project or not."
The Center is also a great resource for the Penn community at large. "Penn is such an amazing research environment and so many people are doing such amazing work," says Flippen. "We're really pleased to be able to bring all of those different threads together and all those different people together and to see the synergies that result."