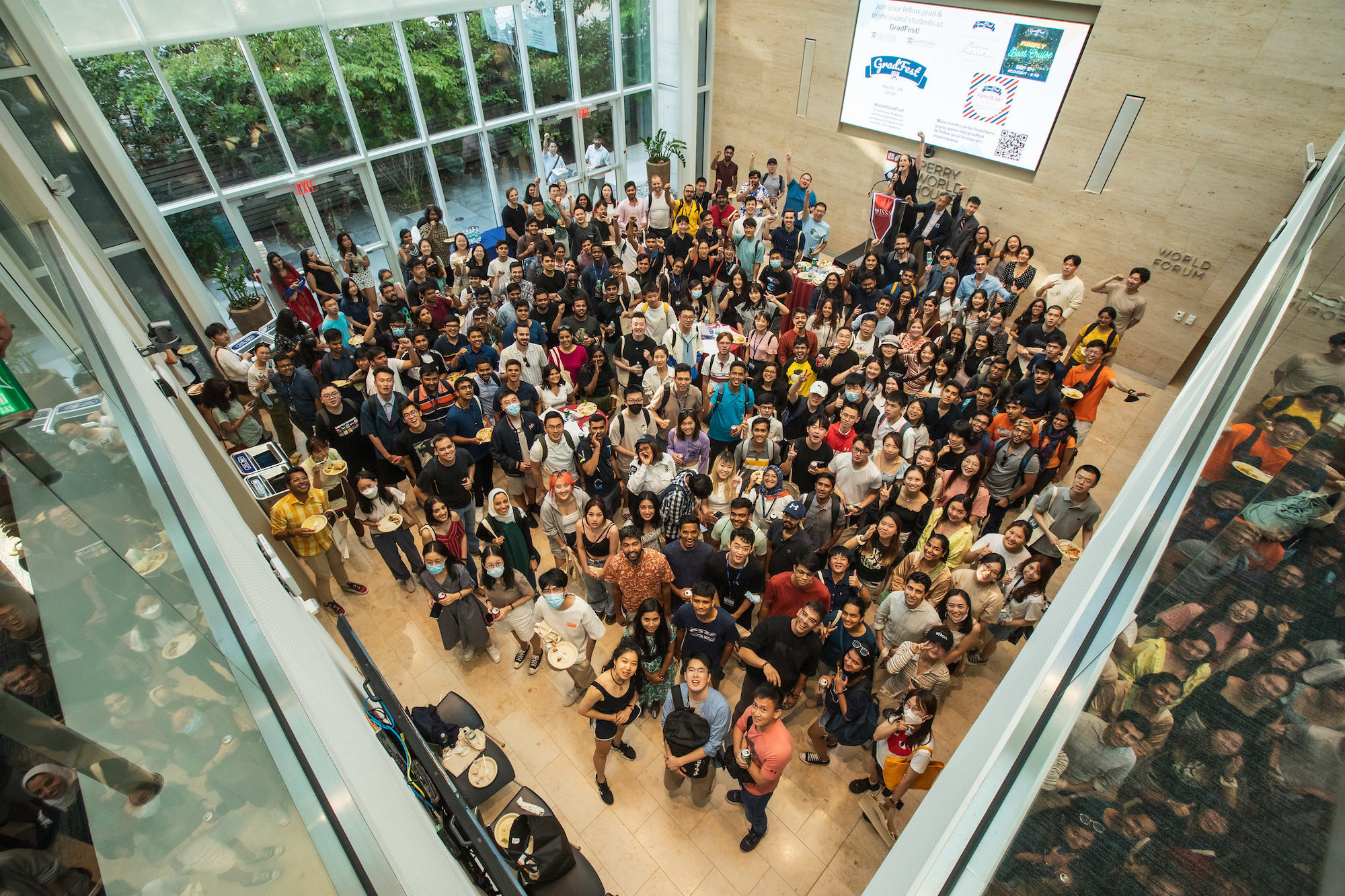 Bringing the world to Penn and Penn to the world has been the mission of Penn Global since its establishment more than 10 years ago, and a key and meaningful way that happens each year is with the presence of international students on campus.
"International students promote rich and diverse learning experiences for the entire campus community," says Rodolfo "Rudie" Altamirano, executive director of International Student & Scholar Services (ISSS) and Immigration Services and Integration Programs. "This is the main reason why Penn Global and ISSS are highly committed to the successful integration of international students. This further enriches campus learning for both international and U.S. students."
After a slight downturn during the pandemic, the numbers of international students have more than rebounded. Nearly 7,000 international students from more than 130 countries enrolled at Penn for the 2022-23 academic year, and ISSS is committed to making sure each of them has a smooth transition to campus. From help with financial matters, academic life and housing to health care and immigration questions and resources for families, ISSS is the main stop for international students coming to Penn.
Altamirano calls himself "a living example" of how the integration of international students on United States college campuses is significant. Arriving in the U.S. from the Philippines in 1983 to pursue his graduate degree, Altamirano became immersed firsthand in the challenges and benefits of being an international student. His experience continues to inform his approach to welcoming and integrating international students on campus.
"It was a rigorous experience trying to balance the life of a student in a foreign country and adjusting to the parts of its culture which cannot be captured in typical classroom settings," he says. "The exchange of knowledge and culture shaped my growth as a person. The relationships and friendships that I formed strengthened me as an intercultural being. The richness of experiences in my new environment shaped and molded me not just as an international student but as part of the bigger academic environment."
He says Penn's ISSS program is dedicated to celebrating and including the diverse international community by developing programming and initiatives that enhance cross-cultural connections and reduce cultural gaps, increasing access of campus resources and opportunities for international students, bringing to the forefront the strengths of a diverse international student and scholar population, and building intercultural initiatives that grow Penn as an inclusive community.
"We are here for international students every step of the way," Altamirano says. 
In addition to supporting students, ISSS has set up a number of groups in which international students can take the reins and advocate for themselves and their needs, pursue topics of interest, and make a lasting impact at Penn. These include the International Student Advisory Board (ISAB), International Student Table for Advocacy & Relations (ISTAR), International Partners Outreach Group (IPOG) and the Intercultural Leadership Program (ILP), and more.
Rina Nagatani, a fourth-year from Nagoya, Japan majoring in neuroscience in the College of Arts and Sciences says coming to Penn offered her the chance to explore a variety of studies and enabled her to have a student athlete experience on the swimming and diving team, things she wouldn't have been able to do if she'd stayed in Japan for college.
Nagatani says her decision to apply to the International Student Advisory Board during her first year truly enhanced what was already a rewarding international student experience at Penn. She's now the advisory board's chair.
"I got to work with administrators at ISSS and other organizations at Penn, and it really showed me how valued international students are here and how much work goes towards making their experience better at Penn," she says. "I'll always appreciate how responsive everyone at Penn has been. You never realize how much work goes into this until you are exposed to the back end of things."
Ricardo del Rio, a fourth-year majoring in electrical engineering in the School of Engineering and Applied Science, who is also in the accelerated master's program for robotics and is from Guadalajara, Mexico, says he was drawn to Penn because he was interested in the intersection of entrepreneurship and engineering. With Penn being the birthplace of the computer industry, the home of the Electronic Numerical Integrator and Computer (ENIAC), Pennovation, and more, "it just felt like so much history has happened here in the field I'm interested in; it would be such a great environment with immense opportunities," he says.
During his time at Penn, he joined Penn Electric Racing, where he was on a team that designed, built, integrated, tested, and debugged circuit boards for an electric racing car for competition, and he managed to squeeze in an additional international opportunity by studying abroad in Switzerland for a semester. He is also a Penn Abroad Ambassador.
His takeaway from being at Penn is how much he's benefitted from the diversity on campus.
"You get to interact with different people, and it's so valuable to be exposed to different ways of approaching life," he says. "That's something that I bring to the table, too."
David Kato, a third-year majoring in political science on a pre-med track, from Kigali, Rwanda, says he's grown at Penn in ways he couldn't have foreseen.
He's the undergraduate vice chair of the International Student Advisory Board, working with Nagatani and others to "voice the experiences and problems of international students and to make sure you give the students' perspective, and shed light on them," he says.
He's also a Perry World House Student Fellow and became a certified EMT, working with the student-run Medical Emergency Response Team.
"It feels like I'm actively giving back and actively inching towards my career goals at the same time," he says. "It has been a very meaningful experience in the sense that it has given me a hands-on taste of what the career I'm aspiring to would look like."
Having started at Penn thousands of miles away on Zoom at odd times of day due to the pandemic, there were times when Kato wondered if he'd ever come to campus and feel a part of the community. 
"When the on-campus transition happened, I feel like our pandemic experience made our connections even stronger, especially being a part of the student groups. You feel like you're not just doing something for yourself; you're doing something for Penn and the Penn community, and it creates connections and makes the experience more meaningful."
One important part of Kato's time at Penn was being exposed to the diversity of people's experiences and journeys, he says.
"It might push you to grow your ideas, and, even if it doesn't, it challenges you to understand why you hold on to looking at the world in a certain way," he says. "I've had a lot of change in perspective in terms of how I can realize some of the goals I have and the potential I have to do better in the world and make a difference. I know about the vast inequalities in the world, but my eyes have also been opened on how to tackle that. I'm saying this very lightly, mostly because I have a way to go to get there, but what I take away from Penn is knowing that it's possible and knowing where to begin the journey."
During the last few years, especially in the wake of the pandemic, the world has seen a push toward de-globalization, with countries pulling away rather than seeing close relations with other nations as a positive, says Ezekiel Emanuel, vice provost for global initiatives. But that's not Penn's approach.
"We're committed to globalization, and we believe that more global interaction is better," he says, and student exchanges are an important part of that effort.
"Even at the height of the Cold War, the U.S. had exchanges with the Soviet Union because it was a way of understanding, not miscalculating, becoming more friendly, and developing places where you could collaborate," Emanuel says. "We think that's true now. It's important to study and learn about other countries. We're continuing our global engagement at Penn, and there's no stopping it going forward."
In that vein, Penn Global and Penn's Graduate School of Education (GSE) are co-hosting a conference on March 17 entitled "The Future of Global Higher Education" to examine the pillars of partnership in global higher education through an event that will draw out both lessons learned from the past decade plus of Penn's global engagement as well as possible solutions to future challenges. As part of the keynote, Emanuel will have a conversation on the topic with L. Rafael Reif, former Massachusetts Institute of Technology president. 
"We are extremely proud of our global students," Emanuel says, "and extremely proud of the fact that they've taken so much initiative and been engaged in so many leadership activities in the University," he says. "They offer an important set of perspectives that would otherwise be absent from the campus."