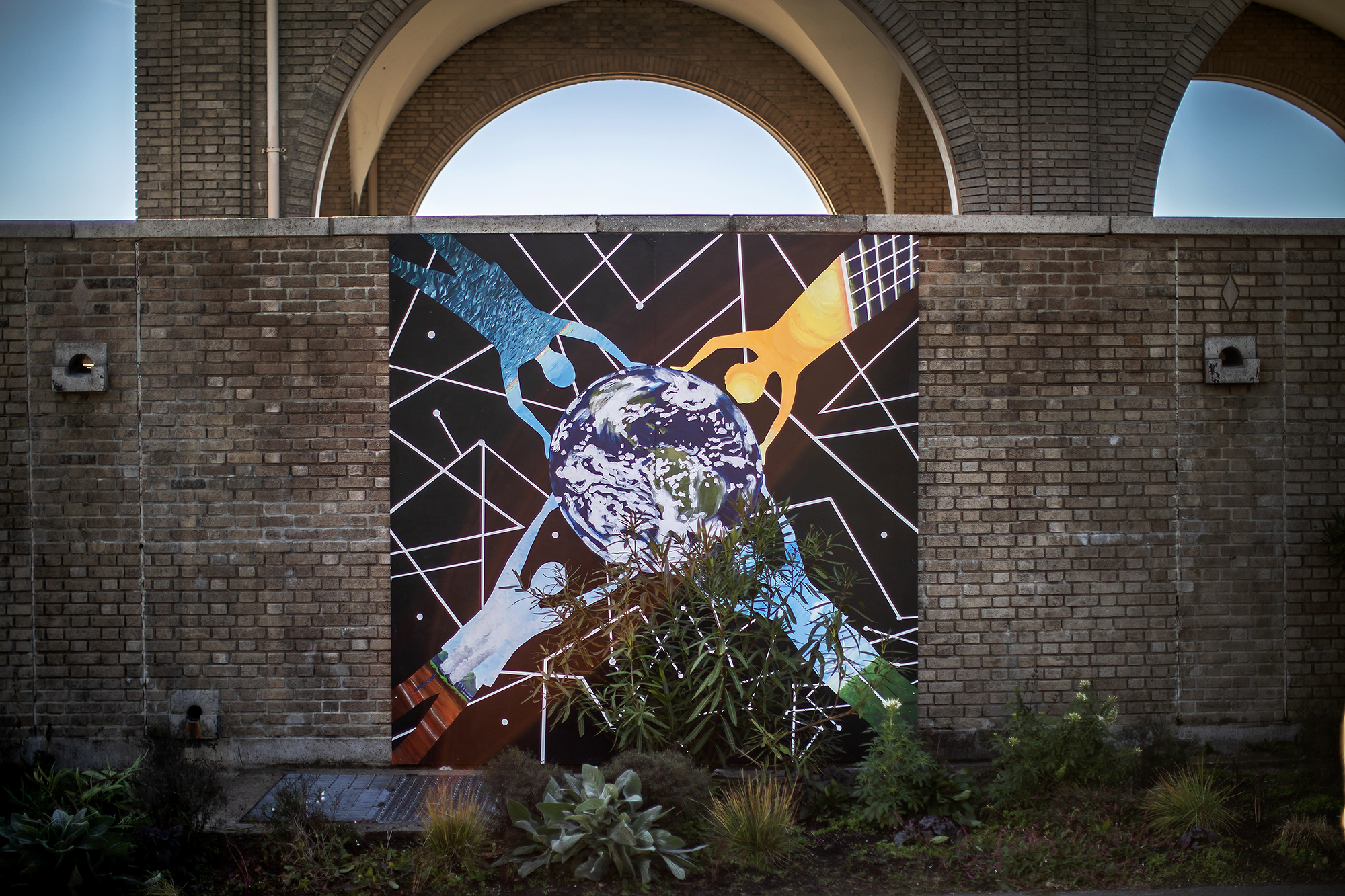 In a funky warehouse-turned-apartment building in Philadelphia, a 10x10-foot, four-panel canvas hangs on the wall of Penn graduate student Eliza Nobles' bedroom, opposite a huge bank of windows. Under it, a crinkled tarp protects the hardwood floor; a yellow and silver ladder rests off to the side.
Though much of the canvas is still blank, a painting is starting to emerge. A large circle at center will soon transform into the Earth, its swirling blues and whites and greens a frozen moment for an ever-changing planet. Silhouettes of four people, arms outstretched, fingertips touching the globe, will come to symbolize wind, solar, hydroelectric, and geothermal renewable energy sources. All around, a crisscross of lines, white on a black background, will signify the power grid.
Now, nearly a year after Nobles began her piece, the final image hangs prominently at FDR Park in South Philadelphia, a visual representation of United Nations Sustainable Development Goal (SDG) #7 aimed at ensuring access to affordable, reliable, sustainable, modern energy for all. It's one of 17 such murals in various stages, part of an initiative by the Global Philadelphia Association (GPA) and Mural Arts Philadelphia to create a metaphorical "art gallery" of SDGs across the city.
At Penn, Global Philadelphia tapped the Kleinman Center for Energy Policy to highlight the "energy for all" goal. A contest open to students, faculty, staff, and alumni across the University led to the selection of Nobles' design in November 2021, and on a crisp October day, the piece was hung on the boathouse in FDR Park, its home for the next three years. "Eliza's painting will serve as a reminder of the urgent need for a clean energy transition and the balance that can come when we achieve that goal," says Cornelia Colijn, executive director of the Kleinman Center.
Bringing sustainable goals to Philly
The SDGs have been around for about seven years, adopted by 193 countries in 2015. That same year, the Organization of World Heritage Cities recognized Philadelphia as the first such city in the United States. In traveling to and collaborating with other World Heritage Cities around the world, GPA President Zabeth Teelucksingh began to see just how connected those places were to the aims of the Sustainable Development Goals.
"We knew there was work happening around Philadelphia that resonated with the SDGs at places like the Kleinman Center," Teelucksingh says, "but we started to wonder whether the city itself was actively aligned with these goals. We decided that within the purview of our work was a space to highlight them."
GPA joined forces with Mural Arts and began seeking partners across the city. The first mural went up in October 2019—an interpretation of SDG #5, focused on gender equality—and Kleinman got the call in the summer of 2021, spurred by a recommendation from art historian David Brownlee, a Penn emeritus professor who is on GPA's World Heritage Committee.
As a sponsor, the Kleinman Center was tasked with finding an artist and location for the project, as well as a nonprofit to receive the accompanying $3,000 grant. Colijn and colleagues launched a call for submissions open to the Penn community. The only stipulation was that the mural must represent, in some fashion, Sustainable Development Goal #7. Nobles, a dual-degree master's student in City Planning and Environmental Studies, decided to submit a proposal.
The winning design
Though she has drawing and painting experience, Nobles isn't a trained artist. "I usually just do art for my own enjoyment," she says. She graduated from Drexel in 2019 with an undergraduate degree in urban ecology, the curriculum for which she created herself to address urban environmental challenges holistically.
"I've always been really interested in solving environmental problems and I've always had an interdisciplinary approach to that," says Nobles, who is slated to finish her Penn program in May 2023. "This project sounded like the perfect opportunity to do something creative while still getting an environmental message across."
Nobles called her mural design "The Four Elements." In her proposal, she described her approach: Four people would represent the elements of sun, wind, earth, and water, as well as four types of clean, affordable, accessible renewable energy. The background would dually showcase space and the energy grid to depict the need for both more renewable resources and more infrastructure.
Kleinman turned to art experts within the Penn community for help judging the entries. That committee included University curator Lynn Marsden-Atlass; Sachs Program executive director John McInerney; Weitzman School of Design professor Ken Lum; and Bethany Wiggin, founding director of the Penn Program in Environmental Humanities. Global Philadelphia also participated in the selection process.
The team picked its winning design in November 2021, and Nobles received her materials in mid-December—at the height of the COVID-19 pandemic. On and off for months, she chipped away at the project, her Portuguese water dog, Mocha, by her side. She sought advice from a mural artist about which paints would work well and how best to weather-proof her final product. She figured out how to maneuver the massive canvas in her high-ceilinged apartment and to sleep in a bedroom that was suddenly doubling as an art studio. All the while, she continued her graduate coursework, too.
Nobles says her final painting sticks close to the digital sample she submitted and to what she envisioned. "I'm happy it has a message that's meaningful to me," she says. "I hope people will see it and get excited about renewable energy."
Watching Nobles and the other artists bring their visions to life has been moving and exciting for Finn Martel, GPA's SDG project coordinator. "Coming into this, I assumed that the murals would mostly be straightforward," he says. "For example, for clean energy, I imagined you would have some sort of depiction of solar energy or electric vehicles. But it hasn't been straightforward; there are many more abstract depictions, which is more artistically effective and interesting."
A meaningful mural location
As Nobles worked on her painting, the Kleinman team worked to secure a location, eventually landing on the 350-acre FDR Park in South Philadelphia. "With its vast green spaces, this felt like the perfect place for this artwork," Colijn says. "When the world achieves its goal of clean energy for all, everyone will enjoy clean air, healthy ecosystems, and vibrant recreational spaces like this. FDR Park is a reminder of those benefits."
The restoration and revitalization already happening at the park—bolstered by a decades-long, multi-phase project that began in earnest in early 2022—solidified the choice, and FDR Park Director Justin DiBerardinis helped Kleinman and GPA obtain permission to place the public art on the boathouse, "no small feat," Teelucksingh says.
To her, it spoke to the unforeseen opportunities GPA and Mural Arts Philadelphia hoped this initiative would foster. "This sort of knitting of community and reaching out to different partners, it's a big piece of the project," she adds. "It's not easy to get public art in that area, but the folks involved felt it was a fitting and suitable project for that space." The nonprofit, volunteer organization Friends of FDR Park will receive the affiliated grant funding.
Community connections
Anyone who wants to can now visit Nobles' mural, which currently hangs on the side of the boathouse away from the water, facing the park. A plaque alongside explains the artwork, the SDGs, and the overall project, plus includes a QR code where people can read more.
In 2026, Teelucksingh says GPA will pivot to Part B of the project, moving all 17 murals to a single, as-yet-undetermined location in the city. "The murals are intentionally moveable," she says. "They will be repositioned so that folks can go to one place and learn about all of the Sustainable Development Goals at once, in one spot in Philadelphia."
The initiative itself was something different for the Kleinman Center, which generally focuses on energy policy work. "Academic institutions are sometimes criticized for being insular and inward looking," Colijn says. "Public art allows us an opportunity to be out in the community and make connections that we may not otherwise be able to make."
For her part, Nobles says she's happy to contribute—in her own way—to this cause. "Sustainability is a pressing issue," she says. "It's urgent to not only study the issues but get the message out about them, too." Her mural representing SDG #7 stands out against the tan brick structure of the boathouse, yet it also looks at home, as if it's always been there. On the day it was hung, a sunny Sunday morning, it was already prompting curiosity, turning the heads of those who walked by, doing precisely what it was meant to do.
Cornelia Colijn is the executive director of the Kleinman Center for Energy Policy, housed in the Stuart Weitzman School of Design at the University of Pennsylvania.
Eliza Nobles is a dual-degree master's student in the Department of City & Regional Planning in the Weitzman School of Design and in the Master of Environmental Studies program in the College of Liberal and Professional Studies, a division of the School of Arts & Sciences.
Zabeth Teelucksingh is president of the Global Philadelphia Association, where Finn Martel is the Sustainable Development Goals project coordinator.
Members of the mural design selection committee at Penn included Ken Lum, the Marilyn Jordan Taylor Presidential Professor and chair of Graduate Fine Arts in the Weitzman School of Design; Lynn Marsden-Atlass, University curator and executive director of the Arthur Ross Gallery; John McInerney, executive director of the Sachs Program for Fine Arts Innovation, and Bethany Wiggin, an associate professor of German and affiliated faculty in the Program in Comparative Literature and the Department of English, as well as founding director of the Penn Program in Environmental Humanities.