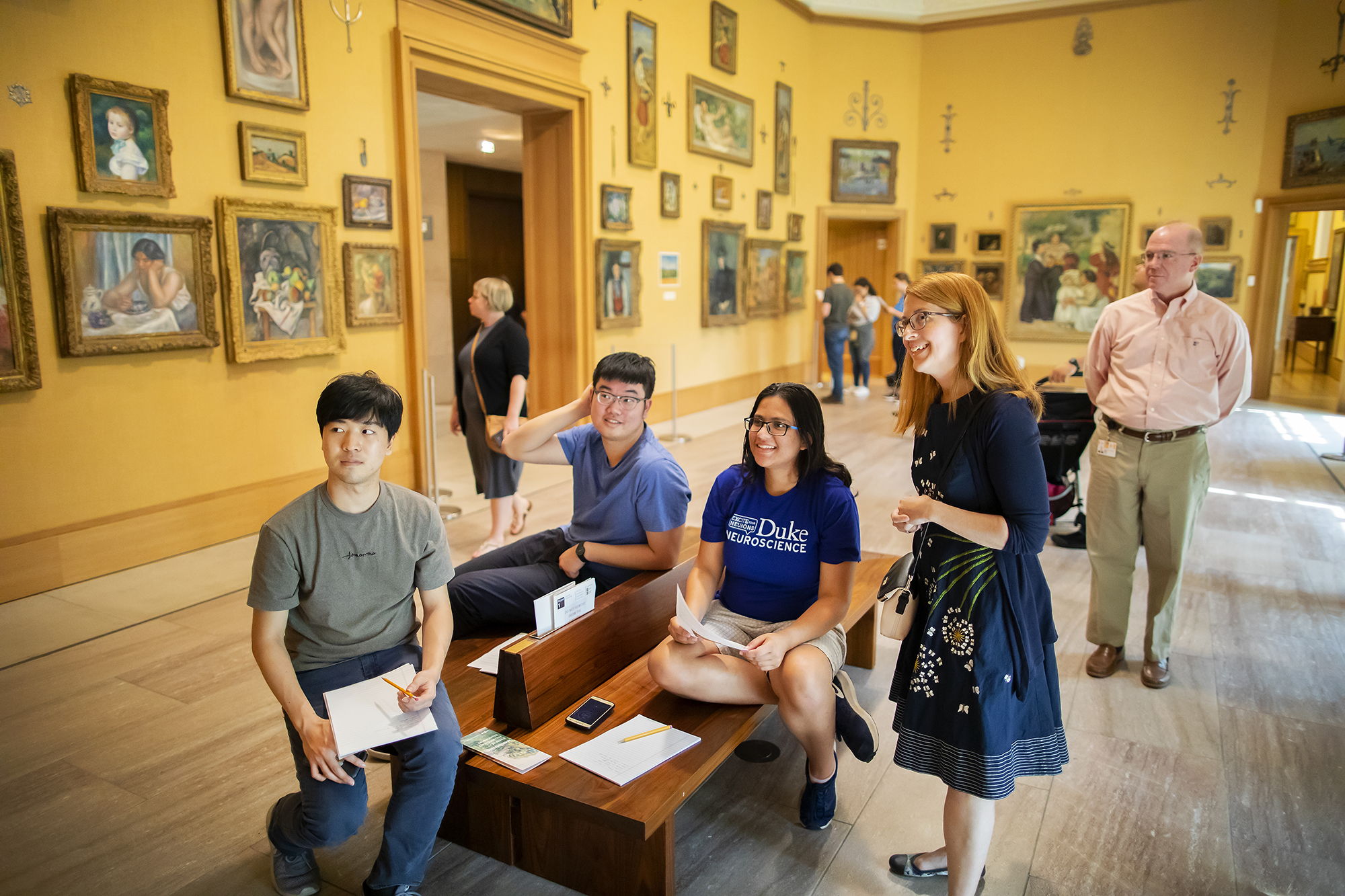 In the main gallery in Philadelphia's Barnes Foundation, Penn neuroscientist Elizabeth (Zab) Johnson divides 18 college students into groups of three. "Teams 1 and 2, you stay in this room," she says. "Teams 3 and 4, come with me. Teams 5 and 6, go in the opposite direction." 
As the students fan out to their respective corners, Johnson reiterates their task: Pick one piece of artwork and analyze it—for an hour. "The goal," she reminds them, "is to build a relationship with the art."
For the next 55 minutes, Johnson crisscrosses the museum, moving from room to room, group to group. With one trio, she discusses the age of the figure in the painting, what happens when the work is viewed from different angles. Another conversation, this one in front of a Cezanne still life, centers on a single section of the frame. "Are you sure it's a window?" Johnson asks. "If it is, what would be casting a shadow on the vase?" 
When the hour concludes, the larger group—the cohort of students participating in the Penn mindCORE summer program—reconvenes. The students, many from underrepresented groups, come from colleges and universities across the country. During the next two weeks, they'll hear from more than 20 Penn researchers on a range of topics. The Barnes exercise, one part of the overall program, seems to have intrigued them, not only in how quickly the time went, but in how unique it is to look at one painting for an extended period. 
"The overall goal is, instead of trying to see everything, slow down and really take a good look," explains Johnson, who is an expert on color vision and visual behavior and managing director of the Wharton Neuroscience Initiative. "Through that process you realize that the visual system is not usually taking in so much detail at once. In fact, it's trying not to take in all the detail on purpose, to avoid overload. It is also working to resolve ambiguity." 
Artwork typically falls into the realm of something processed subjectively based on a viewer's perception. Here, Johnson uses it as a tool to reveal how the brain interprets visual cues and how we use (and are sometimes limited by) language to describe what we perceive—a perfect fit, thematically, for this year's mindCORE summer session, which focuses for one week on language science and technology, the second on minds in the world. Penn faculty from a handful of departments and three schools will present on subjects from how infants learn language to community science in the Galápagos. 
"We wanted topics that were broad, cutting across traditional disciplines," says psychology professor John Trueswell, this year's program director. "The new focus, minds in the world, is interesting because it's about understanding how traditional topics of study like decision-making, perception, and language interact with society and social interactions."  
A Penn summer program like this has been around for two decades, though for just two years as part of the University's mindCORE initiative, which links Penn's mind and brain researchers under one broad umbrella. The 2018 summer cohort visited Eastern State Penitentiary, a different kind of Philadelphia institution, but like the Barnes trip, an experience that led to conversations about psychological and physiological processes occurring under particular circumstances.
"I've really come to appreciate the power of art for this kind of exercise. You are challenged to figure out how to interpret things in their context better than if I showed you a bunch of art on a screen in a classroom or visual stimuli in a lab," Johnson says. "My job in this context is to push the students to think in new ways. When they start bringing something that seems far away from neuroscience back to neuroscience, you've won. That's a success." 
Ultimately, the mindCORE summer program should result in many such mini-successes, by exposing underrepresented students to new and unique research subjects in a diverse range of fields. 
John Trueswell is a professor in the department of Psychology in the School of Arts and Sciences. Elizabeth (Zab) Johnson is managing director of the Wharton Neuroscience Initiative in the Wharton School.