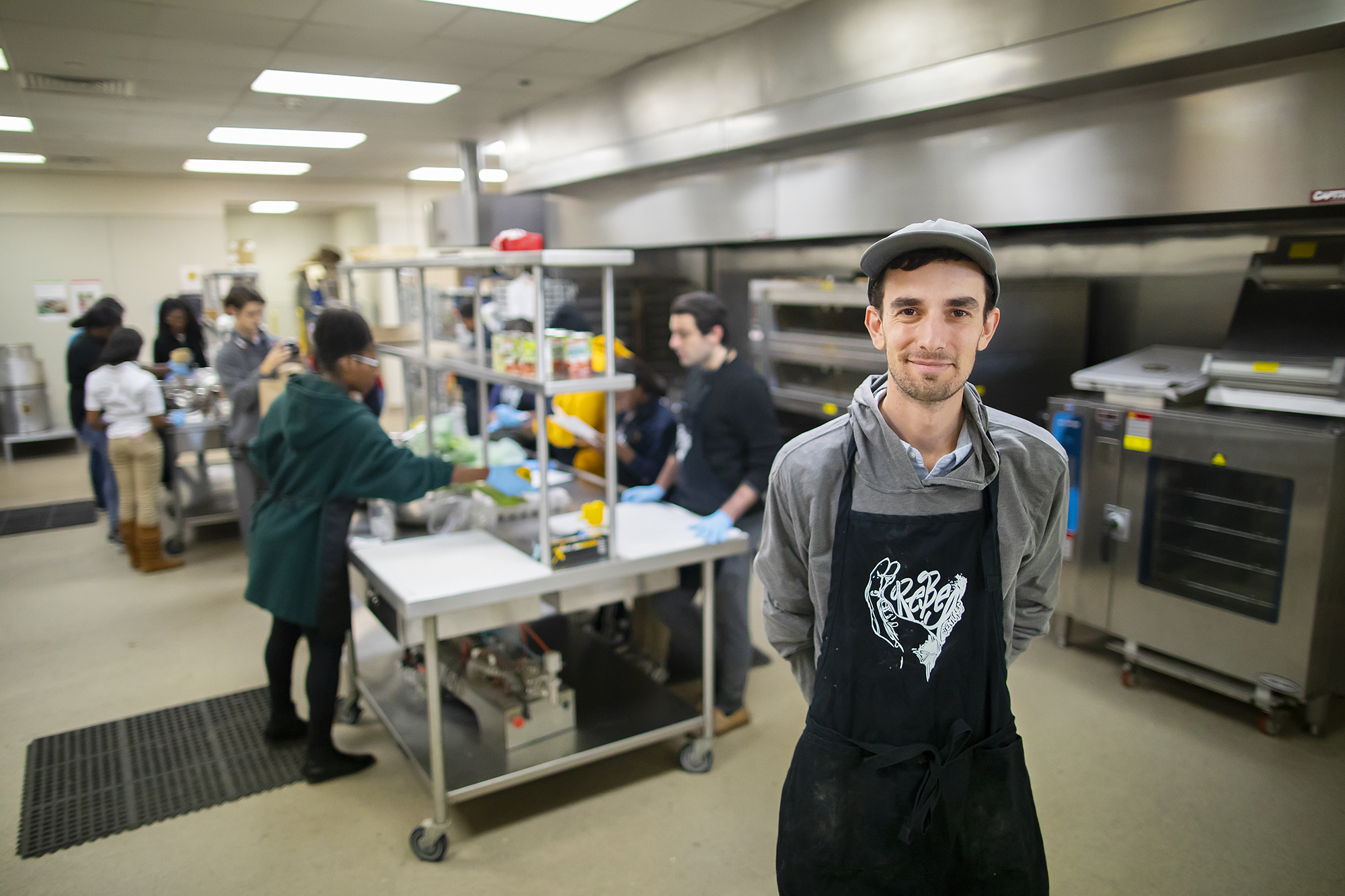 Jarrett Stein, a two-time Penn alumnus and a staff member at the Netter Center for Community Partnerships, has been selected as a TIAA Difference Maker 100 honoree for his efforts to improve nutrition for the young people of West Philadelphia.
As a senior in 2008, Stein took an academically based community service (ABCS) course, the "Politics of Food," which engaged Penn's neighbors to help solve a critical problem in the West Philadelphia community: inadequate nutrition. The course was offered through the Netter Center.
"Part of the course involved volunteering at a local elementary school through the Agatston Urban Nutrition Initiative (AUNI) to help teach a cooking class with parents and kids," Stein says. "The real-world cooking experience combined with class discussion and assignments taught me so much about what I didn't know, and what I wanted to learn."
The following spring, he took another ABCS course, "Healthy Schools." It allowed him to continue working with AUNI, which helps to build and sustain healthy communities.
"Jarrett started on his path through ABCS classes he took as an undergraduate," says Ira Harkavy, associate vice president and founding director of the Netter Center.
In 2009, Stein began working as a nutrition educator with AUNI. He taught nutrition to students in Pepper, Shaw, and Vare Middle schools, and Gideon Elementary School in South and Southwest Philadelphia. But, the middle-schoolers, he found, were not receptive to the top-down, one-way approach to the lessons. Eventually, he grew frustrated because of he was not able to get the students excited about healthy eating.
After consulting with his mentors, Stein decided to start asking the students about what it means to be healthy. Bringing the students into the conversation did the trick.
This led to the creation of Rebel Ventures' Rebel Crumbles, a fruit-filled, whole-grain snack cake and the first food item created by a local youth-run business that the Philadelphia School District has offered to its 150,000 students.
"Rebel Ventures is an outstanding example of the University-Assisted Community Schools (UACS) curriculum approach," Harkavy says.
As the AUNI engagement coordinator at the Netter Center, Stein designed projects that connected K-12 students with undergraduate and graduate students at Penn so they could work together to solve problems and create healthier schools.
In 2017, he earned his master's degree in nonprofit leadership from the School of Social Policy & Practice.
Today, Stein is the director of social enterprise and health partnerships at the Netter Center, where he oversees the health education and social-entrepreneurship partnerships between students, staff, and faculty at Penn and at the Netter Center's University-Assisted Community Schools.
"In each UACS K-8 site, elementary students and Penn students work together to run healthy snack stores for the school community," Stein explains. "For example, at Comegys Elementary, students collaborate to whip up delicious, healthy meals for their classmates."
"Jarrett's curriculum has successfully supported high school students' learning by engaging them as leaders in problem-solving," Harkavy adds. "The students identify problems that matter to them and then develop and implement solutions with a social entrepreneurship approach. The students also learn by managing day-to-day business operations such as negotiating contracts and conducting research to improve the products."
Stein adds that he's been fortunate throughout his career to be influenced by his colleagues' passion about working with youth, and by the Netter Center's approach to engagement.
"The Netter Center brings together diverse partners to participate together in solving local problems," Stein says. "To solve problems, these diverse groups design and implement projects and learn every step of the way. Youth and adults learn together. Each has unique experiences and perspectives to share. This is K to 16-plus democratic education and this is inspiring and influential work."
TIAA is recognizing 100 people, like Stein, who have made a significant contribution in their communities with a $10,000 donation to the nonprofit organization of each.
"It was a big, happy surprise," Stein says.
Stein's award will go to fund the ongoing nutritional and educational efforts of Rebel Ventures, which is working on a new flavor, Banana Apple Rebel Crumbles, and a new juice product. In addition, it's working on expanding its reach to include meeting and conference catering, as well as strengthening its impact in Philadelphia's schools.