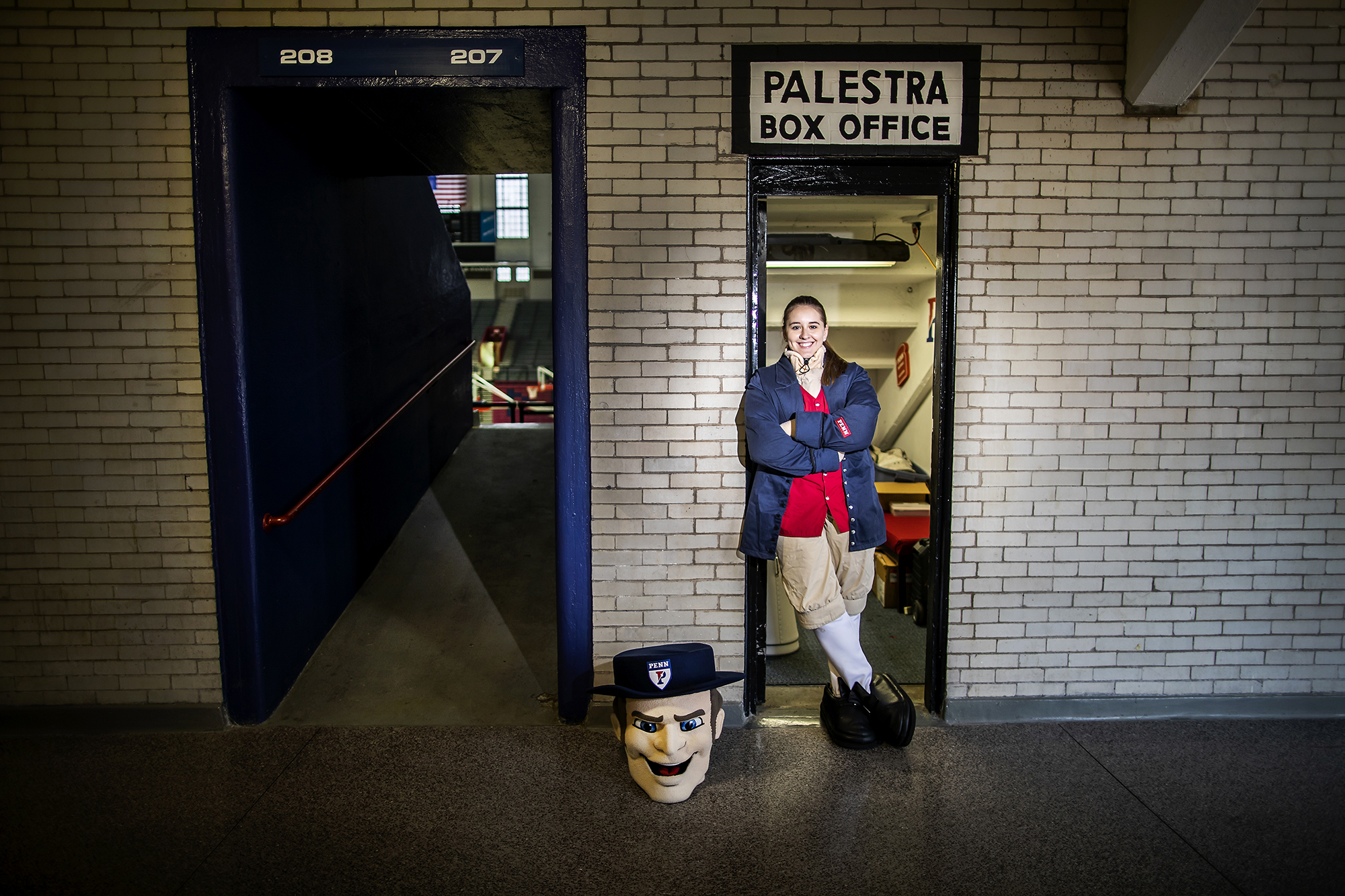 Sitting on the Palestra floor prepping rally T-shirts for a basketball game last spring, Penn undergraduate Maggie Robinson learned a secret about her friend Sophia Zehler, then a master's student at the Fels Institute of Government.
"We were just sitting there rolling these red Penn T-shirts and chatting," says Robinson, a rising senior from Nashville. "That's when she told me she was the mascot." Zehler was the Quaker, Penn's energetic, high-fiving mascot who amped up the crowd at sporting events, hung with the University President, and took unending selfies with adoring fans up and down Locust Walk.
The conversation was casual, a surprise for Robinson but no big deal for Zehler, likely because the Penn Quaker was actually her third mascot role in five years.
As a first year at the University of Delaware, Zehler donned the Blue Hen costume, then after transferring to Fordham, became Ramses the Ram. When she came to Penn for her master's in public administration, her dad encouraged her to apply for the Quaker job. "Being a mascot is unique in what it is and what it offers," Zehler says. "It makes you stand out. It gave me so much, in and out of suit."
Though Zehler says people often focus on these lines of her resumé—and she agrees that's been a big part of her story the past five years—she also takes pride in being a first-generation Cuban American and one of the first women in her family to graduate from college and grad school. She's followed her familial military legacy, participating in ROTC as an undergrad. And this summer, while finishing her Fels capstone, she also interned with the New York City Department of Correction; the once-temporary position, aimed at improving conditions at the Rikers Island jail complex, is now her permanent job.
The path to the Quaker
Zehler grew up in a large and close-knit family, and at a get-together during her freshman fall at Delaware, one uncle started goading her about the school's mascot, the Blue Hen. It became a running joke. "Whenever we'd talk, he would give me moves that I should do if I became the hen," Zehler says. Not that she had any aspirations in that regard.
When an injury stymied her plans to continue rowing at Delaware, she decided to talk to the cheer coach, urged by a friend to try out for the role of YoUDee. "I was the Blue Hen from about February 2018 to June of 2018," Zehler says. She had to sign a non-disclosure agreement and only two people knew she donned the suit—and as a Division 1 athlete, to boot.
At Fordham, where she transferred before her sophomore year, she initially decided not to pursue mascotting. But her dad had seen a once-lost spark return in his daughter: "Every time I came home to see my parents—I was born and raised very close to Fordham—my dad would say, 'Wouldn't you like to be the mascot?'" Zehler recalls. "He wanted me to ease the transition to this new place by doing something that made me confident."
With two games left in the football season, she approached Fordham Athletics, which hired her as an independent student contractor. As Ramses the Ram, she led the spirit team, recruited other students, even had a stint on late night TV. During the 2019 March Madness tournament, she and 13 other mascots participated in a slam dunk and three-point throwing contest on "The Tonight Show Starring Jimmy Fallon."
March 2020 was the last time she did live events in the ram suit. Like so many colleges, Fordham moved its classes online due to the COVID-19 pandemic. Zehler graduated in 2021, becoming Ramses once more for a final commencement-themed TikTok video. "I'd already been accepted to Penn, and I had one year of NCAA eligibility that I'd lost during rowing," she says. Once again, her dad encouraged her not to leave behind the mascotting, and in August 2021, she officially became the Penn Quaker.
Zehler's time at Penn
On a warm day in April 2022, Zehler-as-Quaker walks over the bridge and down Locust Walk, the nicest celebrity you've ever encountered. People stop and stare or run up to ask for a photo. She nearly always obliges, and happily, too.
Only when tucked safely out of view between the Caster Building and Stiteler Hall, and only with no one else around, does she break character. The pause is always fleeting, usually interrupted by someone walking by or striking up a conversation.
This past academic year, Zehler got really good at flipping this on-off switch. Typically, Penn Athletics employs several people to rotate through events that require or desire the mascot, technically part of Penn's Cheerleading squad. But for a variety of reasons, Zehler was this year's only one.
As the Quaker, she went to almost every football and basketball game, and did countless other events, showing up as often as her packed schedule allowed. In addition to mascotting, she had a work-study gig doing marketing and communications for Penn Athletics. But her main focus was the one-year accelerated master's degree program through Fels, which included intensive coursework and a capstone project. Zehler's was on modernizing communication and reducing paperwork within the Philadelphia Police Department.
"Sophia has been a staple of the Fels community over the last year," says Mindy Zacharjasz, director of the Master of Public Administration program. "She is an active and engaged student, and she's great at rallying the troops and encouraging other students to engage. The fact that she was the mascot was a unique bonus. We joked that the Quaker attended our holiday party and admitted students day—but somehow Sophia kept missing him."
Zehler says the combination of those experiences prepared her for what was to come next. "Fels helped me very much get ready for a life in public service and government," she says. "The knowledge that I have is knowledge I didn't have before, nothing I would have ever fathomed."
Post-graduation life
For the moment, Zehler has hung up the Quaker suit—and all mascot costumes, for that matter—to take on what she sees as her most important role yet, working in the strategic initiatives unit at the NYC Department of Correction Headquarters at Rikers Island. It's a challenging job, made more challenging by the fact that former New York Mayor Bill DeBlasio put a plan in place to close Rikers by 2027.
"What we're trying to do is to make it better," Zehler says. "Basically, we assess where they are right now and what they need" and take steps to make that a reality. For example, Hurricane Sandy damaged part of the roof on several buildings in the Rikers complex. In that instance, Zehler and her teammates might call contractors to evaluate the situation or determine whether it would be safest for the jail's population to move during the repair process.
"My team is very focused on making it better for the people incarcerated there," she says. "Rikers is a jail and you're not supposed to be there for more than a year. We have one person who has been there for 10. We're not the courts. We can't help him post bail. But we can at least make it a more livable situation."
Zehler comes from a long line of people doing this sort of work. Her dad does peacekeeping logistics for the United Nations and her mom works for the Federal Reserve Bank of New York. She has one uncle who's a general contractor for the government and another who works for the Department of Homeland Security. Their examples inspire what Zehler admits is an insane work ethic.
"She's really hard-working," Robinson agrees. "When she wants something, she goes for it, all in, which I really admire. She's also really open to putting herself out there, and flexible to any situation," like the frigid Penn Relays the pair worked together. "It was so cold," Robinson recalls. "Doing the video board right under all the signs on Franklin Field, I just remember sitting there clicking all these buttons with her, our way of trying to stay warm."
There's currently no mascotting in Zehler's future, though not for lack of trying on her dad's part. He jokingly suggested that, should she need something to fall back on, she could always apply to be the next Mrs. Met. Zehler doesn't close the door completely, but it's easy to tell she's ready for the next Quaker to come to life and for the next chapter in her own to begin. She's already well on her way.
Margaret Robinson, from Nashville, is a rising senior at Penn majoring in communications with a minor in journalism.
Mindy Zacharjasz is director of the Master of Public Administration program at Penn's Fels Institute of Government.
Sophia Zehler, originally from New York City, graduated from Penn in August with her Master in Public Administration from the Fels Institute of Government. She currently works in the strategic initiatives unit at the New York City Department of Correction Headquarters at Rikers Island.