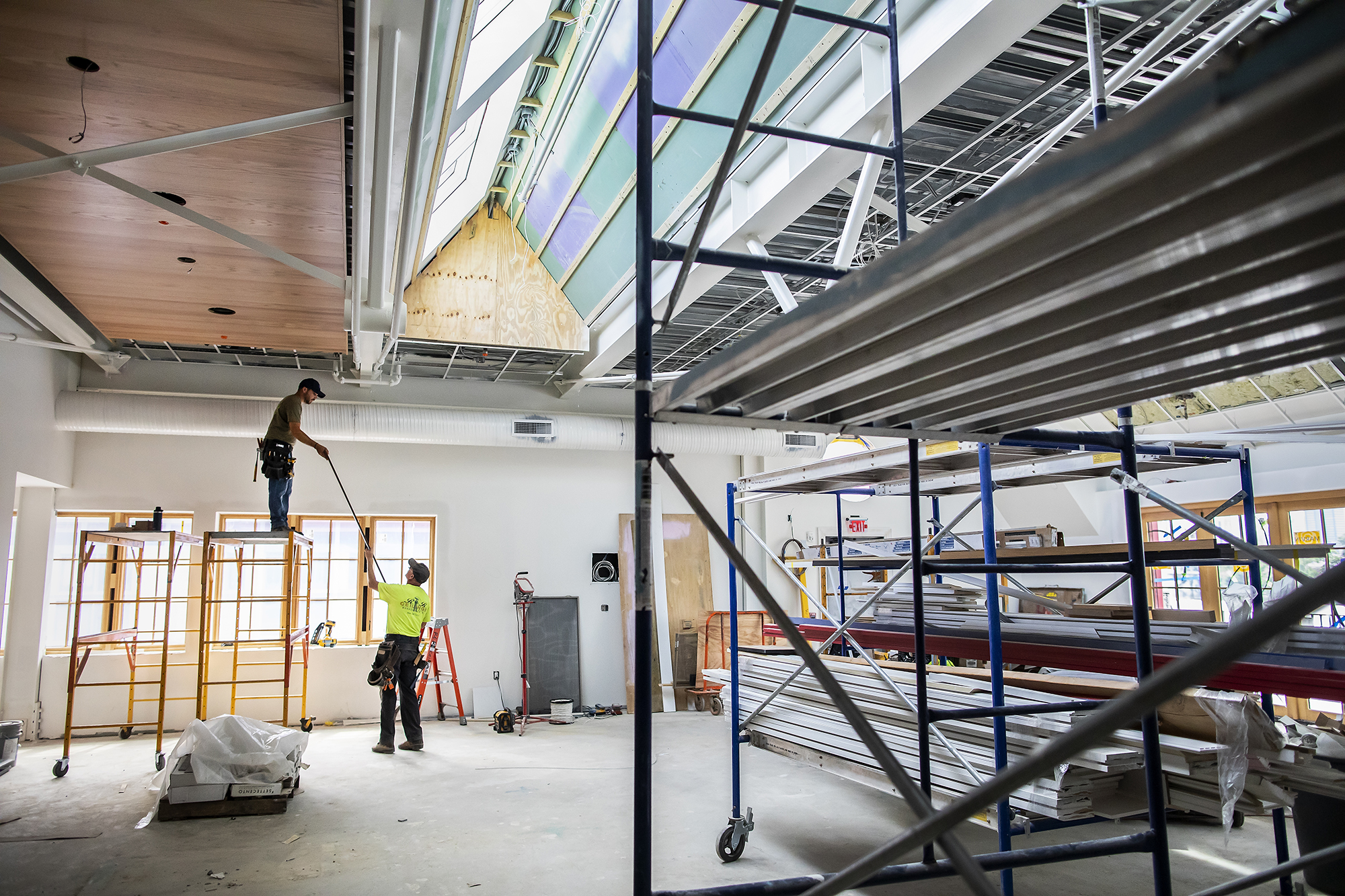 Hovering over the iconic stone compass at Locust Walk and 37th Street, construction workers carefully put finishing touches on laying new stones that can bear larger weight loads. Footsteps away, meanwhile, foundational work begins on a brand-new addition to the Graduate School of Education (GSE) that connects the School's main building with Stiteler Hall.
The University's projects this summer truly range from big to small, but all are treated with the same precision and swiftness that will have students returning in the fall to a campus that is refreshed and moving toward progress one nail, brick, or board at a time.
Perhaps the most centrally located project is that of GSE, which is currently marked with fencing—though a path leading up 37th Street to Locust Walk will remain open for the duration of the construction, with the detour carved out beside the steps of the Annenberg Center for the Performing Arts. Construction began in May with the demolition of the steps between the two buildings, with foundation and structural work happening for the remainder of the summer.
Slated to finish by fall 2023, the new building is a connector between Stiteler and the existing GSE building, with a new front entrance, ADA accessibility in Stiteler, and classrooms. It fulfills the mission of the One Penn GSE initiative with its step toward inclusion and push for innovation: The west side of the top floor will house a teaching laboratory as part of Catalyst @ Penn GSE, which is dedicated to developing and testing novel pedagogy practices. The space will be outfitted with updated technology that allows teachers to engage in remote and hybrid work models.
There will also be new student study and lounge spaces, a much-requested addition.
"One thing GSE was really short on is the building as it existed was packed full of offices and functional needs, but with no collaborative space for graduate students," says University Architect Mark Kocent. "A lot of grad students live off campus or in the city, and come to campus from there, so a lot of them are on campus all day and have a class in the morning and maybe again in the afternoon, so there wasn't a great home for them. This creates a casual collaborative space to mingle and linger with each other in between."
A unique project with a lower carbon footprint
Amy Gutmann Hall at 34th and Chestnut streets broke ground in May and is currently undergoing utility and foundational work. The $137.5 million, six-floor, cross-disciplinary data science hub will feature dry teaching labs, an auditorium, faculty and student offices, and research centers, with an expected opening date of September 2024.
It's also one of the more unique projects under construction.
"To our knowledge, this is the first mass timber structure of its kind in Philadelphia," says Chris Kern, executive director of design and construction in Facilities & Real Estate Services. "There's a lower carbon footprint for the mass timber; as a natural product, it's a lot less energy to produce mass timber than to produce, say, steel or concrete."
The timber will be imported from a forest in western Canada and will arrive in a bundle with pieces that can slip together for easy construction—"like a Tinkertoy," explains Kocent. That, he says, expedites the construction period for the building and mitigates cost while being more sustainable. And from a design standpoint, it provides a feeling of warmth on the inside of the building, where the wood will be exposed; 90% of the interior will be timber, and the remaining 10% will be concrete in the fire stairs and elevator shafts.
Kocent says this will certainly be the largest mass timber building recently built in Philadelphia, but did note there are older buildings in the city—industrial lofts, mostly—built with similar materials that have been in existence since the 1900s and are still standing.
Energy science and chemistry's new home
Elsewhere on the eastern end of campus is the Vagelos Laboratory for Energy Science and Technology at 32nd and Walnut streets, a $173.5 million project focusing on energy science and chemistry bringing researchers from the School of Arts & Sciences and the School of Engineering and Applied Science together. Workers began construction in January and will finish in February 2025.
"I think the unique thing about that building is the sunshades, a sunshade device that's set out-board of the windows, and are like a sail structure that keeps sunlight from directly penetrating into the space," says Kern. "You get a lot of sunlight but not heat gain, which reduces energy consumption for the building."
Kocent explains the top of the shades are made from a thin plastic film that's pulled tight and can twist to create more complex geometries; on the upper third of the shade, it promotes sunlight into the room that bounces off the ceiling to drive natural sunlight into the building. He says that, in theory, most rooms wouldn't even need lights on for most of the day. The bottom two-thirds of the shades, meanwhile, have a pattern that eliminates about 40% of sunlight to prevent heat gain—what happens when sunlight penetrates through glass—and direct sunlight, allowing for a more comfortable experience for desk workers. A similar design is also being implemented in Amy Gutmann Hall—fittingly, custom-designed using a computer algorithm.
Renovations to student spaces
Two college house renovation projects are also beginning this summer. Stouffer College House was constructed in the 1970s with retail below; a renovation project will replace windows, repair masonry on the façade, and will add ADA accessibility, including an elevator at the main entrance. Kocent explains that the facility was originally designed so that there would be eight-bedroom modules separated by steps leading down that were intended to create a sense of neighborhoods but ultimately left the entire building inaccessible to wheelchairs.
Stouffer's rooms will also be redone, as well as the common areas. A two-story glass element will be built for the common lounges between modules, to expand and brighten the spaces. The project will finish in time for fall 2023.
The Quad, meanwhile, is just beginning a three-year, three-phase construction timeline in which one third of the Quad will close at a time, with a goal of reassigning first-year students within Penn's College House system. Preliminary enabling work on the project began this summer, but all rooms will remain open for the 2022-23 academic year.
The Penn Boathouse, located on the eastern banks of the Schuylkill River along Boathouse Row, has completed construction and will open for operation this fall. The original building was constructed in 1875 and received a one-story wing on the east side of the building in the 1920s, intended as boat storage for the men's rowing team. A two-story wing was added in the 1980s for the women's rowing team, including a boat bay and locker space.
For structural reasons, in consultation with structural engineers, crews demolished the portion of the house built in the 1920s and rebuilt it while adding space. All changes were approved by Penn's Cultural Resource Committee and the City of Philadelphia's Historic Preservation Commission—"everything from paint colors to the height of the building," says Kocent. The building's existing space was maximized, allowing for equity between men's and women's locker room space and the addition of a great hall in which students can meet. There's also a space for events that includes balconies along the river.
"It's really a nice historic preservation project, but also carefully added a lot of program space in a tight site," says Kocent.
Campus, of course, is also further maintained during the summers with landscape projects and seemingly small but necessary updates to HVAC systems and resealing masonry stairs. And for those hoping to cross 38th Street on Locust Walk without a detour soon, rest assured: After reinstalling surface material and repairing a trench drain, the bridge will be back in action.
"[Summer is] extremely busy—there's a lot of work done in a condensed time period, so everything is ready for when students come back," says Kocent. "But on the University Architect side, since a lot of the design work is already done, it's a great time for us to actually get out of the office and visit all these sites, check on everything, see the quality of work being done, and see the construction.
"It's exciting and satisfying to see the progress."