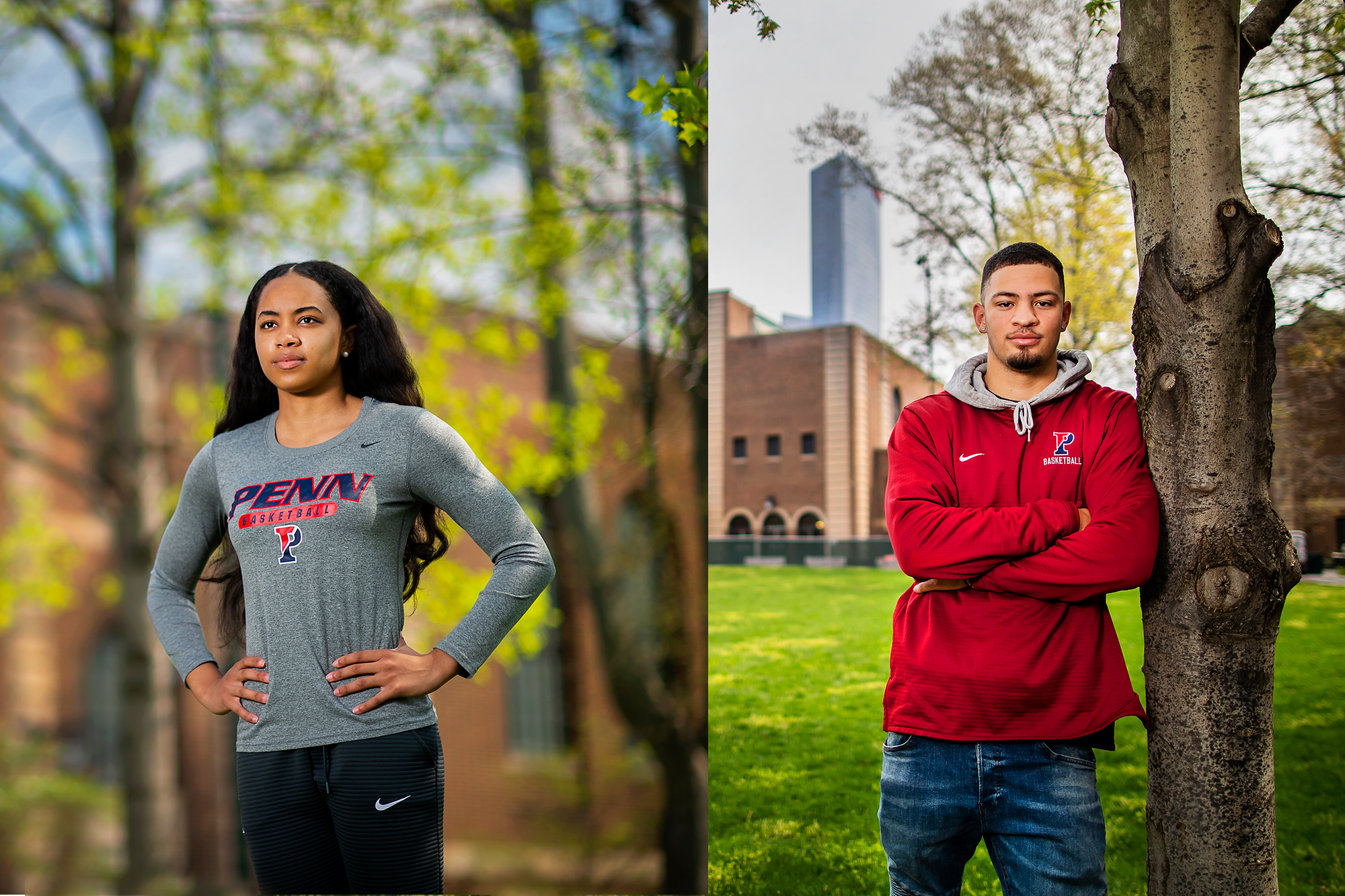 It is hard being a young person in America right now, says University Chaplain Chaz Howard, vice president for social equity and community. "It's doubly hard being a young Black person in America right now," he says. Add to that being a young Black activist, "who's speaking out, who's a college student and has classes, and then you add athletics on top of all of that, it's a really, really big ask," says Howard.
It's why he says he's "triply proud" of junior Jelani Williams and senior Michae Jones of the men's and women's basketball teams, respectively, and their work as leaders among Penn's student-athlete community and the broader campus, who are fighting for social justice and racial equality.
After the killings of Ahmaud Arbery, Breonna Taylor, George Floyd, and many other unarmed Black people, followed by widespread protests, Howard, a Penn basketball fanatic, would check in with Williams and Jones to see how they were doing.
"I was able to call him and vent a little bit," Williams says of Howard, "but also bounce some ideas off of him in terms of what I think we can do as a school, what I think we can do as an athletics department, what I think we can do just as individuals to try to create change."
Over the years, Howard tapped Williams and Jones to speak on social justice panels and calls. In February, when Philadelphia Youth Basketball was looking for student-athletes to discuss social justice on its Beyond Basketball podcast, Howard says Jones and Williams were the first two students who came to mind.
"I think these two are unique," Howard says. "I've really enjoyed the chance to see them serve in in their programs and to see them move from wide-eyed freshmen to elder statesmen."
Jelani Williams
The first time Williams can remember experiencing overt racism was during his freshman year of high school.
A native of Prince George's County, Maryland, he had recently transferred from a majority-Black public school to Sidwell Friends, a majority-white private school in Washington, D.C., where a number of presidents have sent their children.
During new student orientation, he remembers chatting with an African American classmate about how excited they were to be at such a prestigious school, the opportunities it would present, and the new people they would meet.
As they were conversing, a white male student approached them and said, "Black kids, you guys must play basketball."
Confused at the comment, Williams says he responded, "Yes, I do play basketball. I don't know what that has to do with being Black." Williams says the disconcerting look on his face let the student know he was disturbed by the remark, and the student stepped away. But Williams says the incident stayed with him.
"Honestly, I still think about that today," he says. "That's why I am the way I am today. From that moment, I was like, 'Alright, I can't just be a basketball player. I won't allow that to be my image.'"
More than an athlete
In response to police brutality, Williams protested outside of the White House for two weeks last summer. He witnessed police beat demonstrators, spray them with tear gas, and utilize rubber bullets at close range.
"Every day, I would go home and try to figure out what the next step was or what I could actually do," he says. "Eventually, I decided to refocus my energy to my sphere of influence, which I saw as being Penn and Penn Athletics."
Williams, a communications major and Africana studies minor who is also an intern at the Netter Center for Community Partnerships, was moved to take a leadership role both on his basketball team and with Penn Athletics at large.
Williams was among 30 African American student-athletes at Penn who met virtually with senior administrators at Penn Athletics last June. The group discussed their experiences as Black students at a predominately white institution and pushed Athletics to take a more active stand against racism. Williams is also a member of the Penn Athletics Racial Justice Task Force. In December, the Penn Athletics executive team unanimously approved its recommendations.
Family meetings
Williams began his on-campus outreach by reaching out to those he knew best: his coaches and teammates. He facilitated Zoom conversations about the Black Lives Matter protests, the history of race and racism, police violence, and racial equality, explaining his passion for these issues.
In order to help his coaches and teammates understand his perspective, Williams would send them films to watch, such as Ava DuVernay's documentary "13th," or recommend books by the likes of Malcolm X, Angela Davis, or Toni Morrison for them to discuss as a group.
"I wanted to help the people around me better understand what's going on so that we can have meaningful conversations about what's happening," he says. "But I also wanted to motivate people to do something with their new knowledge."
Abington, Pennsylvania, native Lucas Monroe, a sophomore on the men's basketball team and intern in the Office of Social Equity and Community, says the conversations were a chance for players to voice their frustration about what was going on, discuss what they were seeing and how it made them feel, and their different life experiences.
"It was an opportunity for some of the Black players to have a voice within the team," he says. "We also talked about how Penn as a team, as an athletic department, and as a school can make positive impacts, whether it be in West Philadelphia or in a broader community."
Steve Donahue, the John R. Rockwell Head Coach of Men's Basketball, says Williams was initially disappointed in the team's response to the murder of George Floyd and the protests that followed, and stepped up and demanded that the team show a commitment to social justice.
"Most of the guys probably felt the same way as he did, but just didn't know how to verbalize it," Donahue says. "I think all of us feel better that we are more understanding. We're not just saying, 'I'm not racist,' we are becoming anti-racist. We won't just sit back and be quiet. We'll do our best—in particular, white people—to support all the issues that he brought forward."
A natural leader
In four years at Penn, Williams has not yet played in a game for the men's basketball team. He tore his right ACL twice, his left ACL once, and this past season was cancelled due to COVID-19. (He is extending his academic program to make himself eligible to play next season.)
But he has still emerged as a team leader.
Donahue says the manner in which Williams has handled adversity, remained invested and engaged with the team, and holds himself and others accountable has earned the respect and admiration of his teammates.
"Each time he got knocked down, he got up off the canvas, brushed himself off, got back to work, and didn't feel sorry for himself," he says.
Monroe says Williams is a natural leader, which is evident by the way he carries himself.
"Even last year, you could tell," says Monroe. He says, Williams "obviously didn't play last year, but he was still one of the more vocal guys at halftime. During practice, during timeouts, he was always someone that was in your ear, trying to motivate guys, just trying to be vocal and do as much as he could."
Nat Graham, the Gelb Family Associate Head Coach of Men's Basketball, has known Williams since Penn began recruiting him when he was a freshman in high school.
In addition to his top-notch basketball talents, Graham says the coaches were attracted to Williams' leadership attributes, competitive nature, accountability, and ability to raise up those around him.
"Jelani is a special dude," says Graham. "I think one of the great things about coaching at a place like Penn is besides all the stuff that we love about sports and competition, we get the benefit of being around special people, and Jelani is definitely one of those. I'm very thankful to not only coach him, but I think we got to the point where I think we're quite honestly friends. I think being around people like Jelani makes coaching all the more enriching."

Michae Jones
Jones' first experience with racism was at a seventh-grade sleepover. "As Black women, we protect our hair with a scarf," she says. "One of my friends at the moment told me I looked like Aunt Jemima." Jones was taken aback. Later, Jones searched for images of Aunt Jemima online, who is not depicted with a head scarf. "That girl really just associated that Black item with a depiction of a slave," she says.
At the sleepover, Jones watched all her white friends laughing. "I laughed with them and slowly took it off without anybody watching," she says. As an adult, this is one of the moments she regards with regret.
Jones is from Thibodaux, Louisiana, a small town where she attended a predominately white high school and was one of 15 Black students out of 800. "I never wanted to have any tension between me and my white friends and especially teachers," she says. "I wasn't the most outspoken and it kind of made me embarrassed for myself."
Growing into her confidence
Jones continued to be reticent as a Penn freshman. Athletics have always been central but as a young player on the women's basketball team, Jones didn't get a lot of game time. She would complain to her parents but hesitated to speak up with others. "I would say, 'yes sir, yes ma'am,'" Jones says. She would sit on the bench and watch her teammates, thinking, "She dribbles better than me, but I shoot better than her. Why am I not playing?"
"I was worried about everyone else except myself," Jones says. Instead of making excuses, Jones decided to focus on her weaknesses, drilling until she improved. During Jones' freshman year, "she was a sponge," says head coach Michael McLaughlin. "She took everything in, every situation. She was fully invested."
"When Michae had the ball late in the game and had to make a couple foul shots, she had that level of confidence that you want to see in a player," McLaughlin says. "She never backed down from any level of challenge."
In this, Jones found her confidence. "She's just locked in, all of the time," says assistant coach Kelly Killion. "She's engaged 1,000 percent, no matter what's going on at the gym. She has better eye contact than any kid I've ever coached," says Killion. "That's not something you'll see on the stat sheet."
Jones is a strong-willed leader, Killion says. "When she really wants something, nothing stops [her]."
"That was one personal growth trait that I took away from basketball," says Jones. "I was able to bring that to social justice."
"Michae as a person was always very solid in who she was but it's been great to watch her grow," says teammate Victoria "Tori" Crawford, a senior philosophy, politics and economics major from Potomac, Maryland. "I definitely think that her personality hasn't changed but her voice has grown."

'Doing the right thing'
At Penn, Jones has been surrounded by other people advocating for social justice. This "made me more comfortable to step out of my shell," she says. "I just wanted to improve and do better for my community."
Ahmaud Arbery's death was a catalyst, Jones says. "All my white friends [from high school] were saying the most ridiculous things." A former coach posted a picture of Michelle Obama next to Melania Trump on Facebook, calling Obama a gorilla. "These people—I've slept at their houses, I've ate their food, and here they are saying these things. Their true colors are coming out," Jones says.
"I was tired of being that cool Black girl," Jones says. "It's not about being popular or liked; it's about doing the right thing."
Jones encouraged team discussions and panels over the summer regarding Black Lives Matter. "It was definitely awkward at first," she says, but "it's super key to see where your other teammates are coming from."
McLaughlin says that his message to all the players was to utilize their voices, "but I think the most important thing was listening to them," he says. Jones "really wants to put her words into action and as a true leader, she has taken our entire team with her."
"Michae really helped to spearhead a lot of conversations that needed to be had … talking about the things that Black teammates might face that white teammates might not necessarily know," Crawford says.
In addition to advocating against anti-Black racism within her team and Athletics, Jones has participated on panels and encouraged her whole team to become involved with Beat the Streets, a sports-based nonprofit focused on youth development.
Jones showed how valuable one voice can be, Crawford says. "As a Penn women's basketball player, you can really make an impact."
Team chemistry is getting better and becoming more integrated as a result, Jones says, whereas before, off-court dynamics clustered around race and class. "We should try to include everyone," Jones says. "Do things together. Don't be afraid to ask your teammates, 'Who wants to come eat with us?'"

Next steps
After graduating as a health and societies major with a concentration in health care, markets, and finance, Jones starts a new position as a research coordinator at the Hospital of the University of Pennsylvania in June. She's aiming to be a doctor—"at this point, I don't have a Plan B," Jones says—but wanted to learn about the business side as well. "I picture myself running a hospital," she says.
Some of those high school friends and former teammates are going into medicine as well, and it unnerves her to think about how racism plays out in health care, Jones says. Social justice will continue to be a driving force.
In his 12 years coaching women's basketball at Penn, "I would be hard-pressed to find a better leader than Michae," McLaughlin says, with her "selfless, hardworking, committed mental fortitude and toughness.
"When you talk about someone who fulfilled their experience here at Penn, [who left] a legacy in terms of being a leader in the program, in the community, Michae has accomplished everything she set out to do," McLauglin says.