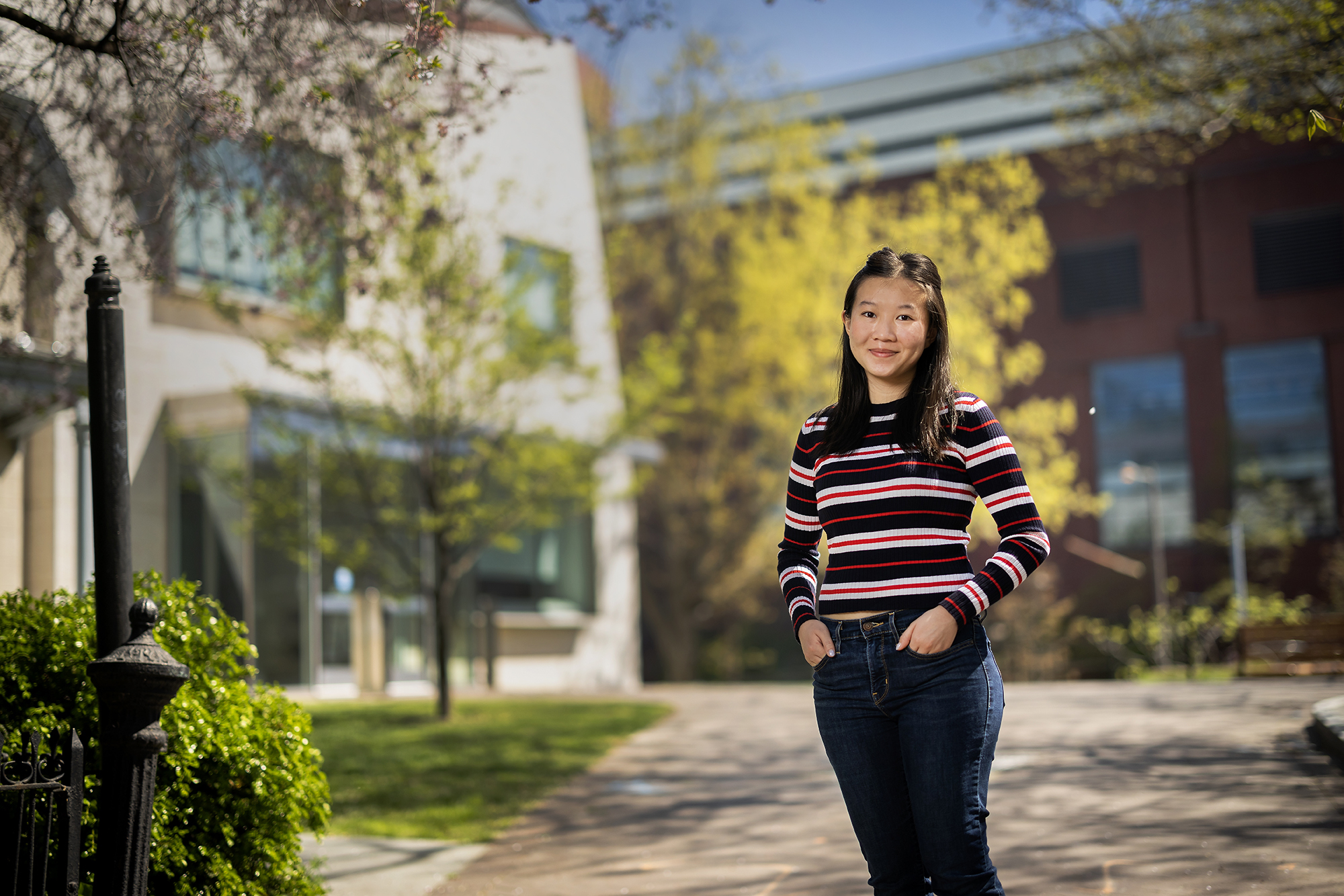 Who

When Chonnipha (Jing Jing) Piriyalertsak decided to come to Penn for her undergraduate studies four years ago, she did it not only sight unseen but country unvisited. The fourth-year from Bangkok had never been to the United States before, let alone toured Penn's campus.

"Committing to live for four years in a country I'd never been to before was kind of a big step," says the international relations major in the College of Arts and Sciences. "My experience as an international student at Penn is completely intertwined with my experience here; I can't separate my experience at Penn from the experience of living in the U.S. for the first time."

What

Piriyalertsak's studies and interests at Penn might seem a bit disparate at first glance. She's a Perry World House Student Fellow with a focus on how information spread across borders affects international relations; she writes for Penn's satire magazine, The Pennsylvania Punch Bowl; and during quarantine she started crafting puns, amassing a collection of over 200.

She started off her studies at Penn in the Integrated Studies Program, which gave her a good grounding in the humanities before her interests pivoted to international policy through her work at Perry World House, she says. "But I ended up with three minors in the humanities—classical studies, comparative literature, and history—all of which I built my international relations major upon." She's also a member of the Gryphon Senior Society and is a Ben Franklin Scholar (BFS).

For her senior thesis, Piriyalertsak read 6,382 pieces of Chinese state media to write a 95-page historical trajectory of how China seeks to frame its economic expansion in the media, entitled "Leave It a Loan: China's Debt Diplomacy in Crisis Economies." She's also been working at Perry World House and in classwork on the problem of Russian disinformation in light of the invasion of Ukraine.

Last year, she wrote a piece for English Professor David Wallace's Ben Franklin Scholars' course, The National Epics, about how Ukraine's leader, Volodymyr Zelensky, is creating a new national epic for Ukraine in real time. The paper covered Zelensky's years of playing a history teacher in the television series that made him famous. Piriyalertsak says it was a great exercise to explore the tools of political messaging.

Piriyalertsak joined the satire magazine as she was trying to find her place at Penn. "But I discovered that I enjoy using satire as a vehicle to investigate narratives," she says. "The thing about satire is that you can say almost anything you want, so can subvert the social norms of what you're allowed and not allowed to ask in class. You can uncover unspoken truths. The wisdom of the fool won't set you free unless you use it." And her work on puns helped her to understand how you can play with language to connect two completely different ideas.

She sees all these interests as overlapping. "I know they seem disparate, but in my mind they are all one and the same. I feel like I'm just doing the same thing but in different fonts," she says.

Piriyalertsak has recently started conducting political messaging of her own through an Instagram humor page on international relations, called @ir_unchained. It is followed by many of her fellow international relations majors and faculty members.

Why

Piriyalertsak says she came to Penn as a history major because she was interested in economic history and economic crises, having grown up in Bangkok in the aftermath of the 1997 East Asian crash. 

"But through the Integrated Studies Program and the BFS program I was led to Rita Copeland's History of Literary Criticism class, and from there I became interested in how narratives are shaped and how we understand the world through writing," she says.

A main takeaway from her time at Penn is getting an understanding of the American viewpoint and how that shapes the rest of the global discourse. "I never really appreciated how perspectives can be shaped by where you grow up and the media that you have access to," she says. 

She's not yet sure what path she'll take after graduation and how all these areas of study will lead the way, but she's interested in graduate school, whether it be a master's in policy, law school, or something else entirely.

"In my head, I've managed to tie this all together as I'm trying to understand the 

global economy of information, information about the global economy, and information economies around the globe. They're all different but also the same."

Asked for a favorite pun, she offered: "Why is politics such an electrifying field? Current affairs."

Rita Copeland is the Sheli Z. and Burton X. Rosenberg Professor of the Humanities, professor of classical studies, English, and comparative literature in the School of Arts & Sciences. 
David Wallace is the Judith Rodin Professor of English in the School of Arts & Sciences.