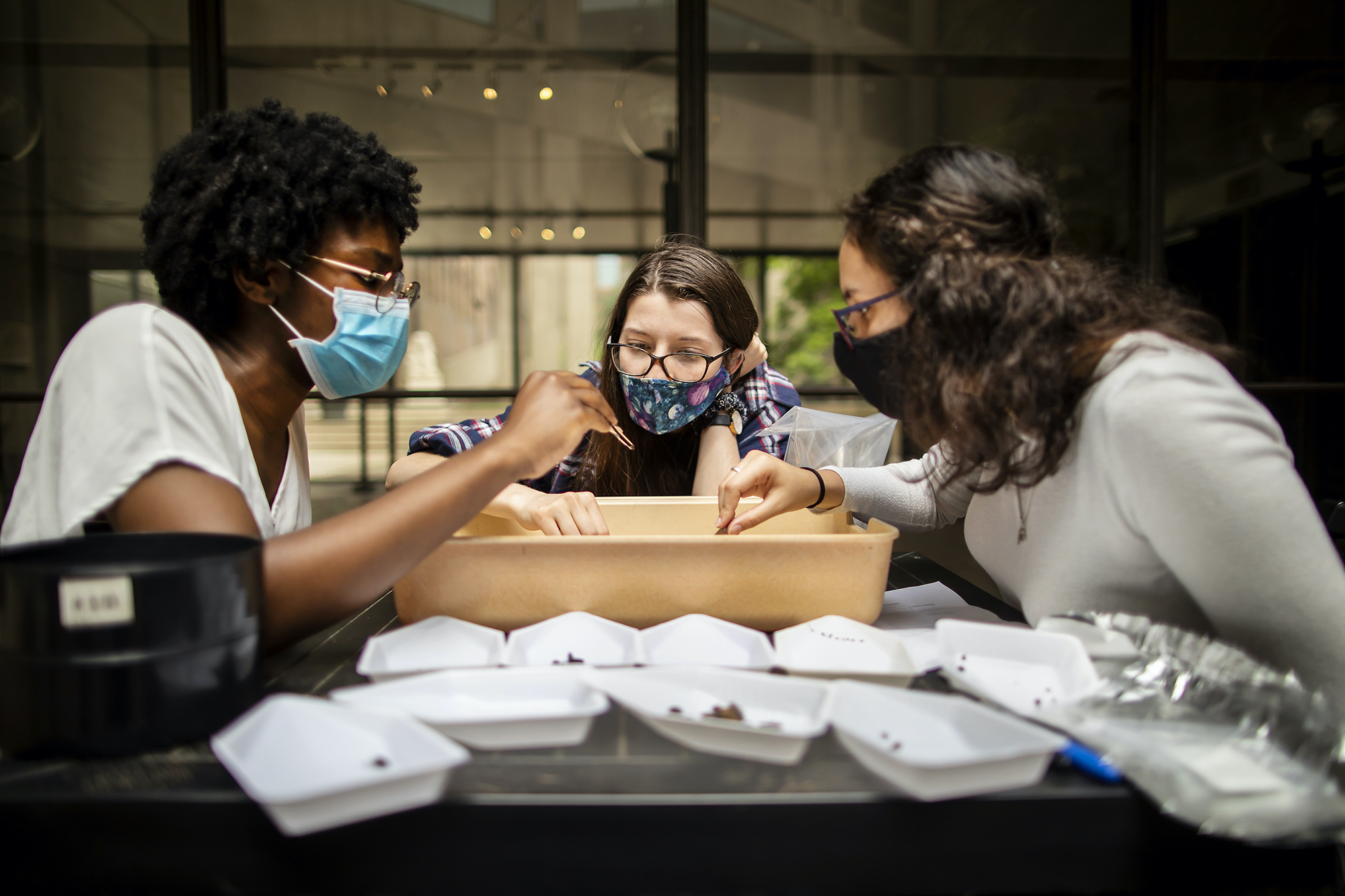 On a muggy summer morning in the Stoner Courtyard at the University of Pennsylvania Museum of Archaeology and Anthropology, five Penn undergraduates surround a square patch of ground, 1 meter by 1 meter, cordoned off by neon pink rope. Fourth-year doctoral student Robert Bryant instructs the students on how to set up an excavation site. 
Using trowels, they dig up the topsoil, which they dump into a nearby blue 5-gallon bucket. With enough dirt removed, they turn to a handheld brush and dustpan. "You might have thought before this that you couldn't clean dirt," says fourth-year Ph.D. student Mark Van Horn. "But you can actually get dirt very clean."
From there, they systematically move through the tidied site, inspecting anything that stands out. By day's end, they've found a broken plastic sprinkler nozzle, a heavy glass fragment. Ten feet away at a site abutting a Museum building, a second student group, this one led by Penn archaeologist Lauren Ristvet, discovers a rusty nail, more glass, some pottery. When they get far enough down, they find bricks coated with tar, consistent with historical construction practices aimed at keeping water out of the foundations. 
The day-long excavations mark the halfway point of a two-week archaeology bootcamp facilitated by the Penn Museum and spearheaded by Anne Tiballi, director of academic engagement. Eighteen instructors, including faculty from the departments of Anthropology and Classical Studies, the Museum's Center for the Analysis of Archaeological Materials (CAAM), and Penn Libraries, among others, offered basic archaeology skills to 11 Penn undergraduates in subjects ranging from ceramics and sample-taking to fieldwork design and archaeobotany. 
"A fieldwork experience really seems to be a turning point in deciding whether to pursue archaeology as a career," says Tiballi. Yet the pandemic halted such work for the past 18 months. "The bootcamp was aimed at exposing the students to a variety of things that may disrupt them and their thought processes a little," she says, "but also motivates them to keep going."  
A second lost summer
For more than a decade, the Penn Museum has funded undergraduate and graduate student fieldwork all over the world. "It's a long-standing program with multiple donors," Tiballi says. In the winter of 2020, when it became clear COVID-19 restrictions would likely prevent another summer of student research, Tiballi called a meeting with faculty who often mentor undergrads through that process.
By January, they were formulating a contingency plan centered around replicating for students the fieldwork experience without the physical burden of having to travel anywhere and without the financial burden generally associated with working at a dig site. Ristvet jumped at the opportunity. 
"We were all feeling really bad for our students that they basically missed two summers of being able to learn how to do this and to see how the whole thing works," says Ristvet, chair of Penn's Art and Archaeology of the Mediterranean World graduate group and an associate museum curator. "You can't have a Zoom excavation. Learning how to excavate isn't just reading a book or talking about it. There's a crucial step of learning the physical skills involved." 
Because the pandemic had paused most international research, instructors who would typically be in Azerbaijan or Greece or elsewhere between semesters were in the area, too. Most of Penn's active archaeologists joined the effort, creating a syllabus that covered as many subjects as could fit into two weeks. Tiballi hired Van Horn as the graduate coordinator, tasked with managing the day-to-day operations of the bootcamp. Then they invited students to apply. 
Rising senior Ashley Fuchs, from Long Island, New York, learned about the opportunity through an email from the classical studies department. "It became the perfect opportunity to dive deeper into archaeology and gain a broader understanding of the subject without having to travel outside of Philadelphia," she says.  
The archeological puzzle 
Sometimes gaining that wider understanding means breaking down a subject into its tiniest parts, like the preserved plant material—for example, seeds and fruits from prehistoric meals—that archaeobotanist Chantel White studies. 
"Many people think that fragile organic material such as plant remnants can't possibly survive for thousands of years," says White, a teaching specialist in CAAM. But "there is more to archaeological excavation than meets the eye. We must also carefully consider evidence for past human activities at the microscopic level." 
During her half-day session, which began with a broad conversation about archaeobotany, White taught the students about flotation and dry sieving, two techniques used to separate out organic materials like carbonized seeds, wood, and nutshell. 
"It's one thing to read about flotation in a textbook and a completely different thing to learn how to operate a flotation system yourself and to see how collecting tiny fragile seeds actually takes place," she says. "That kind of experience is valuable to becoming a better archaeologist and also to understanding how all the pieces of the archaeological puzzle fit together." 
Beyond archaeobotany with White and the dig with Ristvet, Fuchs and peers learned about lab archaeology and ceramics from Marie-Claude Boileau, CAAM's director, about lithics—analyzing stone tools and chippings—from Deborah Olszewski of Penn Anthropology, and many more subjects. Tiballi also made sure the students heard what it means to do this kind of work in different parts of the world. 
"It was important for me to recapture the social and environmental aspects of being in a different place. It's very different to do fieldwork in Greece than in South America," Tiballi says. "During the lectures, faculty addressed ethical and historical considerations, but I also made sure to ask, 'What is the snake and bug situation where you work?' or 'What's your favorite thing to eat the first day you're back?' trying to get at some of the facets they love about these places."
The true fieldwork experience
For Van Horn, one such component is the solidarity that builds after spending weeks in close quarters, eating and sleeping and working with the same people, often from a variety of institutions and places. It's something he felt during his own fieldwork experiences in Europe and Israel.
"You get this mixing pot of people, who you get to know very well. You get incredibly comfortable," he says. "That's something we couldn't really mimic to a large degree. But even with just two weeks and without a shared living situation, a lot of the joking and camaraderie started to emerge by the end."
Perhaps it was because the students all came from Penn or because the bootcamp threw them headfirst into archaeological practice, which can be demanding mentally and physically, like an early experience in Penn Park led by Thomas Tartaron, an associate professor in classical studies, and CAAM anthropological archaeologist Jason Herrmann. 
The plan was to conduct a field survey, a process that requires a good deal of equipment. So, the students carried everything themselves—a pop-up tent, a wagon of pottery sherds, clipboards, surveying equipment, and poles—on the 12-minute walk from the Museum to the park, just as they would have done at a real site. 
That day turned out to be Fuchs' favorite. "It's nothing I could have ever fathomed," she says. "I loved being outside with a group of people, having Professor Tartaron talk about excavations and field survey in Greece, and feeling the physicality of archaeology—walking, picking up pottery, and going through the extensive data collection process." 
Archaeology isn't an easy field. It's messy, with literal digging in the dirt required. But at the end of the day, it's about people, those whose history is waiting to be discovered and those who endeavor in the experience of that discovery together. For two weeks, 11 Penn undergrads got a taste of what that's really like. 
Ashley Fuchs is a rising senior from Long Island, New York, majoring in political science and classical studies in the College of Arts and Sciences. 
Lauren Ristvet is an associate professor in the Department of Anthropology and chair of the Art and Archaeology of the Mediterranean World graduate group in the School of Arts & Sciences. She is also the Robert H. Dyson Associate Curator of the Near East Section at the Penn Museum. 
Anne Tiballi is director of academic engagement for the Penn Museum.
Mark Van Horn is a fourth-year Ph.D. student in art and archaeology of the Mediterranean world and the Department of History of Art in the School of Arts & Sciences.
Chantel White is the teaching specialist for archaeobotany in the Center for the Analysis of Archaeological Materials at the Penn Museum.