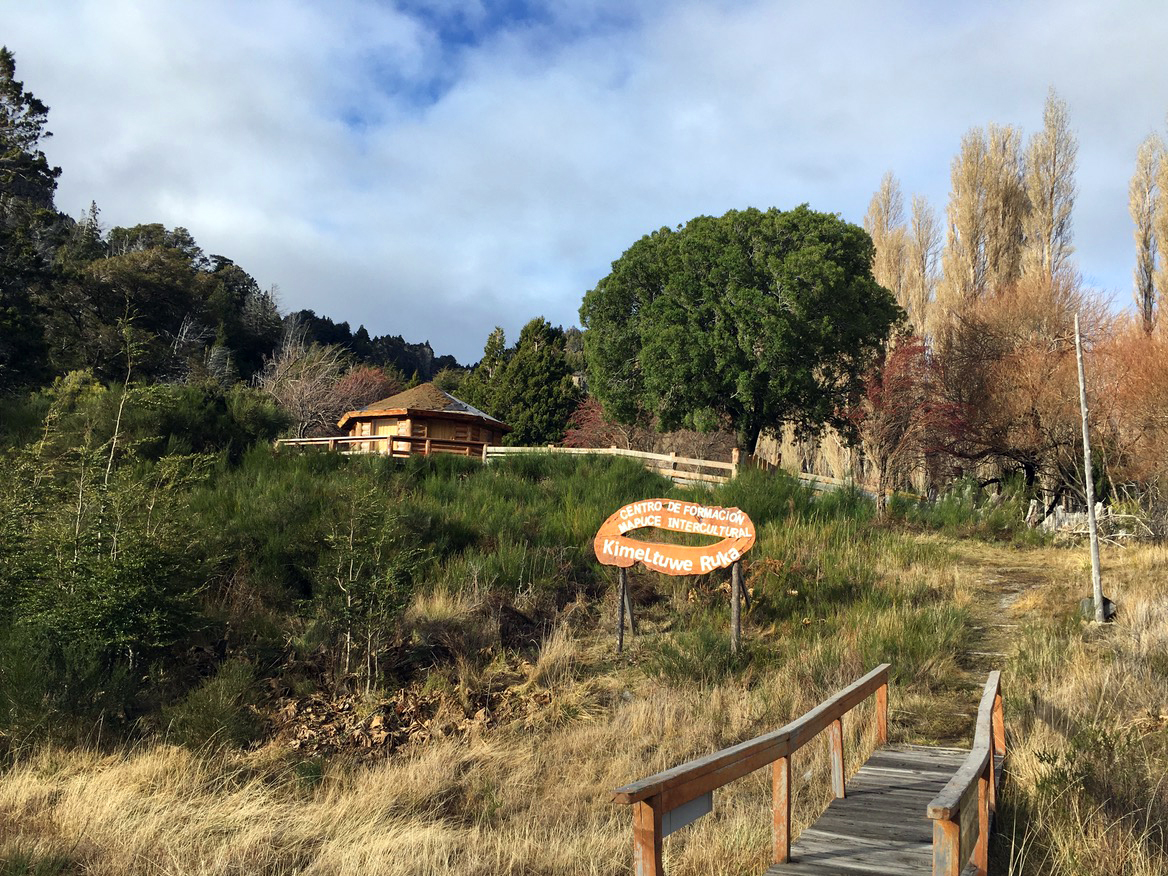 The rights and demands of Indigenous people are not often taught in political science, says Professor Tulia Faletti. Even their presence is overlooked. In parts of South America that have a majority Indigenous population, she says, people were punished for speaking in their native tongue as part of a bid for national unity and targeted by religious missions until their rituals and traditional spirituality was prohibited. "You also have the weight of history that assimilates and integrates these populations," Falleti says.
Falleti has been studying Indigenous rights and demands since 2014 and brings her expertise to the class People of the Land: Indigeneity and Politics in Argentina and Chile, where students are studying the relationship between Indigenous communities and local governments in the Americas, focusing on the Mapuche people.
While she originally planned to take her Penn Global Seminar to Argentina, Falleti identified nine leaders and Indigenous community members along with two lawyers who have been joining the students on a weekly basis. The students have been interviewing these individuals in Spanish for a video documentary that will be publicly available when it is completed this summer.
"Something I really appreciate Professor Falleti doing is compensating and working really closely with Indigenous leaders as part of a longer-term collaboration," says Randall Burson, an MD-Ph.D. student in the Department of Anthropology. It's a relationship that is facilitated by technology and that transcends a one-off transaction, he says. Technology is a "tool that could be used as a complement to other experiences," Burson adds. "Even as we're in our own little squares, I think it helps open up learning beyond Penn."
Burson is taking the class as part of an independent study on intercultural health. He is interested in emergency medicine as well as "how our healthcare system is part of a broader social world," and is writing a dissertation on intercultural health services in southern Chile. "I'm most interested in how these two systems of Indigenous and biomedical knowledge interact with one another, particularly in the context of broader struggles for territory and sovereignty."
With deep roots in New Mexico, Burson's family practices folk medicine in addition to utilizing Western medicine. "Even though I wanted to go to medical school, I realized that this wasn't the only way to do things," he says. "Though my family's not Indigenous, our Hispano heritage has always made me aware that there's something beyond the medicine that happens in the hospital."
Marion Standefer of Philadelphia was planning to be an ESL teacher. She speaks Italian and studied abroad in Lyon, France through Penn Global, and mentors advised her to learn Spanish as well. Standefer signed up for People of the Land in 2019, making it her goal to take Spanish classes in the interim to boost her language skills in order to understand the Indigenous speakers who would communicate in Spanish.
"I've always thought that learning from as many people and cultures as possible is just amazing," she says. Standefer has since been hired as the inaugural Spanish teacher at Delaplaine McDaniel School, and will be teaching kindergarten through eighth grade students in Point Breeze, Philadelphia.
"If I'm going to be teaching about Spanish culture," Standefer says, "I really should understand the struggles that Indigenous people are facing. To be able to learn directly from Indigenous leaders—that's just an unbelievable opportunity."
She was especially struck by Gabriel Cherqui of the Mapuche Kaxipayiñ community, who visited the class on April 7. "He was saying these things that I've known to be true, like we are not separate from the environment," Standefer says. "We are all intertwined and interconnected, and we are fighting for ourselves when we're fighting for the environment. It just put the issues we advocate for outside of this class into such wonderful perspective."
A sustainable future
The class has been learning about the seventh generation philosophy, which posits that current decisions should result in a sustainable world seven generations into the future. "How am I keeping the seventh generation in mind at all times?" asks Standefer. "I want this to be a part of my activism."
While this resonated with Standefer's childhood, it was a paradigm shift for other students. "This type of thinking is very radical compared to the United States and other capitalist countries that are focused on profit and economic trends," says junior Emma Davies, a philosophy major from Bryn Mawr, Pennsylvania, during the seminar. "Focusing on future generations is essential and something we know we have to do for climate change, but economic motives get in the way."
Seventh generation is a practice that goes beyond avoiding harm, says Kiley Marron, a political science major and Latin American and Latinx Studies double major from Chicago. "You're also trying to create solutions that will actually last.
"I immediately thought about how politics work in the U.S. Generally speaking, it often feels like the most we can do for policy issues is slapping on a band-aid and not actually addressing these larger systemic issues."
Preserving cultural traditions by building consensus
The students were also struck by the practice of consensus building, which contrasts with the American process of building coalitions within party factions, says Alec Escobar, a senior philosophy, politics and economics major from Villanova, Pennsylvania. "If you take the Indigenous method of consensus building, then you can use seventh generation thinking," he says, whereas in Western countries, political systems are too short-sighted to allow for a broader perspective.
"I really liked the way that Indigenous groups tried to preserve their own cultural traditions in terms of consensus building rather than voting … or by not separating spirituality and culture from politics and government," says Rachel Steinig, a senior political science major from Philadelphia.
"Other oppressed groups can learn from that," Steinig continues. "For example, queerness is inherently different from the hetero-patriarchal ways of structuring society. In our own advocacy, we can try to not necessarily just assimilate into these oppressive systems, but rather keep in mind that alternative strategies that can be used for liberation without acquiescing to the same oppressive norms of the dominant regime."
"Indigenous politics aren't just for Indigenous peoples," adds Escobar. "There's something that everybody can learn from this and it can be adopted into the international order, whether you're Indigenous or not, like any other political ideology."
Tulia Falleti is the Class of 1965 Endowed Term Professor of Political Science, director of the Latin American and Latinx Studies Program, and Senior Fellow at the Leonard Davis Institute of Health Economics.