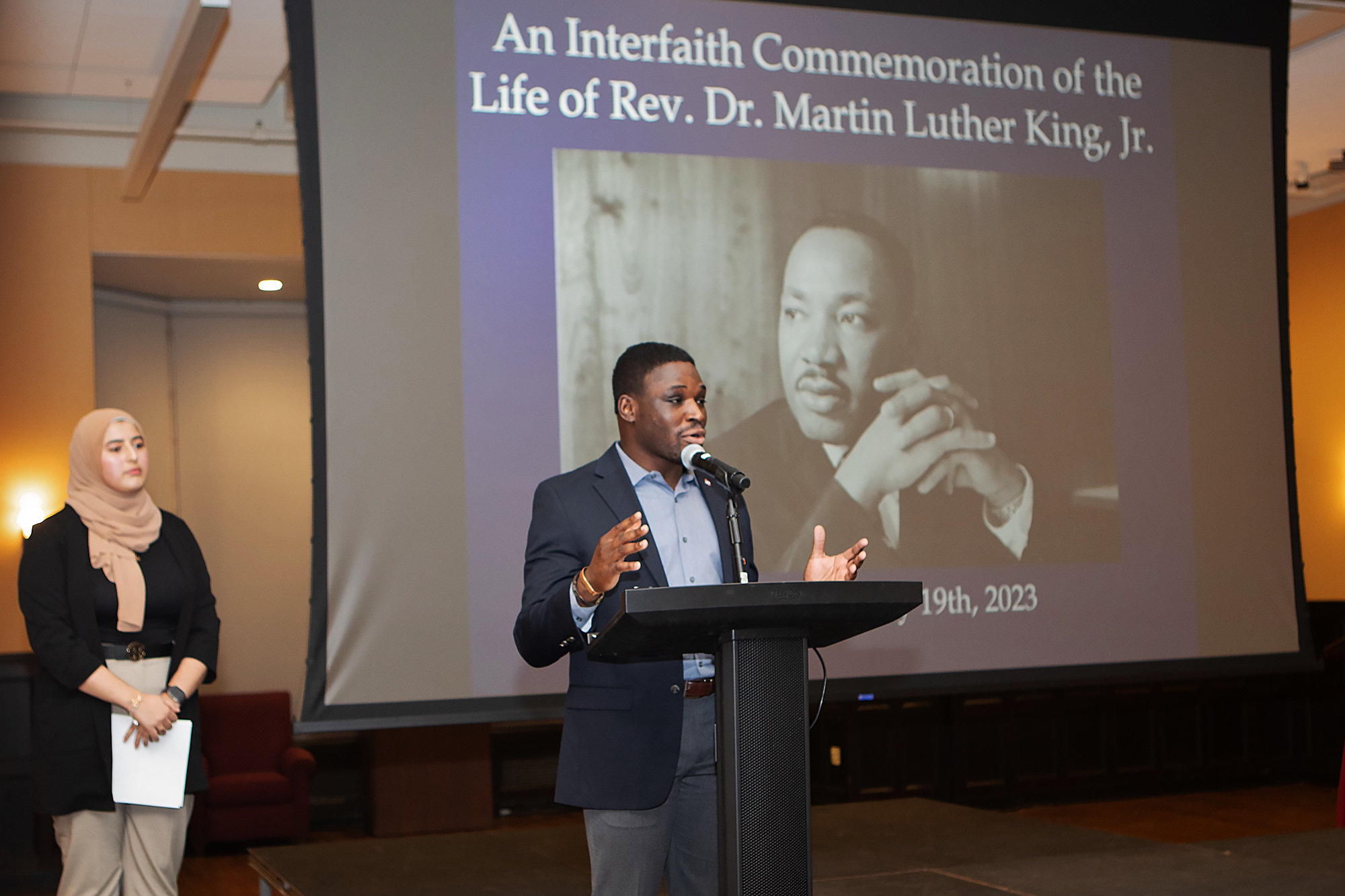 "What are you willing to die for?" graduate student Ayo Aladesanmi asked the assembled audience at the Interfaith Commemoration of the Life of Martin Luther King Jr. on Jan. 19. "Let that answer be love," he said. "For me, the legacy of Martin Luther King is found in his profound awareness of our impermanence on this earth. We ought to only spend our time loving: embodying love by caring for each other at our lowest points, implementing love by seeking justice and reckoning with our collective past, and spreading love by ending the human suffering and poverty and destitution that plague our world."
Aladesanmi, who is earning a dual degree in the Master of Public Administration program at the Fels Institute for Government and the Master in Law program at Penn Carey Law School, was one of four student speakers at the Interfaith Commemoration, along with Rayane Taroua, a third-year from New Haven, Connecticut, studying health care management at the Wharton School who works as an integral part of Penn Muslim Students Association; Elan Roth, a second-year from Thornwood, New York, majoring in logic, information, and computation who is a member of the Jewish community Shira Chadasha and serves as co-chair of the interfaith club PRISM; and Zoe Ekwebelem, a third-year in the School of Nursing from Dacula, Georgia.
Ekwebelem is involved in New Spirit of Penn, the Minorities in Nursing club, and the Christian Union, where she is working to address cultural and racial diversity. "I'm not a little girl with a wish for world peace," said Ekwebelem. "I'm a woman on a mission for equality."
Impassioned student speakers are one of the event highlights along with student performances, said Valerie Dorsey Allen, director of the African American Resource Center (AARC) who serves on the MLK Executive Planning Committee. South Asian dance troupe Penn Masti opened the event and two a cappella groups, The Inspiration and the Shabbatones, performed.
President Liz Magill took the stage to offer opening remarks, reflecting on King's faith and imagination, which allowed him to see beyond limitations. Magill referenced the "is/ought problem," or "our tendency to assume that because something is a certain way, it ought to be a certain way," she said.
She then drew a connection between this tendency and a psychological phenomenon called anchoring bias. In decision-making, when people are faced with choice A or choice B, their selection is heavily biased towards what the anchor is, "whether it makes any sense or not," she said.
"Dr. King lived in a time when the anchor was evil, grounded in a belief in white supremacy, baked into an entire system, abetted by segregation, pernicious discrimination—all backed by violence to keep it in place," Magill said. "The anchor was so heavy it warped the world."
Yet King's focus was not swayed by the "is," the evil anchor, she said. "His focus was always on—and entirely on—what ought to be, to move the cause forward. He dislodged what is and worked to disarm the anchor itself."
The Dr. Judith Rodin Education Award was given to Herman Beavers, the Julie Beren Platt and Marc E. Platt President's Distinguished Professor of English and Africana Studies. Beavers was honored for his poetry collections, his community service, and his teaching, including August Wilson and Beyond, an Academically Based Community Service course supported by the Netter Center for Community Partnerships that engages Penn students and the West Philadelphia community, which Beaver has taught for 10 years.
Joe E. Nock and Melany P. Nelson received Community Involvement Awards.
Nock was honored for 25-plus years of experience in ministry, leadership, and community activism. He serves as vice chair of the Netter Center's Community Advisory Board, president of the 16th District Police Chaplains, and president of the School Advisory Council for Motivation High School.
Nelson is director of the C.A.R.E.S. Unit at the Philadelphia District Attorney's Office and has dedicated more than 27 years to helping people affected by crime, beginning with Northwest Victim Services in Northwest Philadelphia, where she was born and raised. She also serves on the Homicide Review Team for Youth at the Medical Examiner's Office, the Restorative Justice Coalition for the U.S. Attorney's Office, and the Philadelphia Suicide Prevention Task Force.
Paulette Branson, director of University-Assisted Community Schools Sports, Fitness, and Health at the Netter Center, received the Faculty Staff Award for her work in sport-based youth development.
The Graduate Student Award went to Jasmine Brown, a medical student at the Perelman School of Medicine who authored the forthcoming book "Twice as Hard: The Stories of Black Women Who Fought to Become Physicians from the Civil War to the 21st Century."
Mya Gordon, a junior majoring in urban studies from Lake Oswego, Oregon, won the Undergraduate Student Award for her use of social policy to engage marginalized community members together with institutions. Gordon is a Civic Development Intern with the Netter Center and a member of the Stravros Niarchos Foundation Paideia Student Advisory Board.
Nipun Mehta, founder of ServiceSpace, gave the keynote address. Mehta, who also delivered the 2012 Baccalaureate address, focused on King's connection with Mohandas Gandhi through the theologian Howard Thurman.
Thurman was committed to non-violence as social transformation, Mehta said. Mehta described social transformation through the four values of ahimsa, swaraj, satyagraha, and Sarvodaya.
Ahimsa, often translated as "nonviolence," actually has a meaning more akin to "creative love," Mehta said. Wheras the term "nonviolence" positions itself as an oppositional counter to violence, opposing it, ahimsa "invites us to move beyond," he said, calling it "a third way."
Swaraj, Mehta said, is an inner voice, and an invitation to listen. Satyagranha is civil disobedience, a soul force that "invites us to oppose the action, but love the person," Mehta said. Finally, Sarvodaya is collective action for the "benefit of all, without exceptions," he said.
Valerie Dorsey Allen gave acknowledgements and the benediction. "Our hope is that the symposium programs and the day of service for our community will help us to recognize, appreciate, and embrace each other so that we may live in peace," she said.
Charles "Chaz" Howard, University chaplain and vice president for social equity & community, gave closing remarks, thanking Allen along with Colleen Winn of AARC, both of whom are stepping down from the MLK Executive Planning Committee after this year. "The seeds that you all have planted will continue to grow," Howard told them.