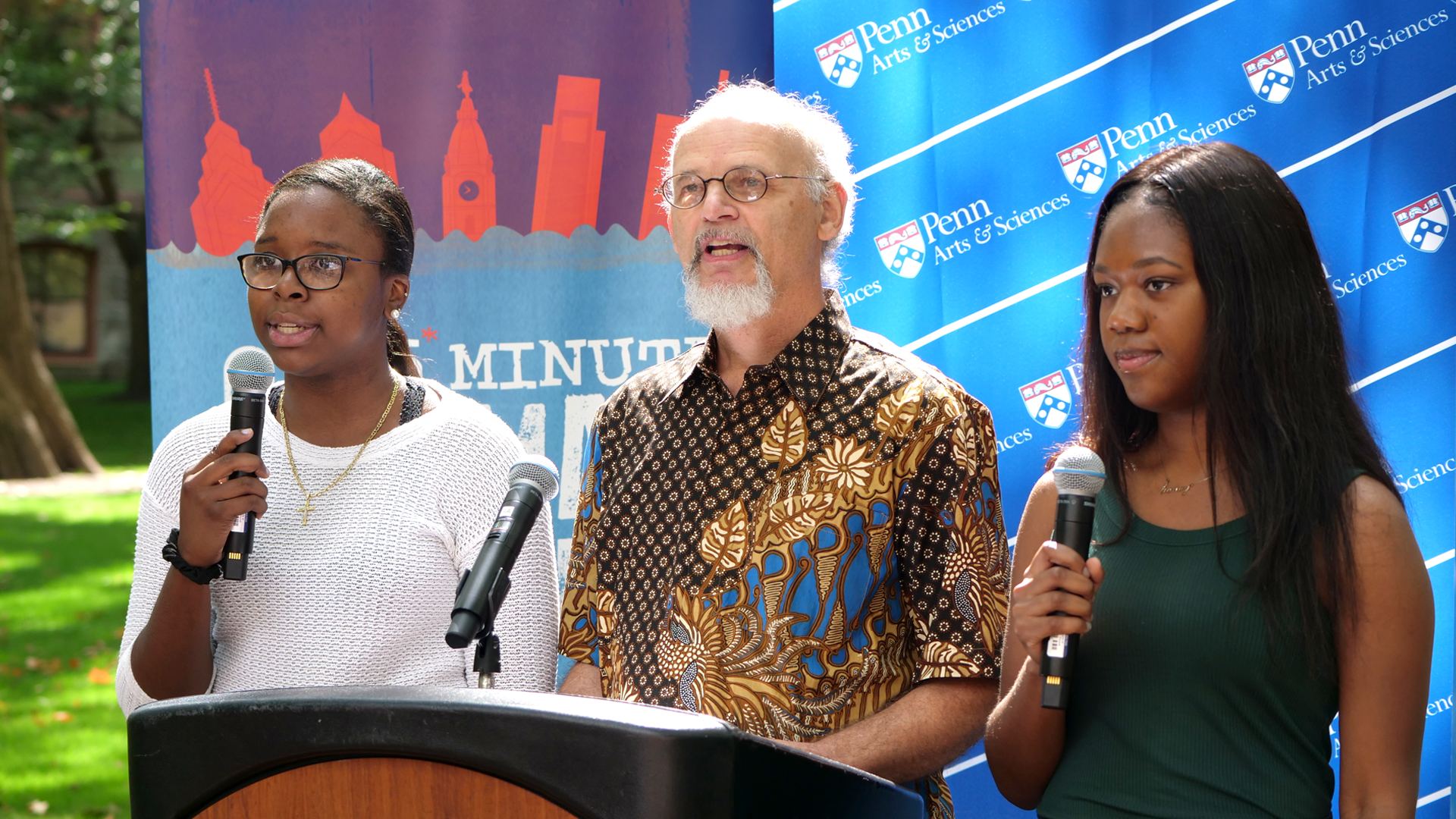 "Find your place in the climate movement," is the invitation posed by this year's Climate Week at Penn. And with heat domes that baked the typically mild Pacific Northwest, Western fires whose smoke shrouded skies across the continent, and floods and tremendous storms that cost lives and ruined homes from the Gulf of Mexico to New England, 2021 is a year that demands attention to climate.
After a successful week of events in 2020, Climate Week returns this year Sept. 20-24 with an array of 40 events, organized by various Schools, Centers, and campus organizations. The activities are designed to offer different entry points for faculty, staff, students, and other interested members of the broader Penn community to engage and act.
"Our approach is to welcome people into the climate movement," says Simon Richter, a professor in the School of Arts & Sciences and member of the Climate Week core planning team. "We want to open as many paths to become informed about the climate emergency as possible and allow active participation as much as possible, because action is urgently required."
Central text
The keynote event, taking place online at 4 p.m. Mon., Sept. 20, is a conversation with Ayana Elizabeth Johnson and Katharine Wilkinson, co-editors of the anthology "All We Can Save," moderated by Xiye Bastida, a climate activist and Penn sophomore whose writing appears in the book.
"'All We Can Save' is a collection of poems, articles, artwork, all communicating the urgency of climate action," says Nina Morris, director of the Sustainability Office at Penn and also part of the planning team. "I think the discussion is going to be very empowering and transformative."
Not only is "All We Can Save" a centerpiece of Climate Week, the Center for Teaching and Learning held a workshop about integrating its readings into classes, it was selected as a book club choice for the Penn Professional Staff Assembly, and it also featured in New Student Orientation (NSO) Second-Year Experience events earlier this semester. Copies of the book were made available for any second-year student who wanted one, and subsequent moderated small-group discussions gave students a chance to come together, reflecting on the book's messages. 
"More than 100 students participated; we got a very favorable response," says David Fox, director of NSO and academic initatiives. "We are continuing the theme Year of Civic Engagement, and that has a perfect intersection with climate activism, pointing to actions students can take on campus and in their own communities. We're looking forward to building on this topic in NSO in future years."
Intersecting communities
Like last year, the week is taking a decentralized approach, empowering leaders around campus to rally their communities around events of interest. Groups are also partnering to organize events to foster greater participation and cross-pollination of expertise and interest, says Marina Dauer, a Climate Week organizer and senior environmental studies and political science double major in the College of Arts and Sciences. "They say climate is not the great equalizer but the great multiplier, worsening all other threats," says Dauer. "We are not just talking about short-term collaboration, but actually working with and supporting other student groups so they can bring their members into the climate space."
This kind of open-arms perspective is necessary when it comes to an issue like the climate emergency, says Vyshnavi Kosigishroff, a senior majoring in economics and environmental studies in the College who has also led Climate Week planning. "We are working to meet the urgency of the moment, matching our actions to our philosophy, while expanding our community," she says. 
Diverse offerings
While many events are being held online, safely organized in-person events are a key part of Climate Week as well. One of the most visible will be the 1.5* Minute Climate Lectures, a take-off on the School of Arts & Sciences' 60 Second Lectures. The talks' duration references 1.5 degrees Celsius, the maximum increase in temperature that would allow our planet to avoid the worst outcomes of global warming, according to the Intergovernmental Panel on Climate Change.
Eight faculty members from schools across the University will give their brief talks on Wed., Sept. 22, on College Hall in front of the Benjamin Franklin statue. And students will follow suit in their own set of lectures on Fri., Sept. 24.
"I'm excited we're taking the time as a community to discuss the climate crisis," says Jane Dmochowski, who is giving one of the faculty talks and is a senior lecturer in the Department of Earth and Environmental Sciences. "In my 1.5 minute lecture, I'll be speaking briefly about what success may look like—both what slowing climate change, or reacting to the crisis may look like, but also how, by trying to achieve this, we may need to re-shape what we think of as "success" personally, nationally, and even as humanity."
Undergraduates, graduate students, faculty, staff, and the Penn and West Philadelphia community more broadly are all key stakeholders in University-based climate actions, and are all represented in the planning and reach of the week's events. On any given day, community members will find a wide selection of events to fit their interests and schedules. The events include:
• On Mon. Sept. 20, a bike ride and talk along the Schuylkill River, organized by the Graduate School of Education, will focus on climate change in a local context.
• A webinar on Tues., Sept 21, sponsored by the School of Engineering and Applied Science, will confront the global challenge of plastic waste, including efforts to upcycle polymer materials.
• On Wed., Sept. 22, a mini-symposium organized by the Perelman School of Medicine will bring together experts in a discussion of the intersections of climate change, medicine, and public health.
• Perry World House welcomes climate scientist Michael Mann for a wide-ranging conversation emphasizing urgency and agency on Thurs., Sept. 23 in a hybrid event.
• An outdoor happy hour on Fri., Sept. 24, organized by graduate student group Climate Leaders at Penn, will give attendees a chance to make connections and find out more ways to get involved in an informal setting.
• A hands-on tree-planting event in Cobbs Creek, co-hosted by Penn Sustainability and Philadelphia Parks and Recreation, will take place on Sat., Sept. 25.
And though technically outside of the week, other fall campus events fall under the umbrella of Climate Week. A performance on Thurs., Sept. 30, will feature composer, performer, and anthropologist Jeremy Dutcher, a member of the Tobique First Nation, whose work explores how gender and climate justice are linked. And on Fri., Oct. 29, the Center for Research in Feminist, Queer, and Transgender Studies, the Institute of Contemporary Art, and the Department of Music present "Opus Siniestrus," a play by the femininist surrealist Leonora Carrington that concerns the outbreak of a virus that kills only women and is directed by Ricardo A. Bracho.
Broad impact
Indeed, concentrating topical panels and other events into a single week lends impact, but the organizers are clear that the invitation to engage with climate extends indefinitely. Melissa Brown Goodall, senior director of the Environmental Innovations Initiative, who helped arrange the panel of five deans happening on Sept. 24, as well as 1.5 minute lectures from the deans happening on Sept. 23, notes that climate change is a growing priority for Penn leaders.
"Involving deans from different schools into this week is all about making connections," Brown Goodall says. "We are prompting them to reflect on changes they're seeing in the world and within their individual disciplines." 
The resulting ideas and actions will "go far beyond Climate Week," Goodall says. Ongoing conversations in various channels, including the Faculty Senate Committee on the Institutional Response to the Climate Crisis, are exploring how climate can be integrated more into academic curricula as well as extracurricular spaces on campus and beyond.
"This week is about motivating as many people in the Penn community—in the broadest sense of that community—to respond to the climate emergency as possible," says Richter.
View the full week's schedule on the Climate Week website.
Marina Dauer is a senior majoring in political science and environmental studies in the College of Arts and Sciences and co-chair of the Student Sustainability Association at the University of Pennsylvania.
Jane Dmochowski is a senior lecturer in the School of Arts & Sciences' Department of Earth and Environmental Science at Penn.
David Fox is director of New Student Orientation and Academic Initiatives, director of the Penn Reading Project, and a lecturer in theater arts in the School of Arts & Sciences at Penn.
Melissa Brown Goodall is senior director of the Environmental Innovation Initiative at Penn.
Vyshnavi Kosigishroff is a senior majoring in economics and environmental studies in the College of Arts and Sciences and is co-chair of the Student Sustainability Association at Penn.
Nina Morris is director of Penn's Office of Sustainability.
Simon Richter is the Class of 1942 Endowed Term Professor of German in the Department of Germanic Languages and Literatures in the School of Arts & Sciences at Penn.