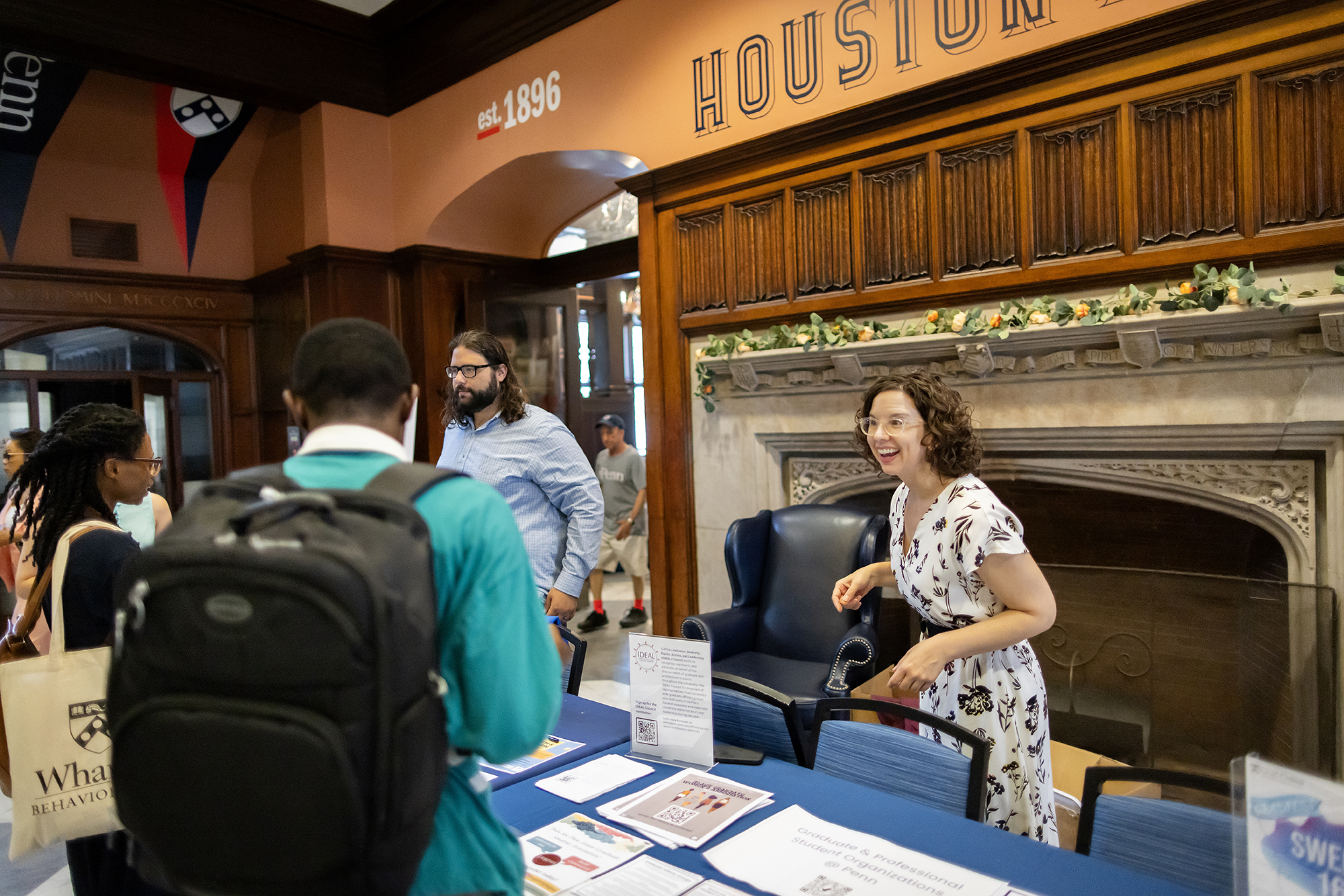 As Penn Jazz Ensembles played and groups congregated in the prop-filled photo booth, incoming undergraduate and graduate students descended on the many tables in Houston Hall on Tuesday and Wednesday for the New Student Resources Fair and Campus Express Center. It was a one-stop shop for information on everything from PennCard to SEPTA to International Student & Scholar Services.
New Student Orientation & Academic Initiatives (NSOAI) hosts the fair with the Division of Business Services, which sponsors the Campus Express Center. This was the first year the Graduate Student Center—a resource hub for all 12 of Penn's schools—co-hosted rather than holding a separate event.
Meredith Wooten, director of the Graduate Student Center, says the combined fair is a win for graduate and professional students. For graduate students who "will spend much of their time within the same set of school buildings, interacting only with students, faculty, and staff from their own school," learning about the central resources on campus is a benefit, says Wooten.
Emma James, a new graduate student in the School of Social Policy & Practice, says she wanted to make sure she could borrow certain books and is interested in connecting with the community, so she stopped by the tables for Penn Libraries and the Netter Center for Community Partnerships.
Troy Majnerick, associate director of NSOAI, says the resources fair was also an opportunity "to get to know Houston Hall as a facility—as a student union—to see how the space can be utilized." That includes the game room with Ping-Pong tables, video game corners, and tables set up for chess, checkers, or backgammon.
Marisol Sanchez, a fourth-year from Buenos Aires, Argentina, who is an NSO intern, recalls grabbing merchandise as a new student and later thinking, "Oh, I got this from Perry World House; I should check it out." One resource she wishes she took advantage of sooner is the Morris Arboretum, Penn's gardens in Northwest Philadelphia that are free with a PennCard.
Also on-site was a center for Campus Express, the online onboarding site for all new students. Barbara Lea-Kruger, director of communications and external relations for Penn Business Services, says this is where students can go to get a discounted SEPTA pass, sign up for a dining plan, and more.
Lea-Kruger says one important service students may not know about is they can register valuable property—such as a bike, laptop, or musical instrument—with the Division of Public Safety, so it is easier to get items returned if recovered.
Wandering around the fair, first-year student Grace Chen, who is from New York City, says one new thing she learned—from the Penn Abroad table—was that students can fulfill their writing requirement through Penn Global Seminars. Following are some other resources students can take advantage of in their time at Penn:
Cultural centers
Staff from the Diversity, Equity, Inclusion & Belonging Team in University Life showed a map of where students can find the Albert M. Greenfield Intercultural Center, Penn Women's Center, LGBT Center, La Casa Latina, Pan-Asian American Community House, and Makuu, the Black Cultural Center. Kia Lor, associate director of the Greenfield Intercultural Center, emphasized that students don't have to apply or subscribe to anything; they just show up.
The arts
Students can visit the Penn Museum, Institute of Contemporary Art, and Arthur Ross Gallery for free. Kerrin Lyons, community outreach coordinator at WXPN, says the nationally known station wants students to be more involved in its Free at Noon concert series on Fridays. Students can get $10 tickets to orchestra, jazz, theater, and ballet performances at Penn Live Arts, which also has work study and non-work study job opportunities. Kelly Writers House also has a full slate of conversations coming up.
New this year: The climbing wall at Pottruck Health & Fitness Center is now free for members. Other offerings include group fitness classes like yoga and Zumba, personal training, private swim lessons, intramurals, and a golf simulator, says fitness and wellness coordinator Morgen Rosen.
For free, students can take three bus routes that loop around campus and use an app for an on-demand shuttle service that "works a lot like Uber," says dispatcher Eric Brooks.
Graduate and undergraduate students, postdocs, and visiting scholars with children can turn here for family activities, information on school options, discounts on childcare and tutoring, backup childcare benefits, and more.