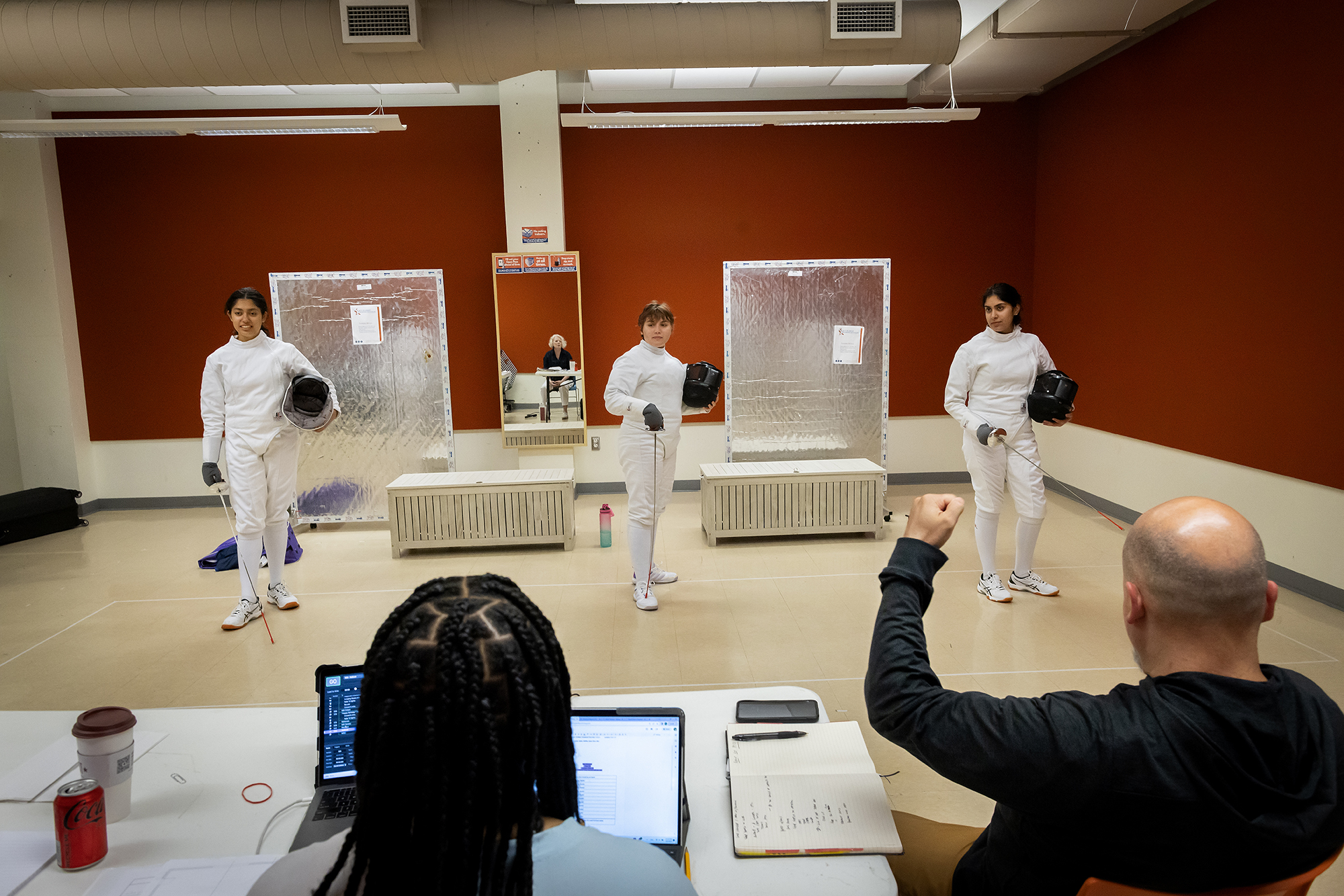 Dodging and parrying with fencing foils and sharp words, Penn student actors performed the coming-of-age play "Athena" in class, on campus, and at the Edinburgh Festival Fringe in Scotland.
In addition to learning their lines, the cast of three took fencing lessons with a professional coach. Costumes were white fencing uniforms, with regulation masks, foils, and other equipment, all handled by a student stage manager.
The team began working on it in January, debuted the show at the Annenberg Center for the Performing Arts in April, and returned to campus in August to prepare for the six Fringe performances.
"It's a very long process, unusual in theater, that allows for a depth and a richness of exploration," says Rosemary Malague, who taught the course and directed the play.
"I truly felt that the performances deepened from day to day. The characters became more layered, the actors became more relaxed, and the project really grew during the time we were at the Fringe," says Malague, also director of Penn's Theatre Arts Program and a senior lecturer in English in the School of Arts & Sciences. "Then there is the pure excitement of performing for an international audience at a festival in Edinburgh: That is transforming in and of itself."
"Athena" was one of more than 3,500 productions staged during the three-week Festival, playing to a sold-out house for three of its six shows. "This year was absolutely extraordinary," Malague says. "Actors and audiences alike were really drawn to the excitement of onstage fencing."
Becoming fencers
The journey began in January with the spring semester course Theatre Arts 1275: The Edinburgh Project in the College of Arts and Sciences, which has been taught at Penn for more than 35 years, and since 1997 by Malague. Usually offered every other year, this was the first in five years because of the pandemic. Noah Levine, associate director of theatre arts, was tour and publicity manager.
Malague's choice of the play "Athena" by Gracie Gardner required the extra layer of preparation with fencing lessons and fight direction by J. Alex Cordaro, who joined the Theatre Arts Program as a guest artist from the University of the Arts.
The actors worked with Cordaro for multiple hours each week to learn to move and behave like fencers, Malague says.
"The fencing was not separate from the acting; instead they needed to be completely enmeshed," Malague says. "Many of the real discoveries about the characters, their relationship, and their acting, could not truly be made until they were engaging in this physical sport activity together."
It was like nothing she had experienced as a director, and the same was true for the actors.
"I haven't engaged with a theatrical experience with my body so much. It became like a different way of communicating. My previous experiences with acting had been analyzing dialogue, and this became like a whole new language," says Emily Maiorano, who played Mary Wallace, one of the two main characters in "Athena."
"I've had to reframe myself to be really aware of what's happening, like in my core and in my heart more than in my head," continues Maiorano, a third-year from Philadelphia who is a double-major in English and theatre arts. "It's their form of communication, for these two characters. And I see the relationship between the mind and the body from a gender perspective because this play is so much about female friendship, which got mixed into the idea of fencing, too."
The play follows two characters, Athena and Mary Wallace, through their partnership as high school fencers. Another fencer, Jamie, appears at the end of the 70-minute play. "What drew me to the play was that it's so much about what Penn students' lives are like and what they experience," Malague says. "I think first it spoke to me because at its core it's about friendship. And it explores the question, 'Can you be fierce competitors and also be friends?'"
Mallika Tatavarti, a third-year majoring in communication and English from Los Altos, California, played Athena. "I thought a lot about how the rhythm and progression of the fencing throughout the play mirrors the map of their relationship, and how my character deals with her personal fault-lines over the course of that physical and textual journey," says Tatavarti.
"Athena is a very lonely person, and there's a sense that she can only feel any sense of power and validation when she's fencing and winning," continues Tatavarti, who is from Los Altos, California, "and seeing that play into finding a kindred spirit in Mary Wallace, and the development and the excitement of it, and also the heartbreak of it."
The fencing allowed her to focus more candidly on certain aspects of the actor's work, especially "body awareness," says Tatavarti, who is a member of Bloomers Comedy troupe. "Now I feel like I have a more expansive, dimensional toolbox for the future. Part of that is learning to trust the moments instead of overthinking them," she says.
Vedha Sitlani, a second-year student studying finance in the Wharton School, played the character Jamie, and also was the dramaturg. "I think I really was able to see myself and my friends and people I know in these complex characters" around themes of building friendships, competition, and finding what drives you, says Sitlani, who is from Dubai in the United Arab Emirates.
"Theater is not something I want to professionally pursue, so sometimes it's a little bit difficult to give yourself grace and take time for things that you're just passionate about and interested in," Sitlani says. "Being in a cast is always such a special feeling, being on stage when the curtains open—it's all so exciting."
'Full-circle moment'
The stage manager was Emily Monfort, a rising second-year who is on a pre-med track, planning to double-major in biology and nutrition with a minor in music. From Valley Stream, New York, she had not previously been a stage manager, although she had acted and directed in high school theater.
"One of the biggest challenges I had to overcome internally was not being afraid to mess up, especially during tech week," says Monfort, who is in several student performing groups, including Penn Glee Club. "I feel like getting over that fear really helped me to be more successful in running Q-lab [a software used to run lights and sound], as I became more confident in effectively coordinating cues with the actors' movements."
The troupe faced technical challenges in Edinburgh and had to make adjustments during the two days of tech rehearsals. The lighting was not what they had expected, including strobes for the most significant fight scene, and the actors had to double the speed of their fight to compensate.
"There was a kind of improvisatory quality to it, where they felt free enough and relaxed enough to create the moments and perform truthfully moment by moment, but not exactly the way they had done it in Philadelphia, nor exactly the way they done it the day before," Malague says.
Maiorano, who is planning a career in theater and is in the student group Penn Players, says she grew up going to the Philadelphia Fringe Festival, so going to the Edinburgh Fringe "felt kind of like a full-circle moment," she says. "I'm not exaggerating when I tell you that Edinburgh Fringe was the best week of my life—as a traveler, as a student, and most importantly, as an artist."
Taking a cue from other performers advertising their shows on Edinburgh's historic streets inspired Levine to create flyers for Monfort and the cast to distribute. The 30-plus seats were filled in show after show.
"I tried to look at every audience member when we did our bows (and usually could because the venue was so intimate) and I vividly remember the times I locked eyes with someone who had the biggest smile on their face," Tatavarti says. "I know that feeling well, and to know that our work made them feel seen was fulfilling … It's almost spiritual, the energy exchange."
In addition to performing, the actors attended several plays a day, toured Holyrood Palace, and hiked up the famous hill, Arthur's Seat.
"It was almost like a theatrical amusement park the way we would check our guide for shows that were around the corner or happening in the next hour, grab our tickets, and just spontaneously go—and then it would turn out to be one of the most inspiring, unpredictable pieces of theatre I'd ever seen," Maiorano says.
They now have said goodbye to the characters they have been living with all year. "It was really beautiful the final time we performed to kind of make peace with them," Maiorano says. "It's sad, but they're never going to completely leave us."