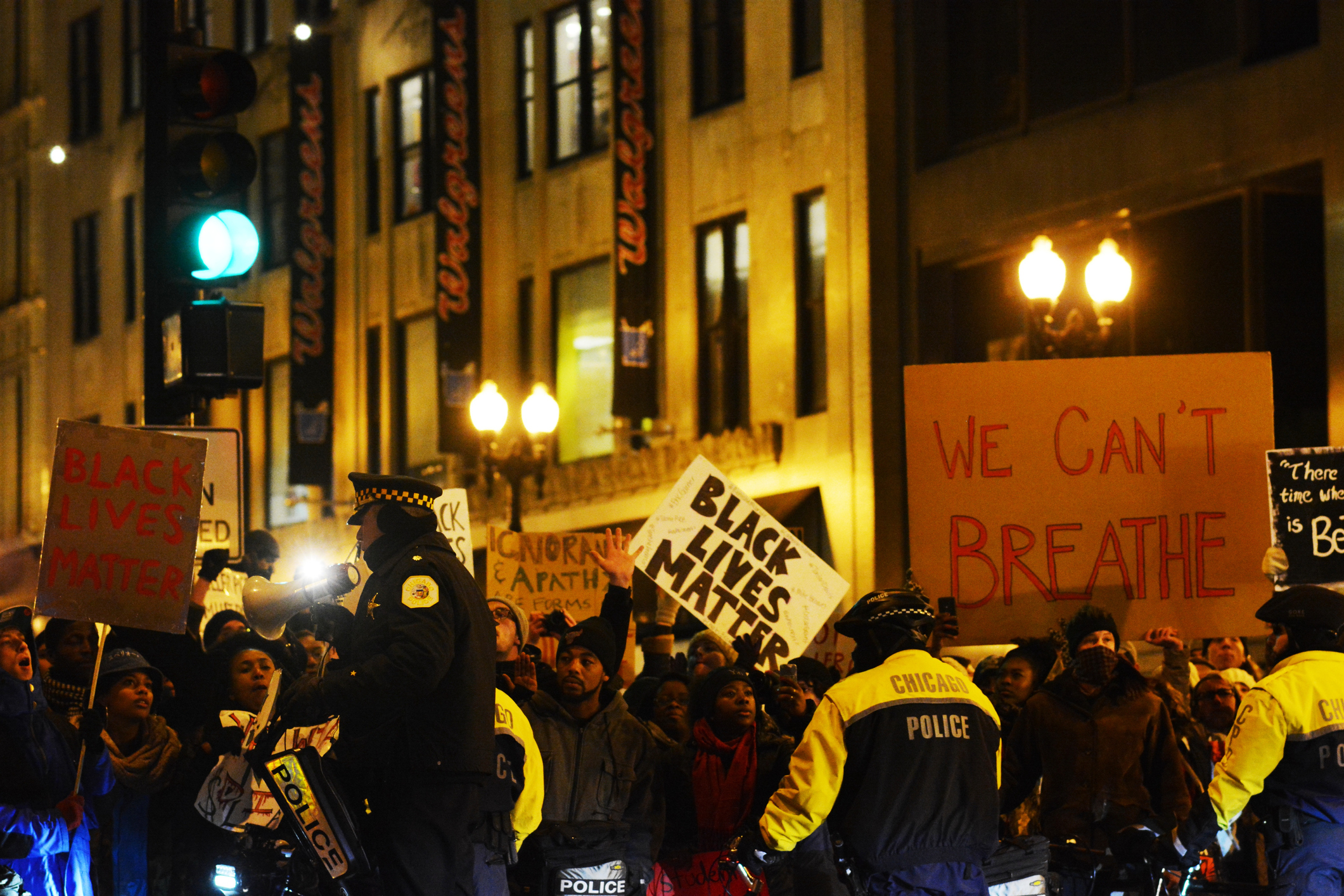 All George Floyd and Eric Garner wanted is to breathe, the most basic function of human life.
Suffocating with a Minneapolis police officer's knee rammed into his neck, Floyd cried out, "I CAN'T BREATHE!" The officer, without compassion or remorse, kept his knee on Floyd's neck for 8 minutes and 46 seconds. Floyd died around an hour later.
Struggling for air with a NYPD officer's arm wrapped around his throat, Garner pleaded, "I CAN'T BREATHE!" He too died within an hour.
Walter Scott and Rayshard Brooks were shot in the back and killed while fleeing and presenting no imminent threat to life. A South Carolina police officer shot Scott three times in the back from 15-20 feet away. Brooks was shot twice in the back by an Atlanta police officer. In both instances, precious minutes passed before officers rendered aid.  
Forty seconds into a traffic stop for a faulty brake light, a Minnesota police officer shot Philando Castile five times while he was sitting in his car with his girlfriend and her 4-year-old daughter. Around 20 minutes later, he was dead.
Oscar Grant was shot in the back by an Oakland transit officer while lying face down on a train platform. Roughly seven hours later, he was deceased.
Every one of these killings was captured on video, for everyone to see, in all their shock and horror. So many Black people—women and men—have been killed by the police, on- and off-camera, in so many different places, that the list of names seems never-ending.
African Americans know pain and trauma all too well, from the evils of the Middle Passage, to the tortures of slavery, lynching, medical experiments, and forced sterilizations. Widespread, videoed police brutality is their most recent torment.
A medical expert, psychologist, educator/clinical psychologist, and senior administrator/ordained minister discuss how watching videos of police violence against Black people is detrimental to African Americans' mental health.
Police violence as a public health problem
Atheendar S. Venkataramani, an assistant professor of medical ethics and health policy at the Perelman School of Medicine, co-led a study published in The Lancet in 2018, which found that police killings of unarmed African Americans have adverse effects on mental health among Black American adults who were not directly affected by the incident.
In the time since, Venkataramani has participated in six rounds of media coverage about police killings of unarmed African Americans—not because the paper is great, he says, but because these police killings keep happening. In the past three weeks, in response to the killing of George Floyd, he has spoken to Newsweek, the Los Angeles Times, and an ABC affiliate in Houston.
"It's really sad to have to do this round of interviews again about this paper," he says.
Venkataramani, a general internist, collaborated with a psychiatrist, a population health scientist, and a sociologist on the study. He says they were motivated to explore the topic, which they began surveying in 2015, after noticing patients and friends, especially African Americans, express anguish at the recent spate of police killings, and comment about their diminished mental health. Michael Brown and Eric Garner were killed a month apart in the summer of 2014, and the Black Lives Matter movement was in full swing.  
"For us, the natural question was for people who are experiencing these events vicariously, do these events do more than just create anguish and feelings of being upset; do they get below the skin to actually harm mental health?" says Venkataramani. 
The research team started out with a hypothesis, but Venkataramani says they were never under any sort of delusion that they were discovering something that African Americans did not already know.
"Really, our goal was to try to understand the size of the problem," he says. "We believed that there was a problem because people were telling us they were experiencing negative mental health consequences from these events. This was more about putting some rough numbers to understand the scale of a phenomenon that was being discussed widely, but hadn't quite been tied together as a public health problem."
Owing to data limitations that existed when they were conducting their research, Venkataramani says their paper most likely underestimates how large of a public health problem the police killings present. He points to a working paper published this month by an applied economics and public policy professor at Harvard that found that among African American and Hispanic high school students, exposure to localized police violence and the shooting of unarmed suspects leads to persistent decreases in grade point average, increased incidence of emotional disturbance, and lower rates of high school completion and college enrollment. 
Each time Venkataramani has discussed his team's research, he says it is reviewed a little bit differently. A significant development between now and only a few years ago, he says, is that the vast majority of Americans today seem to realize that the police killings of unarmed Black people is a serious public health concern, and better understand that structural racism is a driver of health and economic disparities.
Observing the protests throughout the country, he says it would be great if they lead to widespread action.
"More broadly, I think that the conversation should shift to not just about policing, but also criminal justice, the way we design and implement social programs, the way we invest in early education, and the way we make it easier or harder for people to participate in democracy," he says. "In all of those institutions, there are historical features—or sometimes even currently put-in features—that make it harder for some groups, especially Black Americans, to have the same opportunities in society that everyone else has."
The effects of police violence on young people
Young people in Howard Stevenson's Forward Promise and Racial Empowerment Collaborative programs have voiced confusion about why the police, who are supposed to protect them, appear to be attacking them and purposely trying to kill them. They question why some people become police officers if they can't handle the pressures of the job, and why departments continue to hire individuals who are clearly unfit for the profession. What's more, they are apprehensive about their future and dismayed by their belief that even if they are successful in life, they could be shot and killed by the police at any moment.   
Stevenson, the Constance Clayton Professor of Urban Education in the Graduate School of Education, says his programs are utilizing racial literacy's "calculate, locate, and communicate" approach to try to address the mental and physical health detriments that are caused by racial stress and trauma, and help youth practice self-care while dealing with racial oppressions. 
"These are very dehumanizing oppressions," he says. "Even if the protests bring about change in policing, and even if it changes how schools and workspaces are discriminatory towards Black and Brown people, you will still need the self-care. Even if the systems get better at treating people in a less dehumanizing way, you would still need to say every day I'm going to have to manage." 
"Calculate, locate, and communicate" works as follows: If someone is experiencing a racially stressful moment, such as viewing the killing of George Floyd or learning about the killing of Breonna Taylor, they are to take note of any feelings they have when they view or hear about the occurrences, and calculate how intense those feelings are on a scale from one to 10.
Next, they locate where on their body they sense those feelings. Stevenson says some students have said they feel it in their gut, and describe it as a sinking feeling or someone sitting on their chest. 
"Communicate" involves identifying any self-talk during a racial encounter, or any images that pop into your head.
In all three steps, individuals consciously breathe and exhale to destress the body and calm the mind, enabling them to make better, more healthy decisions.
"When I watched the video, I thought of my children," says Stevenson, the father of two sons. "I thought of my cousins. I thought of young people that I worked with. What if that were them? I see their faces in my head. I say to myself, 'This is unbelievable.' And whatever I say to myself— the self-talk or the images—those affect my decisions, those affect how I'm feeling, but knowing them gives me power." 
African Americans and their allies are in an ongoing open rebellion against not only police violence, but all forms of racism and bigotry. Stevenson says this uprising is a consequence of centuries of hostility, dehumanization, and unaddressed rage towards people of color, which have enormous mental health effects. Different generations have tried to smother this hostility, but it has proven resilient and unrelenting, flourishing in every part of life.
He says he is hopeful that change can continue and persist.
"If we can change the flashes to more structural realities, then we have a lot of reason to be hopeful," says Stevenson. "If we can think of the police as guardians instead of warriors, and we can see evidence that the police want to be guardians and not warriors, that's a beautiful thing."
The damaging impacts of discrimination
Aside from the study by Venkataramani, Sara Jaffee, a professor of psychology in the School of Arts & Sciences, says there is very little psychological research examining the mental health effects of African Americans being routinely exposed to videos of unarmed Black people being killed by the police. But given what is already known about the damaging impacts of a person's encounter with discrimination, which have been studied extensively, she says she can't see any reason why watching images of police brutality online or on social media would be any different from any other kind of discrimination that people of color witness or directly experience.
"I think that all the other research that exists on people's exposure to discrimination—and there's plenty of that—would suggest that it has negative impacts on mental health, and that it has negative impacts on physical health," she says.
The nearest comparison, says Jaffee, is conversations in literature on post-traumatic stress disorder about someone being retraumatized by re-exposure to images of the person or thing that originally victimized him or her, or being retraumatized by having to restate his or her traumatic experience.  
"That's probably the closest parallel," she says. "I think it's traumatizing to watch these images, and particularly when you have the sense that there have been miscarriages of justice, and that they just keep repeating, and that justice is never served."
Around a year ago, Jaffee attempted to get funding to analyze the mental health consequences of Black people being subjected to videos of Black people being killed by the police, but she says the proposal was not successful. One of the comments from a reviewer asserted that the answer was already known: Discrimination negatively impacts mental health.
Certainly, she says, that is undoubtedly true. Overt bigotry and microaggressions are both associated with poor wellbeing. Psychological surveys have also revealed that around a third of African American adolescents and young adults report that they regularly come across racist content online, and there are studies that conclude that being a victim of online racial abuse leads to feelings of depression, anxiety, and anger. Even so, Jaffee says there is insufficient research on the effects of Black people, indigenous people, and other people of color having to watch videos of people who look like them "being murdered by the people who are meant to protect you."
"There are some studies that show that just hearing about somebody in the community being a victim of violence is also related to symptoms of anxiety," she says. "And so, given those kinds of data, one would expect that watching this content and being exposed to it on a pretty frequent basis would also have negative impacts on mental health."
As a developmental psychopathologist who conducts research on how stressful environments exacerbate underlying genetic vulnerabilities to affect children's development, Jaffee says she is worried about the long-term mental health implications of Black people regularly being subjected to videos of police killings. 
"I think it's a big concern, and I think there needs to be a lot of awareness," she says. "Mental health services need to be aware that this is a significant stressor for people of color, that this is a topic that might come up in therapy. Clinicians need to be OK talking about it, they need to be comfortable talking about it, and their clients need to feel like they can trust their clinicians to talk about it."
An analogy between grief and racism
When William C. Gipson, associate vice provost for equity and access in the Division of the Vice Provost for University Life, saw the first few moments of the cell phone video showing the killing of George Floyd, he was unsure of what he was seeing. After watching the video, he says it did not take long for him to realize that he had just witnessed a "lynching."
Formerly the University chaplain, Gipson says in his role as a minister, he makes an analogy between grief and racism. Over the years, he has advised families that they should be prepared that following the death of a loved one, they could go weeks, months, or even years and seem like they're coping with the grief—but all of a sudden it can come rushing back one day, and ambush them. So it is with racism.
"Black people know that the country is racist from its very foundation, but there can be long stretches where we don't have particular incidents where it rises up and totally disorients our days, our months, and, in some cases, our jobs," Gipson says. "That's how I've been feeling about this whole situation, that we were ambushed once again by the ugliness of our history as a racist nation." 
Once Black people are ambushed by a racist incident, like the killings of George Floyd and Breonna Taylor, Gipson says it takes a while to regain composure and go on living. 
"It's wearing," he says. "Many people I've talked to—colleagues, friends, family—find it very difficult to sleep. It's difficult to focus. Sometimes it has a paralyzing effect and it's difficult to pull oneself out of bed, or to start or complete projects. Overall, it has been a devastating blow, and I believe that we're all trying to figure out how we go forward from here."
Gipson's 12-year-old grandson was ambushed by a racist incident in the days after Floyd's death. He and his mother were at a post office on Oregon Avenue in South Philadelphia when a white woman, a stranger, walked up to him and said, "Young man, I want you to have every opportunity you deserve in life, but you won't get it by looting." 
His grandson was confused, Gipson's daughter was crushed, and when he heard about it, Gipson was enraged.
"Talk about being ambushed," he says. "What she did to my grandson was she ascribed to him Black criminality, and she inscribed on his being a sense of being less moral than others. That is to say she measured him by her own racist views, and then marked him as someone likely to do something criminal in the future."
Speaking as a man of the cloth, Gipson encourages all African Americans to "occupy and affirm your humanity as a Black person" to deal with the trauma and distress many are experiencing.
"By that I mean do not shrink in the presence of racism or a racist act, bring your full self to whatever it is you engage with," he says. "Do not shrink, do not make yourself small in the presence of immoral racism."
Gipson says he is hopeful but not optimistic that America can defeat institutional and structural racism. His faith teaches him that a brighter day is ahead—but he says that brighter day will not just magically appear, America must put in the work. 
"Black people have been putting in the work for over 400 years," he says. "But unless major American institutions, which are all run by white people, commit to this, it will not become what is should be and could be."
Homepage image: In July of 2016, protestors march down Pennsylvania Avenue in Washington, D.C., from the White House to the United States Capitol Building, after recent police shootings of Alton Sterling and Philando Castile.