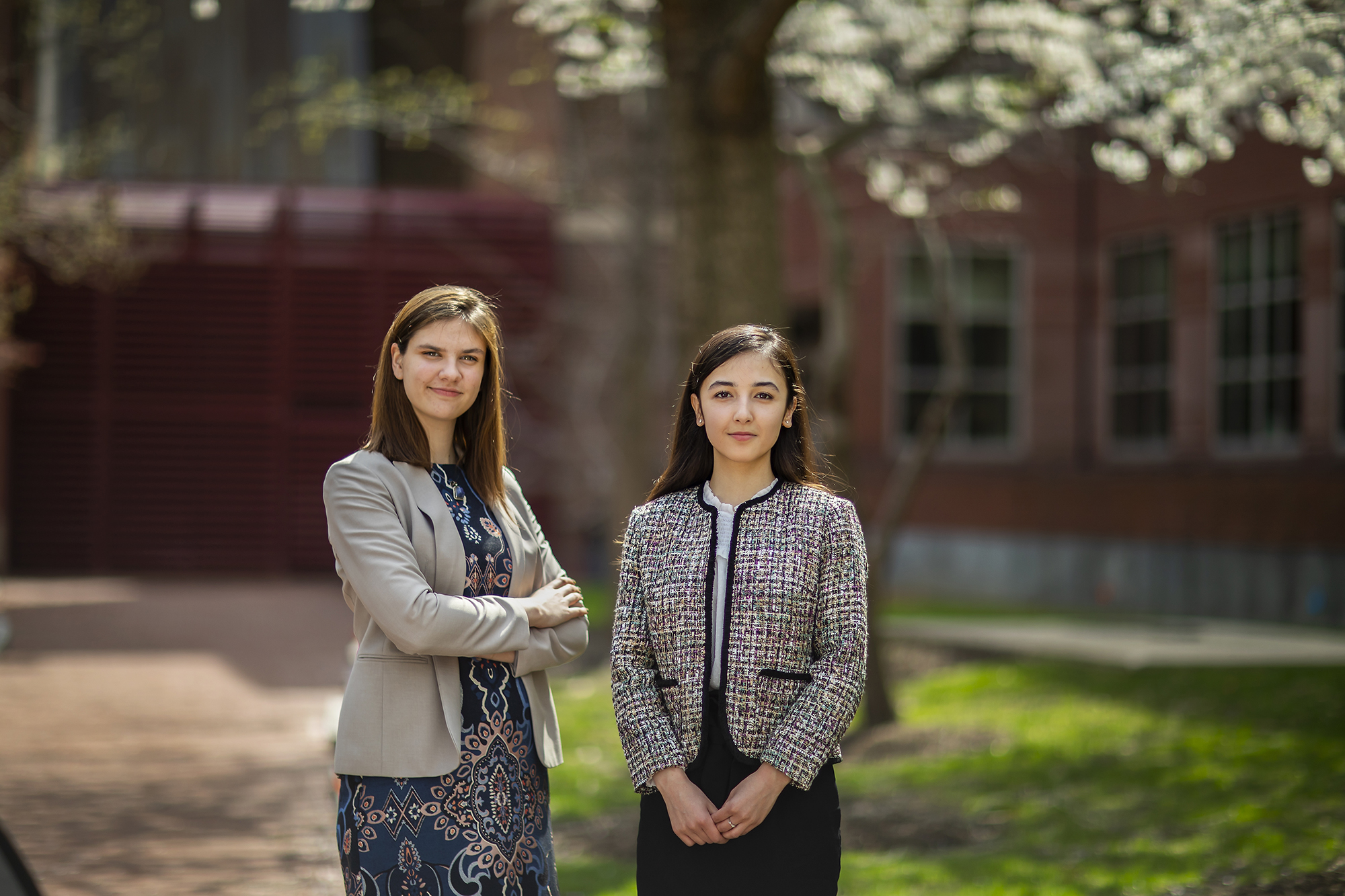 On the second floor of the Pennovation Center, Strella Biotechnology is hard at work turning their student-led startup into a full-fledged company that's ready to make a major impact in the agricultural sector.
May graduates Katherine Sizov and Malika Shukurova, respectively the CEO and head of R&D at Strella, share a 2019 President's Innovation Prize, which includes $100,000 of financial support, a $50,000 living stipend for both awardees, and a year of dedicated co-working and lab space at the Pennovation Center. The alumnae and their company are now poised to take on the challenge of $1 trillion worth of food waste.
Strella's biosensors are designed to give packers real-time data on how ripe their fruits are while being stored between harvesting and selling. Using bio-inspired sensors that measure the ethylene gas produced by fruits as they ripen, Strella successfully "hacked the fruit" to create their patent-pending biosensors. Now, only six months after graduation, Strella has six paying customers and is aiming for $100,000 in sales by the end of the season.
Beyond the work needed to deploy their first paid product, Strella also has a clear view of what needs to be done for future progress of the company. This means running experiments in the lab to refine their current sensors while conducting other experiments that will help the company be able to monitor other types of fresh foods. It's a job that Shukurova says involves a lot of multitasking and requires an "all-hands" approach to problem solving.
"We set up experiments that run for several days, and during that period we work on different tasks. I prepare for the next set of experiments, Jacob [Jordan] and Katherine travel to our customers to deploy sensors, and Zuyang [Liu]]works on IoT [Internet of Things]. At the end of the day we all come together to discuss results and future plans," says Shukurova about their company's work flow.
The company is also finding ways to expand their technology onto individual pallets in retail settings, which represents a huge untapped market for managing food waste. "That opportunity, from a numbers perspective, is far greater than the current packing market we're working in, so we're hoping to make an impact as we move into that space as well," says Sizov.
During the next six months, the team will be busy analyzing the data collected by their deployed sensors and gearing up for a new round of fundraising. Looking further ahead, Strella aims to increase sales in their initial market, conduct research and development on individual pallet-level sensors, and begin active partnerships with larger retailers to help optimize their supply chains.
Sizov admits that Strella has an ambitious timeline but that the team is looking forward to the challenge. Working alongside Jordan, Liu, and Shukurova, Sizov says that Strella already has its own culture of sorts. "None of us have ever had a business before, and learning how to create culture within a group, how to work together as a team, and how to not get tired of each other because we spend so much time together, has been an interesting challenge," says Sizov.
Their lab and coworking space at Pennovation has allowed Strella to stay connected with Penn's innovator community while also providing lab facilities and resources needed to continue their work on their sensors. Strella has two lab benches and a fume hood, access to shared lab equipment, and plenty of space to house their prototypes, all provided for free as part of their Innovation Prize.
They've also been able to stay well-connected to the Penn community as a whole, traveling regularly to campus to meet with faculty, including weekly meetings with their mentor Jeffrey Babin. "We are not out of [the] Penn mindset," says Shukurova. "We don't have to worry about exams, but we're still on campus and we're still involved with the faculty."
Babin says that Strella is "one of the most exciting companies that I've seen come out of Penn" and that the company is in a strong position to make some significant impact on the food supply chain. "One of the things that's been strong since the beginning was having an expanded vision: Not just on product development, but getting a customer," he says. "They have a really strong sense of what's required to acquire a customer, what the next steps are, and growing both within the initial customer base while expanding to other elements."
When asked what advice they would give to would-be entrepreneurs, Shukurova's advice is to "take it as a journey." She encourages students who have an idea to share their thoughts with others to get feedback before beginning any startup endeavor. "Talk to more people—don't limit yourself to 10 people, or 20 people, talk to hundreds of people," she says.
Sizov says that the experience of running a startup has been a great learning experience, one that is far less risky than might seem at first, especially thanks to the Innovation Prize. "If you're just following your passion, that's not a risk. You're not putting aside your career," she says. "Everything we learn at Strella is directly teaching us how to be better and smarter individuals."
Jeffrey Babin is a practice professor and associate director of the Engineering Entrepreneurship Program in the School of Engineering and Applied Science.
Homepage photo: President's Innovation Prize winners Katherine Sizov and Malika Shukurova (front) doing R & D to help design new versions of their 'fruit-hacking' biosensors at the Pennovation center.