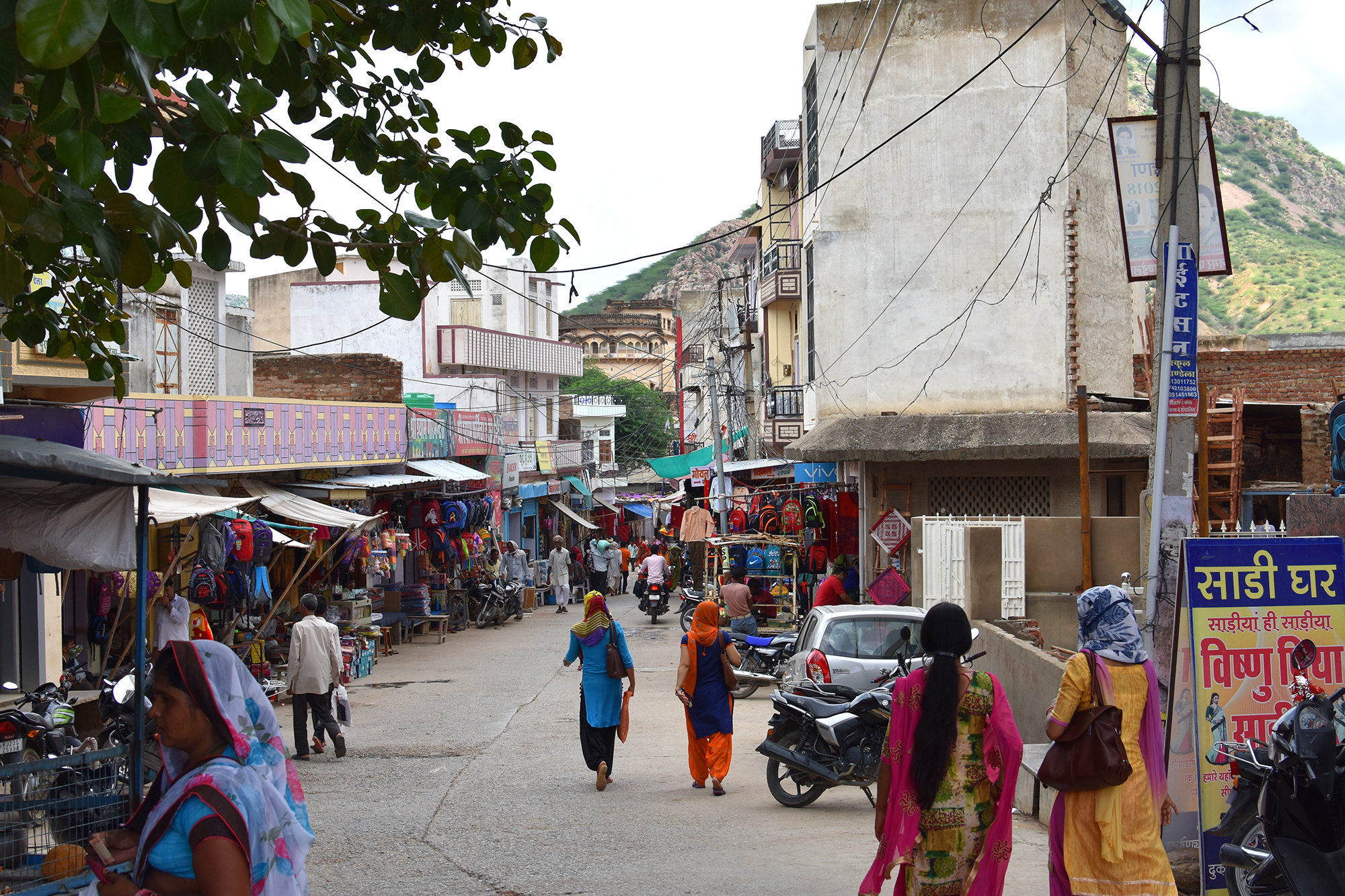 In the beating heart of central India lie two desert towns: Taranagar and Khandela. They're about three-and-a-half hours apart, roads being what they are. They're both in the state of Rajasthan, which was peppered with princedoms in precolonial days. The region is a popular destination for local tourists, with forts and centuries-old mansions. Khandela still bears these relics, with domed buildings and echoing arabesque archways made from the same strawberry-cream sandstone jutting out from the northern foothills. In the cool months, domestic tourists foray out to visit the ruins and buy jewelry and gemstones in the local markets. 
The two towns are the same size, around 30,000 inhabitants within 10 square kilometers (around four square miles). They're both in the same state. Taranagar and Khandela are similar in almost every respect, says Tariq Thachil, a professor of political science, director of the Center for the Advanced Study of India (CASI), and the Madan Lal Sobti Professor for the Study of Contemporary India. Yet their municipal governments couldn't be more different, he says. Thachil wants to know why.
Urban growth
Through natural growth, urban migration, and recategorization of what constitutes a "city," India expects to add 416 million people to its cities by 2050—the largest projected increase in the world, Thachil says. 
Over half of India's urban population lives in towns with less than 500,000 people. When people think of Indian cities, they picture Mumbai or New Delhi, Thachil says, not small urban centers like Tarangar and Khandela—of which there is almost no data. There's a lot of research on villages and big cities, but the small cities have been overlooked.
Thachil, a political and social scientist, is studying the political consequences of urbanization through Understanding India's Urban Future, a two-year project funded by Penn Global.
"As one of five projects supported by the 2022 cohort of awards from Penn's India Research and Engagement Fund, this project represents Penn's commitment to engagement with India as a critical part of the University's research, teaching, and service missions," says Scott Moore, Director of China Programs and Strategic Initiatives at Penn Global. "By adding to our understanding of urbanization and public administration, Thachil's work strengthens Penn's ability to contribute to key challenges facing India and the world."
Urban growth is a worldwide trend, Thachil says. In India, urbanization dovetails a second development: the decentralization of power from the center to local governments. In 1992, India passed the 74th Constitutional Amendment Act, establishing municipalities as autonomous local governments. "What India did was this big experiment in devolving power from the central to the local level," Thachil says. 
The idea was that making local elected officials responsible for their own towns and cities would make for better governance. Officials are elected from the communities they represent and, in theory, are more accountable and responsive to community needs, Thachil says. "There's a lot of promise behind that. But what I wanted to know is: What's actually been happening in these places? 
"Have they delivered on this promise? Have they been doing what was intended?" he asks. "That's what this project is motivated by: a very broad and deep dive."
Mentoring scholars
To find out, Thachil works with a team that includes Adam Auerbach of American University (with whom Thachil published a new book), 18 India-based researchers, and three others at Penn—an undergraduate, a Ph.D. candidate, and a CASI postdoctoral fellow. 
In 2021, Thachil started survey analysis work with the help of Mathew Chemplayil, a senior majoring in international relations, South Asia studies, and world history from Huntingdon Valley, Pennsylvania. 
Born in Kerala, India, a coastal state on the southwestern tip of the Indian Peninsula, Chemplayil has long been fascinated by the differences between India and the U.S. Why are some places rich and others poor? Why does culture and civilization manifest in different ways in different places? Those questions stayed with him, Chemplayil says. 
After taking Thachil's course on democracy and development in India, Chemplayil emailed Thachil to ask if he could help with research. Chemplayil already had experience with spatial mapping on Melissa M. Lee's American political science research, and Thachil put him to work. 
Geocoding U.S. locations is fairly uncomplicated, Chemplayil says. India was another story. "The Indian Census Bureau provides huge, huge lists—Excel spreadsheets mostly—that have locational data," Chemplayil says. His job was to place the locational data onto a map.
However, sometimes the towns changed names. Sometimes the records were faulty. Sometimes there were translation discrepancies. "We had to develop new ways of figuring out how to take, perhaps three or four words describing a town … to figure out okay, well, there's got to be two numbers that fit onto the surface of the Earth, two coordinates that we can use," Chemplayil says.
Now, Thachil and his partners are in the data-collection phase of the project, beating the streets of approximately 180 small cities in the state of Rajasthan. Thachil has personally visited 18. He flies out to do fieldwork in the summer, when Rajasthan's clear skies heat up to above 40° Celsius (104° Fahrenheit) during the day, dropping quickly at night. 
To begin, Thachil heads into town with co-author Adam Auerbach and a letter of introduction endorsed by the Rajasthan state government to meet the local officials. "We're asking for everything that we can," Thachil says. "Can you open up your computers for us? Would you be able to show us your last budget sheets? Can I look at your attendance register?" 
Deepaboli Chatterjee, a first-year Ph.D. student studying political science, was part of a four-person team that did case studies in four different Rajasthani towns: two with approximately 25,000 residents and two with 35,000 to 40,000 residents. They spent two weeks in each, interviewing everyone who would talk: local bureaucrats, clerks, street sweepers, journalists. There was a lot of waiting around, she says, "long periods of boredom punctuated by huge adrenaline."
A tale of two cities
In Taranagar, the newly constructed municipal office was buzzing. The chief bureaucrat was working with a young computer operator to update records. The chief elected representative was in the meeting room talking to another elected representative. "Everybody's there," Thachil says. "Everyone's present—which in Indian government offices is not a given—and they're all communicating with each other." 
This is how it's supposed to work, says Thachil. He came away from Tarangar thinking, "Oh, wow, this is kind of an argument for decentralization, because in these local spaces, they all live like five minutes away. They come into the office all the time. It's much more of a hub of activity than you might otherwise expect."
Two days later, he and Auerbach went to Khandela. There, the office was desolate. "It was like an absolute dead zone," Thachil says. "It was dusty. It didn't look like it had been cleaned recently. The chief bureaucrat hadn't been there all week. And we were told he comes in maybe three or four days a month. And because he doesn't come in, a lot of the other staff are kind of more lackadaisical about coming in. It was just a totally different experience." 
As a social scientist, Thachil's next step was to consult the budget data. If Tarangar and Khandela are both the same size, within the same state, with roughly the same budget and the same system of government, why is one a hub of activity and the other a ghost town? Thachil wondered. 
Sure enough, he found that Taranagar was spending a much higher percentage of their budget compared to Khandela. "That was a little bit of a eureka moment," he says.
The second moment came while interviewing one of the elected representatives: an earnest, idealistic man about 10 years younger than Thachil himself. "I still remember his face," Thachil says, "a very nice young man."
"We just started asking him basic questions," Thachil says. Had he ever seen the town master plan? (He didn't know a master plan existed.) What were the big challenges he faced in raising house tax? (He didn't know he was supposed to collect house tax.) The gap between the representative's responsibilities and his knowledge of what those responsibilities were—and how to carry them out—widened with each question. Soon, Thachil felt he was embarrassing the man.
"But then I realized: it's not that he doesn't care," Thachil says. "He just doesn't even know what he's supposed to do. To me, that's such a different problem than the typical poli sci explanations: people are corrupt, or they're power hungry. Honestly, he felt a bit like a lost young man. Except he was an elected rep. So, his being lost has repercussions for people beyond him."
In their research, Thachi's team found that half of elected officials in Rajasthan's small cities didn't know they could collect taxes—which isn't entirely the officials' fault. Through decentralization, India gave local municipalities a set of responsibilities and a slew of elected officials to carry them out. "But what is never fully done is the decentralization of financial autonomy and financial power, revenue-raising power," Thachil says. And the financial powers they do have are sporadic, he says, "they're sometimes given and taken away, given and taken away." 
Taxes
Many towns, like Tarangar, not only weren't raising enough taxes, but couldn't even spend the money given to them by the state and central government. "Frankly, when we saw that we were kind of shocked," Thachil says. "We thought, even a corrupt government, they're going to spend everything. They're just going to have nothing to show for it. 'I built a road, I spent for it, but there's no road there.' Here, we're seeing they're not even being able to spend. So what's happening? What are the bottlenecks to spending?"
Thachil has a hunch. To spend money, whether on roads or sewage system, an Indian development project needs personnel, engineers that may come from bigger cities and don't want to move. "So even if they're posted, they're not showing up," Thachil says. One absent engineer can bring the project to a complete halt. 
During her two months of field work in towns with populations of 40,000 or less, Chatterjee found that many higher-level positions were vacant. This led to the de facto promotion of lower-level employees, with firefighters or street sweepers given accounting responsibilities or working as cashiers. 
When Thachil shared preliminary findings with state government officials, they were surprised by the scope of the problem, he says. "The first step is just awareness-raising around some of these issues among higher-level authorities." 
Then, findings suggest a need for basic education and training. "To assume that simply devolving power to the local will be a silver bullet is a mistake," he says. "We have to inform officials about what their new responsibilities are, and how to execute them. "
Impact
The project could "have real impact on policymakers, on public discourse, and on other research in political science," says Shikhar Singh, a postdoctoral research fellow at CASI, where he works on empirical analysis for the project: reading through field notes, synthesizing evidence, putting together arguments, writing up figures. 
These small towns will be the epicenter of India's population growth over the next few decades. The challenges of governance—which are closely related to the challenges of addressing climate change and caste, gender, and religious discrimination—will be played out in this arena, Singh says. 
And just as decentralization dovetails with urban population growth, underdeveloped cities dovetail with climate change. India is experiencing more frequent storms, variable monsoon seasons, and floods alternated with drought. 
"Over three quarters of the world's most polluted cities are in South Asia," Thachil says. "We're going to see increasing challenges for small towns with water resources; we're going to see it with managing extreme heat," Thachil says, "And we are already in many places."
Thachil hopes his research will help to create actionable plans, given the limitations of money and knowledge that hamper the scope of what small cities can do. In the summer of 2024, Understanding India's Urban Future will conclude with a workshop in New Delhi to convene scholars and graduate students working on India's urban transition across different universities and research and policy institutes, and a separate presentation to key officials in Rajasthan's state government who facilitated the work and expressed an interest in its findings. "The goal here is first and foremost to make sure our research is shared with officials who work in small towns," Thachil says.
Most of these towns have poor-quality roads and 95% don't even have a partial sewage system, Thachil says. "They need everything." 
"Can we actually put systems in place where all these breakdowns aren't happening?" he asks. "Where we have sewage systems rather than gutters overflowing? Where we have systems of electrification and water dispensing?" 
Municipal governments are currently acting on read-and-react mode, Thachil says, addressing everyday crises with Band-Aids. This system, he says, is falling short.