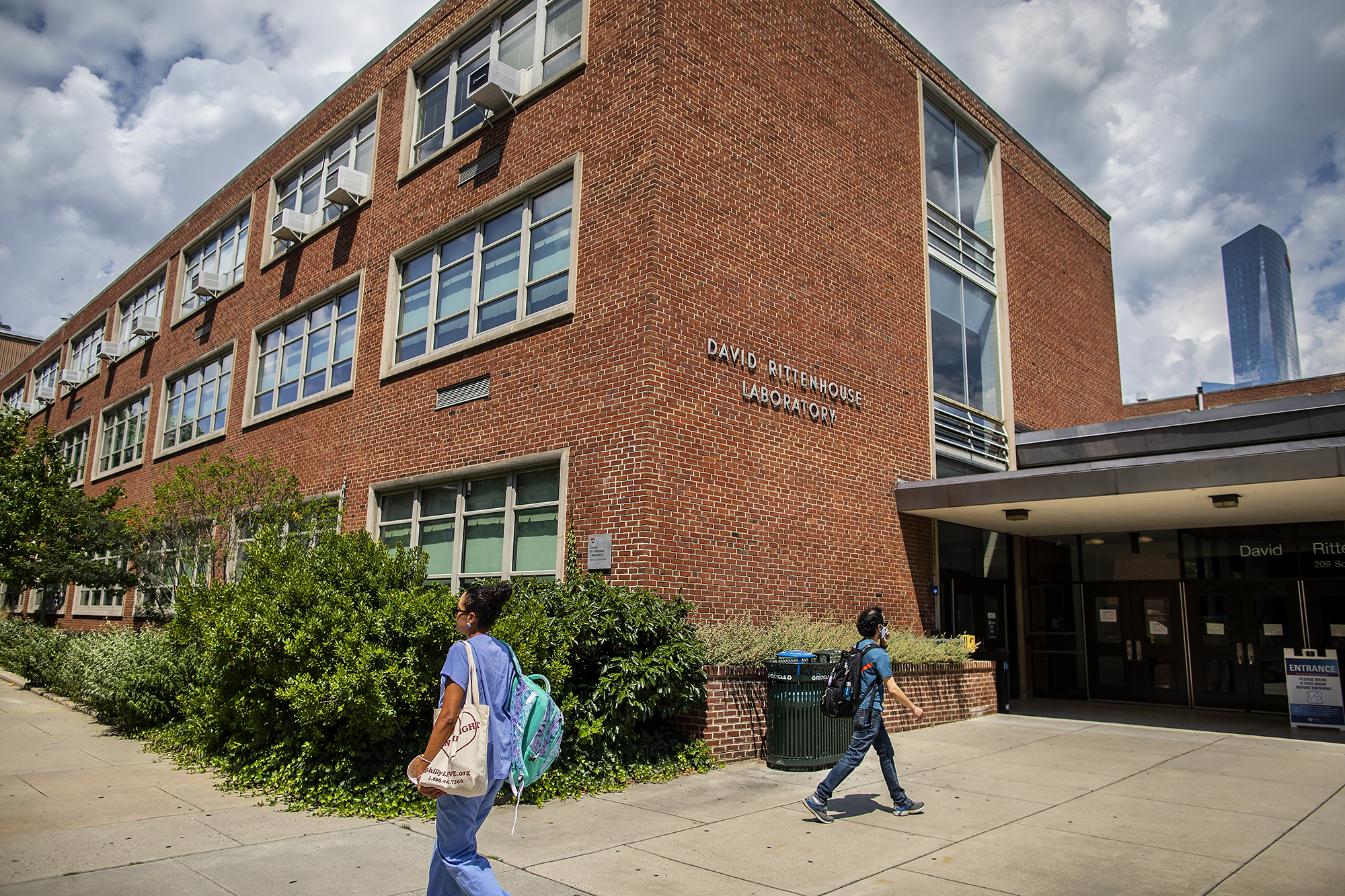 Researchers at Penn play a key role in the fundamental science that supports ground-breaking discoveries. Highlights of Penn's achievements in the fields of physics, astronomy, and mathematics include Eugene Mele and Charles Kane's 2019 Breakthrough Prize in Fundamental Physics. Their theories inspired a new generation of physics research, progress in mapping dark energy and dark matter, developing new materials for quantum information science, building new telescopes for looking at the "afterglow" of the Big Bang, and advances in geometry, string theory, and particle physics made possible through interdisciplinary research.
To support essential infrastructure that will enable the next generation of research and discovery in these fields, Penn has committed to updating its physical science research infrastructure as part of a $750 million investment in science, engineering, and medicine. The result of this and other ongoing projects will be a modernized physical sciences quadrant that integrates state-of-the-art research in physics, mathematics, chemistry, and engineering by optimizing interactions and cross-disciplinary collaborations.
"A strong physical science foundation has been key to Penn's success in building a thriving innovation ecosystem," says President Amy Gutmann. "We took steps early on to ensure our researchers had infrastructure that was on the cutting edge of science, firmly establishing Penn as a leader in innovation. Our newest investment dramatically expands these efforts, paving the way to even greater discoveries and impact well into the future."
An expanded, updated campus for the physical sciences
Led by the School of Arts & Sciences, the new Physical Sciences Building will feature state-of-the-art research facilities, hands-on teaching laboratories, and modernized classroom spaces. This new building will be essential not only for ensuring that laboratories and research spaces are optimized for frontier research in physics, says Dawn Bonnell, senior vice provost for Research, it will also accommodate the University's growth into emerging areas of study. "This building will enable experimentalists and theorists to collaborate in proximate spaces and will also allow scientists and engineers to converge on multidisciplinary projects," says Bonnell.
"This is extremely exciting for us," says Mark Trodden, the Fay R. and Eugene L. Langberg Professor of Physics and department chair. "All the science that we do now, which we do exceptionally well, will benefit from new space. That will not only help the terrific faculty we have now; it will help us in recruiting and retaining future faculty."
Construction of a new Physical Sciences Building will also support the massive revisioning and renovation of the David Rittenhouse Laboratory (DRL) into a facility that will foster modern science, research, and collaboration. Construction and occupation of the new building will be staged so that the large-scale renovation and modernization of DRL's facilities can be completed with minimal disruptions to ongoing research activities.
Along with updated classrooms, innovative teaching environments, and informal learning spaces for students, the updates to DRL will also provide open spaces and collaborative areas that can support innovation and breakthroughs across all fields. This includes research in math, says Tony Pantev, Class of 1939 Professor and Mathematics Department chair, where collaboration is an essential part of progress made in the field.
"At the end of this project, we expect that there will be more modern lecture halls that are equipped with everything one needs to do effective teaching as well as new personal office spaces that are designed to facilitate research on a completely different level," Pantev says.
"Our departments of Math and Physics and Astronomy are home to scientists at the cutting edge of their fields, and they play a critical role in teaching students across the University," says Steven J. Fluharty, dean and Thomas S. Gates Jr. Professor of Psychology, Pharmacology, and Neuroscience. "This project will provide the labs and classrooms to support the science of the 21st century and to bolster the future of discovery and innovation at Penn."
A 'vibrant nexus' of research
The reimagined DRL and the new Physical Sciences Building will also complement facilities at the Vagelos Laboratory for Energy Science and Technology (VLEST), which will be at 3200 Walnut Street and is scheduled for completion in fall 2024.
The end result of this and other new construction on campus will be a modernized physical sciences quadrant that connects researchers across physics, math, chemistry, and engineering. With the new Physical Sciences Building placed strategically between DRL and VLEST, Penn's new hub of physical science research will also be adjacent to the Singh Center for Nanotechnology, the Laboratory for Research on the Structure of Matter, Amy Gutmann Hall, the Chemistry Complex, and the Engineering Quad.
The path ahead will be complex and iterative, says Executive Vice President Craig Carnaroli, adding that the next step will be to conduct an updated feasibility study for the site. Then, through a visioning process, the University can begin to establish a broad set of parameters and work with architects on designs for the new Physical Sciences Building.
Carnaroli says that it is exciting to see plans for this much-needed project start to come together. "Given the quality of faculty that we have in DRL and the need for the investment, it's nice to see this coming to fruition," he says. "The research we do has a long lead time, so even though we may not know the benefit for a long time, having the space for those discoveries to occur is the first step into what's possible."
While predicting the future of such a fast-paced field like physics is difficult, Trodden says that Penn will be well placed to be a "major player" in a number of research areas thanks to these planned improvements and investments. "A new building and a reimagined DRL will enable us to remain on the cutting edge, to remain international leaders, and to push forward and exploit new boundaries as they emerge," he says.
Pantev adds that there is a sense of "general elation" from his department around the news that these updates are happening and will also come with the construction of a new building. "The fact that we will have an entire complex of buildings, all connected and with a modern infrastructure, is really exciting," says Pantev.
Bonnell says that this initiative will create a "vibrant nexus" for researchers working on multidisciplinary research across the physical sciences. "It's an opportunity to provide our outstanding faculty and students with a modern platform so that they can achieve their highest goals," she says. "Through this project, we will elevate the innovation and impact of Penn scholarship to its highest level. It will be transformational."
Dawn Bonnell is the senior vice provost for research at the University of Pennsylvania.
Craig Carnaroli is Penn's senior executive vice president.
Steven J. Fluharty is the dean and Thomas S. Gates Jr. Professor of Psychology, Pharmacology, and Neuroscience in Penn's School of Arts & Sciences.
Tony Pantev is the Class of 1939 Professor and department chair of mathematics in Penn's School of Arts & Sciences.
Mark Trodden is the Fay R. and Eugene L. Langberg Professor of Physics and department chair of physics and astronomy in Penn's School of Arts & Sciences.