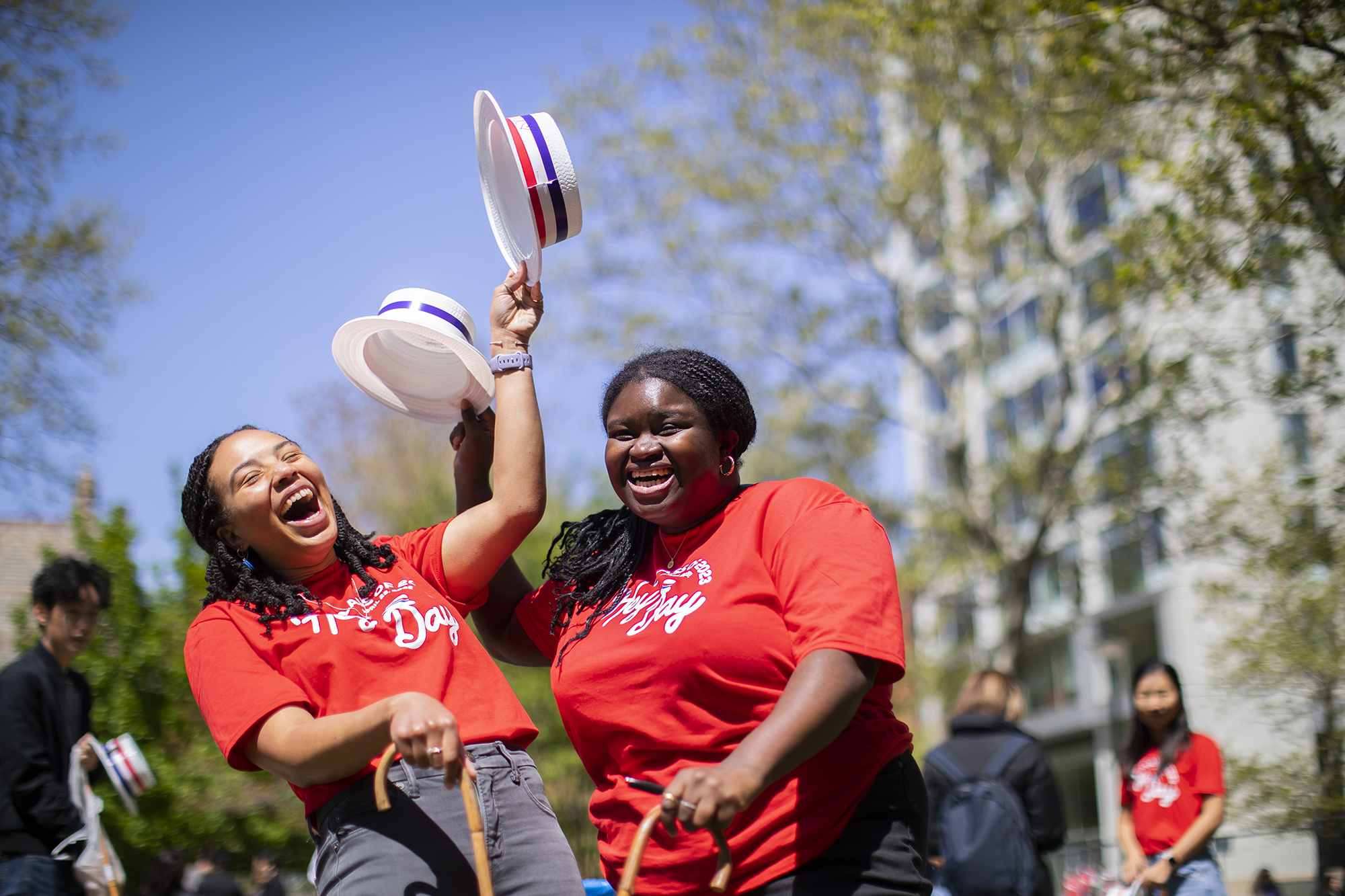 One of Penn's most cherished traditions since 1916—the day juniors officially become seniors—returned this spring semester in celebration of the Class of 2023. For Hey Day, students donned red T-shirts, mock straw hats, and canes, and sang, danced, and marched down the iconic Locust Walk prouder than ever.
"I've been saying since high school that 2023 is the best class, but when I think about how much we've adapted and how much we've been able to change to the circumstances, it just gives me so much hope for the future," said Sebri Nurahmed, a marketing and operations management major at the Wharton School. "Everybody is still ambitious, nobody is burnt out, and we're ready to leave our mark on this campus."
Nurahmed, who grew up in Columbus, Ohio, joined his smiling and energetic classmates on a windier-than-usual but perfectly sunny Thursday at College Green, snapping photos, sharing hugs, and signing each other's hats.
"I like that I'll have this hat as a keepsake for many years to come," Nurahmed said.
Students gathered in front of College Hall, just across from where the Final Toast was taking place for the Class of 2022, as Interim President Wendell Pritchett gave a three-part test before declaring their senior status: 1. What is the name of the building behind me? (Easy one.) 2. How many bronze statues of Ben Franklin are on campus? (That was actually kind of tough—three.) and 3. True or false: The Class of 2023 is the most stupendous class ever. (True, naturally.)
The crowd erupted in applause.
Keeping with tradition, Class of 2022 president Sam Strickberger passed the gavel of senior class president to Class of 2023 president Derek Nhieu, who led his peers in the singing of "The Red and Blue."
Talking at the picnic at Hamilton Village Green, just before the procession, Nhieu, an organizational management and social impact and responsibility major at Wharton, noted how proud he was of his class—one that he described as nothing short of "unique."
Top left: Keeping with tradition, Interim President Wendell Pritchett gave students a three-part test before declaring them officially seniors. Top right: Taking a break from his Final Toast, Class of 2022 president Sam Strickberger officially passed the gavel of senior class president to Class of 2023 president Derek Nhieu. Bottom: Nhieu takes the stage in front of College Hall, and leads his peers in the singing of "The Red and Blue."
"Because of the pandemic, this is really our first big gathering as a class since our freshman year at Convocation," said Nhieu, who is originally from Orlando, Florida. "It's so fun, people are seeing old friends and making new ones. It's so important we are able to come together."
While getting poked by a friend with a cane, Nhieu explained how his class had to shift from using Styrofoam hats (which students used to take bites of) to plastic ones, because the manufacturer stopped making them.
"This was our best alternative in the end," he said, with another nod to the Class of 2023's adaptability. "Instead of biting each other's hats, we are signing them. It's still pretty cute."
"I've still been biting people's hats," said Nurahmed, with a laugh. "It's just been a little harder to do it."
Sriyaa Suresh, from Allentown, Pennsylvania, and Jessica Hao, from Valley Forge, Pennsylvania, friends since their freshman year, signed each other's hats and posed for a photo before grabbing lunch—burgers, hot dogs, chips, and sodas—provided by the Class Board. Suresh, who is a neuroscience major in the College of Arts and Sciences, said Hey Day is an especially "bittersweet" moment, as she is graduating in December, a semester early.
"For me, this day really means a coming of age, going to the next level of my life," said Suresh, adding how the day is also significant because of all she and her class has been through. "Being away and learning remotely really put into perspective how much I appreciate campus life. Because of that, I've been able to enjoy the experiences I've had this year even more."
Hao, a biology major in the seven year bio-dental program in the College and School of Dental Medicine, agreed with Suresh: "To be able to come here and celebrate with all our friends, we have just learned to appreciate it so much more."
Back at College Green, Leah Van Dyke chatted with friends on a bench after Pritchett's remarks. Van Dyke, a biology and earth sciences major in the College, from Chino Hills, California, said attending Hey Day is something she knows she'll look back on fondly. She's glad she made it out, but was gearing up to head back to the lab where she does geomicrobiology research. "I was there before this, and I'll go back after, but it's OK because I like it, it's fun," Van Dyke said.
Nhieu said he had some work to finish up later, too, but for the moment he was enjoying the class-free day (Hey Day always takes place on the first day of Reading Days).
"Today is a fun day, a celebration day," Nhieu said. He noted how he particularly takes in the moment as a first generation, lower-income student.
"I was just walking around today and thinking about it," Nhieu said. "I feel like I made it. If you would have asked me five years ago what I'd be doing today, it just kind of feels surreal."
For more photos from the day's festivities, visit Flickr.