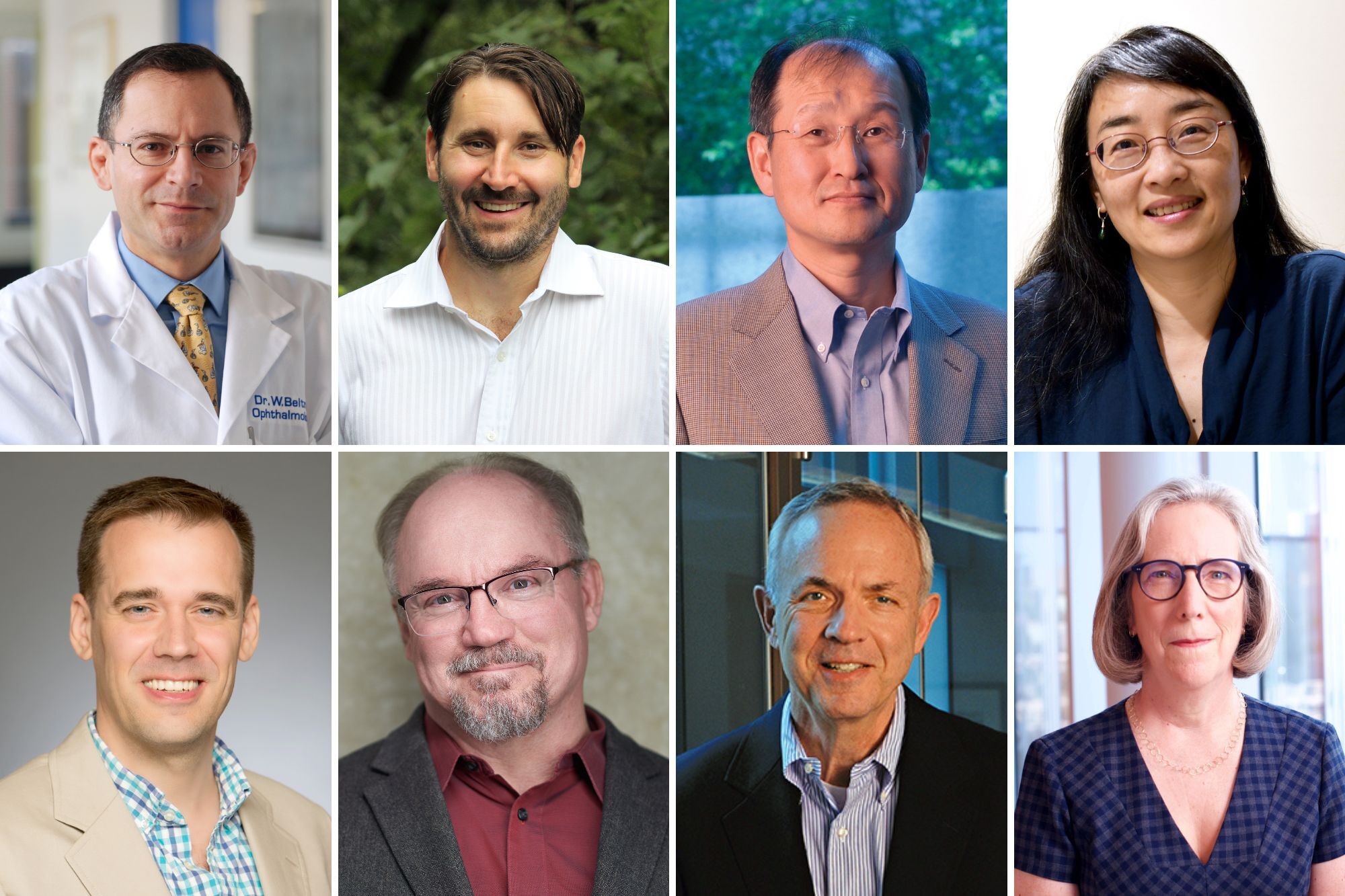 Eight faculty from four University of Pennsylvania schools have been elected 2022 American Association for the Advancement of Science (AAAS) Fellows. They are among more than 500 researchers honored for their "scientifically and socially distinguished achievements." 
Since 1874, AAAS, a scientific society aimed at advancing science, engineering, and innovation "throughout the world for the benefit of all," has annually named a class of fellows. This year, the work spans 24 scientific disciplines.
Penn's new AAAS fellows:
William Beltran is the Corinne R. and Henry Bower Professor of Ophthalmology in the Department of Clinical Sciences and Advanced Medicine and director of the Division of Experimental Retinal Therapies in the School of Veterinary Medicine. His research focuses on inherited retinal degeneration, a major cause of blindness in dogs and humans worldwide. Working in canines who suffer from forms of retinal degeneration that closely mimic human disease, Beltran has helped develop effective gene therapies with promising results for treating both early- and late-stage disease. He is the recipient of numerous honors and awards, including the ARVO Foundation/Merck Innovative Ophthalmology Research Award, Foundation Fighting Blindness Board of Directors Research Award, Pfizer Ophthalmics Carl Camras Translational Research Award, and 2019 Inventor of the Year Award from the Penn Center for Innovation. He is a fellow of the College of Physicians in Philadelphia and a member of the National Academy of Medicine and Académie Vétérinaire de France. 
Brian D. Gregory is professor of biology and graduate chair in the School of Arts & Sciences' Department of Biology. Gregory has pioneered the development and use of high-throughput sequencing and computational biology approaches to study the structure, modification, and interactions of ribonucleic acid (RNA), primarily working in plants. Elucidating the dynamics of RNA, Gregory's studies have highlighted previously unappreciated regulatory processes that affect how genes are expressed or silenced. His insights into RNA regulation have important implications in plant biology but also extend to understanding gene regulation in other species, including humans. Training students to employ new genetic and computational technologies is a focus for Gregory, who has mentored dozens at all levels, including more than 50 undergraduates in his lab. He is the recipient of a National Science Foundation Career Award, the Dean's Award for Distinguished Teaching by an Assistant Professor, and a University of Pennsylvania Department of Biology Excellence in Teaching Award, among other honors. 
Insup Lee is the Cecilia Fitler Moore Professor in the Department of Computer and Information Science and director of the PRECISE Center. He holds a secondary appointment in the Department of Electrical and Systems Engineering and in the Perelman School of Medicine's Department of Biostatistics, Epidemiology, & Informatics. His research seeks to assure and improve the correctness, safety, and timeliness of life-critical embedded systems and involves finding fundamental and practical solutions to problems of modeling, control, simulation, operation, formal design, and implementation of cyber-physical systems and internet-of-medical things. Lee is an Association for Computing Machinery (ACM) fellow and an Institute of Electrical and Electronic Engineers (IEEE) fellow. He has received the IEEE Technical Community on Real-Time Systems Outstanding Technical Achievement and Leadership Award and the ACM Special Interest Group on Embedded Systems Inaugural Distinguished Leadership Award. 
Guo-li Ming is a Perelman Professor of Neuroscience in the Department of Neuroscience and a member of the Institute for Regenerative Medicine at the Perelman School of Medicine. She received her medical training on child and maternal care from Tongji Medical University in China and her Ph.D. from the University of California, San Diego. After postdoctoral training at the Salk Institute for Biological Studies, she joined Johns Hopkins University. Research in the Ming Lab centers on understanding the molecular mechanisms underlying neuronal development and its dysregulation using mouse systems and patient-derived induced pluripotent stem cells. Ming has received a number of awards, including the Charles E. Culpeper Scholarship in Medical Science, Alfred P. Sloan Research Fellow, Young Investigator Award from the Society for Neuroscience, and A. E. Bennett Research Award from the Society of Biological Psychiatry. She is also a member of the National Academy of Medicine.
Eric J. Schelter is a professor in the Department of Chemistry in the School of Arts & Sciences. His primary areas of focus lie mostly in synthetic inorganic and organometallic chemistry to address problems in critical metals separations, develop new materials with quantum properties, understand the roles of f-elements in biology, and gain insight into their unique chemical bonding. Among his many honors, Schelter has been named a Fellow of the Royal Society of Chemistry, received the American Chemical Society Inorganic Chemistry Lectureship Award and the Anders Gustaf Ekeberg Tantalum Prize, and served as an editorial advisory board member on the American Chemical Society journal ACS Sustainable Chemistry and Engineering.
Theodore Schurr is a professor in the Department of Anthropology in the School of Arts & Sciences, director of the Laboratory of Molecular Anthropology at Penn, and a consulting curator in the Physical Anthropology and American sections of the University of Pennsylvania Museum of Archaeology and Anthropology. For more than three decades, Schurr has conducted anthropological genetics research, combining ethnographic field research with the laboratory analysis of DNA samples collected for his projects. Though his research has focused largely on elucidating the population history of Siberia and the Americas, other studies have involved populations from parts of the world such as Turkey, Georgia, Pakistan, and Australia. From 2005 to 2020, Schurr was director of the North American Center of the Genographic Project. During this time, he and his team conducted research with indigenous and native descendant populations from Canada, the Caribbean, Mexico, and the United States.
Warren D. Seider is a professor in the Department of Chemical and Biomolecular Engineering in the School of Engineering and Applied Science who has made significant contributions to the fields of computer-aided process analysis, simulation, design, and control. Seider works on phase and chemical equilibria, azeotropic distillation, heat and power integration, Czochralski crystallization, algae growth to biofuels, nonlinear control, and safety and risk analysis. He is recognized for foundational research, simulation software, teaching, and service contributions to the field of computer-aided process design and control. Seider has authored or co-authored more than 165 journal articles and co-authored several textbooks, including "Product and Process Design Principles: Synthesis, Analysis, and Evaluation," and "FLOWTRAN Simulation: An Introduction." He is a fellow of the American Institute of Chemical Engineers.
Karen I. Winey is the Harold Pender Professor in the Department of Materials Science and Engineering and the Department of Chemical and Biomolecular Engineering in the School of Engineering and Applied Science. Winey's research, which focuses on the nanoscale structures in ionomers and associating polymers to improve mechanical and transport properties, has recently reported new structures in several precise ionomers. She contributed to polymer science, particularly in the understanding and manipulation of unique polymer nanocomposites and ion-containing polymers. In addition to numerous lectureships, fellowships, and awards, she recently received the Braskem Award from the American Institute of Chemical Engineers and the Herman F. Mark Senior Scholar Award, and will receive the 2023 American Chemistry Society Award in Polymer Chemistry.