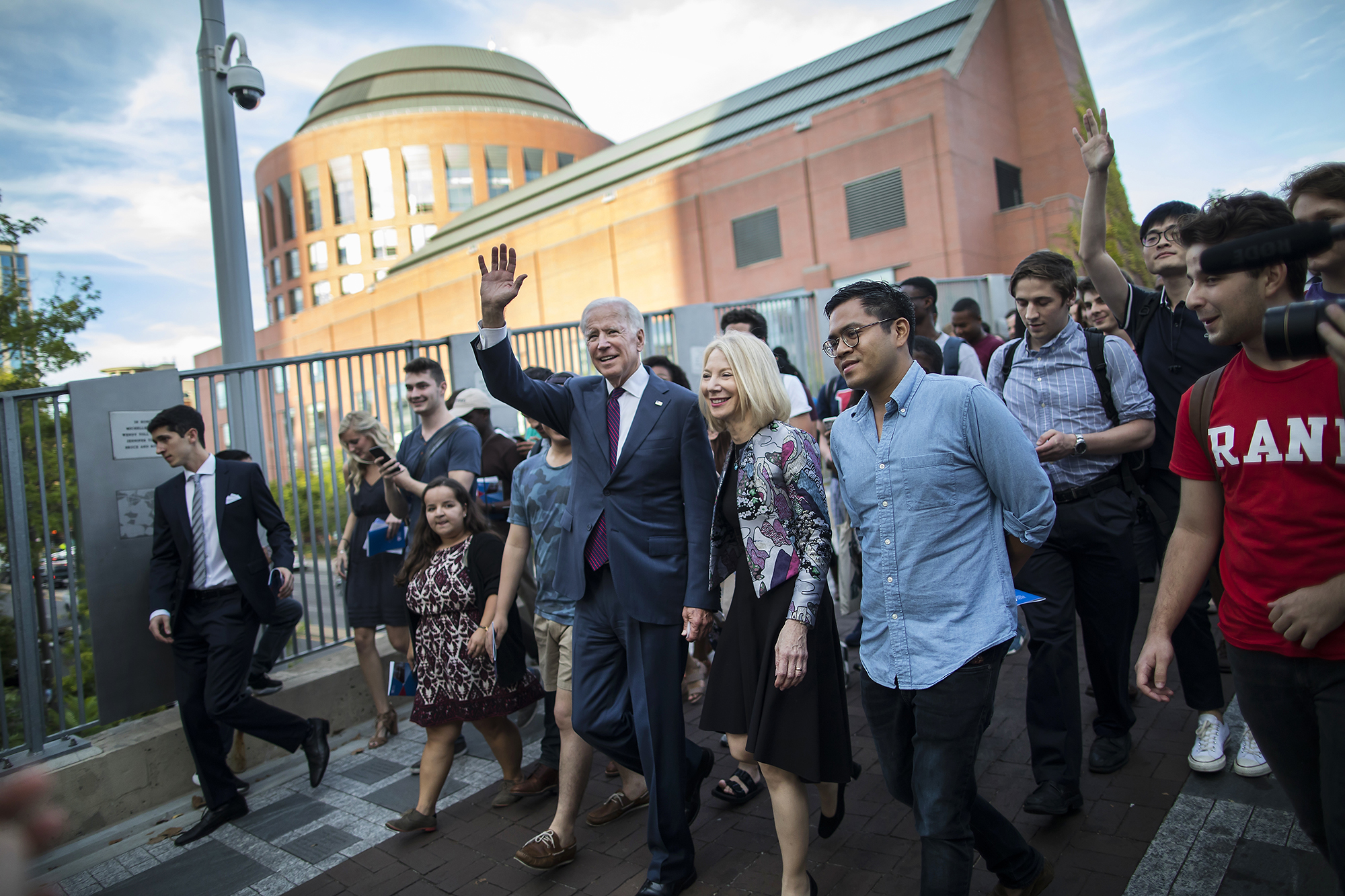 For 10 years, Nick McAndrew made Penn his home. He graduated medical school, finished residency, and simultaneously completed a fellowship and a master's degree. In his final year at the University before he headed back to his hometown, McAndrew promised himself that he'd "soak up every last bit of Penn" that he could.
So when he got word that Joe Biden, then a Benjamin Franklin Presidential Practice Professor, would visit campus in March 2018 for a special discussion with President Amy Gutmann, he knew he couldn't miss it. Little did he know the effect the experience would have, still, years later.
In conversation about Biden's commitment to accelerate cancer research, Biden looked McAndrew straight in his eyes and declared—in front of a packed Irvine Auditorium—"We're going to beat this sucker because of people like you."
"What Biden talked about that day, namely the logistical challenges to helping patients access cancer research, is something I still think about often," says McAndrew, now a full-time cancer researcher and clinician at UCLA. "It certainly has stuck with me and has inspired my work."
It is intimate, meaningful moments like these that have defined the impact that Biden, the soon-to-be U.S. President, has had at Penn. Whether he was a U.S. senator from Delaware speaking on campus about arms control, or a former U.S. Vice President and Penn professor talking about global affairs, for years Biden has shared his vast experiences with the Penn community—an invaluable opportunity for so many.
"For about two hours [Biden] spoke honestly and openly about his views pertaining to any and all of the questions posed to him," said Penn Political Union Chairman Dan Schweitzer in a 1985 The Daily Pennsylvanian article about one of the then-senator's visits. "He didn't pull any punches and was very candid."
Gutmann, who on behalf of Penn Trustees awarded Biden an honorary degree from Penn in 2013, and often opened her campus talks with Biden by describing him as "one of our nation's foremost statesmen," says having him on campus was always a tremendous prospect for learning and education.
"Every time Joe Biden, who on Wednesday will become our 46th U.S. president, visited campus, he brought forth endless expertise on a wide variety of topics—from international affairs and domestic politics to immigration policy and cancer research, and so much more," Gutmann says. "In addition, his unmatched personal connections with global leaders made our mission to bring the world to Penn and Penn to the world even stronger."
Across the board, students, faculty, and staff alike took note of Biden's call for collaboration. He would often say, as he still does today: "All politics are personal."
"Joe Biden's distinguished career of service has been guided by his unique capacity to bring people together to make progress, an attribute our country needs now more than ever," says Penn Provost Wendell Pritchett. "He made a point of emphasizing this quality to Penn students when he spoke to them."
Pritchett adds that Biden often conversed with the Penn community at tipping points, "when their faith was shaken," by the actions of our leaders, of our institutions, of our democracy, and of our fellow Americans. "Biden would encourage them to engage rather than turn away," Pritchett recalls.
"Don't tell me the American people can't handle this," Biden told students in 2017. "This is not a time to be down, this is a time to jump in."
In recent years, Biden headlined important campus events including three David and Lyn Silfen University Forums. Biden also was a force behind happenings such as the Penn Biden Leaders Dialogues, which in 2018, as part of the Perry World House Global Order Colloquium, featured Rt. Hon. Sir Nick Clegg, the former deputy prime minister of the United Kingdom, and in 2017 featured Felipe Calderón, the former president of Mexico.
Recalling the event with Calderón, Amy Gadsden, Penn Global's associate vice provost for global initiatives, remembers fondly Biden's statement when he noted all international Ph.D. students should earn Green Cards with their diplomas. "We want you to stay," he told international students in the audience, which erupted in applause.
"I have echoed that comment to many since," says Gadsden. "That really was quite inspiring at a time when we were having a lot of challenges around immigration and international students and international mobility."
In addition to frequent talks on campus, Biden, throughout the past four decades, was seen and heard giving college and University-wide Commencement speeches at Penn, kicking off the national Cancer Moonshot program at the Abramson Cancer Center, and most recently opening a center that dons his name focused on diplomacy and global engagement in Washington, D.C. Biden would take trips to campus on Election Day to encourage students to vote, stroll down Locust Walk and pose for photos with all who asked, and even pop into classes on the fly.
"A visit from Joe Biden always stirred such excitement; you could feel it," says Gutmann. "Friendly and approachable, he would walk the length of campus—often from Irvine Auditorium to Perry World House—with students at his side. People would come from all over to see him and take a picture, and were sometimes surprised when instead of saying 'thank you' and moving on, he'd ask them where they're from, what they like to do. His curiosity in each person within the Penn community was meaningful and real, and is a great testament to his character, his impact, and undoubtedly the way he'll approach governing our nation."
Michael Horowitz, director of Perry World House, remembers when Biden stepped "off the cuff" into a class that was meeting in Perry World House, where he was attending an event reception. The students were discussing American military intervention in the Bosnian War in the mid-1990s, something Biden had a unique, personal—and passionate—account of.
"He spent 20 or 30 minutes with the class," Horowitz recalls. "It just shows how generous he was with his time and how excited he was to engage with students."
The Penn Biden Center for Diplomacy and Global Engagement, which officially opened in 2018, has become the University's home in Washington, D.C., just steps from the nation's Capitol Building. It's grown into a site for debate and discussion, especially for those involved in foreign policy.
"I want this Center to be a gathering place," said Biden, back when it opened. "I want this to be a place where ideas are exchanged, where people come and disagree with us, as well as agree with us."
Mariana Velasco, a junior from Guadalajara, Mexico, in the Huntsman Program in International Studies and Business, was a sophomore when she first got to visit the Penn Biden Center with a group of 18 other Penn World Scholars.
"As an international student I always wanted to get the broadest perspective about policymaking, and visiting the Penn Biden Center was an incredible opportunity to do so," says Velasco, who added how the experience inspired her to pursue a leadership career in foreign service. "We got to talk directly and openly with people that are actively working on the public side of things."
Gadsden notes the caliber of foreign policy experts that Biden attracted to the Penn Biden Center, notably Antony Blinken, Michael Carpenter, and Jeffrey Prescott. Prescott, who served as a senior fellow of the Penn Biden Center, joined as a guest speaker in one of Gadsden's classes on U.S. and China policy.
Biden's family, too, has a long affiliation with Penn. His late son Beau, daughter Ashley, and granddaughter Naomi are all Penn graduates. His wife, Jill Biden, a lifelong educator, also has been connected to Penn, traveling to Philadelphia and the University's campus for events such as Penn Graduate School of Education's "Extraordinary Impact" kickoff campaign in 2018, and in 2012 visiting the School of Nursing with First Lady Michelle Obama for their Joining Forces initiative.
"Joe Biden has remained tied to Penn for so long, I think it speaks to how he views Penn and what kind of place it is," says McAndrew. "I think one instance that really speaks volumes is when right after President Obama charged Biden with the Cancer Moonshot initiative, the very first place he visited was Penn. That tells you right there where Biden thought that he needed to go to get the best perspective on cancer research. He went to Penn, and he got right to work."
"You're on the cusp of some breakthroughs," Biden said back in January 2016, as he met with Penn Medicine researchers including Carl June and Bruce Levine, who took Biden on a tour of the research hub that serves as the epicenter of the now FDA approved CAR T cell therapy program. "In my terms—not your medical terms—we are at an inflection point in the fight against cancer."
McAndrew, who had the opportunity to chat with Biden one-on-one after the event in 2018, says he took particular note of not only Biden's sincere interest in cancer research, but also his nuanced understanding.
"He showed that he gets it and he cares, and that just really impressed me," McAndrew says. "The fact that we're going to have someone now leading our country who really gets cancer research to that degree is just really, really exciting to me."
Laura Perna, Penn's Vice Provost for Faculty, says she thinks and hopes that Biden is "the type of leader that can help bring people together."
"We've gotten to a point now where the state of civil discourse around differences is at a low point," Perna says. "We've got to figure out a way to have people come together even if they disagree to somehow reach compromise and create the positive policy changes that we need."
Perna, whose academic research examines the ways that social structures, educational practices, and public policies promote and limit college access and success, particularly for groups that continue to be underrepresented in higher education, has her sights set aptly on Biden's forward-thinking education plan.
"We need to think about things differently, because what we are doing right now is not enough," Perna says.
A belief that became exceptionally clear through Biden's regular teachings while at Penn, Perna says, is his deep commitment to public service, and his confidence in the role of policy as a mechanism to create positive societal change.
"And I think that's really inspiring," Perna says. "We need change."