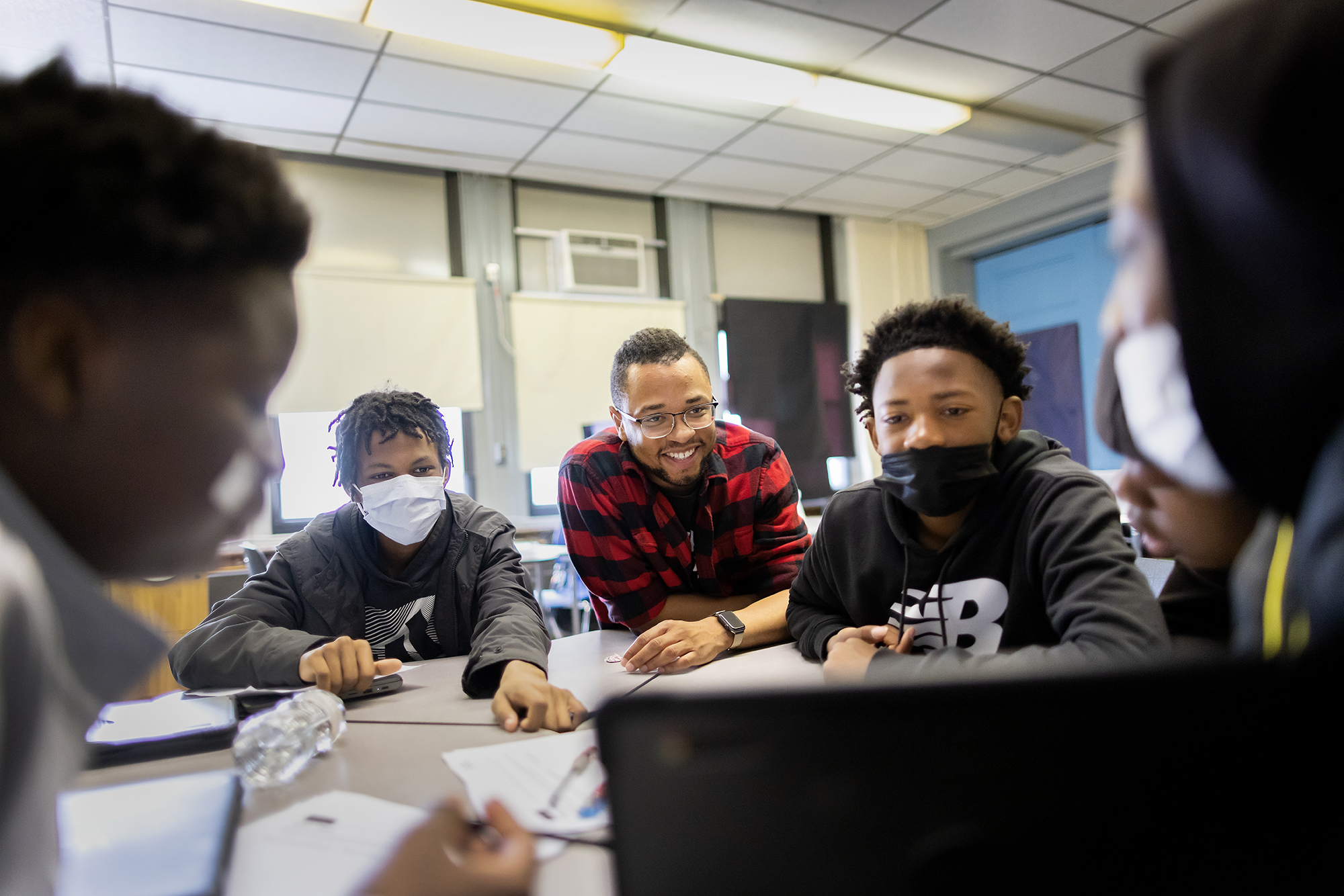 As a 16-year-old Philadelphia public high school student, Tamir Harper came to the University of Pennsylvania for a workshop on the future of education and met Pam Grossman, dean of the Graduate School of Education.
"I remember telling her, I'm going to get a Ph.D. from Penn," says Harper, who was invited to the workshop as co-founder of a nonprofit to advocate for student-centered urban education. "She said, maybe you would want to teach a little bit beforehand, and maybe you would want to get your master's degree, and ever since then, it has been a dream to attend Penn GSE."
Grossman remembers that day, too. "I said, if you want to be a teacher, you have to come to Penn GSE," she says. "I was so thrilled to see his application."
Harper has completed his first year in GSE's Urban Teaching Residency Program, working full-time teaching eighth graders English and social studies at the Henry C. Lea School, a K-8 public school in West Philadelphia. He plans to return to Lea in September, and graduate from the two-year GSE program in May 2024 with a master's degree in education and a teaching certificate. Then he may pursue that Ph.D. in education.
Harper finds himself in a rare position. In the United States, Black male teachers made up only 1.3% of all teachers in grades K-12 in the 2020-2021 school year, according to data from the National Teacher and Principal Survey.
New research by the Penn State Center for Education Evaluation and Policy Analysis, as reported in The Philadelphia Inquirer, concluded that 7.7% of the Pennsylvania teaching workforce left their positions from 2021-22 to 2022-23, the highest-ever attrition rate on record. Black male teachers were leaving at the highest rate of all, 18.1 percent. And Philadelphia's attrition rate overall, at more than 15 percent, was the highest in the state.
On top of that there is an overall teacher shortage, with the number of new-teacher licenses in Pennsylvania hitting record low numbers in recent years.
What it is like to be a Black male educator today? "Truthfully, it's exhausting sometimes. It is a lot of pressure," Harper says. "But it is an honor. Students from my city deserve to have Black men in front of them every day to show them what's possible," he says. "And we're going to be part of that profession, to reimagine it, and reshape it, and ensure that Black men are able to have education as a home in the future."
Increasing representation
In thinking about the teaching workforce, an important consideration is "to what extent the representation of teachers of color matches the students of color in the schools," Grossman says. In many schools, there is a "fundamental mismatch between the racial composition of the teachers and the racial composition of the students." Research shows that having a teacher of your own race is very helpful in learning, so the fact that many young Black male students never have a teacher who looks like them "is hugely problematic," she says.
"How can we diversify the teaching workforce? And how we can we particularly focus on getting more Black males into the profession to support all of the students who are looking for role models?" Grossman says. "For multiple reasons, it's really important to increase the representation of Black males in the teaching workforce."
One way GSE is facing the challenge is with its three teacher education programs, one of which is the Urban Teaching Residency program, an alternative model of teacher education that has proven to be an effective pipeline, Grossman says. The Urban Teaching Residency program incorporates students as full-time teachers in Philadelphia public schools, including Lea, allowing them to gain classroom experience and earn salaries while earning master's degrees and teaching certifications.
Harper says teaching at Lea made it possible for him to pursue the graduate degree. "I'm a first-generation college student. I couldn't just go get a master's and not work," he says. "And I can apply what I'm learning every day in a master's program into my craft and art and science of teaching my eighth-grade students."
In addition, Harper is pursuing a dual certificate: to teach English to grades 7-12, as well as certification in special education. An important element of the Urban Teaching Residency Special Education program is VAST LIFE, which pairs high school students who have significant development and intellectual disabilities with Penn graduate students on Saturday mornings.
But, he says, managing all of these responsibilities has been tough. "It is definitely sometimes two full-time jobs," he says.
Contributing to the conversations
Patrick Sexton, executive director of the teacher education programs, says while Penn GSE isn't set up to fill the gap by producing teachers, "we can play to our strengths. We can do research. We can build models. We can support policy change at the local, state, and national level."
For example, research at GSE has led the way nationally with the work of Richard Ingersoll on the changing demographics of the teacher workforce, and with Grossman's work on teacher quality.
In Pennsylvania there is proposed legislation that would boost scholarships for all students in teacher preparation programs, Sexton says. Originally the support was proposed for only state schools, but he argued in a letter to lawmakers that students in all teacher education programs should benefit. "That's a much wider breadth of impact," Sexton says.
Sexton points to GSE's Urban Teaching Apprenticeship Program, which allows students to get classroom experience, assisting as a student teacher without the full responsibility for the class.
"They're actually providing educational services to kids every day, but they're not the single person in charge of this classroom and these kids," he says, which makes their own learning easier to manage. Students in that program are unpaid, so financial support like the state scholarships are essential to attracting applicants.
Scholarship support is important to Grossman, who introduced need-based aid during her eight-year tenure. The average award grew by 50 percent during that time, and GSE's investment in total student aid has more than doubled.
The third teacher education model is the Independent School Teaching Residency, an executive format program that enables students to earn a master's degree in education while completing an intensive teaching fellowship at a partner independent school in the United States, with on-site sessions in combination with collaborative online learning.
Penn GSE also is offering support in models for teacher development, says Ed Brockenbrough, GSE associate professor and Calvin Bland Fellow. What is needed is "to try to create spaces where Black male teachers can see other Black male teachers and feel a sense of community," says Brockenbrough, who started a Facebook group and has led workshops for Black male educators.
Black male teachers are frequently assigned discipline-related responsibilities such as assistant principal or disciplinary dean, says Brockenbrough. In a more informal way, other teachers will turn to them for help in dealing with their students, even going so far as just dropping the Black students off in their classrooms, he adds.
"One of my concerns with efforts around recruiting Black male teachers is that the call is based in a patriarchal notion of the Black man as an authority figure, a father figure, one who can control the classroom, as a model for Black boys," says Brockenbrough, author of the 2018 book "Black Men Teaching in Urban Schools: Reassessing Masculinity," and the upcoming book "Learning While Black and Queer: Insights and Strategies for Secondary Education."
The toll that that takes on the teachers must be considered, he says. "The Black male teachers I've worked with frequently talk about just getting burned out, spending a big chunk of their time addressing discipline issues," Brockenbrough says, often asked to take a punitive approach rather than restorative practices. "It just puts a Black male face to a system that disproportionately suspends and expels Black kids, particularly Black boys."
Schools need to create a "space where they can be fulfilled, supported, revived, allowed to be human," Sexton says, or it will continue to be difficult to retain those teachers. "Anyone who sees themselves as alone, or one of the few, is going to have a harder time carrying the load."
Says Sexton: "We cannot expect our teachers to be on the level of superheroes."
Transitioning to a new role
In September, Harper's job at Lea will change. He will no longer be a full-time classroom teacher because he will move into the student support position of climate manager. He says he hopes to continue teaching an elective class on government and social justice.
If people are going to stay in the profession, Grossman says, "we're going to have to do something about paying them for the value that they provide to our society." Teachers' salaries have not kept up with inflation, she adds.
In fact, Harper chose to take the new leadership position at Lea because it paid $20,000 more than his role as a classroom teacher. "It is no secret that we have to pay teachers a lot more," he says.
The climate manager position was established this year, says Lea Principal Aaron Gerwer, as the school's "lead for student culture and supporting our students in citizenship skills," working to build a common culture with students, staff, and families that centers "student joy and responsibility," what he says is "a must" moving forward.
"Mr. Harper's time teaching eighth-grade students literature and social studies was transformative and when he expressed excitement about this role and laid out his ideas and vision for the position, we knew that he would be the ideal person to lead this work," Gerwer says.
Harper describes his new leadership role as one that supports teachers by having "restorative conversations and relationships" and emphasized that he does not plan to take a punitive approach.
"Since the majority of our students are Black it is crucial that educators represent them and serve as an example for their own possibilities," Gerwer says. "It matters deeply that a teacher has had similar experiences and has had to navigate white supremacy and the oppression that it engenders in a way that many of our students have to."
Philadelphia born and raised
Growing up in southwest Philly, Harper decided to become a teacher when he was a student at the Science Leadership Academy, a Philadelphia public high school. He pieced together the inequities in education through his own journey, questioning the system, he says, including the scarcity of Black male teachers.
Even though Harper had "many phenomenal, dynamic, and brilliant Black women" as teachers, his first Black male educator was Matt Kay, his ninth-grade English teacher. "It was transformative," Harper says.
In addition to meeting Grossman while in high school, he also met Jessie Harper (no relation), now GSE's assistant dean for faculty affairs and diversity. He observed her class on the school-to-prison pipeline, accompanying a student teacher at his high school.
"I can't really stress enough how important representation is," Jessie Harper says. "It is just essential to be able to see yourself. And what goes along with that is not just seeing yourself, so that you can more fully imagine what could be, it is actually to have mentors that continue to encourage you."
Tamir Harper earned his bachelor's degree in public relations and strategic communications, with a minor in education, from American University as a Frederick Douglass Distinguished Scholar, on a full academic scholarship.
"I think Tamir, having grown up in Philadelphia, having gone to Philadelphia schools, can build a relationship and a connection to students that is very important," Grossman says. "He also becomes a role model of somebody who went on to college and has now come back to graduate school here at Penn and shows students a pathway forward."
Launching a career
Harper has had his share of first-year teaching challenges. "I think it's accepting that you won't get everything right. It is OK to make mistakes, but it is what you do after you make those mistakes. My students will hear me apologize a lot," he says. "It is learning and absorbing all of this information and giving yourself grace and giving your students grace."
The model for him is his experience at the Science Leadership Academy. "Project-based learning, student voice, student access, student equity, a student-centered approach to even how we identify what we do," Harper says. "I don't teach just social studies, reading, and writing. I teach eighth grade students. It is making sure that the students come first in everything we do in the work that we do here in schools."
To him, teaching is a form of social justice, he says, a way to influence the next generation "to be independent thinkers and advocate for what they believe in."
Harper says it "means the world" to him to teach in the school district and neighborhood where he was raised, and remembers the teachers who pushed and supported him. "It allows me to build relationships in our school, knowing I'm from the same neighborhoods and come from the same educational background."
"We're thrilled that his students have the opportunity to learn from him, that he has an opportunity to learn with us at GSE, and also at this school in West Philadelphia," Grossman says. "Our goal is really to help him grow."
Harper has not yet decided his long-term future, but he says he plans to stay in education. "I don't know what my trajectory will be," he says. "Maybe I will be able to be the principal one day of Henry C. Lea, or maybe one day I will be the superintendent of the school district that raised me and made me who I am today."