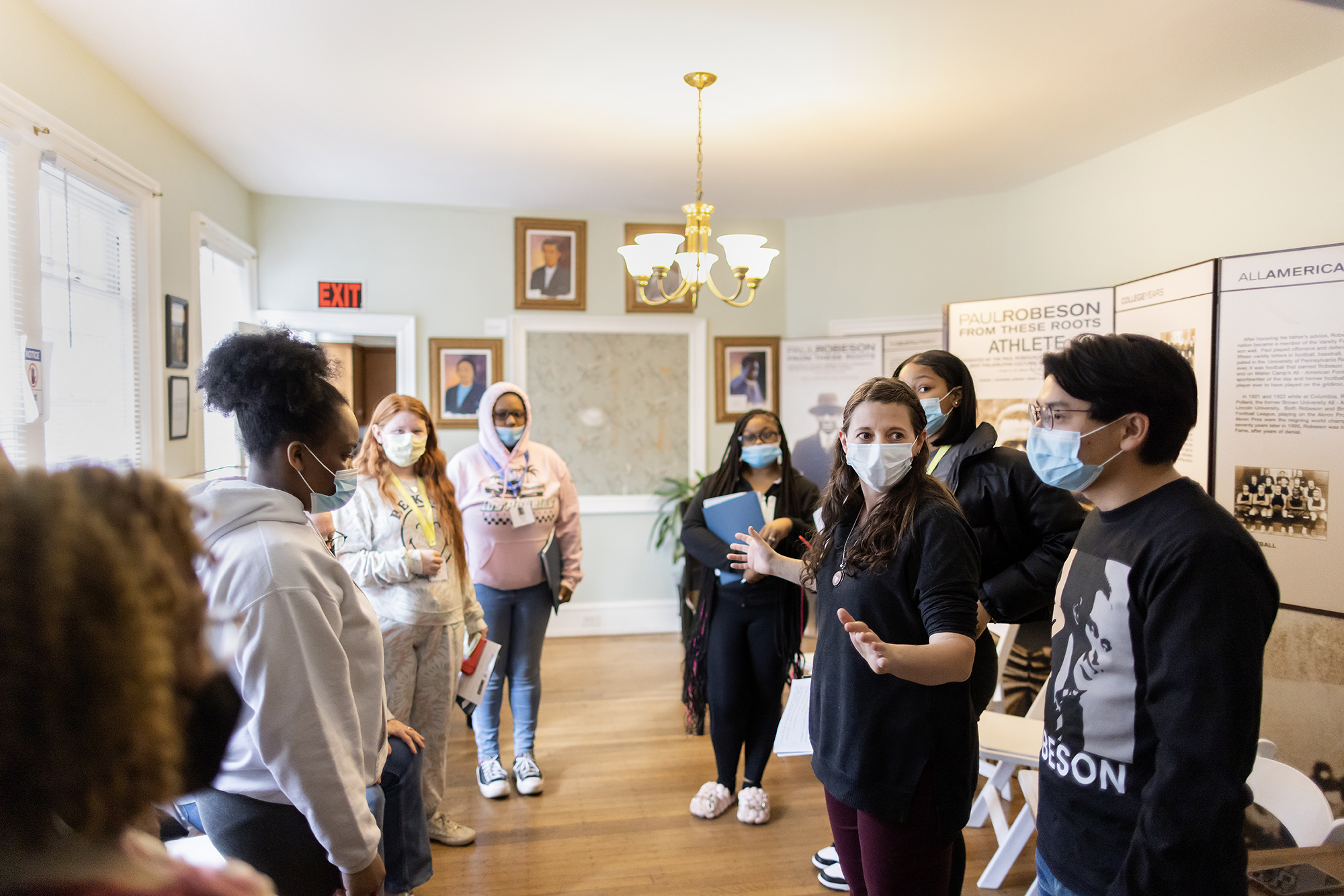 In many ways, the Paul Robeson House & Museum is suspended in time. The dining room wallpaper is mint green and floral-sprigged; the kitchen is original to the 1950s; the bedroom overlooking 50th Street has furniture original to Robeson's time in the house. 
It's a shrine, a monument to the man it's named for: Paul Leroy Robeson, whose image shines through the stained glass and whose legacy as an athlete, actor, singer, and activist is an American story of success, adversity, and suppression. Here to bring this story into the 21st century are The Young Informants, a handful of ninth-graders from Paul Robeson High School, who are training to become youth docents with the help of Robeson House staff and the Netter Center for Community Partnerships. 
The idea to collaborate came from the Paul Robeson House and Museum, says Suzana Berger, the director of arts, culture and humanities partnerships for University-Assisted Community Schools at the Netter Center. The museum's late founder, Frances Aulston, wanted to have youth leading tours and interpreting the material so that they could then communicate why Robeson's story is meaningful, says Berger. 
"Knowledge is powerful," says Janice Sykes-Ross, the museum's executive director. "We saw transformation in the students from shy and timid to boisterous and empowered, thanks to all the training and preparation from our senior docents, Terry Guerin, Joyce Mosley, and David Merrill."
Robeson High School is one of the Netter Center's University Assisted Community Schools (UACS). Says Berger, "We have the infrastructure and relationships to engage students in many different opportunities, during school and after school. So the youth docents program was a natural fit."
Learning about the singer, actor, and activist
Ninth-grade English classes at Paul Robeson High School already integrate curriculum about the activist, says Gloria Cheely, 16. Before those lessons, Cheely says she hadn't heard of Robeson.
While he was born in 1898, just one generation away from slavery, some aspects of Robeson's life resonate with a younger generation. Cheely likes "how he was an activist, how smart and good he was and did stuff for other people."
"I like his song, 'Old Man River,'" she says, Robeson's iconic bass solo in the 1936 film "Showboat." "I like his voice. It makes me feel heavy. I feel like I never heard anyone sing like that before. It was so deep."
The original lyrics featured a racial slur, which Robeson successfully advocated to omit, changing the word to "darkies." Robeson would alter the lyrics further in his recital performances. "Get a little drunk and you land in jail" became "show a little grit and you land in jail," highlighting the perseverance of Black Americans rather than a soft-shoeing stereotype.
"Through my singing, acting, speaking, I want to make freedom ring," Robeson said. 
In later years, Robeson was persecuted for his outspoken advocacy. He was called before the House Un-American Activities Committee for his refusal to sign an affidavit swearing that he was not a Communist, an interaction that the Young Informants role-play in their tour. In response, Robeson was blacklisted and his passport was taken away.
"He persevered in a lot of the things he did, despite people hating him and getting death threats," says Georgia Rowe. Rowe, 17, decided to sign up for the program "to learn about someone new and have an opportunity to learn about how jobs work," she says.
"I'm trying to also be a lawyer," something Rowe says is her mother's idea. "Maybe it's because I'm always trying to fight for people who deserve better." 
She's shy, but working on her delivery. "I think the more I do this, I'll get better and get confident," Rowe says. "As a lawyer, we do need to be loud."
Rowe is concentrating on the first floor of the Paul Robeson House Museum, discussing Robeson's birth and early life in his parlor and kitchen and his attendance at Rutgers University, where he tried out for the football team. Robeson's teammates broke his nose and dislocated his shoulder, Rowe says. Robeson, the only Black man in his class, ultimately made the team, was twice-named all-American, and was elected class valedictorian.
From rehearsals to the 'stumble-through'
The Young Informants come to the museum every Tuesday and Thursday, rounding the corner from Ludlow Street to Walnut and walking nine blocks to 50th Street. The original house, where Robeson lived from 1966 to his death in 1977, is adjoined with a twin, which houses administrative offices and a meeting room, where the students decompress with snacks before getting to work.
They've been rehearsing with the docents, learning about Robeson's life, with each of the five high school students tackling a designated area of the house. 
Berger's background is in theater directing, and she orchestrates their first run-through as she would a production. She's kinetic, energizing, expressive with her eyes and encouraging with her voice. "In the theater, we call this moment in our rehearsal process the stumble-through, because it's the first time we're putting the whole thing together," Berger tells the students. "So it's OK if there's a stumble, or many stumbles. The goal is to go from beginning to the end, so that we all understand what that whole journey looks like."
Kellece Perren has claimed a corner of the front room dedicated to Robeson's wife, Eslanda "Essie" Cardozo Goode Robeson. She graduated from Columbia University with a degree in chemistry and—"little side note"—Perren tells the audience, "because she was a chemist, she would make her own gin in the bathtub. And so that's dope," she says over laughter. 
Perren goes on to relate Eslanda Robeson's accomplishments: She was the first woman and first woman of color to head a pathology laboratory before quitting to become Robeson's agent and manager. Eslanda Robeson encouraged her husband, who earned a law degree from Columbia, to make a career in the arts. "She also encouraged him to learn more about Africa and colonialism and to not just be an advocate for Black people in America, but for Black people all around the world," Perren says. 
She was a very good wife, Perren says. "She always supported him, even through the little scandal when, you know, Paul was being a little sneaky," she says, referencing Robeson's extra-marital affair. "And I feel like she doesn't get the recognition she deserves. I mean, we're standing in a little tiny corner of this house. 
"We're gonna fix that," Sykes-Ross interjects.
"She's not even known as herself. She's known as his wife," Perren continues. "And I think that just shows like, even though Paul went through a lot, he still got a little bit more privilege because he was a man. … I feel like she was also a very talented, very accomplished woman. And I feel like I'd like to learn more about her."
Becoming confident docents
The program encourages this kind of interpretation. Supported by The Netter Center and the Sachs Program for Arts Innovation, it includes stipends for each high school student as well as funding for the Paul Robeson House and Museum. The students also conducted a marketing workshop with LaNeshe Miller-White, executive director of Theater in the X, where they coined a name for themselves: The Young Informants. "They wanted it very clear that they are young people," Berger says.
"I am constantly learning from the Young Informants about what is interesting to them, what matters to them," Berger adds. "It really matters to them that people understand who Paul Robeson was and what he fought for. It matters to them that other young people know that. They have expressed some frustration that Paul Robeson came before some leaders who are very well-known and said that Robeson's work made it possible for civil rights leaders to lead."
"I've seen the evolution of these young women," says Sykes-Ross. "They interjected some things into the tour that you didn't expect." 
By the June 1 debut for family and friends, Rowe's delivery is confident and self-assured, inviting her audience to pick out their favorite Robeson image. "Personally, I like that photo of him holding a football," she says. "You can see the passion in his face, and he's almost proud, in a way. He's determined in what he has to do."