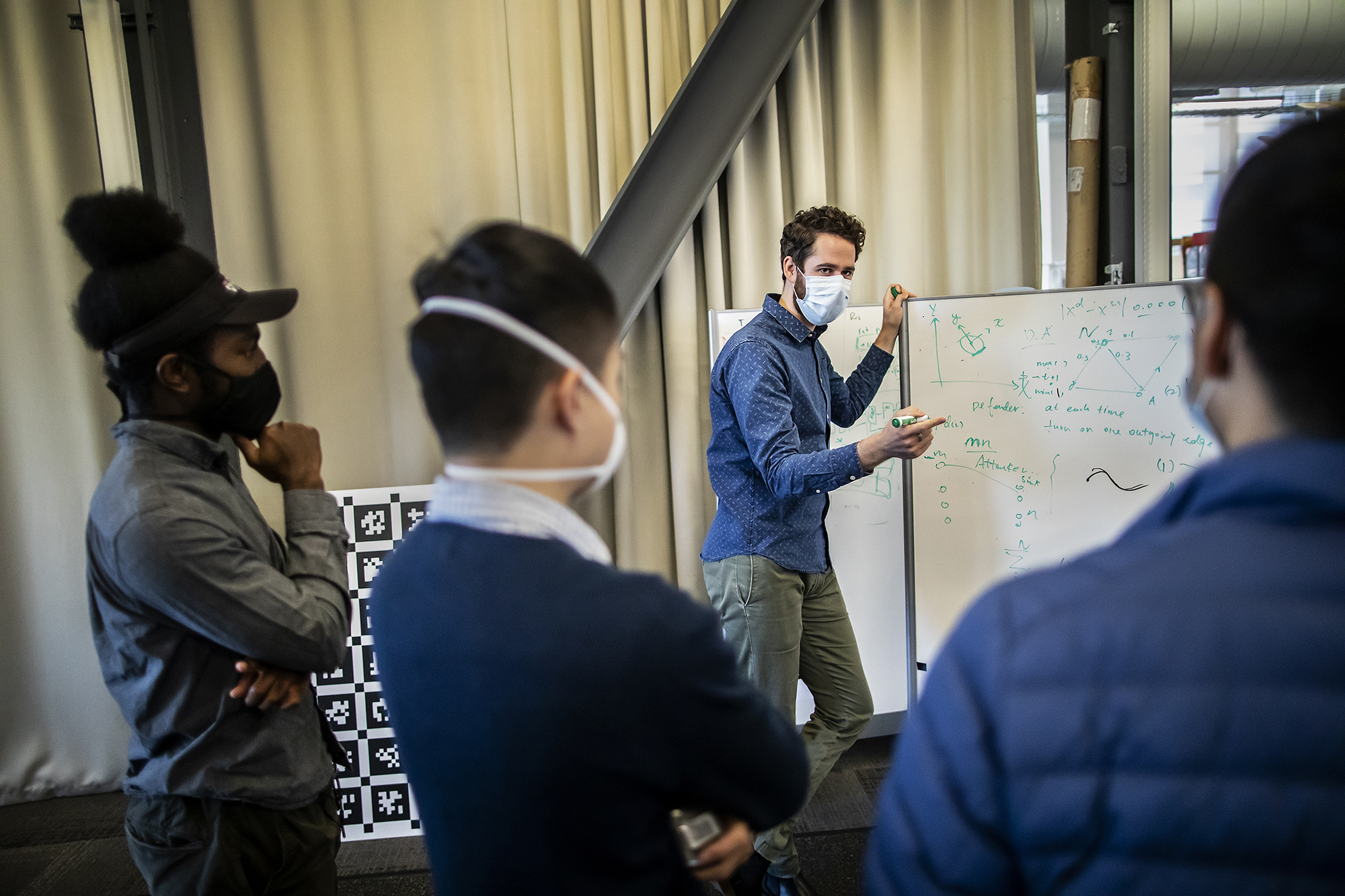 Five years ago, President Amy Gutmann officially opened the University's "iconic new landmark" Pennovation Center, a facility designed to align researchers, innovators, and businesses for the commercialization of discoveries. Since its opening, Pennovation Center and the surrounding 23-acre Pennovation Works campus have been an essential part of Penn's goal of connecting entrepreneurs with world-renowned experts and state-of-the-art facilities. 
"Innovation at Penn is skyrocketing today with an ecosystem that strategically fosters bold new discoveries across boundaries. We built the Pennovation Center—right at the heart of our new Pennovation Works campus—to speed bringing transformational discoveries into the world," says Gutmann. "Since its opening, this remarkable, state-of-the-art space and its exceptional occupants have had a profound positive impact in Philadelphia, our nation, and beyond. The best part? There is so much more to come."
Penn Today shares some key milestones from the past five years, including how the campus has evolved, highlights of its innovative research and commercialization activities, and provides a glimpse into its future.  
On the ground
Located on Grays Ferry Avenue along the southern banks of the Schuylkill River, the three-story, 58,000-square-foot Pennovation Center building integrates wet and dry labs with offices, common creative spaces, and venues for events and programming on its first two floors. The facility also includes a full service business incubator, PCI Ventures, along with inventor garages and a coworking space operated by 76Forward (formerly Ben's Desk). The Pennovation Center was recognized with numerous design awards for its striking architecture and was also awarded Gold LEED status for its adaptive reuse and energy-conscious environmental design. 
The newest addition to the campus is the 65,000-square-foot Pennovation Lab Building, a multi-tenant laboratory and office building opened in the past year on the Pennovation Works campus. This new facility is designed for companies that are looking to expand their footprint and also allows entities already on site to grow in place. One example is Interius BioTherapeutics, a biotechnology company that began its journey in an inventor garage in the Center before expanding into a 17,000 square-foot space in the Pennovation Lab Building in a matter of months. 
Wide-ranging research initiatives
Situated on the third floor of the Pennovation Center is the Penn Engineering Research and Collaboration Hub (PERCH), a facility for conducting fundamental research on robotics, embedded systems, Internet of Things (IoT) and other emerging domains of science and engineering. Currently, groups from the General Robotics Automation Sensing and Perception (GRASP) Lab, Penn Engineering's interdisciplinary academic and research center and a premier robotics incubator, are housed in this space. This includes faculty, staff, and students from the Kod*Lab, Kumar Robotics, and the ModLab. 
Penn Vet's Working Dog Center (WDC), led by Cynthia Otto, was launched in 2012 to facilitate research on and development of detection dogs. The WDC has called the campus home before it was formally known as Pennovation Works and later expanded its footprint with indoor and outdoor spaces for housing and training. The program's canine alumni have gone on to a wide range of careers, with trainers welcoming the program's 100th puppy back in 2019. 
Penn Dental Medicine's Henry Daniell has also been working at this site since late 2013, where he and his team grow genetically modified plants that produce biomedical proteins in a highly specialized greenhouse. With a focus on making low-cost and shelf-stable drugs and vaccines, Daniell's group has made progress in developing effective plant-based therapeutics for a wide range of diseases, from a plant-based polio booster to hemophilia treatments. 
Unique research spaces on the Pennovation Works campus include (top left, clockwise) a "smart aviary" run by Mark Schmidt to study brown-headed cowbirds with the help of machine learning, a specialized greenhouse run by Penn Dental Medicine's Henry Daniell, Penn Vet's Working Dog Center led by Cindy Otto, and an experimental orchard used by Paul Schmidt to study fruit fly evolution.
Other unique and innovative research spaces on the Pennovation Works campus include a "smart aviary," a behavioral research facility run by Mark Schmidt to study brown-headed cowbirds with the help of machine learning, and an experimental orchard used by Paul Schmidt to study fruit fly evolution. 
Innovative startup portfolio
Thanks to its strategic location within the Lower Schuylkill Innovation District and a distinctive blend of offices, labs, and production space, 70 companies currently call the Pennovation Works campus home. These include companies with a Penn faculty or alumni connection, including Cocoa Press and InnaMed, as well as a range of external companies that are establishing their roots in Philadelphia, such as Verge Aero and Netronix.  
Pennovation Center also supports winners of the President's Innovation Prize (PIP). Since 2016, this award helps graduating seniors envision and implement an innovative, commercial venture that makes a positive difference in the world. PIP winners receive free space in the Center for one year as well as guidance from staff at the Penn Center for Innovation.
Recent PIP winner Mobility Health, as well as PIP alumni Strella Biotechnology and Avisi Technologies, currently work out of the Pennovation Works campus. 
Corporate connections in the community
In November 2018, the University announced a partnership with Johnson & Johnson Innovation and launched JPOD @ Philadelphia, a first-of-its-kind a networking hub for connecting regional innovators to the J&J Innovation and JLABS network. 
Since then, the full-service business and technology incubator has successfully mentored a number of early-stage healthcare technologies developed in Philadelphia, including Chip Diagnostics, the winner of the JPOD @ Philadelphia QuickFire Challenge Award in 2019. 
Several years ago, Qualcomm Research Philadelphia established its regional headquarters at the Works after acquiring a Penn spinout. This growing team of researchers and engineers continues to work on site today on research, development, and commercialization of leading-edge technology for aerial vehicles and robotic systems. 
Events, training, and engagement
While many in-person events and activities have been moved online due to COVID-19, Pennovation Works has historically been a hub for presentations, social events, and demonstrations, with programming planned in coordination with 76Forward and PCI, which recently facilitated a record-breaking year fostering commercialization.  
Highlights from before the pandemic include celebrating the first year of its JPOD program, discussing the future of technology and healthcare, and hosting the citywide technology showcase known as Philly Tech Week. Representatives from Pennovation Works have also been regular attendees of the annual South by Southwest conference. Collaborations with the community have been exhibited through hosting of an annual concert, the Philadelphia MakerFaire, as well as a Grays Ferry Job Fair.  
Since 2018, the Pennovation Accelerator, a six-week summer program presented by Pennovation Center, PCI Ventures, and 76Forward, has supported Philadelphia's entrepreneurial community through training, mentorship, and networking opportunities. The Accelerator maintained momentum during the pandemic, with a pivot to an online format in 2020, while this year's program focused on technologies that have positive environmental impacts. 
To celebrate its 5-year anniversary and showcase the Pennovation Works ecosystem, there are a number of "Power of Pennovation Works" programs happening this week. On Tuesday, Nov. 9, there will a discussion with Managing Director Anish Kumar as part of the Innovation Speaker Series hosted by Penn Center for Innovation and Penn Engineering. On Wednesday, Nov. 10, is a company showcase featuring presentations by five businesses from Pennovation Works and affiliated programs, and on Thursday. Nov. 11. there will be a panel discussion focused on research, development, and commercialization at the campus. These virtual events are open to the public. 
Looking forward
Pennovation Works has grown into a vibrant community of researchers, entrepreneurs, and established businesses, flourishing with nearly 400 people connecting on-site daily. With approximately 250,000 square feet of wet lab, office, flex, and makerspace currently occupied, the long-range master plan for Pennovation envisions nearly two million square feet of development on the campus over the next 20 years.   
"The future of Pennovation is bright. The development of the Works ecosystem over the past several years marks a milestone in Penn's innovation legacy and fuels the region's economy," says Pennovation Works Managing Director Anish Kumar. "We will continue our community growth and commercialization support by proactively anticipating the needs of our innovators and finding creative ways to provide the necessary resources on our campus, where ideas evolve into new products or services that improve lives and positively impact society."