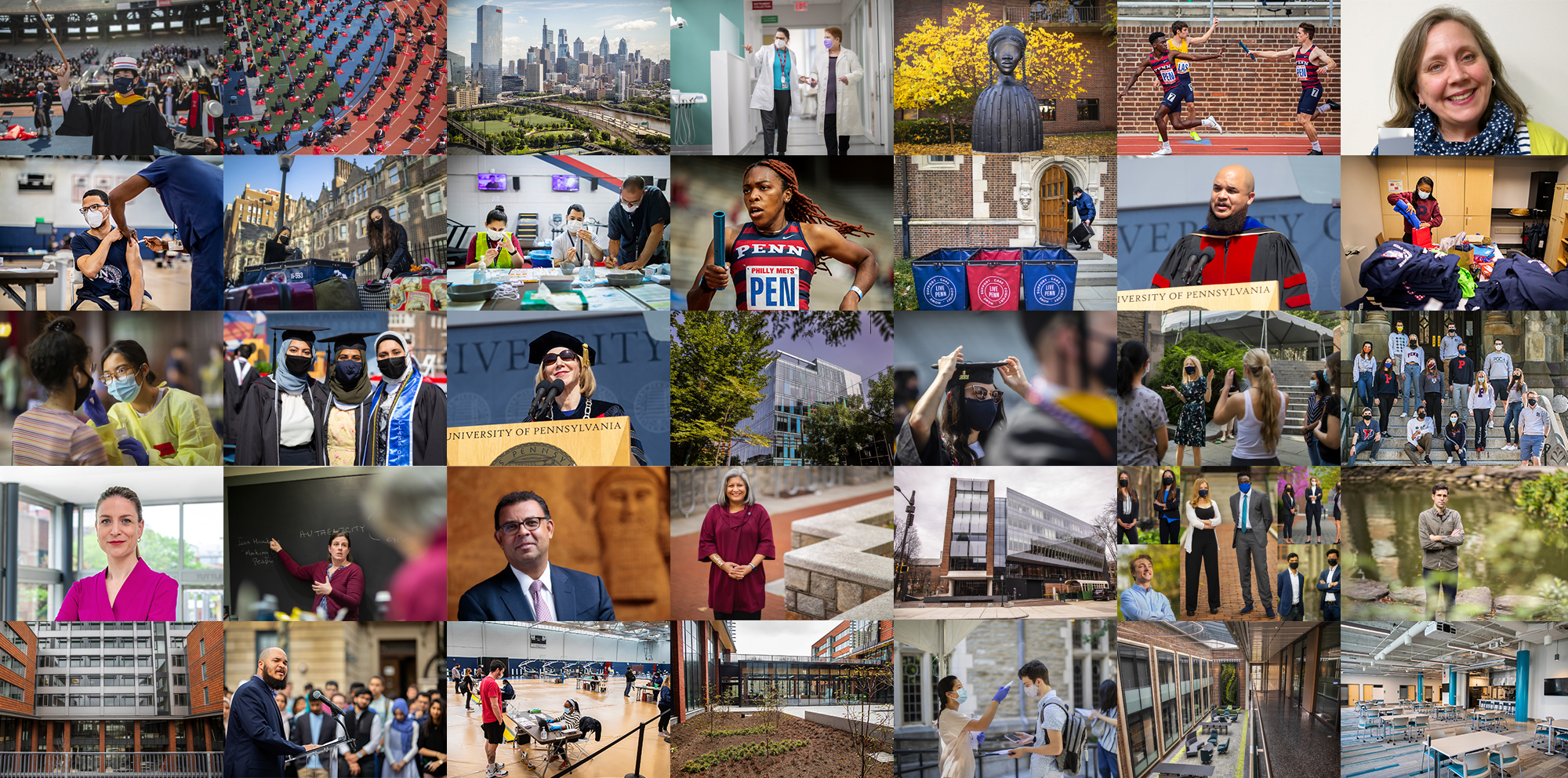 As academic years go, 2020-21 has been, to say the least, unique. While the word "unprecedented" has reigned supreme as descriptor for these times, here in West Philadelphia, on Penn's campus and everyone virtually connected from afar, a better word for the last year could be determined. On Aug. 31, the Class of 2024 was welcomed by Penn President Amy Gutmann—and tasked to "make the impossible possible"—to embark on its higher education path in the midst of a global pandemic. Convocation was a virtual affair, with Gutmann relaying her optimism for the future, and assuring students that soon they would be welcome on campus.
In the meantime, Penn flourished and evolved.
Despite restrictions to on-campus life, one major addition to the campus was the installation of Simone Leigh's "Brick House," the first sculpture of and by a Black woman on campus. Committed to its mission of outreach to the Philadelphia community, Penn pledged $100 million to the School District of Philadelphia. Globally, Penn's impact on the SARS-CoV2 pandemic was monumental, with Penn Medicine's Drew Weismann and Katalin Karikó's research on mRNA having led to the platform behind the lifesaving COVID-19 vaccines. And a low-cost, rapid COVID-19 diagnostic test was developed by Penn Medicine's César de la Fuente.
The new year brought some students back to campus for the spring semester, with strict safety guidelines in place to keep everyone safe, including a dedicated team of nurses and volunteers at the campus testing sites. And once COVID-19 vaccines were available to the public, Penn established the Penn Cares COVID-19 Vaccine Clinic, providing long-awaited vaccines to faculty, staff, postdocs, and students.
In line with the Penn's Compact tenet of increasing inclusion and access, the School of Dental Medicine opened its Care Center for Persons with Disabilities. As Penn and the world made progress towards bringing the beginning of the end of the epidemic in sight, Penn students launched the necessary work of reckoning with its history, launching the student-driven Penn and Slavery Project. And with an eye toward the future for the planet, Penn announced its goal to reduce greenhouse gas emissions from endowment investments to zero by 2050.
With vaccines underway, and many students back on campus, spring on Penn's campus began showing signs of post-pandemic promise. Athletics resumed in-person, with safety measures and testing in place. For the Class of 2021, a safe, socially-distant, in-person Commencement was a most welcome sight. For everyone graduating, and for everyone in the Penn community, the resilience, determination, and care for each other was what made the 2020-21 school year unique.